Mazda BT50 buyers say something about its owner. He is thrifty, yet determined and has great taste. If Hilux is the most popular ute, he wants something different, right?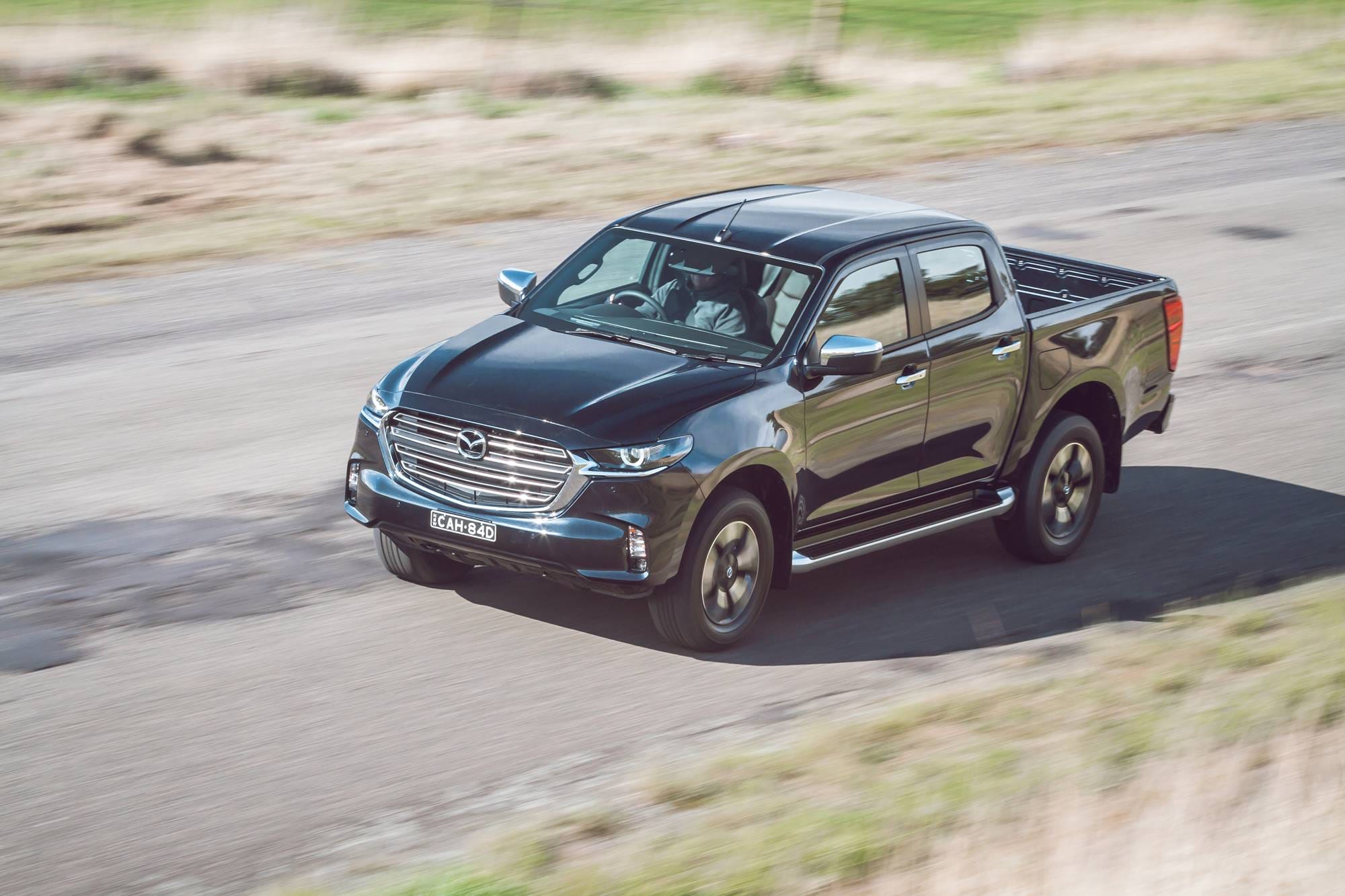 Hilux is the country's top seller. Of the top 10, only Corolla and i30 are not SUV/LCV vehicles. What is all this about? Why have punters gone mad for SUVs? You tell me. Personally, I think you're all completely barking!
3 of the top 10 sellers are pickup utes, so it is clear that punters bring an SUV need to their ute desires. They want to buy a lifestyle even if they don't have the need to tote tents.

You can go anywhere in a 4X4 ute that you can in a 4X4 SUV, while carrying a bit more stuff, so in a way it is a win/win.
BT50 comes in 3 models XT, XTR, and GT. You get 2 body styles, in a 2-seater cab chassis, or a 5-seater dual cab. There is a single engine choice, and 2 transmissions, a 6-speed manual or 6-speed automatic. This makes up 11 variants in all.
What's New on the Outside?
The body is all new.
Mazda's massive shield grille is flanked by a big new set of LED lights. The super-bright lights turns night to day, well, almost. Both lights and wipers are automatic.
The front end is pure Mazda. The side profile is typical of a pickup truck. Side steps help access in a nice-looking cabin. Smart access is via rubber buttons on the front door handles.
The tray is large, has a reversing camera on the tailgate, and some tie-down loops inside. There is a dual skin but as always, a liner is also needed.
Black, 18" alloys have 265/60 R18 tyres, and although the sidewalls are high, the ride is still very firm.
In short, the outside looks tough, with the soft edge of a passenger car.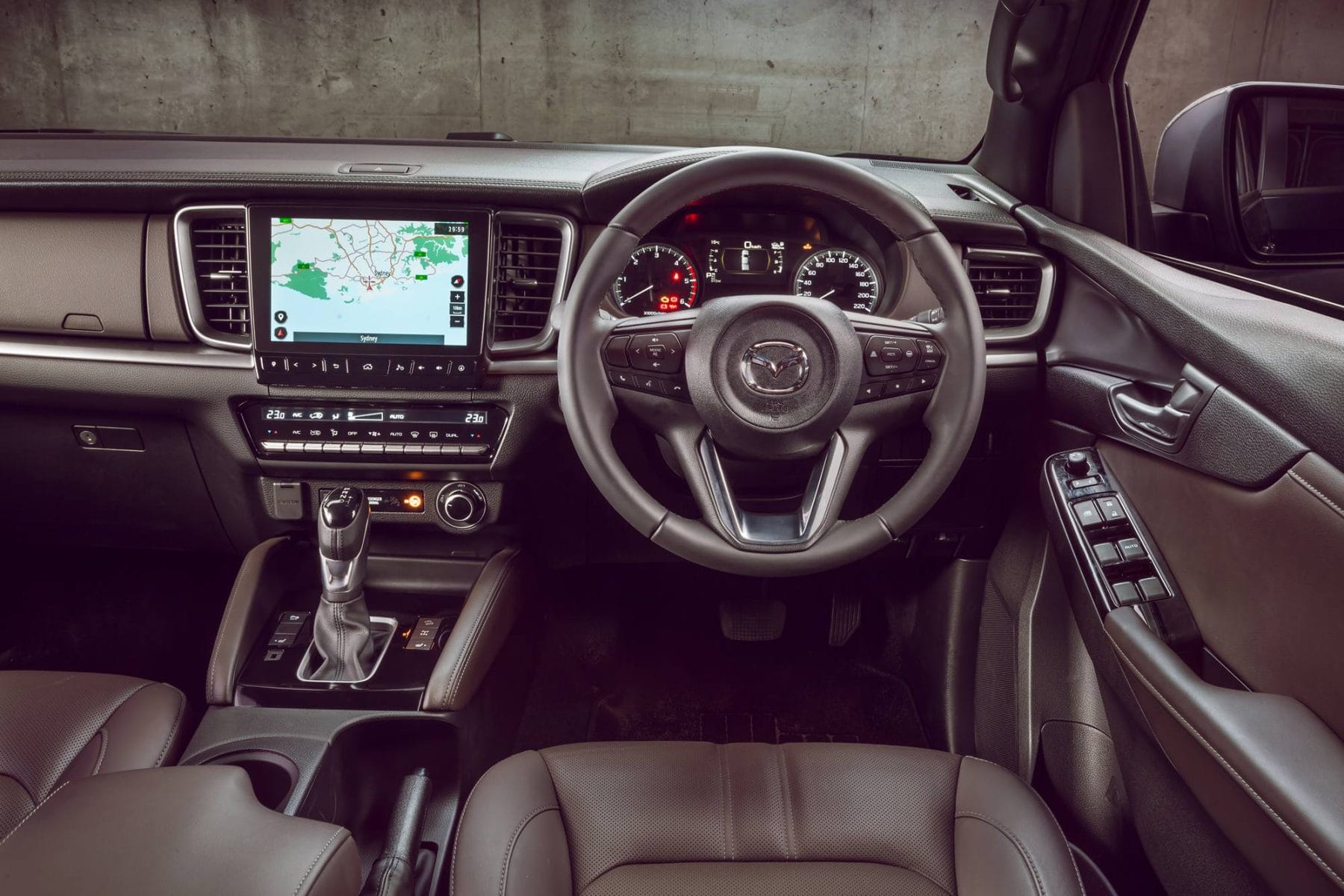 The Cabin
The cabin feels homey and comfortable.
Seats are brown leather, with heating in the front pews. The driver has powered adjustment, while the passenger has levers. Support is firm, and built for comfort, not speed.
The quality Mazda interior to the big league.
Surfaces look soft even if they are hard. The dash has stitched, leather-look material which looks good and is easy to clean.
There are power windows, a 9" touch screen entertainment system, and dual zone climate control. Apple owners can use WiFi or USB to connect CarPlay, but Android are still firmly tied to cables. DAB is standard, as is Bluetooth streaming.
The centre console and stack holds off-road controls, with a couple of further buttons on the centre console. There is high and low range, 2 or 4-wheel drive, and diff lock, all from the driver's seat.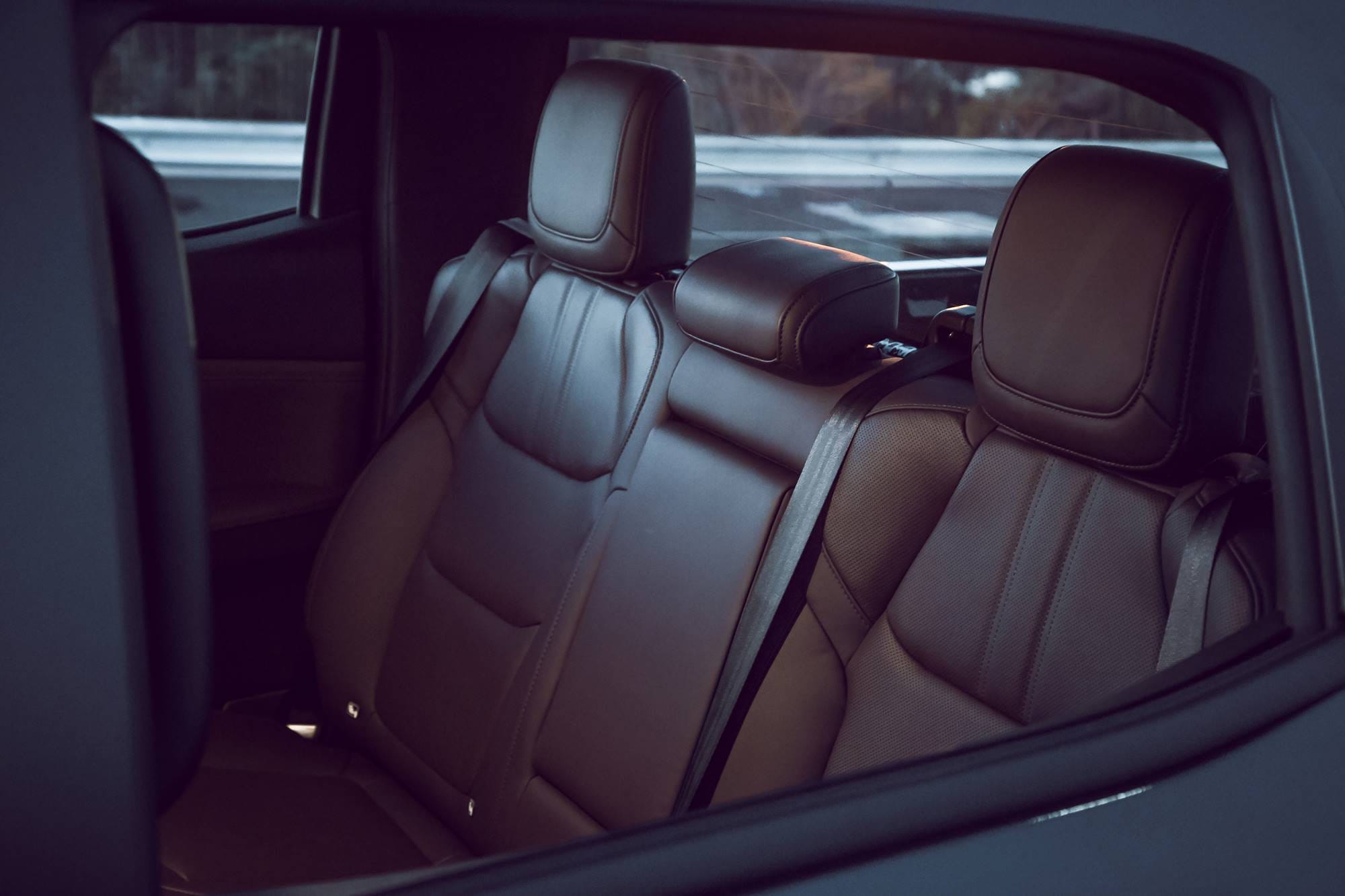 Rear legroom is cosy. Although knee room is snug, 3 apprentices will be ok for short trips.
You many cubby holes, cup holders, and bottle holders. There's a USB outlet in the back, and another in the front.
Driver instruments are conventional dials either side of a 4.2" LCD screen. It displays driving data including a digital speedo.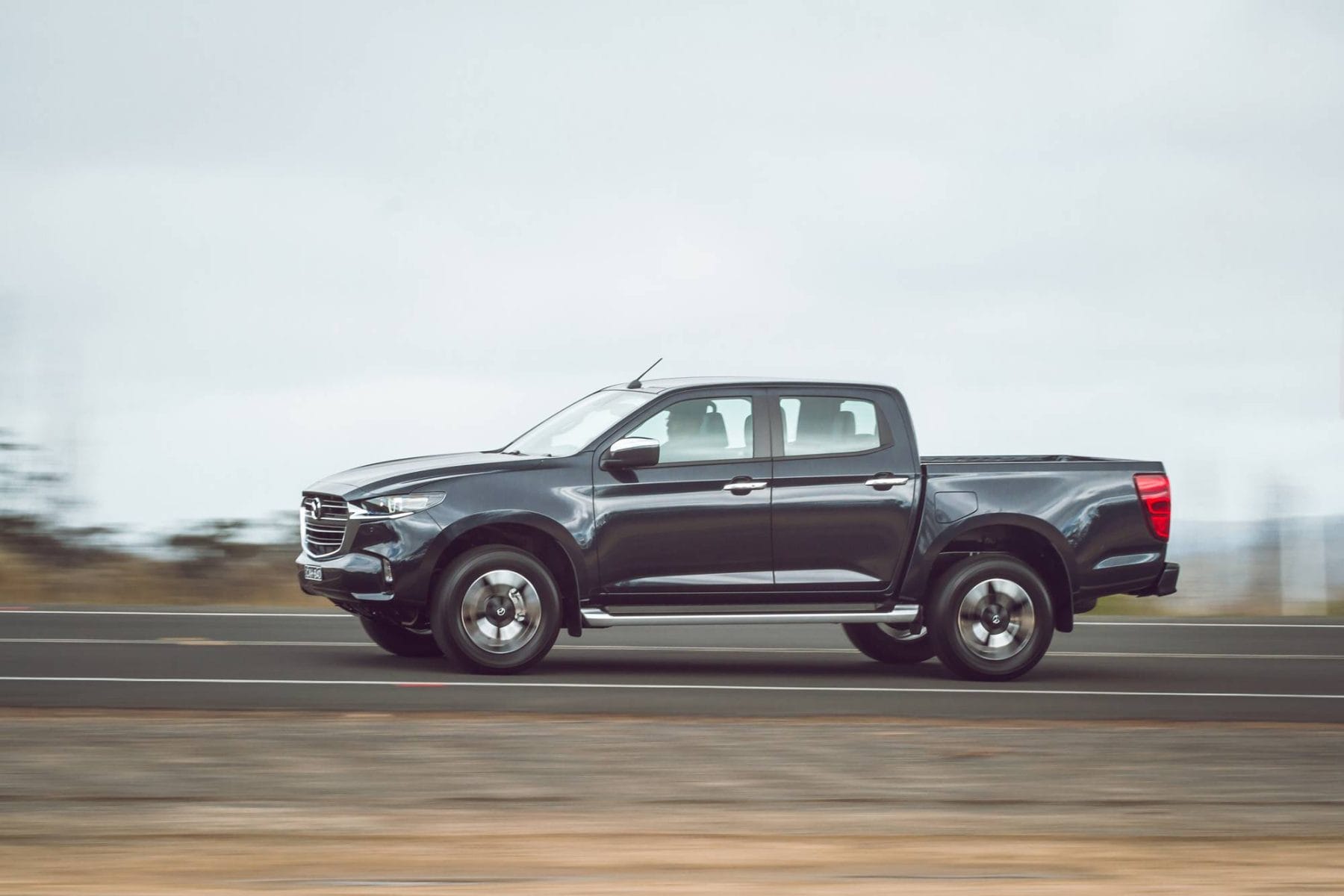 BT-50 Drive?
Electric steering makes things so much easier, and allows for driver aids that are found in passenger cars..
Cruise control, Blind Spot Monitor, and AEB, use cameras or radar, to name a few.
Active lane centering works with the blind spot to make sure you don't change lanes into a motorcycle, for example.
Ride is a firm without a load on. The rear end leaf spring suspension comes with drum brakes, not uncommon in Utes for sure
Although our drive took in some nice scenery, the roads a bit rubbish. The rear end skipped about, doing the samba.
Highways were a much better bet, with city driving being the best of all, and that's where we spent most of our time.
There is a single 140kw/450Nm engine available, with plenty of poke for a quick sprint. The Euro V, 3.0lL, 4 cylinder, manages 8.0L/100k combined and 6.7L/100k on a long trip.
Reversing, once a chore, is made easy by the high resolution camera.
BT50 feels like any other large SUV. it takes up most of a parking space, and you do have to take notice of low-hanging car-park signs, but you don't have to make any other compromises.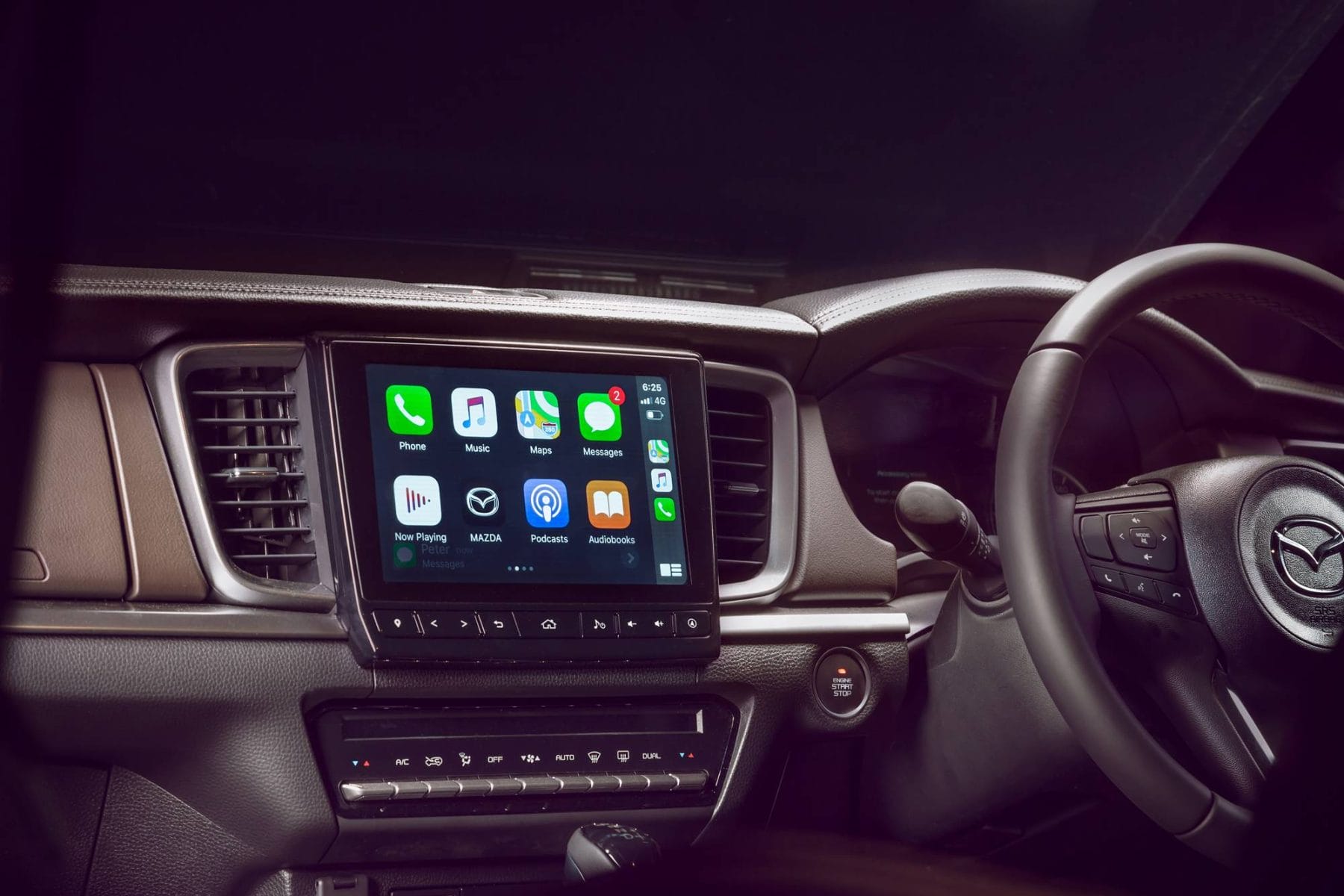 Conclusion:
BT50 is handsome, frugal, and good value, so what's not to like.
You can go off-roading, but why bother. Camping is just plain wrong. The pitter patter of rain on canvas may sound romantic, but there the allure ends.
BT50 is not for those lovies who think the wilds is a band from the 80's.
It feels as capable as it looks, and I rather like the fact that it now joins the rest of the Mazda family in looks.
Also Look At
At a glance:
Price: $59,990 MLP*
Engine: 3.0L, 4cyl, turbo diesel
Power: 140kw/450Nm
Econ: 8.0L combined city/country
Trans: 6-speed auto (6-speed manual available)
*MLP – Manufacturers List Price includes GST and LCT but excluding statutory charges, dealer costs and dealer delivery. See your dealer for RDAP. Does not include price of any options.