The Lexus RX, the car that imagined the luxury SUV, has entered its fifth generation with a new design, new powertrains, greater performance and refined luxury.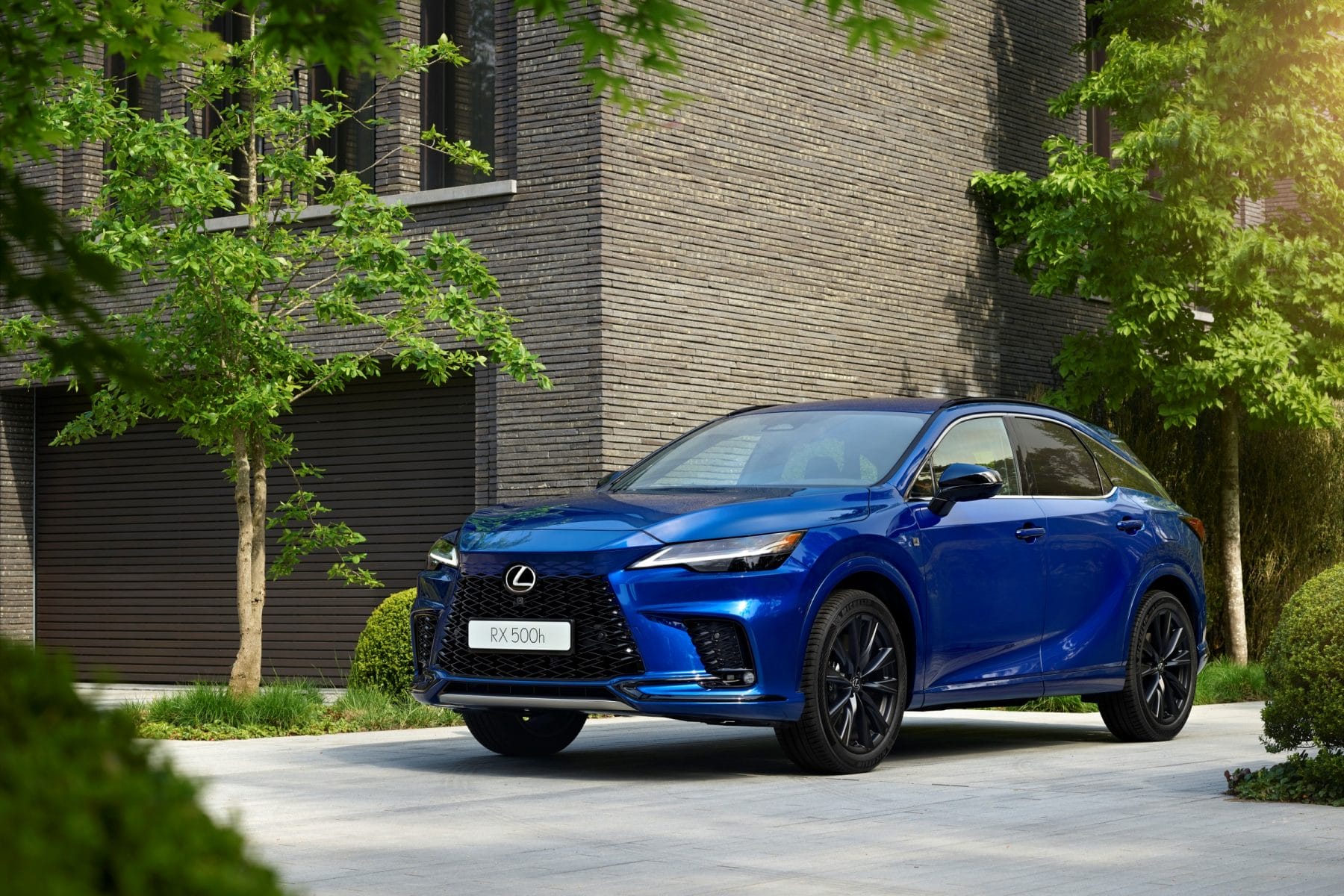 In the all-new RX, Lexus continues to evolve the Lexus Driving Signature of its core model by thoroughly improving the vehicle's fundamentals, while maintaining the refined ride and high level of quietness that are the origins of the Lexus brand.
It also represents the next step in the Lexus Electrified vision with the introduction of a new high-performance hybrid (HEV) and plug-in hybrid (PHEV) available in select global markets.
The all-new RX is spearheaded by a new F Sport hybrid hero in the new RX 500h F Sport Performance, powered by Lexus' first turbocharged HEV 2.4-litre engine with high-output eAxle rear motor.
In addition to its technologically advanced new hybrid powertrain, the RX 500h F Sport Performance has the sophisticated DIRECT4 all-wheel drive force system using electrification technology, as shown on the RZ 450e, Lexus' first battery electric vehicle (BEV) built on its own dedicated platform.
The RX 500h F Sport Performance's greater handling, stability and driving enjoyment is bolstered by six-piston front brakes, Adaptive Variable Suspension (AVS), Dynamic Rear Steering (DRS) and 21-inch aluminium wheels, which combine to add a new dynamic layer to the Lexus Driving Signature.
Additional powertrains announced in the global reveal include a turbocharged 2.4-litre petrol engine, 2.5-litre HEV delivering low fuel consumption and a 2.5-litre PHEV with class-leading EV cruising range and powerful acceleration performance. Two-wheel drive and all-wheel drive will be offered.
Powertrains and model configurations for the Australian market are yet to be confirmed.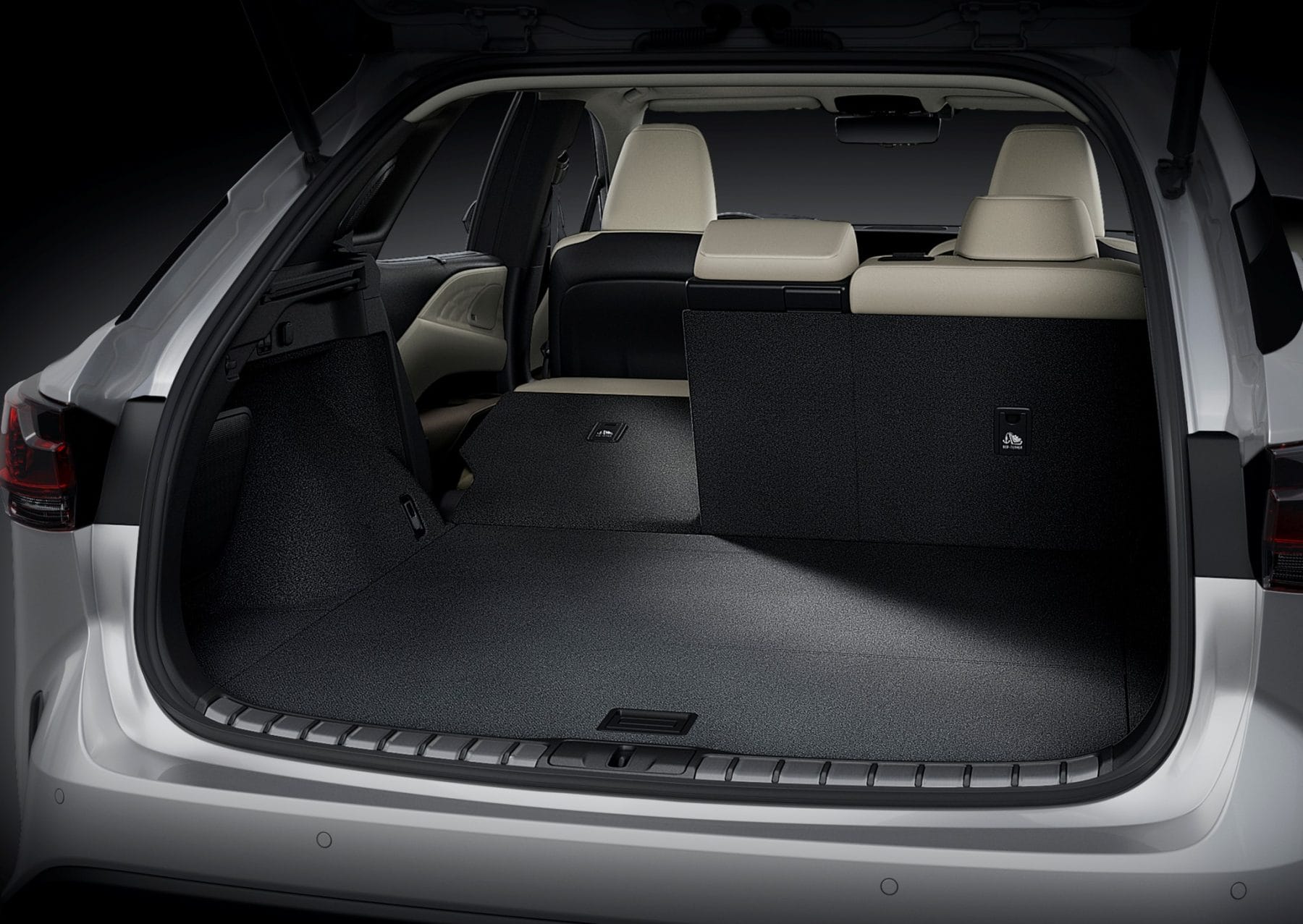 While retaining its overall length of 4,890mm1, the all-new RX has grown on the inside to deliver greater comfort and convenience. Wheelbase is increased by 60mm (to 2,850mm) and the distance between front and rear hip point has increased by 12mm to liberate more interior space. An extra 50mm is added to the rear luggage compartment.
Overall width is increased by 25mm (to 1,920mm), front track widened by 15mm, rear track by 45mm and overall height reduced by 10mm (1,695mm). These footprint changes, together with a 15mm reduction in centre of gravity and overall weight reduction by 90kg, contribute to safer and more faithful driving performance.
Front suspension is via MacPherson struts while the rear uses a newly developed multi-link arrangement system that efficiently transmits drive force to the road, while enabling smooth vehicle posture changes.
The suspension's upper arm position and shape prevents the body side members from protruding into the interior, creating more efficient interior space. Furthermore, vehicle posture changes during start-up and acceleration, as well as vibration during driving, are suppressed by optimising the shock absorber positioning and suspension mount bushing characteristics.
Highly rigid die-cast aluminium is used for the steering to ensure more linear steering response, while improved manufacturing processes play a significant role in keeping toe, camber and roll steer more precise to maximise dynamic performance.
"The RX is a foundation of the Lexus brand both globally but also here in Australia ever since its local introduction in 2003," said Lexus Australia Chief Executive John Pappas.
Lexus has sold over 3.5 million examples of the RX throughout 95 countries and regions, including more than 40,000 in Australia since debuting locally in 2003.
"The all-new RX is the next step in the evolution of the Lexus brand as we move towards greater electrification of our range while adding to the Lexus Driving Signature of dynamic, enjoyable and faithful performance."
New F Sport Performance continues the evolution
The 500h F Sport Performance with the enhanced 2.4-litre turbocharged HEV powertrain goes beyond the existing F Sport package. There are significant technical elements contributing to the greater dynamics of the Lexus Driving Signature.
Aluminium monoblock opposed six-piston brake calipers are used for the front brakes to provide a linear and direct brake feel. Dynamic Rear Steering (DRS) is also newly adopted to steer the rear wheels up to four degrees in the opposite or same direction as the front wheels, depending on vehicle speed.
At low speeds, the system provides excellent turning and manoeuvrability during cornering, while a high level of vehicle stability is achieved in the high-speed ranges. Handling performance has been further improved by using model-specific (with bespoke compound) tyres along with unique 21-inch wheels.
Exclusive exterior design items include body-coloured lower panels accentuating the lower centre of gravity, black stainless-steel mouldings to enhance the window design graphics, and 21-inch aluminium wheels for higher refinement and a more powerful driving image.
The 2.4-litre turbocharged HEV also features Active Noise Control which eliminates the typical noise characteristics of the four-cylinder turbocharged engine, providing a pleasant driving experience with a great Lexus sound.
DIRECT4's drive force control uses information collected from wheel speed, acceleration, and steering angle sensors to help optimise the drive force distribution ratio of the front and rear wheels between 100:0 and 20:80 (front:rear), contributing to improved start-up acceleration, handling stability, and fuel economy.
Traction is secured and vehicle pitch is suppressed by distributing drive force towards the front (70:30 to 50:50) as steering starts, and closer to the rear (50:50 to 20:80) when exiting a corner. This provides exhilarating cornering performance that allows the RX to turn smoothly.
Diverse powertrain choice for diverse customer needs
The new RX offers a diverse lineup of powertrains focused on meeting customers' needs across all global markets.
In addition to the 2.4-litre turbocharged inline-four hybrid system for the RX 500h, the global lineup includes a 2.5-litre inline-four plug-in hybrid system for the RX 450h+ delivering class-leading EV range and powerful acceleration performance.
A 2.5-litre inline-four hybrid system is reserved for the RX 350h delivering low fuel consumption and an exhilarating driving feel, while a 2.4-litre turbocharged inline-four petrol engine in the RX 350 delivers torque-rich dynamic driving performance.
The 2.5-litre PHEV and 2.4-litre turbocharged models are available with all-wheel drive (AWD), and the 2.5-litre HEV is available in either AWD or front-wheel drive (FWD) drivetrain configuration.
Powertrains and model configurations for the Australian market are yet to be confirmed.

The pursuit of a unique visual identity and dynamic proportions
Since its global launch in 1997, the RX has been a pioneer in luxury crossovers, focusing on strength and refinement. Like the recently introduced NX and LX, and the RZ BEV unveiled in April, the RX also pursues a unique identity with optimised proportions portraying a dynamic driving experience.
This is evident in the all-new RX with its extended wheelbase, low centre of gravity and widened front and rear tracks giving a more planted stance. This is also noticeable from the side view with the raised tip of the bonnet and pushing back of the A-pillar's base creating a more elongated look, together with the lowered rear edge of the back window.
From the rear, a simple and strong horizontal sweep produces a wide and low look to underline the lower centre of gravity, while also projecting a sense of power and strength. The L-shaped signature rear lenses wrap around the body's sides to emphasise a wider and lower silhouette.
The spindle design front is now expressed moreso in three-dimensional form, evolving into a new expression called the spindle body. At the front, the body colour is brought down to the lower edge of the Lexus emblem, emphasising the strength of the design while the grille continues to provide cooling functionality.
F Sport models feature an exclusive front bumper that expresses a wide and low stance and contributes to aerodynamic performance. F Sport also gains 21-inch exclusive aluminium wheels.
The grille features an exclusive mesh pattern and has a seamless design that fuses the boundary between the body and the mesh grille, establishing a new and unique F Sport identity. Six-piston brake calipers are now standard on F Sport to achieve more linear and direct brake feel and deceleration.

Lexus RX interior promoting comfort and enjoyment
The RX's interior is based on the Tazuna concept, a human-centred design philosophy where the driver is intuitively connected with the car to better concentrate on driving, while still creating a spacious, open interior that encompasses all passengers.
The steering wheel switches, for example, are integrated with the head-up display so the driver can keep eyes forward and concentrate on driving. Navigation, audio, and various functions can be operated without the need for extra eye movement or complicated switch functions.
The centre display offers a choice of 14-inch or 9.8-inch dimensions for its integrated functions. Designers paid close attention to details such as the size, shape, layout, and information of the icons, pursuing the optimal placement and shape for intuitive operation, while also taking the frequency of use of each function into consideration.
The instrument panel and dashboard design promote a wide-open horizontal space that envelopes all passengers. In addition, the multi-coloured illumination around the instrument panel creates a spacious, immersive atmosphere even at night. Furthermore, the panoramic roof equipped models enjoy an even greater sense of expansiveness along with a sweeping front-to-back view.
The new platform increases the distance between the front and rear hip point by 12mm compared to the previous model, resulting in increased rear-seat space. In addition to the lowered floor, the scuff and centre pillar cover have been shaped to ensure that both the front and rear seats have ample space for ease of entry and exit.
Rear luggage space is lengthened by 50mm courtesy of a thinner hatch door while load height is reduced by 30mm for more useful overall luggage space.
A triple-zone independent temperature control system allows for specific temperatures for driver and front passenger as well as rear-seat occupants. There are seat warmers for front and rear seats while air-conditioned seats are available as an option.
Five interior colours are available while a new metallic exterior colour, Sonic Copper, is added to the palette to bring to 10 the number of exterior colours on offer.2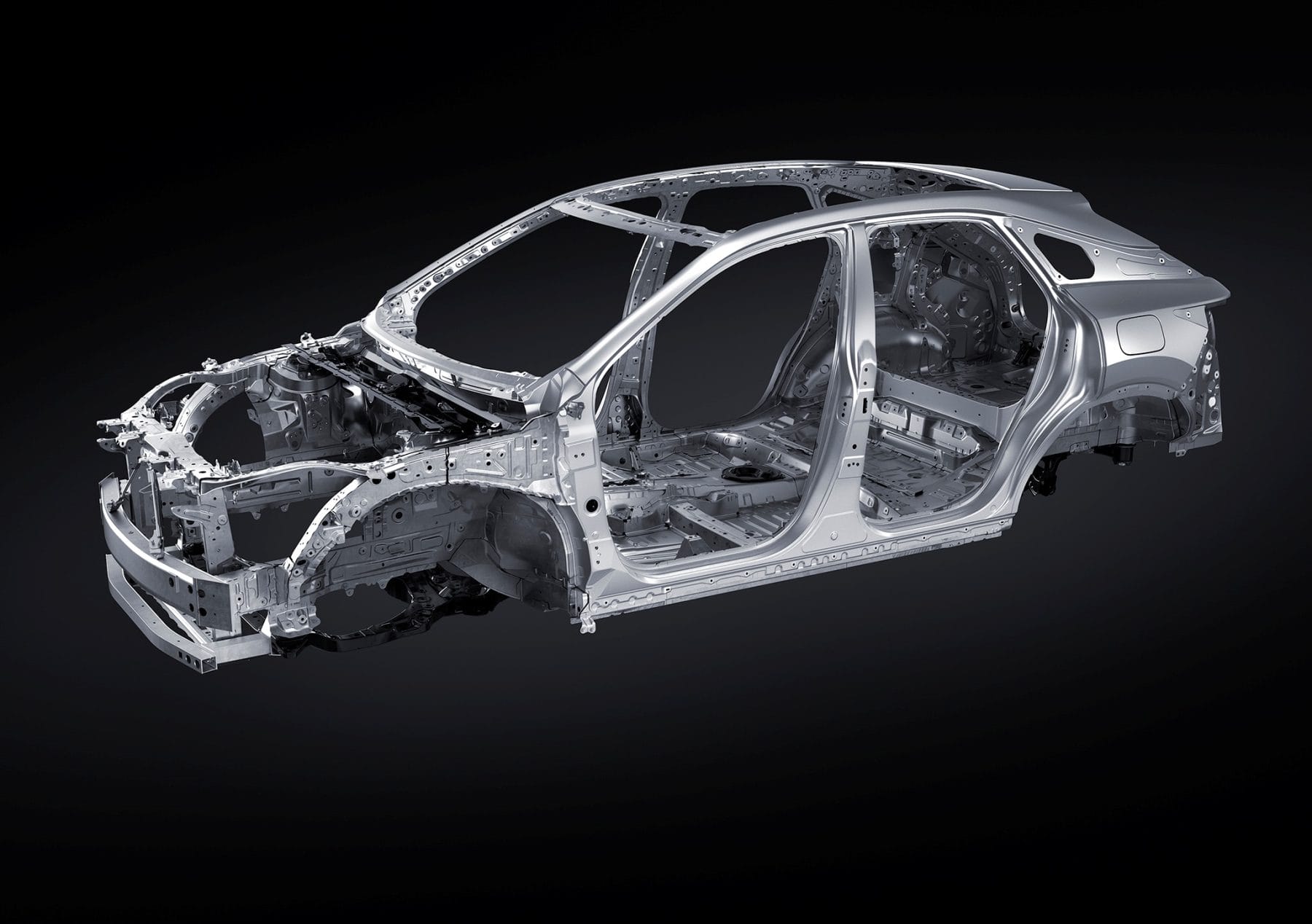 Lexus RX Advanced safety technologies based on the human centred concept
Lexus continually develops safety technologies with one goal: zero fatalities and injuries from road accidents.
Based on the belief that it is important to develop world-class advanced safety technologies faster and spread them to more vehicles, Lexus Safety System +3 was adopted for the all-new RX right after the RZ.
Proactive Driving Assist (PDA)3, which provides appropriate support according to driving situations and optimal control according to driver conditions, works in conjunction with the driver monitor to contribute to safer and more secure driving for customers.
PDA supports driving safety by anticipating risks, such as crossing pedestrians and other potential hazards that may jump out and be struck. Additionally, the all-new RX contributes to safe and secure driving by providing appropriate support for a wide range of situations, such as automatic deceleration to cars in front or upcoming curves, as well as deceleration support in turns and intersections.
Elements of the integrated safety technology include:
Pre-Collision Safety (PCS)3where if the system detects a driver looking away while driving, it warns the driver at an early stage. It can assist in collision avoidance and damage mitigation by securing the driver's reaction time.
Dynamic Radar Cruise Control (DRCC)3 with all-speed following function. When activated, the system alerts the driver and provides supportive control to ensure a safe margin.
Lane Departure Alert (LDA)3: If the system detects a driver looking away while driving, it activates an alert and lane departure control at an earlier time than usual.
Abnormal driver condition response system3: If the driver's posture is significantly compromised during Lane Tracing Assist (LTA) control, the system judges that it is difficult for the driver to continue driving and warns others by flashing hazard lamps, etc., as the vehicle gradually decelerates. The vehicle is designed to stop within the lane.

Lexus Teammate supports comfortable mobility
Further advanced driving support technology is offered through the Lexus Teammate4 concept, featuring Advanced Drive5 traffic jam support and Advanced Park3 with remote function6.
Advanced Drive is activated under certain conditions, such as during operation of DRCC and LTA in traffic situations varying from standstill to approximately 40km/h when the driver is looking ahead. By providing support for perception, judgement, and operation5, the system enables drivers to reduce fatigue in traffic jams and to drive safely with greater attention to their surroundings.
Advanced Park with remote function6features expanded support for parallel parking. In addition to reverse parking, forward-facing parking is now supported, and forward/back-up exit can be performed from inside the vehicle. HEV and PHEV models also feature a remote function from the key, allowing parking and exit to be performed from outside the car through a smartphone with a dedicated app.

Using advanced technology adds to the customer experience.
Over-the-air (OTA) updates enable constant updating to the latest software during ownership. Functions are updated, new functions added, and performance improved along the way to enhance the ownership experience and provide peace of mind.
Smoother door operation now occurs by replacing the traditional door handle mechanism with the electrically controlled e-latch switch system. The Safe Exit Assist (SEA)3 with Door Open Control detects vehicles approaching from behind, including bicycles, and can notify the driver while keeping the door closed.
By installing a dedicated smartphone app, a smartphone can be used as something akin to a digital key for vehicles with this feature. Through the smartphone, doors can be locked and unlocked, the engine started without operating the screen, and the system operated with only one smartphone even if there are multiple vehicles compatible with the digital identification belonging to you. Digital identification can be passed between smartphones, making it easy to lend or borrow vehicles between family members or friends.7
"The all-new RX incorporates the latest technology and safety features to deliver the ultimate in refinement, comfort and luxury for our customers," said Mr Pappas.
"The new powertrains will deliver exhilarating performance and broaden the RX's appeal to an even wider range of customers."
Australian model line-up, specifications, pricing and on-sale date of the all-new RX will be announced later this year.
1 All specifications are based on an overseas model; specifications and features for Australian models may differ.
2 Lexus Australia reserves the right to vary or discontinue the current interior and exterior colours, trims and colour/trim/model combinations. Colours and trims displayed are a guide only and may vary from actual colours due to printing/display process. See your Lexus dealer to confirm availability when ordering your vehicle.
3 Driver assist feature functions and availability varies depending on the country. Only operates under certain conditions. Check your Owner's Manual for explanation of limitations. Please drive safely.
4 Developed based on the Toyota Motor Corporation's original concept of automated driving. Availability varies depending on the country.
5 Advanced Drive traffic jam support is not an automatic driving system. Drivers should always be aware of their surroundings and be prepared to take control of their vehicle at any time.
6 Remote function is available only for PHEV/HEV models.
7 Connected Services complimentary period ends 3 years from delivery date. Fees and charges may apply thereafter. Requires activated DCM, compatible device & app installation, third party info, mobile data, network reception & GPS signal. Mobile usage at user's cost. Features subject to change. For details see https://www.lexus.com.au/owners/apps/lexus-connected-app.