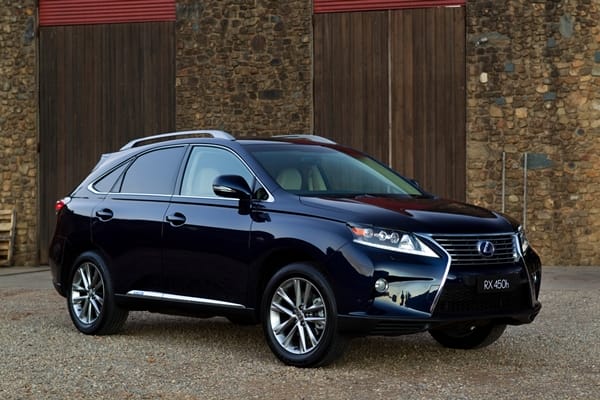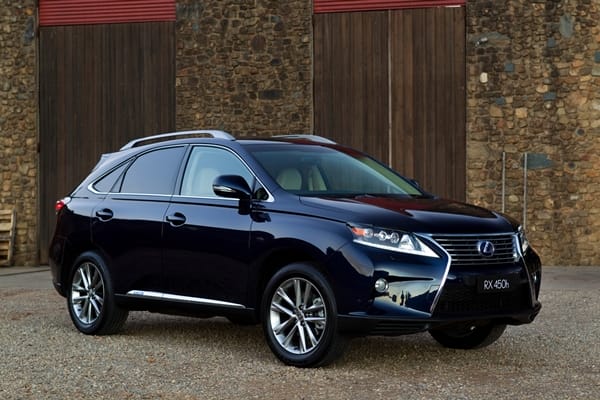 In my opinion buying a car simply for its environmental benefits simply doesn't make sense. If however, you buy a car that suits your purpose and it has additional environmental benefits, then that certainly makes sense.
The purchase of the revamped Lexus RX450h Sport Luxury falls into the latter category. Here we have a family luxury AWD SUV that has additional environmental credentials. You lose nothing by buying the hybrid model, especially if your main usage is the school run and socialising around the city.
In fact this is the car that finally made me relent my attitude towards hybrid cars. This vehicle just works. Here you have an AWD SUV that weighs upwards of 2200kg, has all the luxury features you would expect from a Lexus, and yet achieves easily the best around town fuel consumption figures of 6.3L/100Km. This is better than nearly all its compatriots.
The upgraded RX range has the same stylish exterior that ensures the vehicle looks smaller than it actually is. With an overall length of 4770 (mm), width of 1885 (mm) and weighing 2205 Kg the Lexus RX450h falls into the mid – large SUV category.
Some noticeable external features are the new headlamps with daytime running lamps, spindle grille, model-specific bumpers and the Lexus Adaptive Front lighting system, to "see around corners".
The revised wheels on the Sport Luxury feature an intricately styled triple-armed five-spoke 19-inch (19 x 7.5J) alloy design and are finished in shadow silver.
Jump inside the new RX 450h Sport Luxury and you immediately appreciate the quality that has become synonymous with Lexus. Both front seats feature multiple adjustability with 3 memory settings as well as being heated and ventilated.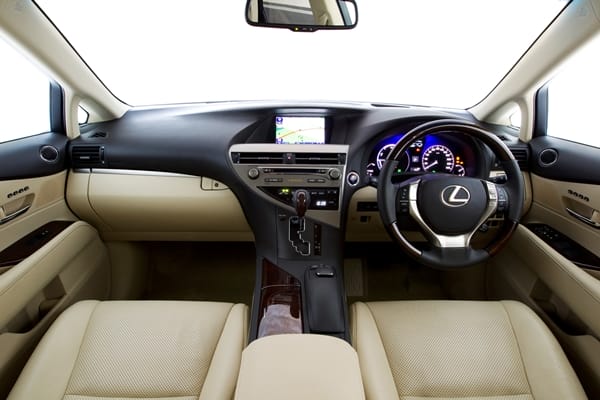 The new- look steering wheel has taken inspiration from the Lexus LFA V10 supercar and I have to say feels fantastic in the hands. All of the controls are there that you would expect. In front of the driver, the dash in ECO mode has a soothing blue hue in the background and the multi-information display, located between the Hybrid System Indicator on Lexus RX 450h and speedometer, is now larger for improved visibility. There is no tachometer.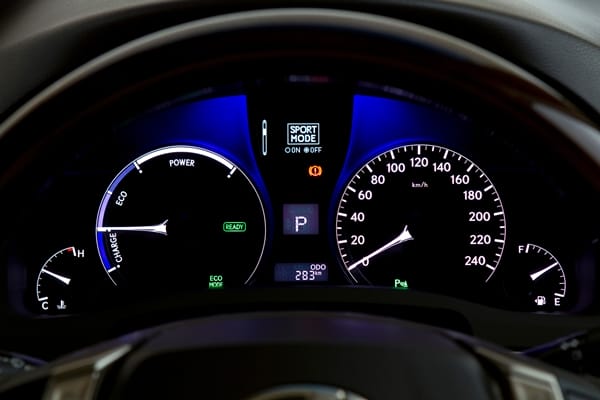 The ambient illumination changes depending on the drive mode. Blue lighting is used for ECO/NORMAL modes and red for SPORT mode.
Driver comfort is improved by the enhanced visibility feature of Head Up Display (HUD). This is close to the best I have seen and doesn't disappear with Polaroid sunglasses unlike some others.
The display can include vehicle speed, simplified navigation arrows, audio CD and radio information, and Pre-Collision safety System brake warnings and gear position.
The RX450h Sport Luxury comes with second-generation Lexus Remote Touch (LRT), which allows the navigation, audio, climate control, connected phone or audio device to be controlled remotely via a computer mouse-like device positioned within the driver's 'operation zone'. It's exceptionally intuitive to use and is part of that underlying sophistication of the Lexus RX range.
The centre console has a clever bottle holder underneath and the centre bin is surprisingly spacious. The door pockets have a clever fold out design that accommodates a bottle as well as maps and books etc. Overall there is plenty of well thought out storage for all the odd things we all seem to carry.
Lexus RX450h Sport Luxury features advanced 12 speaker premium audio system, with expanded audio and advanced Bluetooth™*, iPod®, USB and radio capabilities. The two audio systems now feature digital radio (DAB+) as standard. The all-new audio systems is be controlled by Lexus' second-generation remote touch controller linked to an eight-inch multimedia display.
It has to be said that the premium sound system is superb. It's always a bit of fun to pull up next to a 'doof doof' driver in a conservative SUV and blast out Jet or some other heavy rock anthem and see the surprised look on their faces. Just because you grow older doesn't mean you have to grow up!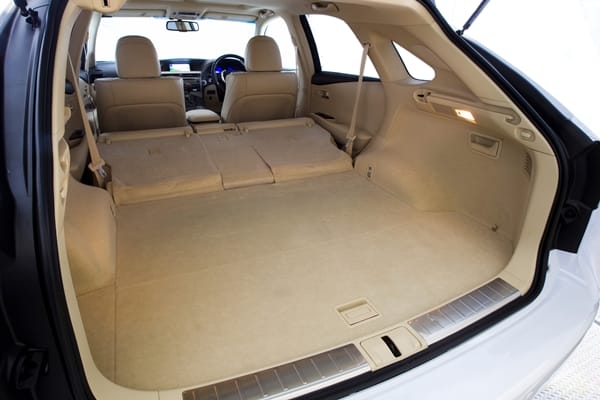 In the rear the 40/20/40 split seats are better suited for two occupants, however there is adequate head, shoulder and knee room for most. The rear seats will slide and fold flat to reveal a long but awkwardly shaped boot space. The sharply sloping rear roof line means that there is less useable space in the boot than you might think. The seats fold forward at the press of a button and the boot is electronically operated.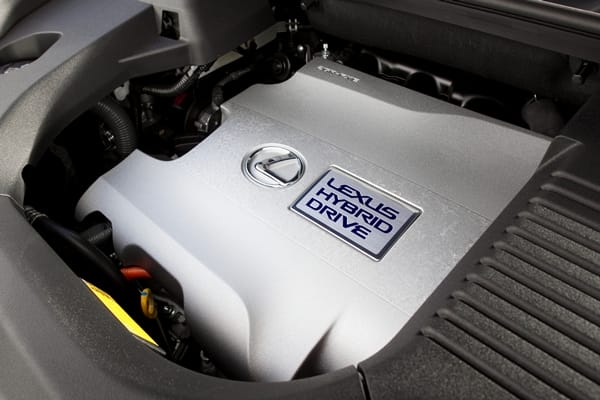 At the heart of the new-look Lexus RX 450h Sport Luxury is a unique 3.5-litre Atkinson cycle quad cam VVT-i V6 engine. The 2GR-FXE engine delivers 183kW of power at 6000rpm and maximum torque of 317Nm at 4800rpm. The combined power output is 220kW.
It will propel the Lexus RX 450h from 0-100Kmh in 7.8 seconds while consuming fuel at the miserly rate of 6.3L/10Km and emits just 149g of CO2 per 100km. It has 5 star GVG rating. A 65L fuel tank means that 1000km is possible from a single tank of fuel.
It has unique features when compared with the 3.5-litre RX 350 engine, including Atkinson cycle operation, cooled Exhaust Gas Recirculation (EGR), exhaust heat recovery and electric power for the air-conditioning compressor.
The electric power-assisted steering and air conditioning compressor mean the petrol engine can be stopped to save fuel whenever it is not required to power the vehicle and restarting is smooth.
The RX 450h engine does not have a conventional alternator or starter motor. A DC-DC converter supplies 14V power for the RX 450h ancillaries.
The number one motor-generator in the RX 450h hybrid transaxle acts as the petrol-engine starter motor when required.
Lexus adopted the Atkinson cycle for RX hybrid in 2009 (when RX 450h replaced RX 400h) to further increase fuel efficiency.
Now I am going to try and explain how this works and will borrow heavily from Lexus' marketing blurb because, to be honest, it's a bit high tech for me.
The Atkinson cycle – also known as the high-expansion cycle – makes full use of combustion energy by making the expansion stroke longer than the compression stroke.
It has a higher expansion ratio than a conventional Otto cycle engine, allowing more of the engine's energy to be harnessed into torque on the crankshaft – torque that would otherwise be lost in an Otto cycle engine.
Lexus has combined the Atkinson cycle process with quad-cam multi-valve cylinder heads and variable valve timing with intelligence (VVT-i), all of which optimise efficiency.
The Lexus RX 450h driveline is unique, consisting of a hybrid-drive front-axle system with an electronic continuously variable transmission and a 50kW AC permanent magnet motor electric-drive rear axle.
The RX 450h front-axle driveline consists of a V6 petrol engine, transmission damper, compound set of planetary gears and two electric motors/generators.
The compound planetary gear set acts as an electronic continuously variable transmission, changing the transmission ratio for optimum performance, driveability and economy.
The transmission electronics include the Lexus AI Shift and the Lexus Sequential Shiftmatic System.
The sequential shift system allows the driver to select from six gear ranges by moving the shift lever from D to S and shifting between the '+' or '-' symbols.
As well as propelling the vehicle, the Lexus Hybrid Drive system allows for energy-saving regenerative braking on both the front and rear axles. The RX 450h has a separate motor/generator (MG1) to capture petrol engine power that is not required to propel the vehicle.
Now while this is theoretically an AWD SUV it really is designed for nothing more than kerb hopping and definitely not for towing. Having said that, the Lexus RX 450h has an efficient all-wheel drive system.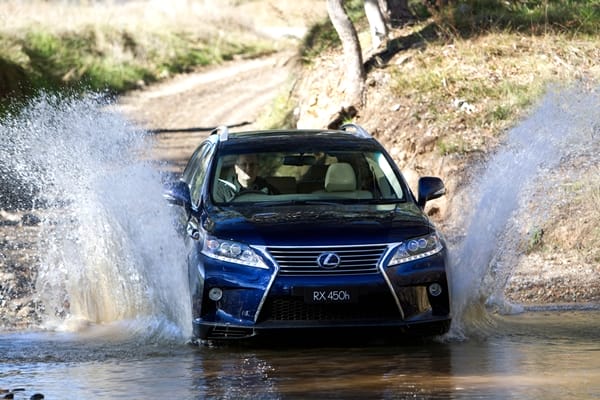 Featuring three electric motor generators, the RX 450h builds on the proven E-Four (Electric Four Wheel Drive) system that was first introduced in the RX 400h.
The electric drive motors in the hybrid drive system play the crucial roles of providing motive force and charging the battery pack.
The front motor/generator (MG2) has 123kW of power and 335Nm of torque.
The rear electric motor (MGR) develops a maximum power output of 50kW and 139Nm of torque, all from zero rpm, while the front axle can be propelled by petrol or electric power, or a mixture of both.
Use of an electric motor-generator to provide power to the rear wheels gives the RX 450h a varying torque distribution, depending on driving dynamics and road conditions.
The E-Four system provides a level of start-off stability and acceleration on snow-covered or other slippery road surfaces that is appropriate for all-wheel drive models. E-Four also saves energy and petrol because the vehicle only uses all-wheel drive when it is needed – for example, a loss of front-wheel traction.
The RX 450h's system has also been refined to offer smooth delivery of power, thereby minimising torque steer and pull under acceleration
The Lexus RX 450h Sport Luxury has the added feature of SPORT mode. Now don't get excited as it is no F series but does provide a more sporty and direct driving experience. However, given the weight of the Hybrid you really wouldn't buy this vehicle expecting a sports SUV.
It adds to the suite of technologies in the RX 450h that assist drivers in selecting the best driving mode for individual circumstances. The coolest feature is that it also changes the instrument illumination from blue to red.
The RX 450h ECO mode actively modifies throttle action and climate control systems to support efficient driving and reduce overall fuel consumption. However it is a boring drive.
EV driving mode provides additional efficiencies in fuel consumption, allowing the vehicle to operate solely under electric power in certain conditions. Operation in EV mode dramatically reduces noise when driving in quiet areas and negates exhaust emissions. In car parks it really freaks people out when you back out of a spot silently.
If conditions are satisfactory, EV mode can be enabled at approximately 40km/h – or below – and is highly beneficial in stop-start traffic, enclosed garages and many low speed applications.
As mentioned before this is no sports SUV and given the RX 450h hybrid system and bank of batteries, they have unique front and rear spring rates to suit the hybrid model's fore/aft weight distribution. Handling however is smooth over bumps and precise into corners if the laws of physics are obeyed.
Safety is a key feature and the Lexus RX 450h Sport Luxury has an impressive package of safety features, including its Pre-Collision Safety System (PCS) as standard equipment. Other safety features include: 10 SRS airbags, dual SRS front-seat knee airbags, VDIM active safety technology, active front-seat head restraints and rear-outboard seat pre-tensioning seatbelts with force limiters.
Active safety features also include road-speed sensitive electric power-assisted rack and pinion steering, Hill-Start Assist Control and rear guide assist with camera.
The VDIM package seamlessly combines Vehicle Stability Control with cooperative steering function (VSC+), Traction Control, ABS, Electronic Brake-force Distribution and Lexus Brake Assist.
Pedestrians aren't forgotten about either with optimum pedestrian safety a design feature including an impact-absorbing bonnet with a longitudinal frame, an ample crush stroke and an optimised bonnet lock reinforcement to maximise pedestrian protection, while ensuring dent resistance and quiet closing.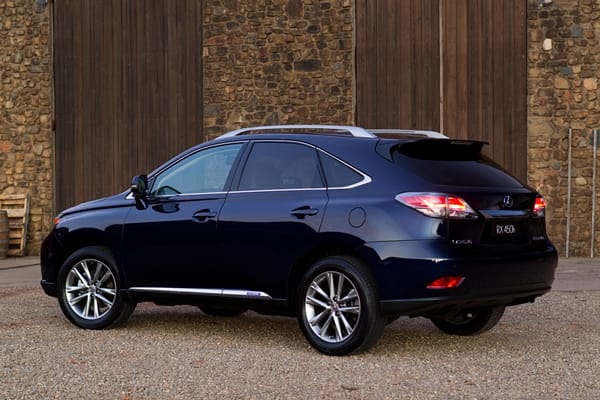 So here we have a family based luxury AWD SUV that has a MLP of $100,900 plus on road costs (different in each state), that is at the forefront of hybrid technology, has an abundance of luxury features and room for the family. Driving a Lexus isn't a passionate affair and the RX 450h Sports Luxury doesn't inspire driving but performs better than most owners will ever need. However it has a subtle and not so subtle sophistication that sees it stand head to head with its European counterparts.
Honestly I would rather wear an all black jersey to a Bledisloe Cup game and support the dreaded All Blacks than buy a Prius as they just don't make sense to me. However, I would seriously consider buying one of these Lexus RX 450h AWD SUV's , they are that good. I would still prefer the RX 350F for a bit of driving pleasure and its some $15,000 cheaper. Even the RX 350 Sports Luxury is $6,500 cheaper.
What price do you as a consumer put on fuel economy? Only you can decide that, but you won't be disappointed with buying a RX 450h Sport Luxury.