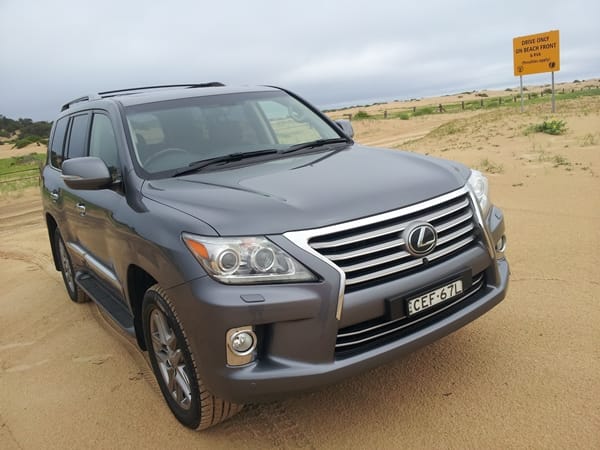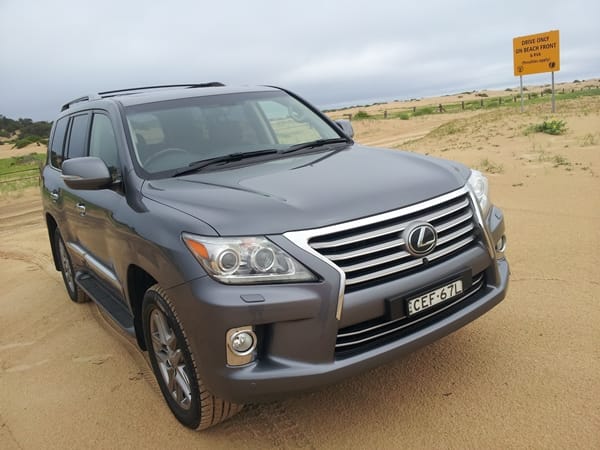 The flagship of the Lexus 4WD range is the LX570. The first thing you notice about the LX570 is its sheer size but it is surprisingly manoeuvrable, with a turning circle of 11.8 metres.
The seating in the LX570 is comfy with full power adjustment for the front seats and the rears having firm but flat padding. Rear legroom is adequate and the third row seats are better for short trips or pre teenagers.
There is leather and mahogany wood grain on all the seats, door trims as well as the electronically adjustable steering wheel and shifter.
The dash is well laid out, with easy to read gauges and controls falling easily to hand. The entertainment system is a pearler to keep children entertained for the long drives without affecting the stereo. The radio comes with Bluetooth which can store up to four phones and controls on the steering wheel.
The sat nav also worked well but is not to be relied upon for off-road navigation.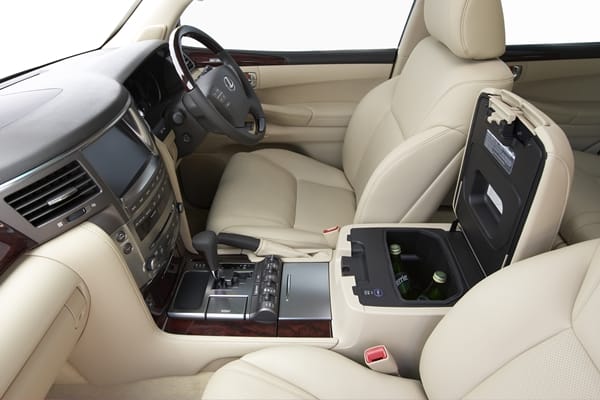 Storage Inside the LX570 is as roomy as you would expect and when we were travelling around we were loaded up with two child seats and five adults and there were no real complaints even from the two adults in the third row though they weren't in there for all that long. The centre console fridge also came in handy.
The Lexus has a 5.7L V8 petrol putting out 270kW @ 5,600rpm and 530Nm @ 3,200rpm of torque coupled to a six-speed triptronic auto running all wheel drive. This is more than enough to get the LX570 moving along nicely and coupled with a 3500kg towing capacity.
Freeway driving was a breeze with the Lexus idling along and on road handling is good as long as you remember that the Lexus weighs close to 3000kg. There is a bit of body roll and if you push it, it will understeer.
Off road is where the Lexus really shines. There is good wheel articulation for a vehicle with IFS and coupled with the CRAWL control there isn't much that it won't climb within reason. We put the CRAWL to the test on a long chopped up climb up a dune and it worked flawlessly.
Safety wise the LX570 has all the usual suspects with ABS,EBD,BA, TRC, VSC, airbags everywhere and seatbelt pretensioners etc. There is also a function that enables you to turn off the curtain airbags, when you are off-road.
The LX570 is a very capable vehicle on and off road. You can easily fit an extended family in, load it up for that dream adventure into the wilderness or potter around town. There are more genuine accessories as well as aftermarket than you can poke a stick at and it will tow nearly every caravan/camper or trailer available on the market with ease.
If you are looking for a large 4WD that is full of goodies and luxuries, is good off-road and can haul a load then you can't do much better than the LX570.
What is good:
• Power
• Towing capacity
• Off road ability
What is not so good:
• Size especially around town
• Weight
• Pricey
Model Lexus LX570
Model Price $152,322 RDAP
Drivetrain 4WD 5.7L Petrol V8 6 speed auto
Power 270 Kw @ 5,600 rpm
Torque 539 Nm @ 3,200 rpm
Safety N/A
CO2 Emissions 350 g/km
Green Vehicle Rating 2 1/2 Star
Economy (ADR comb) 14.8 L/100km
Tow Capacity – Max 3500 kg
Tow Ball Rating 350 kg
Servicing Capped TBA
Warranty 4yr/100,000km with full roadside assist
Overall OzRoamer Rating 87/100
Behind the Wheel 8
Comfort 9
Equipment 8
Performance 9
Ride & Handling 8
Practicality 9
Fit for Purpose 9
Towing Ability 10
Off Road Ability 10
Value for Money 7