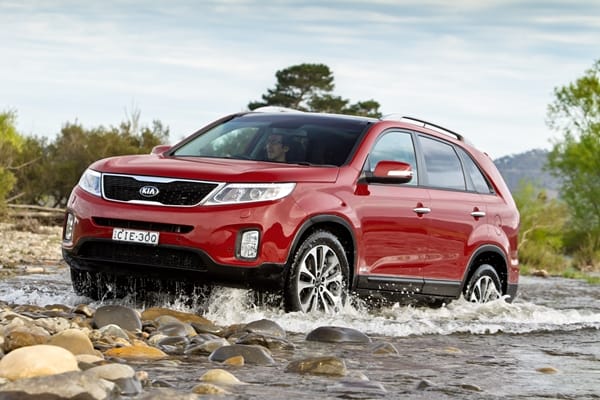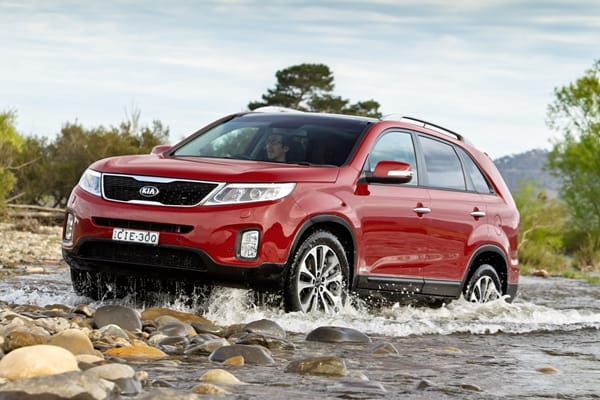 The Kia Sorento is a stylish, incredibly well appointed AWD SUV which has seven seats, a technologically advanced 2.2L 'R' series diesel with an all new 6 speed automatic transmission and a heap of features all packaged in a good looking vehicle.
We tested the updated Kia Platinum Sorento with the GPS, R2.2L CRDi engine producing 145kw and a hefty 436 Nm of torque from just 1800rpm with Kia's new 6-speed automatic tiptronic transmission. Fuel economy is outstanding as shown by a recent trip to the with four occupants and luggage to the roof we averaged 6.3L/100Km.
Step inside and quality is an immediate impression. Sitting in the electrically multi-adjustable driver's seat you can find a very comfortable driving position with enough seat travel to accommodate the taller drivers. Both front seats are heated and ventilated.
The thick-rimmed four-spoke steering wheel houses bluetooth amongst other controls and can be adjusted for height and reach, giving a clear view of Kia's 'three-cylinder' instrument cluster and multi information display.
A new centre stack features a large display screen for the GPS above heating, ventilation, audio and auxiliary controls set out in logical horizontal bands, with fine detailing that echoes the appearance of a premium audio system.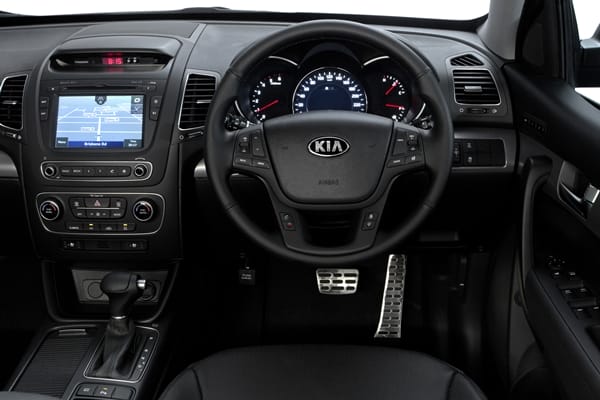 Storage is a feature with twin cup-holders, deep centre console, large glovebox, an illuminated lower tray in the centre console and four door pockets. The second row seat also features a folding centre armrest with twin cup-holders.
Seating for the rear passengers is comfortable with adequate headroom, legroom or shoulder room. I have had 6 teenagers in the car with minimal whinging.
Luggage space in the new Sorento is among the 'best-in-class' as cargo capacity is huge and a two-part glass Panorama Roof is fitted.
The updated Sorento's standard dual-zone air-conditioning features air vents in the B-pillars that deliver ventilation directly to second row occupants and floor-level ventilation ducts for the third row passengers with independent fan controls.
The Sorento is equipped with six airbags and front seats 'active' head restraints. Other active safety technologies include ESP, HAC, DBC, EBD, rear parking sensors, plus several systems to boost braking performance during extreme conditions.
The AWD is a single ratio (high range) 4WD system, with a default status that delivers 100% of engine torque to the front wheels during all routine city and highway driving. For improved traction while driving in rain, snow, mud, unpaved roads and off-road – the driver can manually select 'Lock Mode'. This mode splits the torque 50/50 between the front and rear axles for better stability up to a speed of 30 kmh.
The combination of powerful diesel motor, 6 speed automatic transmission, new suspension and speed-sensitive hydraulically power-assisted rack-and-pinion steering gives the Sorento impressive handling.
Towing capacity for the automatic is 2,000kgs and the reversing camera makes hooking up a breeze, just keep an eye on the tow ball weight.
The new Sorento has a more supple, responsive and fun-to-drive experience, as well as having some off-road ability that is good for dirt roads, beach and simple off road driving.
What is Good:
• R2.2L CRDi and 6-speed auto
• Handling and dynamics
• Stylish looks.
What is not so Good:
• AWD not 4WD
• Poor tow ball rating
• We had to give it back
Model Kia Sorento Platinum
Model Price $55,266 RDAP
Drivetrain AWD 2.2L 'R' Diesel 6 speed auto
Power 145 Kw @ 3,800 rpm
Torque 436 Nm @ 1,800 – 2,500 rpm
Safety 5 Star ANCAP
CO2 Emissions g/km 194
Green Vehicle Rating 3 ½ Star
Economy (ADR comb) 7.4 L/100km
Tow Capacity – Max 2000 kg
Tow Ball Rating 120 kg
Servicing $855 – 3yrs/45,000km
Warranty 5yr/ unlimited km with full roadside assist
Overall OzRoamer Rating 86/100
Behind the Wheel 9
Comfort 9
Equipment 9
Performance 9
Ride & Handling 8
Practicality 10
Fit for Purpose 10
Towing Ability 6
Off Road Ability 6
Value for Money 10