Lachlan Spark is setting off to prove that nothing is impossible. A self-described avid runner, mental health advocate, and anything-but-elite-athlete, Lachie's epic 5,000km journey, proudly supported by Nissan Australia, will see him travel from Hobart to Cairns whilst smashing the world record for consecutive half marathons, which currently stands at 141.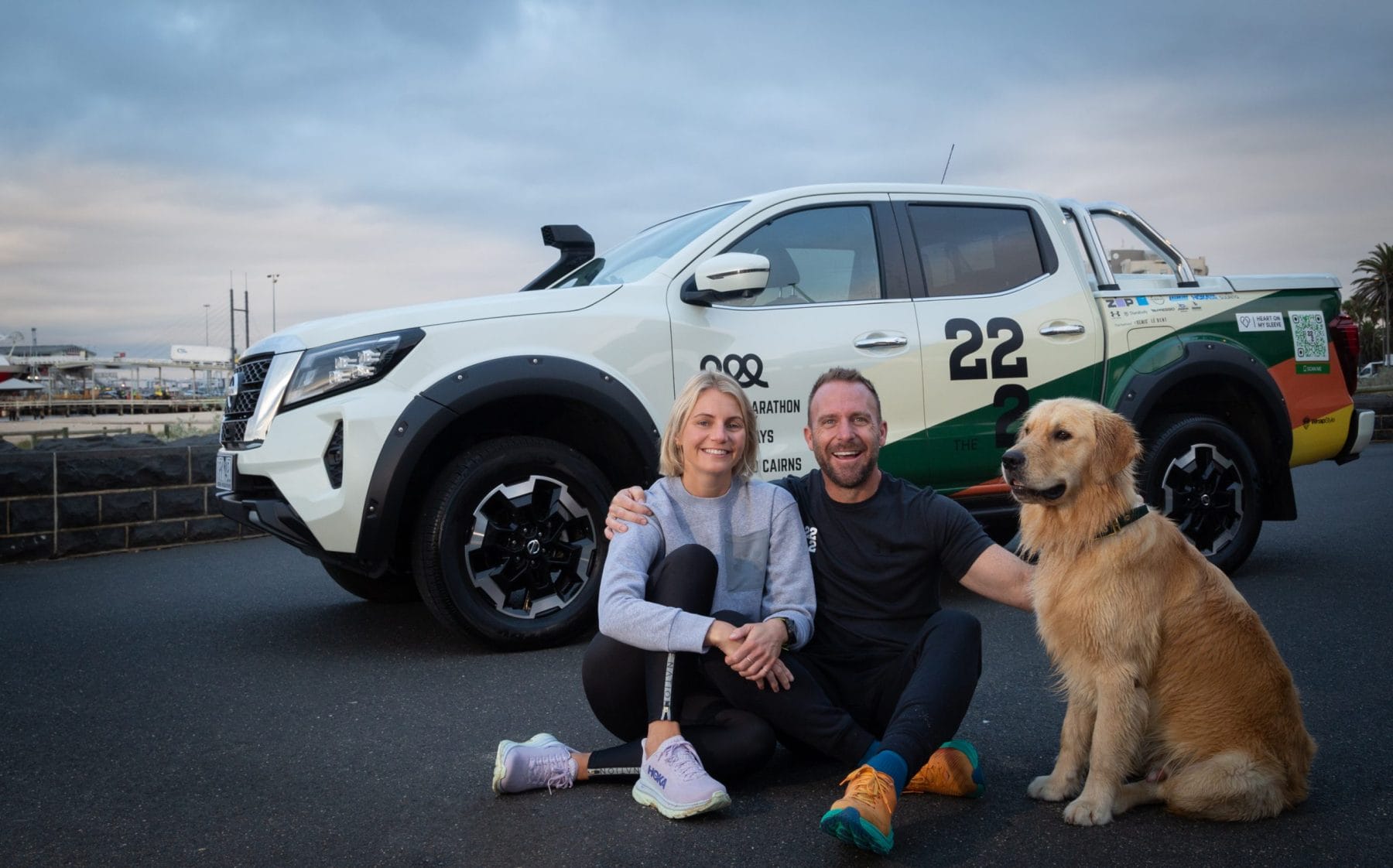 Whilst many of us would balk at the idea of 222 back-to-back half marathons, Lachie is setting out to raise $1 million for R U OK? and Heart On My Sleeve – an admirable reason to keep putting one foot in front of the other. Beyond raising these funds, Lachie is running to give hope to those currently battling mental health issues and to prove that absolutely nothing is impossible.
"This challenge is deeply personal to me" says Lachie. "I have lived with chronic anxiety and depression since my teens and have battled my way out of some really dark places. I am not looking to become a known name from this adventure but want to ensure that anyone who is going through their own struggles can see that anything is possible."
Joining Lachie along the east coast is his long-term partner Courtney Wynbergen and their Golden Retriever, Fab. They will be following Lachie in a Nissan Navara and their caravan, equipped with everything they could need to support his daily half-marathons.
TO LISTEN TO THE RADIO REVIEW CLICK BELOW
"I'm so excited to embark on this adventure of a lifetime. It's going to be a challenge, but one I am willing to take on for an incredible cause. I'm so privileged to have some amazing sponsors helping me along the way, including Nissan Australia. The Nissan Navara is the perfect car to follow me along my route and the team at Nissan have been incredible in their support." said Lachie.
Nissan Australia Managing Director Adam Paterson commented, "It's great to see an ambitious project come to life in support of such an important cause. We are honoured to have a Nissan Navara ST-X on the road, supporting Lachie as he achieves such an incredible feat".
"We wish Lachie all the best in his travels.  To show our support, Nissan employees across Australia, including myself, will run a few legs of the route with him along the way", said Paterson.
Starting in Hobart, Lachie will head west to Devonport to board the Spirit of Tasmania before docking in Port Melbourne. From here, the 222 Crew will make their way through Inverloch, en route to Gippsland, and then north through Eden, Wollongong, home-base Bondi Beach, the NSW Central Coast, The Tweed, and then right up through Queensland to Cairns.
Alongside Nissan Australia, Lachie is also supported by an impressive list of sponsors including BUPA, Therabody, ZIP.CO, and Big4.
Lachie's journey can be followed via his Instagram HERE and eager followers can find out more information about The 222, via the website HERE.