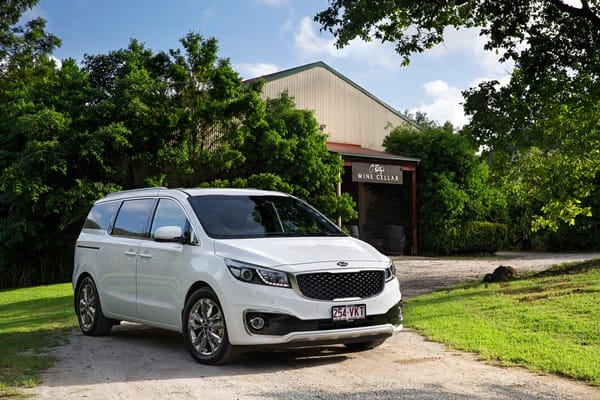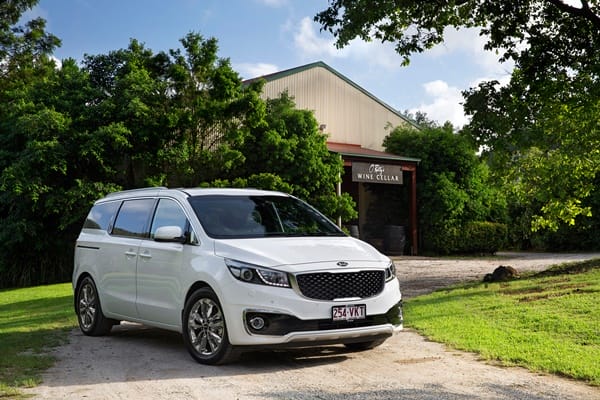 When I review cars it is important to keep in context the fit for purpose of the vehicle in question. Too often many reviewers rant and rave about things that have little relevance to the actual vehicle's purpose. Like 0-100KMH times for a diesel 4WD or cornering ability of a family 7 seat wagon, or boot space on a 2 door sports car. Don't scoff it happens often.
The vehicle in this review I feel has almost defined its purpose perfectly. If you look up the dictionary for the definition of the perfect family people mover it would probably have a picture of the Kia Carnival. It's almost like they could read the minds of the thousands of moms out there with larger families.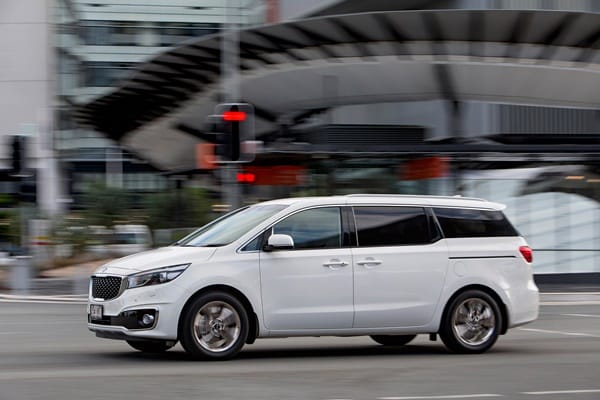 On test we have the Kia Carnival SLi 2.2L CRDi Auto. The initial impression when you approach the Carnival is just how little it looks like a van based people mover. Redesigned from the ground up and launched in early 2015 the stylish Carnival looks anything but a van people mover. It has sleek styling, long lines and a bold Kia grill that combines to be probably the most stylish vehicle in its class.
Combine this with an interior that sets new benchmarks for style, comfort and practicality and you can see why the Carnival has completely redefined the people mover class. Just how practical the interior is immediately noticeable when you sit in the vehicle. You don't step up like a lot of its competitors. You sit like a normal sedan. This is a factor of the design where you sit behind the front wheels not over them. This also affects driving style. You turn through corners rather than drive through them and then turn like a van.
The front driver's seat is very comfortable, 6 way electronically adjustable, with lumbar support. The height and reach adjustable leather/wood thick rimmed steering wheel allows almost any driver, even the taller amongst us, to find a very comfortable driving position. On the steering wheel you find the usual controls for audio, Bluetooth, cruise control etc. The driver is cocooned by the dash and centre stack/console.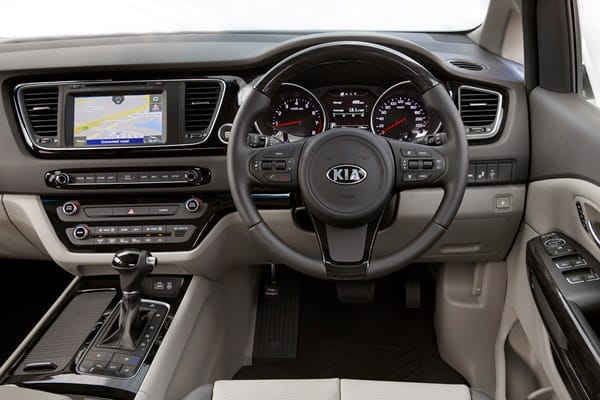 In front of the driver the dash with its white on black design is easy to read and the centre MFD a breeze to use with an abundance of information. The centre stack houses the audio/sat Nav system, again simple to use with a row of control buttons below. It feels integrated to the driver.
The Carnival comes standard with a six-speaker audio unit with a 4.3 inch colour TFT LCD display featuring a rear-view camera display with guidelines. The unit is compatible with Apple devices and features a My Music function with a 750mb drive to save and play MP3 audio files.
The SLi has a head unit which is an 8-inch TFT LCD touch screen with satellite navigation, rear view camera display, DVD player (for use when stationary) and comes with Kia's SUNA real-time traffic information and MapCare complimentary updates through the first two services.
Visibility is excellent for this type of vehicle, external rear view mirrors provide a wide field of view and the reversing camera, a necessity, is amongst the best in the industry. The front 'Á' pillar though like many current vehicles is thick and can conceal another car in roundabouts etc. The two tone soft touch interior certainly provides a luxurious ambiance.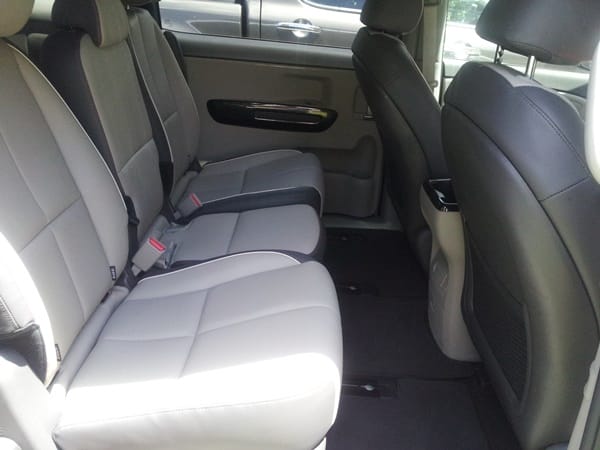 All seats are leather. The front passenger has plenty of room. The middle three seats are individually sculptured for maximum comfort with a fold down tray between the two outer ones. Outboard second row seats have armrests on the outboard side, similar to an aircraft seat. A 60:40 split-folding third row of seats completes the interior package –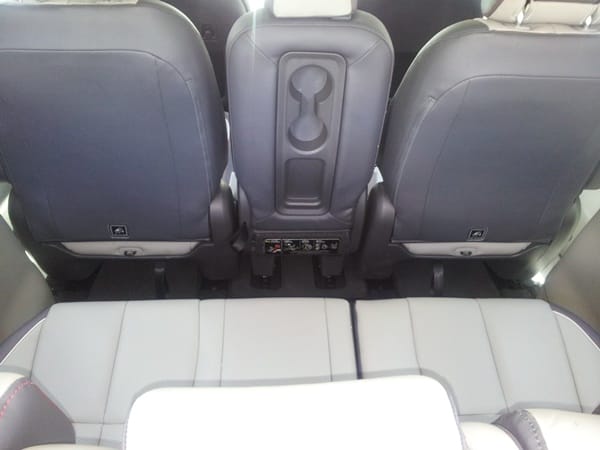 the third row is able to fold completely flat to provide a large cargo area. The centre seat in the second row can be removed or simply folded down to provide additional cup holder storage for rear passengers. The third row are better for two but will seat three in comfort up to mid-teens I guess.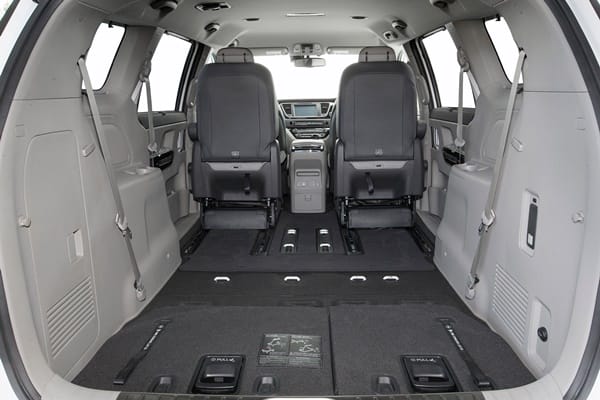 A feature of the new Carnival is the innovative 'Stand-up' seats in the second row, which allows the base cushion to fold forward and the rest of the seat to slide forward and 'stand up straight', allowing easier access to the third row in the back. Both rear rows of seats provide plenty of head room, legroom and to a degree shoulder room. The seating flexibility is amazing providing an almost confusing array of seating/storage combinations.
Storage space is as you would expect enormous with 960 litres (SAE) behind the third row of seats. This grows to 2,220 litres behind the second row and 4,022 litres when all rear passenger seats are stowed. Despite the lower roofline, the shape of the tailgate also enables a taller cargo opening height for the cargo bay.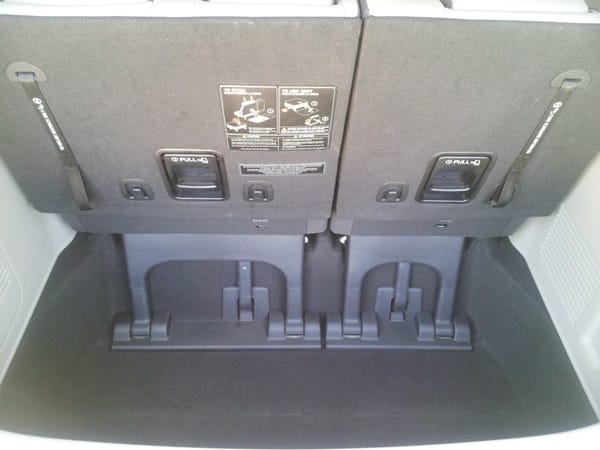 The rear storage well when the third row seats are up is staggering. I can sit in there and I am certainly larger than the average bear at 190cm tall and of 'beefy 'build.
The tri-zone air condition allows for individual settings for the driver and front row passenger while the second and third row passengers have a separate zone which can be controlled from the second row. These controls can be locked out or over-ridden from the main front console. Built-in sunshades for second and third row seating also improve passenger comfort.
When inside you are struck by the feeling of space and practicality. It feels bigger inside than it looks outside. Its only when you are in tight car park spaces that you realise this is a big vehicle.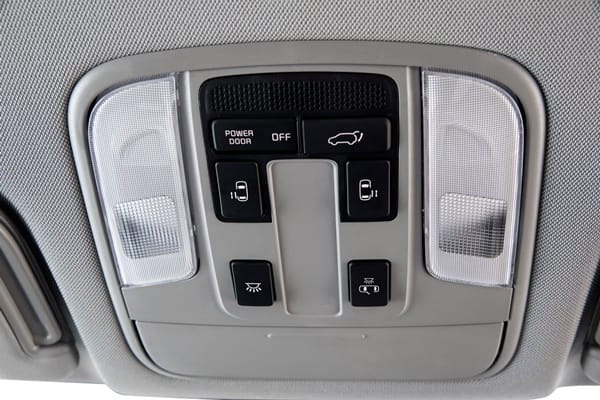 There are numerous storage spaces throughout the cabin for greater practicality, including a large centre console storage that is flexible with a top tray, clever design, slide-open tray in the second row, and seat-back pockets. Spread throughout Carnival are 10 cup holders and four bottle holders. The front passenger has twin glove boxes, the lower one is air cooled for storing drinks for the kids. Luxury items include the electronic sliding doors and tailgate, leather seats, cool glove box etc.
Carnival owners will have the comforting assurance of a range of standard active safety technologies, including six airbags (front to rear coverage), eight three-point seat belts, Electronic Stability Control (incorporating ABS, TCS, Hill Start Assist, Brake Assist, Cornering Brake Control and Roll Over Mitigation) and rear parking sensors. For Platinum owners the suite of active safety features expands even further with Smart Cruise Control, Front Parking Assist etc. There are 4 top tether and 3 ISOFIX child restraint points.
The real surprise with the Carnival is just how well it performs. Driven by the same 2.2L CRDi diesel engine and 6 speed transmission from the Sorento, the Carnival is more than powerful enough for drivers and is economical as well. The 2.2L CRDi engine produces 147 Kw of power at 3,800 rpm and torque of 440 Nm @ 1,750 rpm. Economy is outstanding with 7.7L/100Km used. On a long drive I did I got that down to below 6.0L/100Km.
This combination means that the Carnival provides low down torque, responsive acceleration, quiet cruising (thanks to the extensive work done in the redesign), and sedan like handling. There is no forward control driving technique required, it is very smooth and did I mention QUIET. In short I found it actually fun to drive.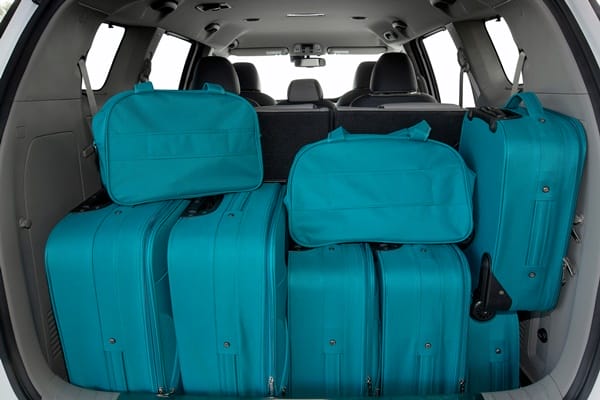 I can imagine myself in earlier years loading up with kids and luggage, drive for hundreds of kilometres and arrive feeling relaxed and having enjoyed the drive rather than a chore. I would actually consider this vehicle even if I only had two kids as it probably would be a better choice than many other smaller wagons and definitely better than a sedan.  On test I had a number of moms come up to me and ask to check it out. They all were impressed. The Platinum has a few more creature comforts and safety features but rides a little harder on 19 inch rims. The pick for me is the SLi.
Like all cars the Carnival does have its faults. They are few but include the thick Á pillar, left foot brake, when the Sorento has electronic brake and I'm not a huge fan of the road side sliding door. I just feel it is a safety danger.
So to my overall drive impressions. I was absolutely blown away with just how good this vehicle is. I wouldn't consider anything but the diesel engine 6 speed auto combination. It is responsive, powerful, economical and quiet. The Carnival is jammed full of comfort  and safety features, drives like a sedan, seats 8 in comfort and combined with Kia's 7 year unlimited warrantyand a RDAP of around $57,480 in Sydney,  is just about the best value on the market today.