Isuzu recently launched the all new X-Terrain that replaced the LS-T in the model range. Well it's actually a little more upmarket than the LS-T to account for the increased demand for dual cab Utes with more features.
We provided some detail about the specifications of the Isuzu D-MAX X-TERRAIN when it was launched so this article is more about what it's like to drive and use.

What is X-TERRAIN Exterior Like?
I like it. It sits somewhere in the middle range of machismo and sleek.
It has a bold grill that seems to flow back to the bonnet with highlight lines. The LED auto headlights and LED DRL's integrate seamlessly as do the lower LED foglights and air flow vents.
We had the orange colour (Isuzu give it a much more exotic name of Volcanic Amber) that grew on you and contrasted well with the Dark Grey side steps, door handles, roof rails, wheel arches and alloy wheels and rear aero sports bar, roller tonneau cover and underbody protection.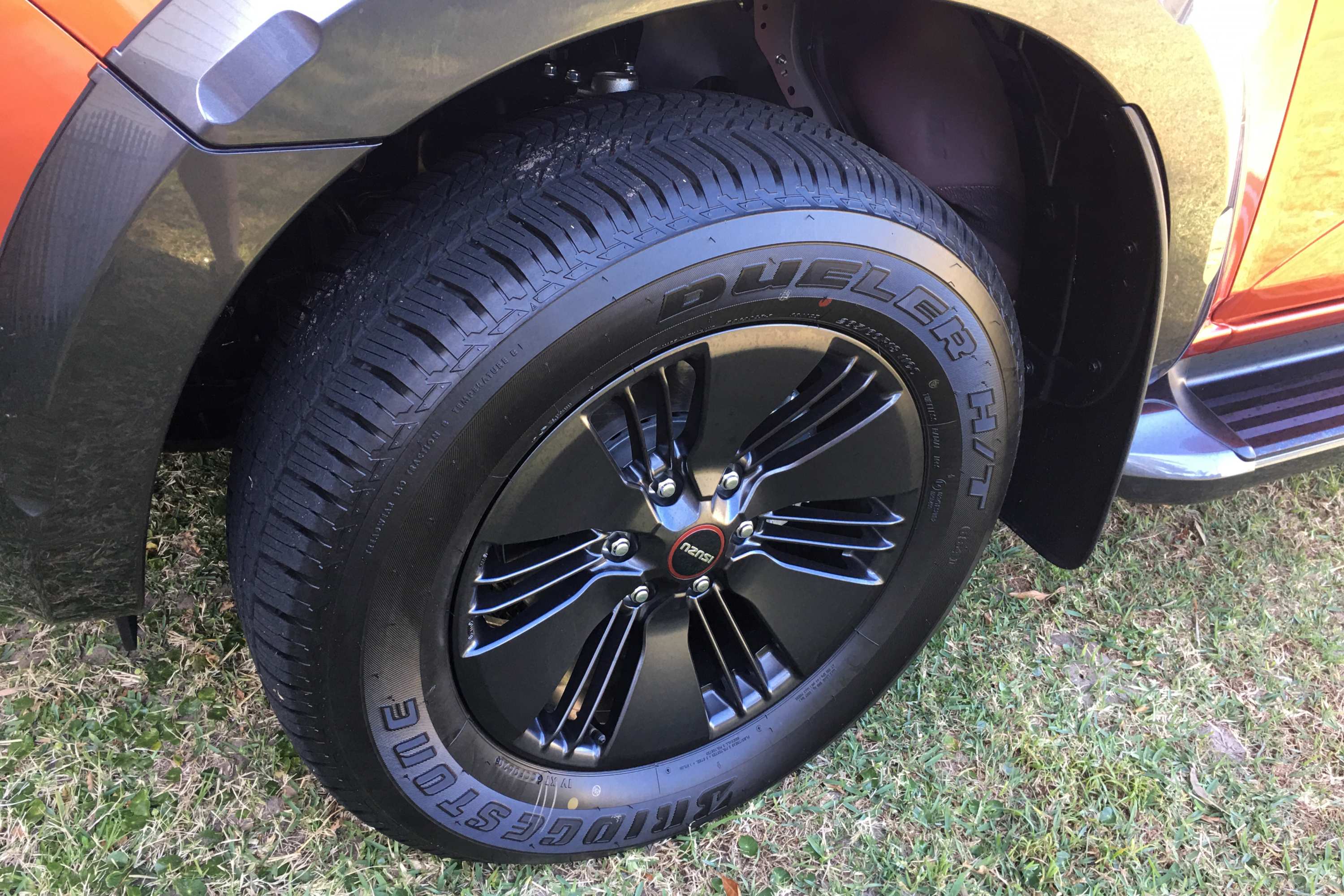 X-TERRAIN runs 18" dark grey metallic alloy wheels with 265/60R18 Bridgestone 684II HT tyres.
I also like the slightly sloping profile that definitely looks purposeful.
From the rear it has a different look with feature lines through the tailgate and stand out taillights. The roller cover for the tub looks great and provides security as well as water resistance. More on this later. There is also a protective tub liner as well and handy tie down points.
Available in Marble White pearl, Magnetic Red mica and Volcanic Amber metallic in addition to the standard range of paint finishes
So for me it's a big tick for the new style!

Is the X-TERRAIN comfortable inside?
The short answer is YES.
First thing you notice is the definite step up in style. The new Isuzu has improved substantially in its interior ambience.
For me the key improvements include:
Overall feeling of quality with soft feel dash, highlighted stitching, more subtle integrated look and subtle contrasts.
Seating is more comfortable. The previous LS-T seats while supportive could feel hard and flat like you sat on them after a while. These seats feel like you sit in them and are more inviting.
Driver's seat is 8 way electronically adjustable with additional electronic lumbar support. I would like to see this on the front passenger seat as well.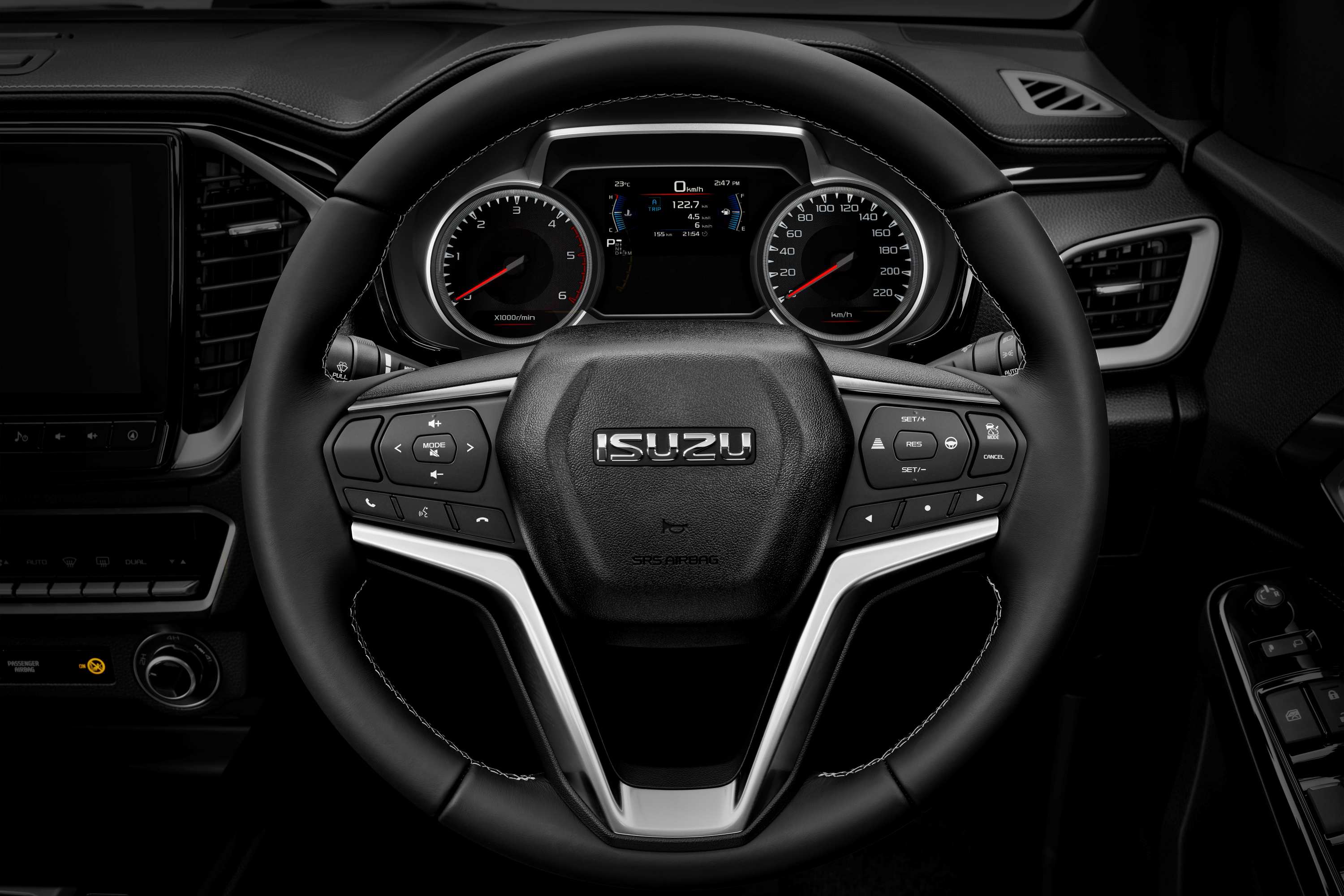 The steering wheel, instrument binnacle grouping has improved.

The steering wheel is soft touch leather, now both height and reach adjustable, with the usual controls and feels good in the hands.
The instrument cluster is clear with white on black contrast and a 4.2 inch MID that is multi configurable in separate sections.

The centre console area has soft padding for the elbow, a huge improvement, as well as a decent size storage area, a couple of cup holders and stylish transmission lever.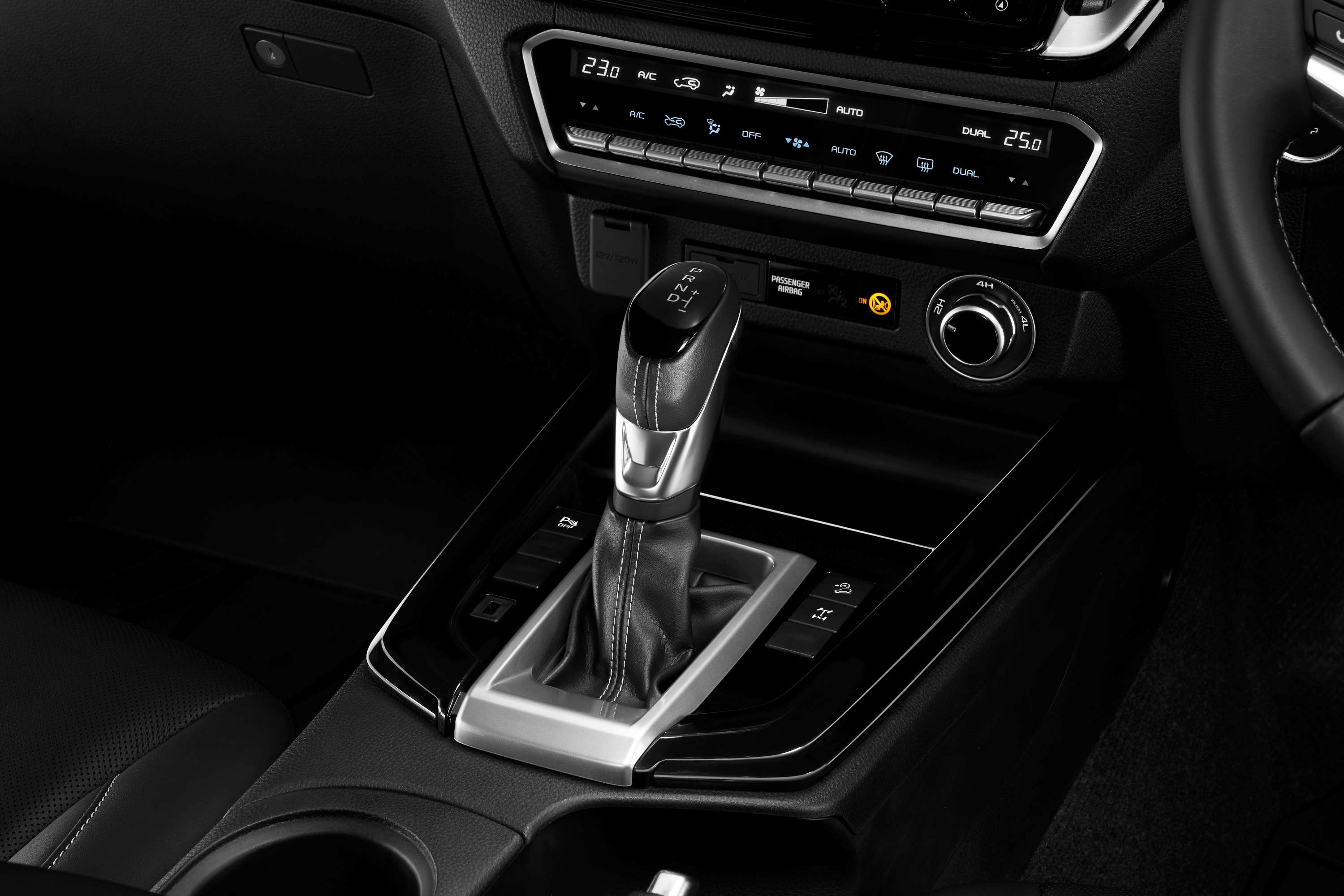 The centre stack area is not only an aesthetic improvement but functionally as well. I like the silver switches contrasted on piano back.
Sitting dominantly in the centre of the dash is a new 9-inch high-definition infotainment system, featuring, voice recognition, in-built Sat-Nav, DAB+ radio, and the latest in smartphone mirroring with Android Auto™ and wireless Apple CarPlay®.
This is a dramatic improvement. You can actually see this screen in daylight, unlike the last model.
Additionally there is a premium 8-speaker surround sound system and dual zone air conditioning
Isuzu retains the pull-out cup holders, which is good.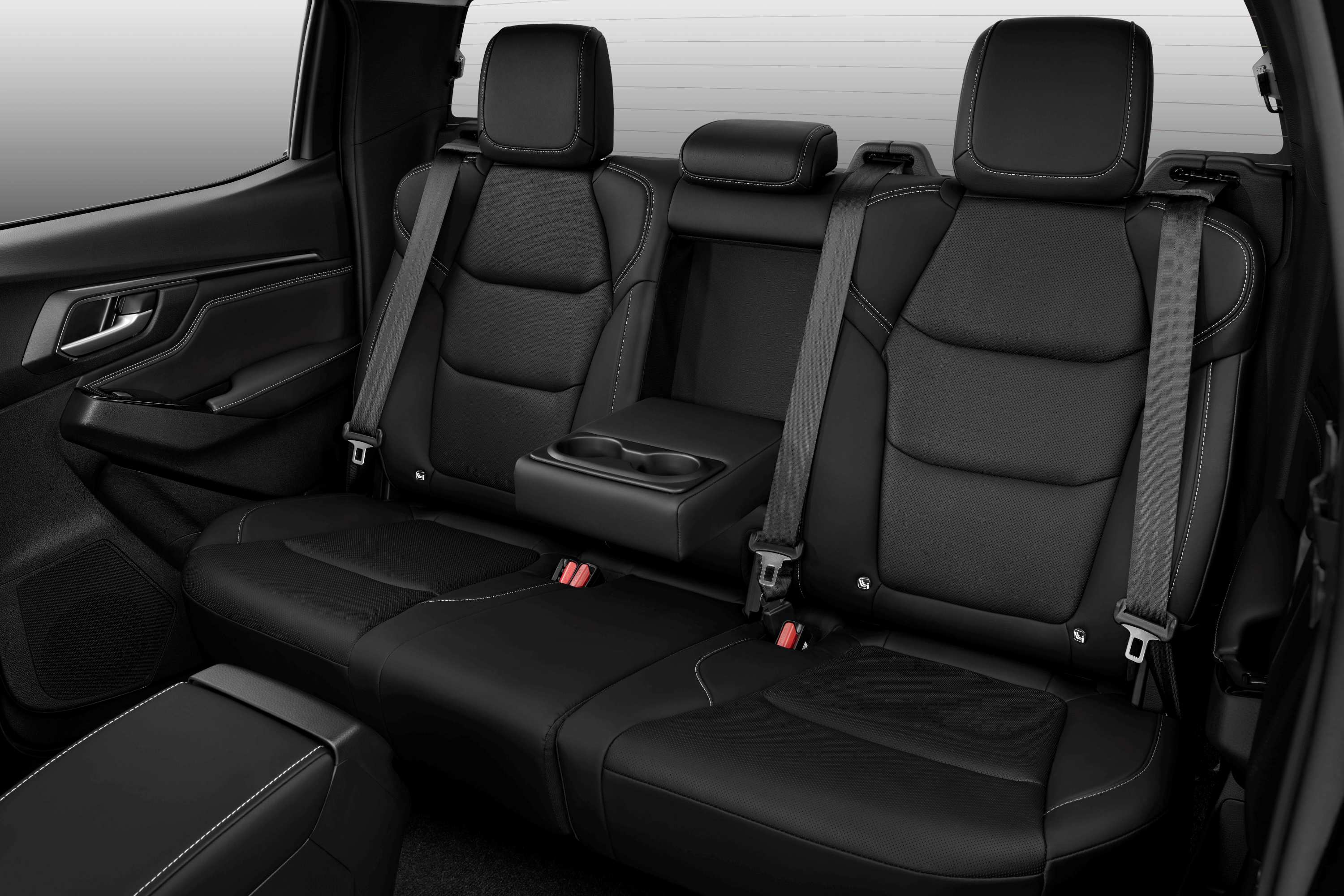 Rear seats are much more comfortable with a slightly reclined position and definitely focused on two occupants. The also benefit from rear air vent and plenty of head and increased shoulder room. Leg room is on par with most dual cab Utes.
Rear seats retain their folding practicality and a couple of handy storage bins under.
So the X-TERRIAN gets another tick for the improved interior.

What features does the X-TERRAIN have?
While there has been many improvements there are still a couple of thing missing.
Key features include: (not mentioned yet)
Auto rain sensing wipers
Auto headlights and auto high beam and auto levelling
Adaptive cruise control
Front and rear park sensors
A couple of things that are missing that I would like to see are
Heated and cooled front seats
Front passenger seat electronically adjusted the same as driver seat
A HUD would be nice.
One surprise feature is the walk away door locking. It's both handy and sometimes a little annoying when you forget about it. I guess if you owned the Ute you would get used to it, but I liked the feature.
Dovetailing with this is the combination of a new Smart Key that provides, Remote Engine Start, Smart Keyless Entry, Push Button Start and Welcome Light.
The remote start is a feature I appreciate. It allows the cabin to either cool or warm up before you get in. It's also fun to play with in carparks and see the surprised expression on people's faces. It never gets old.
Added security protocols scan for the Smart Key and keep the doors locked, preventing unauthorised entry to the cabin, whilst Remote Engine Start is in use.
When the key holder walks within 2 meters of the X-TERRAIN, the Welcome Light in the cabin will automatically turn on. But when they leave X-TERRAIN, the Walk Away Door Lock will automatically lock the car when the D-MAX detects the Smart Key is over 3 meters away.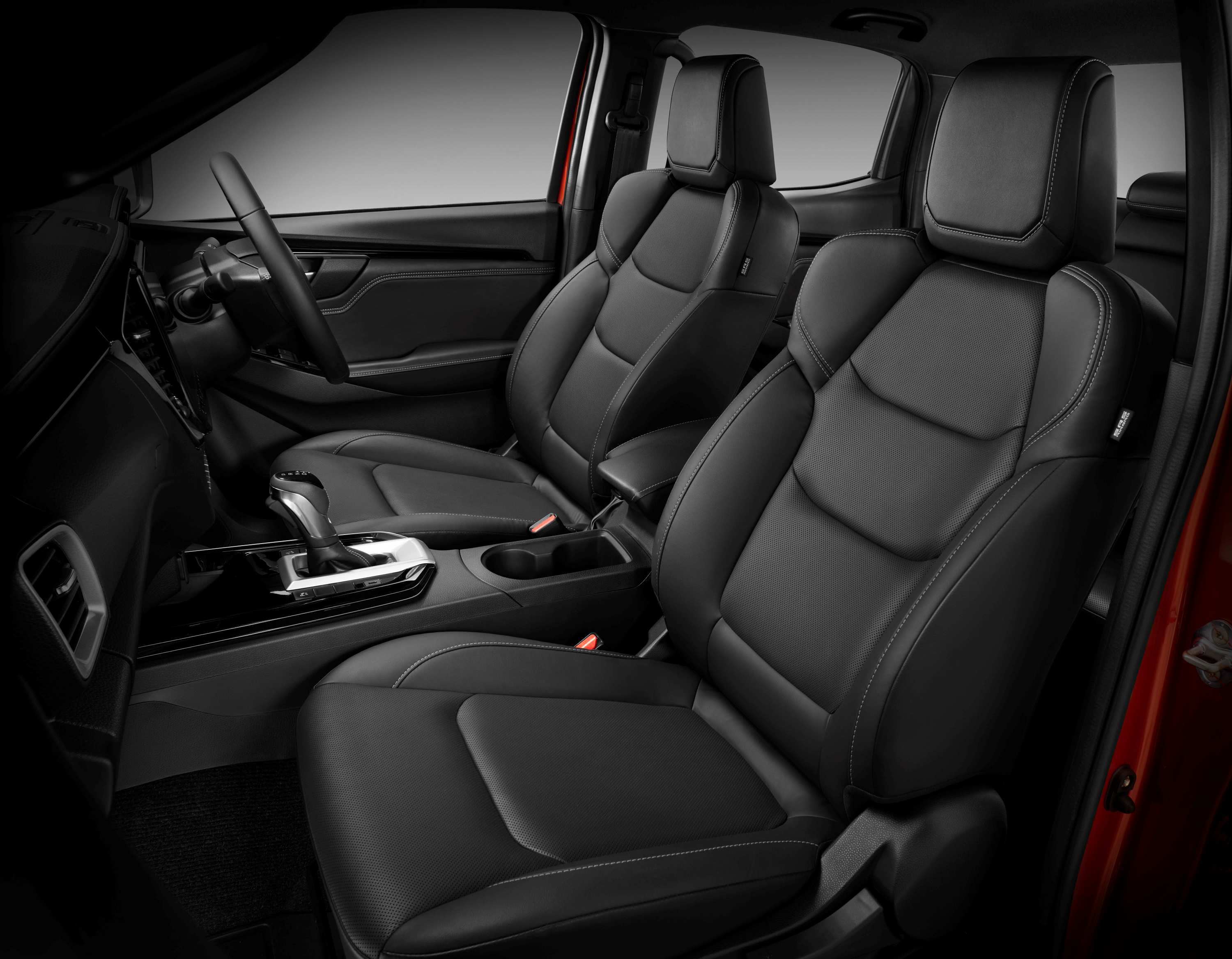 What is the X-TERRAIN like to live with every day?
The old engine was good, the new one better. It is slightly more responsive, slightly quieter and the wide torque spread means that it will putter around easily.
The better resolution on the centre screen means that you can actually see when you are reversing now. The seats are really very comfortable and all around visibility is pretty good.
The headlights are excellent, both low and high beam as well as the DRLS's and fog lights. LED's have made a drastic improvement to lighting in general.
The wireless Apple Car Play is a practical feature and appreciated, yet like others it really chews the battery on phones, especially if they are a little older.
Im not a fan of the smart wet wiper blade which is an integrated washer wiper function. The water dispersing seemed to be slow to come out and not where it was needed.
Unfortunately you can't turn off the adaptive function in the cruise control. That is a pet peeve for me in any vehicle. It should be selectable for different conditions. Yes you can adjust the distance but that is not enough.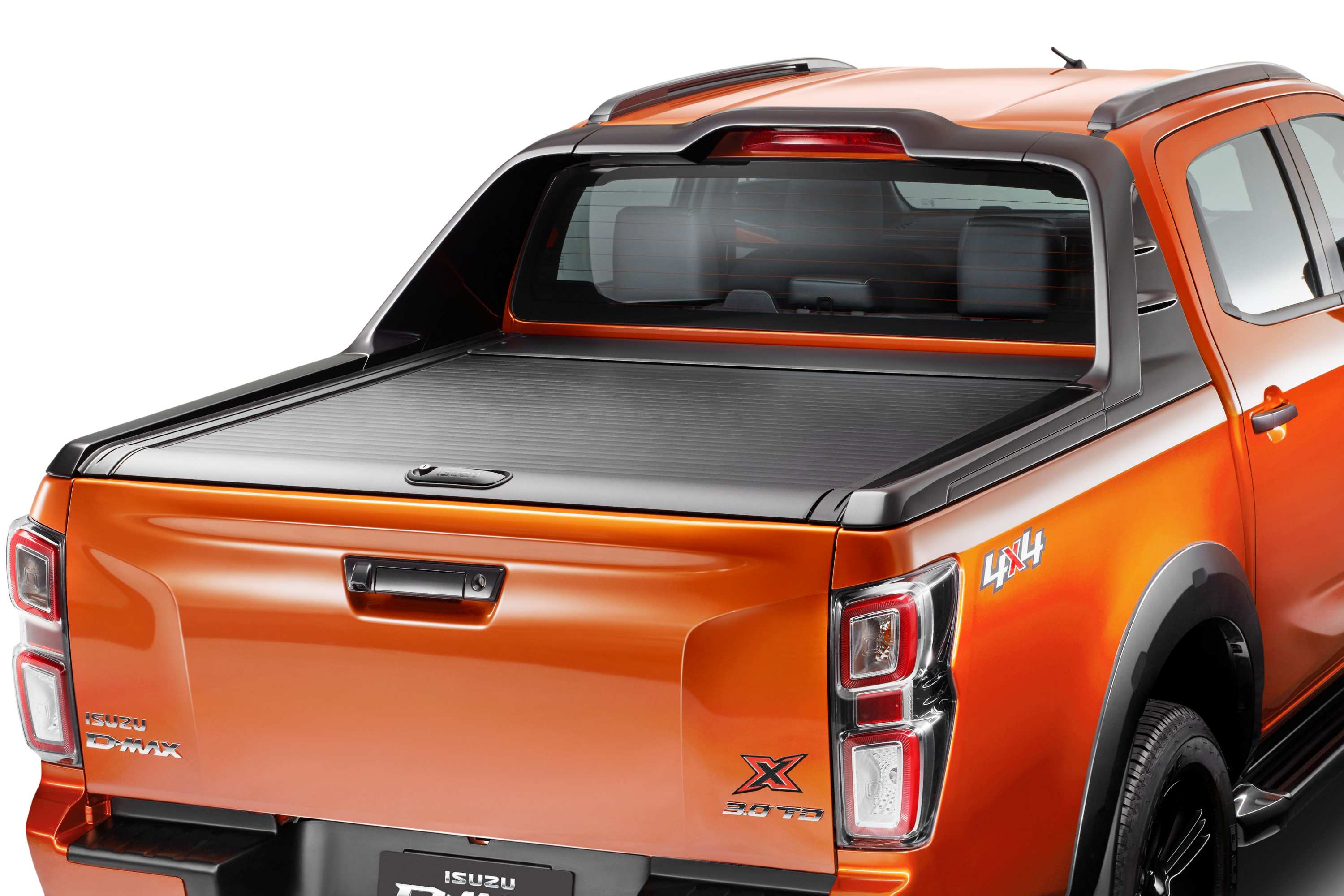 Let's get to the roller cover for the tub. I'm in mixed minds about these. They definitely make it easy for providing security as well as water resistance, but they are also a pain in the ass due to two issues.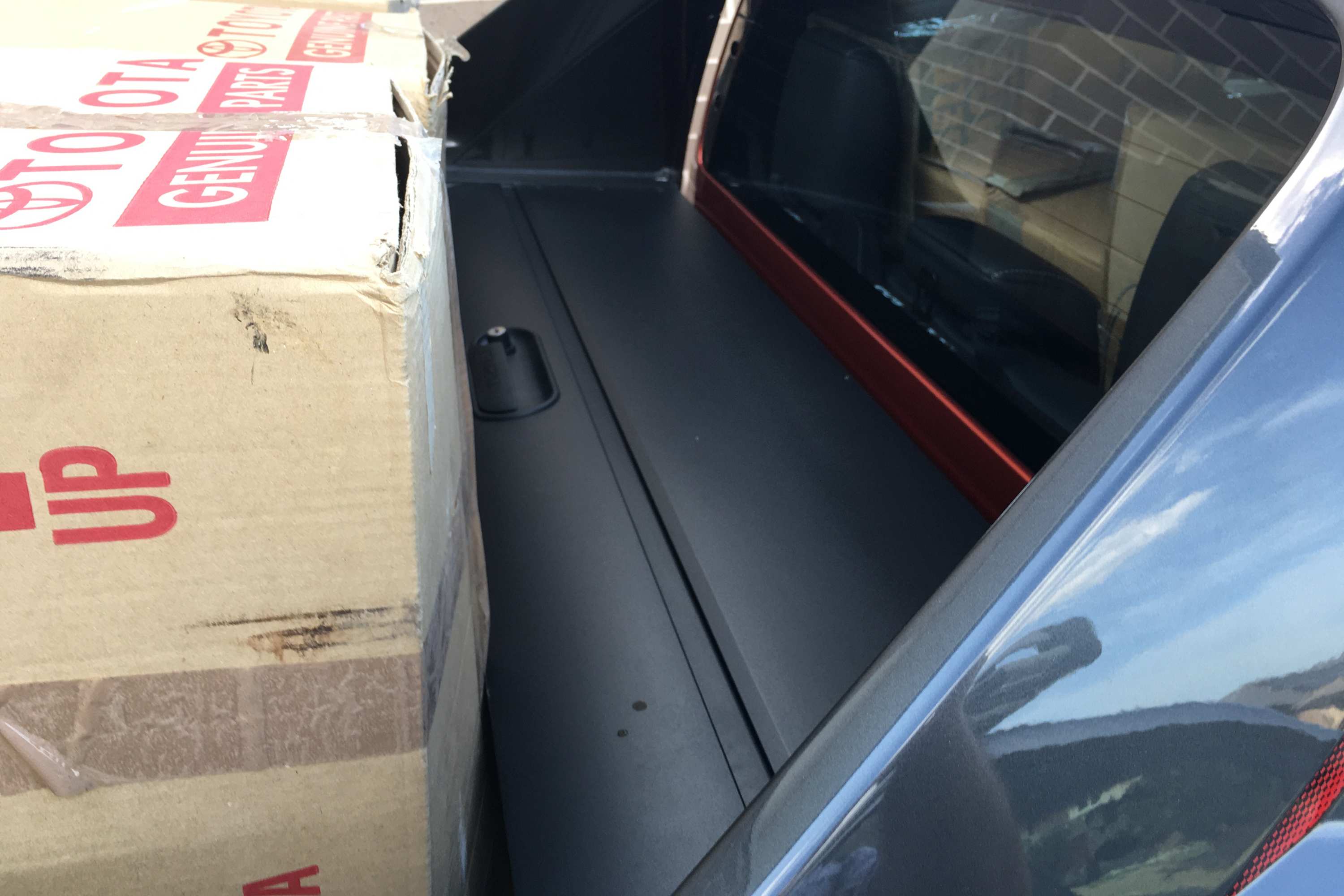 One is that the roller box means you lose up to a foot of storage space in the tub and that is wasted space. Two is the issue that when the cover is opened to access it must be rolled all the way in and out again before it will lock again. Not convenient in pouring rain.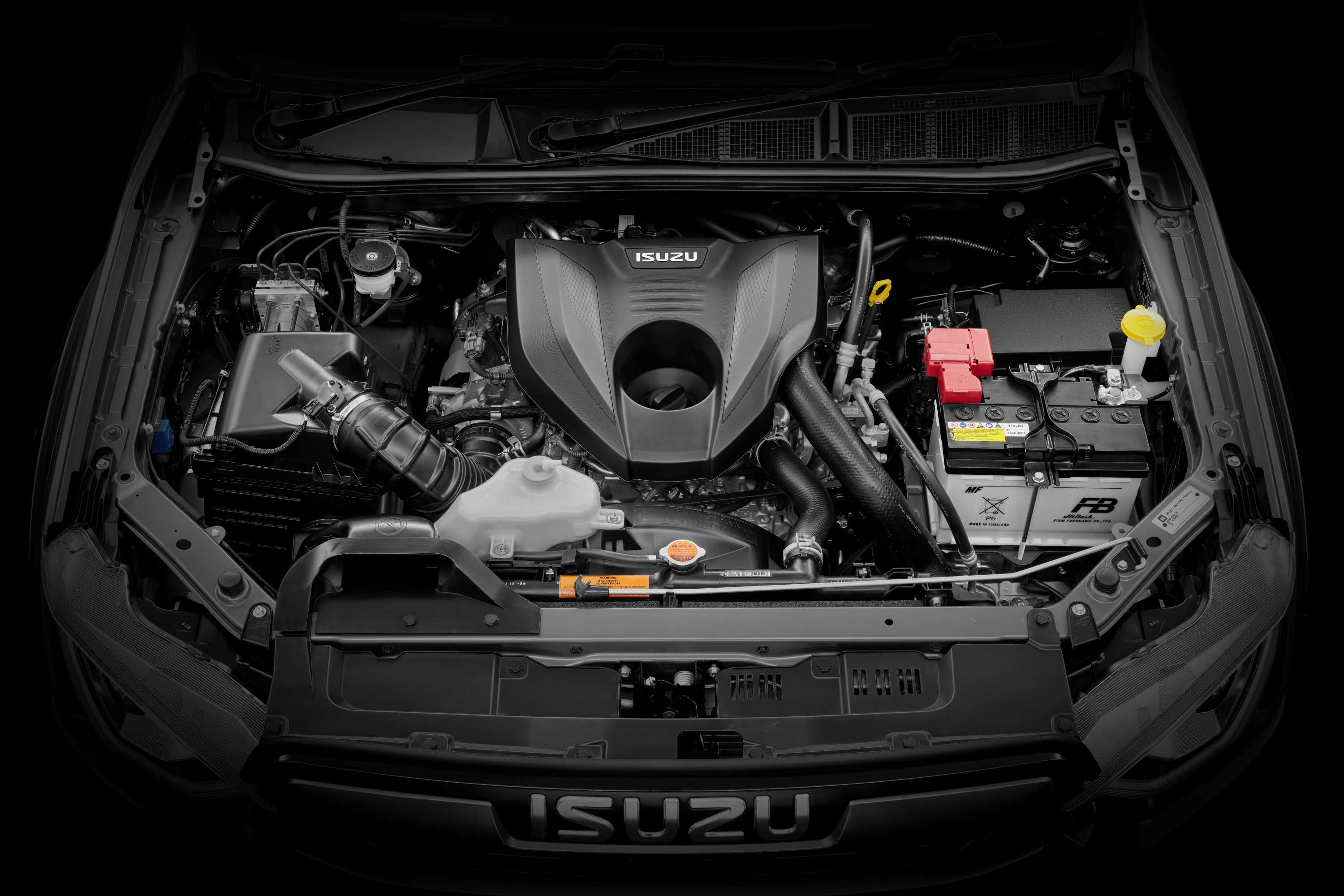 X-TERRAIN engine and drivetrain
One strong point about the Isuzu D-MAX was always the robust and long life engine. Famed for its reliability. The new engine is a derivative of the previous engine, only improved for Australian conditions.
We should be thankful they have retained this engine.
The new 4JJ3-TCX 3-litre, turbo-diesel engine, delivers power of 140kW at 3,600rpm and torque of 450Nm at 1,600-2,600rpm. This is a mild increase on the previous model.
More importantly, midrange torque has been improved, with a hearty 400Nm on tap from 1,400rpm through to 3,250rpm, resulting in improvements to both drivability and performance, particularly when towing or under load. Impressively, 300Nm is produced at just 1,000rpm—testament to how torque-efficient the 4JJ3-TCX is.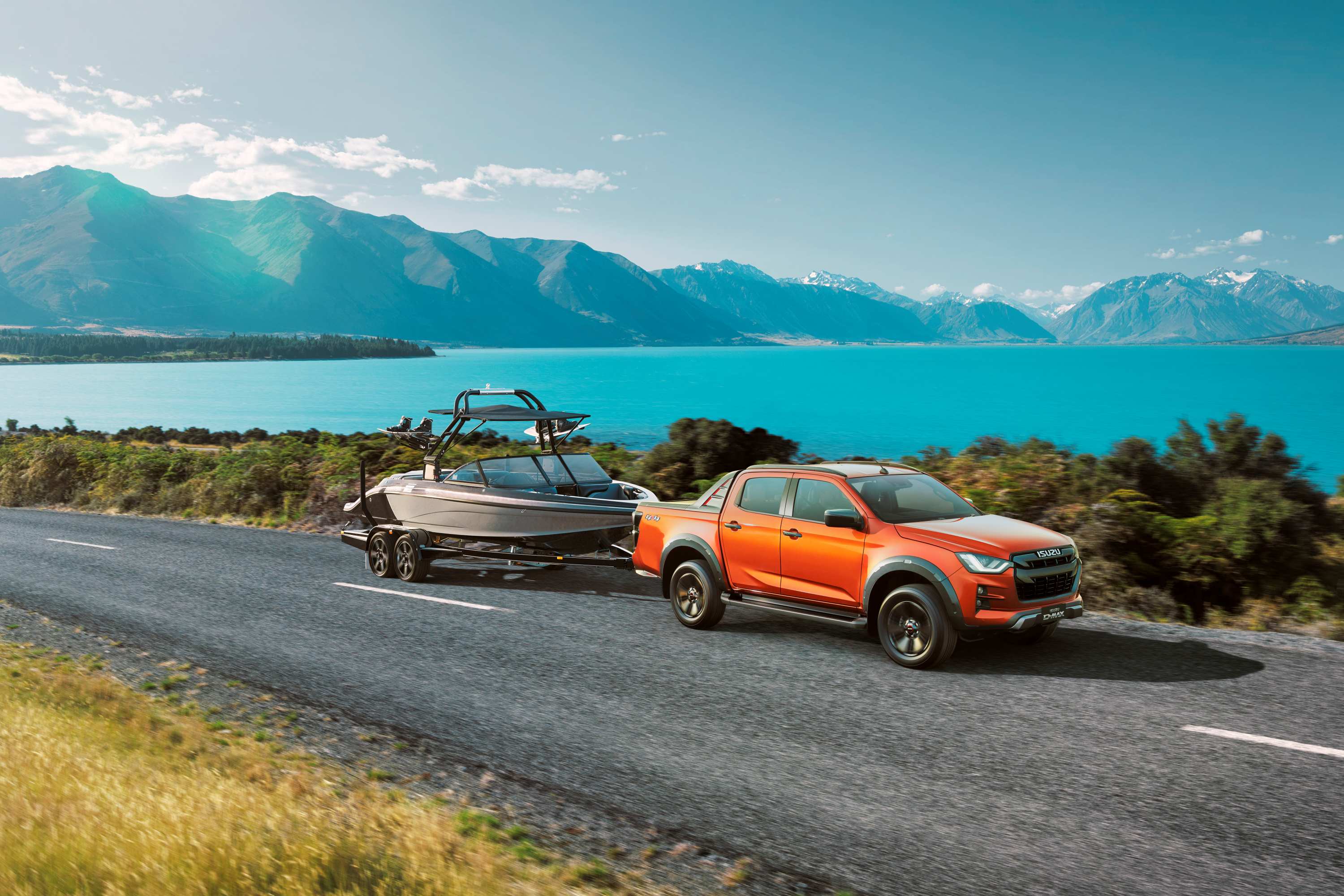 Power and torque is transferred to the wheels via an Aisin-built AWE6B45 II 6-Speed automatic transmission with dual-range Terrain Command 4×4. The combination works to extract the best from the engine as well as improvements in economy.
Towing at 3500kg is a breeze and economical.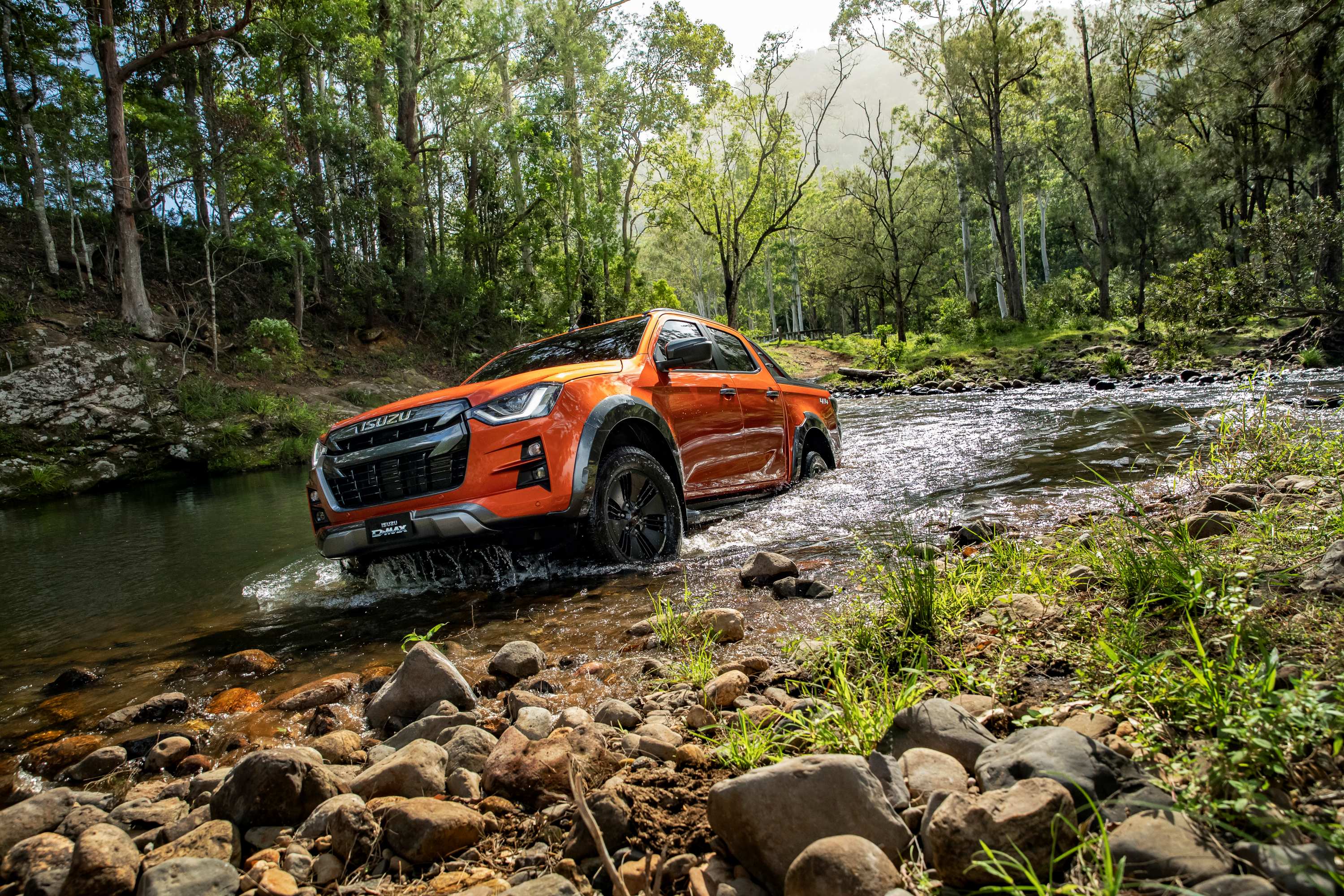 X-TERRAIN 4WD capability
D-MAX has always been an excellent robust and reliable 4WD Ute. I've taken D-MAX's everywhere over the years and they've never once failed me or complained about where they go.
The new D-MAX models benefit from a revised 4×4 transfer case with a new electronic actuator, that speeds up the shift from 2-High to 4-High at speeds of up to 100km/h in less than a second. Switching from 4-High to 4-Low also takes just under a second, a huge improvement over the preceding system that took 2.5 seconds to engage.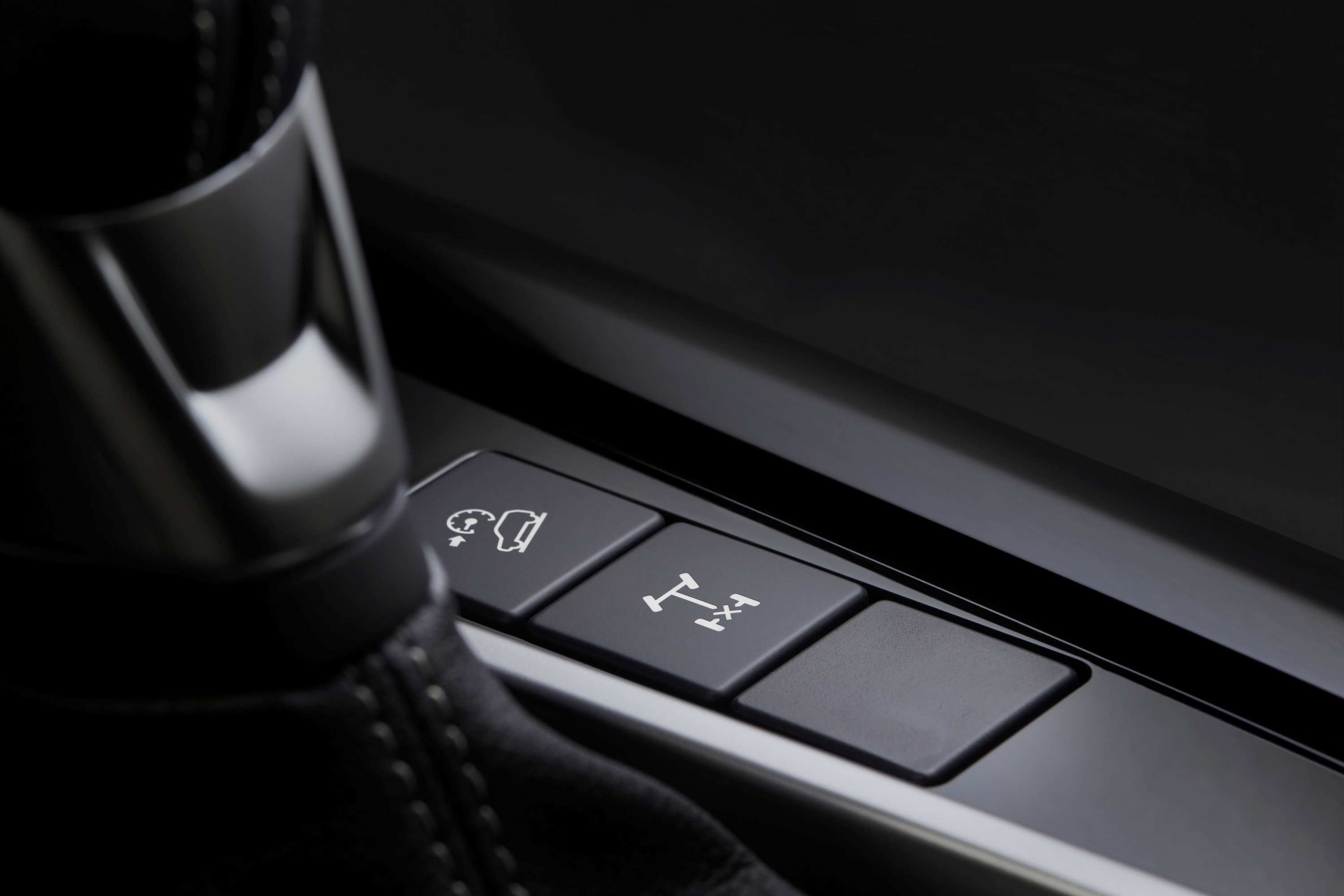 Showing that Isuzu listens to customers (with the exception of heated and cooled seats) there is now a rear electromagnetic locking differential (rear diff-lock). Drivers can engage the rear diff-lock at a push of a button, distributing torque evenly across both rear wheels.
Whilst in 4-Low, the Rear Diff-Lock can be engaged on the fly at speeds up to 8kph and will automatically disengage at speeds above 30kph.
When driving with Rear Diff-Lock engaged, systems such as Traction Control System and Electronic Stability Control will automatically be disengaged. All ADAS features, however, including AEB & LDP will remain engaged, but can be turned off via the Driver's 4.2" Multi-Information Display.
The new three leaf rear suspension is definitely more compliant without a load and can handle a load with ease. I haven't towed with it yet, but given the improvements to the previous model I'm sure it will be okay.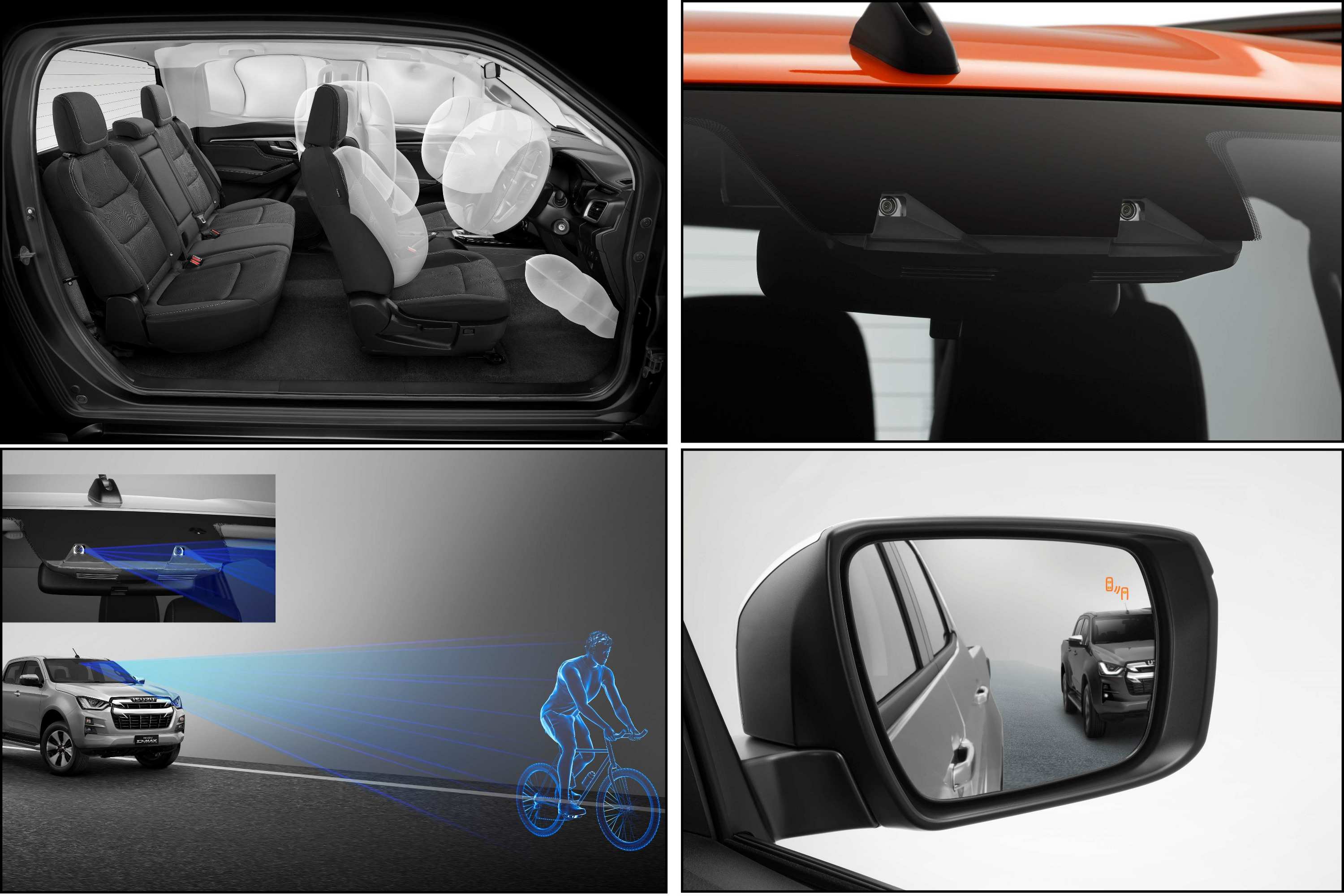 X-TERRAIN Safety
D-MAX has a five star ANCAP safety rating (2020) across the range. Its class leading with its features. A full list of safety features can be found HERE
X-TERRAIN comes standard with Isuzu's Intelligent Driver Assistance System (IDAS), an advanced suite of driver safety and assistance technologies.
Utilising a state-of-the-art Hitachi 3D Stereo Camera that actively detects other motorists, pedestrians and cyclists, the D-MAX X-TERRAIN features the latest in autonomous, active and passive safety features.
Headlining the list of standard IDAS technologies is:
Autonomous Emergency Braking with Turn Assist,
Adaptive Cruise Control,
Traffic Sign Recognition,
Blind Spot Monitoring,
Rear Cross Traffic Alert,
Lane Keep Assist,
8-airbags including a knee and first-in-class, centre airbag and many more potentially life-saving features.

X-TERRAIN dimensions and capacity?
The Isuzu X-TERRAIN has an
overall length of 5280mm,
wheelbase of 3125mm,
width of 1880mm and
Height of 1810mm.
Unladen ground clearance is 240mm
Wading depth 800mm
Approach angle is 30.5 degrees, rampover is 23.8 degrees and departure angle is 24.4 degrees.
Turning circle is 12.5m,
Tub length 1570m. depth 465mm, Width 1530mm
Width between wheel arches 1122mm
Kerb mass of 2130kg and Payload of 970kg.
GVM of 3100kg, GCM of 5950kg.
Fuel tank is 76L
Towing capacity is 3500kg and tow ball rating is up to 350kg WITH 50mm ball.

X-TERRAIN Owner Benefits
D-MAX X-TERRAIN comes standard with Isuzu UTE Australia's comprehensive ownership care package program, Service Plus 6-7-7; encompassing a 6 Year/150,000km Warranty, up to 7 Years Roadside Assistance when serviced through IUA Dealers and 7 Year Capped Price Servicing (CPS) program.
X-TERRAIN Summary
Yep, like this one. It ticks a lot of boxes.
It is stylish and appealing, comes with a heap of standard comfort and safety features and comes at an introductory price of $58,990 drive away, which is a bargain. Not sure how long that will last though.
In the continuing move upmarket for top model Utes, the D-MAX X-TERRAIN holds its own and replaces the now defunct Colorado as the class leader in safety.
Make the adaptive cruise control selectable and put in air conditioned seats and I'd be tempted to buy it.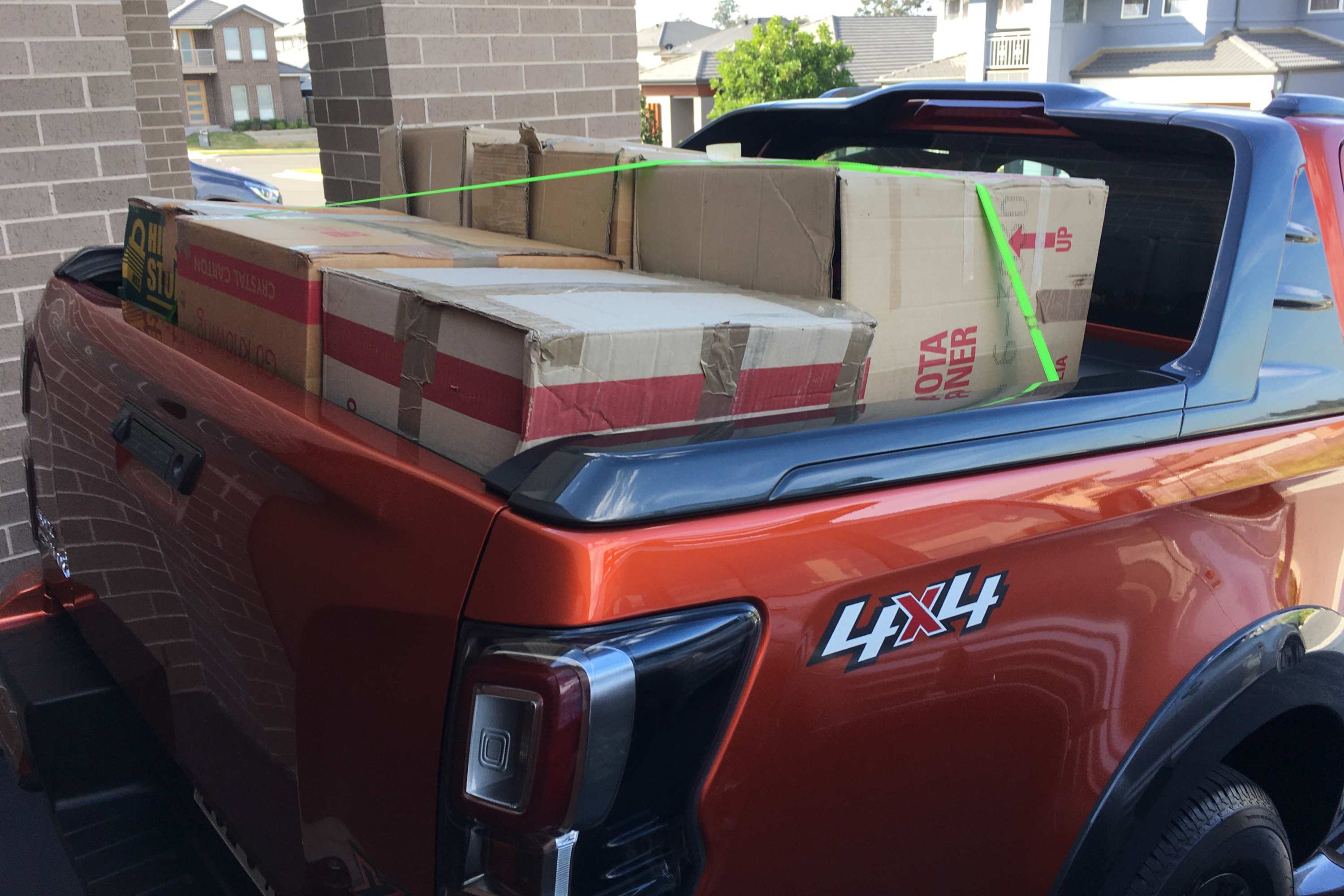 What is good?
Class leading Safety
Improved centre screen resolution
4WD and towing capability 
What is not so good?
No heated or A/C seats
Adaptive cruise control not selectable
Front passenger seat not electronically adjustable
Would love 150kW/500Nm
Also Look At
 Model:  Isuzu D-MAX X-TERRAIN 4WD Dual Cab Ute  
Model Price:  $62,990 MLP* Introductory Special $58,990 RDAP
Engine:  3.0L 4 Cyl TDi
Drivetrain: Terrain Command 4×4 Aisin 6 speed Auto
Power:  140kW at 3,600rpm
Torque:  450 Nm @ 1,600-2,600rpm
Safety:  5 Star ANCAP
CO2 Emissions:  207 g/km
Economy ADR:   8.0 L/100km
Tow Capacity:    3500 kg
Tow Ball Rating: 300 kg
Payload: 970 kg
Servicing: Capped Price
Warranty: 6yr/ 150,000 km with 1 Yr. conditional roadside assist up to 7 years
*MLP – Manufacturers List Price includes GST and LCT but excluding statutory charges, dealer costs and dealer delivery. See your dealer for RDAP. Does not include price of any options.
Overall Rating    89/100
Behind the Wheel 9
Comfort 8
Equipment 8
Performance 8
Ride & Handling 9
Practicality 9
Fit for Purpose 9
Towing Ability   10
Off road Capability 10
Value for Money 9
Isuzu D-MAX X-TERRAIN 4WD Dual Cab Ute
Summary
Yep, like this one. It ticks a lot of boxes.
It is stylish and appealing, comes with a heap of standard comfort and safety features and comes at an introductory price of $58,990 drive away, which is a bargain. Not sure how long that will last though.
In the continuing move upmarket for top model Utes, the D-MAX X-TERRAIN holds its own and replaces the now defunct Colorado as the class leader in safety.
Make the adaptive cruise control selectable and put in air conditioned seats and I'd be tempted to buy it.