Which car has won a pile of awards and is one of the highest selling vehicles in Australia? The Hyundai i30 of course! This may be a surprise for many older generations who have a stigma against the Korean brand, however, it's time the 'Baby Boomer' public let go of their pre-conceived notions of Hyundai and took a good look at how their cars compare to their direct competitors in today's market.
I am constantly convincing friend's parents to consider a Hyundai, so why not lay down the simple facts for you all as well. In this article I will compare the Hyundai i30 to its direct competitors: the Ford Focus and Mazda 3. We are comparing all top of the range: Hyundai i30 Premium, Ford Focus Titanium and Mazda 3 Diesel. All cars are the Hatch variant.
| | | | |
| --- | --- | --- | --- |
|   | Hyundai i30 | Ford Focus | Mazda 3 |
| Engine | 1.6L Diesel | 2.0L Diesel OPTIONAL | 2.2L Diesel |
| Transmission | 6 speed automatic only | 6 speed automatic only | 6 speed manual only |
| Power | 94kW @ 4000 rpm | 120kW @ 3750 rpm | 110 kW @ 3,500 rpm |
| Torque | 260Nm @ 1900-2750 rpm | 340Nm @ 2000-3250 rpm | 360Nm @ 1800-2600 rpm |
| Fuel Consumption | Auto – 5.6L/100km | Auto – 5.4L/100km | Manual – 5.7L/100km |
| CO2 Emissions | Auto – 147g/km | Auto – 156g/km | Manual – 150g/km |

In taking a close look at this comparison one thing is abundantly clear. The Hyundai i30 offers the winning combination of automatic transmission and diesel as standard! For those who cannot drive a manual, the Mazda 3 is immediately out of the question. For those who do not want to pay the extra $3,605 for an automatic transmission, the Ford Focus is out of the question. 
While on paper the Hyundai i30 is not as impressive in power performance, I can tell you that I have driven all three and the real life, day to day difference in power is marginal, if at all noticeable. It is all about fit for purpose. These cars aren't meant to be race cars, they're for young 20-somethings or the 'downsizers' to get from point A to point B and all three perform exceptionally well in this area.
Fuel consumption is a big thing for everyone. With fuel prices through the roof these days, every dollar counts. The Hyundai and Ford seem to be pretty on par however the Mazda is much higher than one would expect for a manual! (all fuel consumptions are the combined figure). Again, doing your bit for the environment is very important and the Hyundai i30 has the best emissions rating producing only 147g of carbon/km. This is well below the next rating of 156g/km for the Ford and exceptional when compared to the manual Mazda's whooping 150g/km.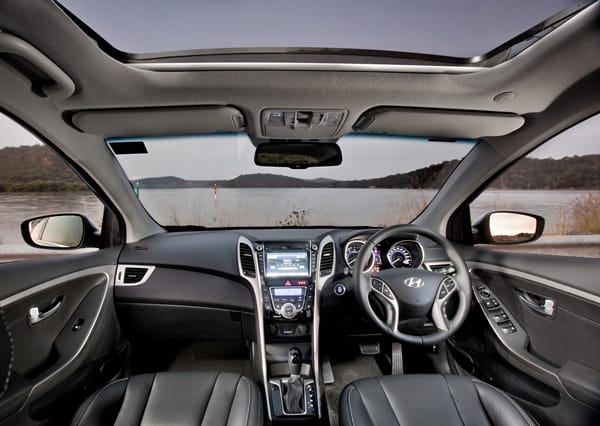 | | | | |
| --- | --- | --- | --- |
|   | Hyundai i30 | Ford Focus | Mazda 3 |
| Bluetooth | Yes | Yes | Yes |
| Radio/CD | Yes | Yes | Yes |
| MP3 & Inputs | Yes, AUX & USB | Yes, AUX & USB | Yes, AUX & USB |
| Speakers | 6 | 9 | 6 |
| Sat Nav | 7 inch | Yes | Yes |
| Steering wheel controls | Yes | Yes | Yes |
In regards to audio technology, all three cars are basically the same with the Ford Focus coming out just on top with an extra 3 speakers and the Ford SYNC technology.
| | | | |
| --- | --- | --- | --- |
|   | Hyundai i30 | Ford Focus | Mazda 3 |
| Trip Computer | Comprehensive | Comprehensive | Does not display distance to empty |
| Seats | Leather, heated, electronic, lumbar support driver | Leather inserts, electronic and lumbar for driver | Cloth and no lumbar |
| Boot Capacity | 378L | 316L | 276L |
| Reverse Camera/ Park Assist | Yes | Yes | No |
| Keyless Entry & Push Button Start | Yes | Yes/No | No |
| ANCAP (star) | 5 | 5 | 5 |
 
It is clear that the Hyundai i30 is leaps and bounds ahead of its competitors here! Heated leather seats, a HUGE boot space, keyless entry and push button start, reverse camera and park assist and a 5 star ANCAP rating, what more could you want!
Now it's all about value for your dollar, so let's get down to business! Cost is a massive deciding factor when it comes to purchasing a car.
| | | | |
| --- | --- | --- | --- |
|   | Hyundai i30 | Ford Focus | Mazda 3 |
| Drive away price in 2000 as per vehicles website | Premium Diesel Auto – $36,567.27 | Titanium Diesel Auto – $40,605.00 | Diesel Manual – $28,890 |
While the Mazda 3 is cheaper, there simply is no automatic option. With approximately 60% of the Australian public opting for automatic cars, this puts the Mazda 3 completely out of the option for many Australians. Not only that, it lacks a pile of features that people put a lot of value on such as leather seats, keyless entry, push button start, the simple distant to empty reading and a large boot space. That leaves us with the Hyundai i30 & Ford Focus. With a price difference of around $4,000 the Hyundai i30 is the clear winner with price. When it comes to value for money, it also seems to be ahead with push button start, heated seats and the larger boot space. It all depends on what you place the highest value on and I know for many Australian's that purchase price plays a huge role!
However, what about aftermarket care, servicing costs and warranty? These all play an important factor in the decision making process and the amount of money you will need to invest in your car after purchase.
Hyundai has a program called Hyundai iCare. This means that all cars in the Hyundai range, including the i30, boast a 5 year unlimited km warranty, 3 years capped price servicing and 7 years roadside assistance! They also offer a 3 year free map-plan update to ensure you navigation system is up to date without cost and a free service at one month/1,500km. For the Hyundai i30 the first three services are capped at $289 per service, adding up to $867 for the first three services (15,000/30,000/45,000km).
Ford's capped price servicing is noticeably more expensive, however they do offer capped price servicing up to 105,000km/6 years! For the 15,000/30,000/45,000/75,000/90,000/105,000 services its $360. The 60,000km service is $940. These services include a 12 month standard roadside assistance. Warranty is for 3 years/100,000km with the option to upgrade to a 6 year/200,000km warranty.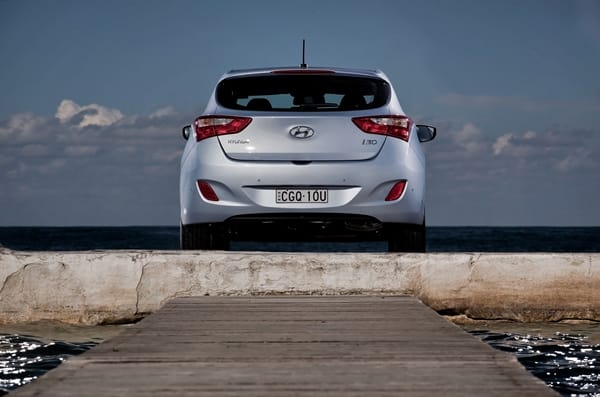 While the Ford has capped price servicing for 105,000km/6 years, it is more expensive and extra costs can occur. The warranty for the Hyundai is unrivalled in the car industry at the moment and the added bonus of a 3 year map plan and 7 years roadside assistance just push it over the top!
While ultimately the decision on what car to buy is up to you as an individual, it is important to objectively consider the competition in the market. Judge the car and the brand on their performance today, not a pre-conceived notion from 20 years ago, because as you can see, the Hyundai i30 Premium Diesel has come out way on top of one of the biggest brands, Ford, and one of the highest selling cars in Australia, the Mazda 3, in this fit-for-purpose comparison.