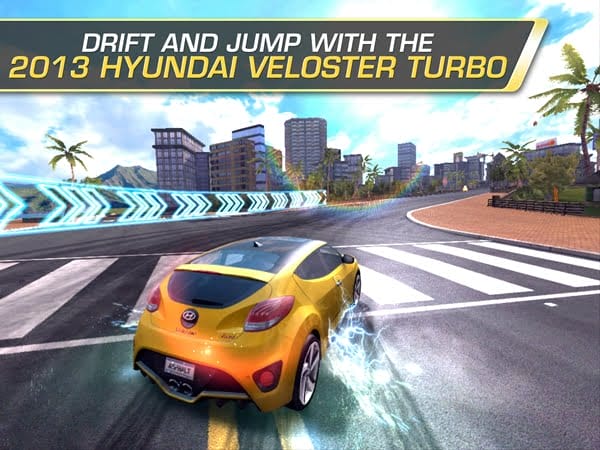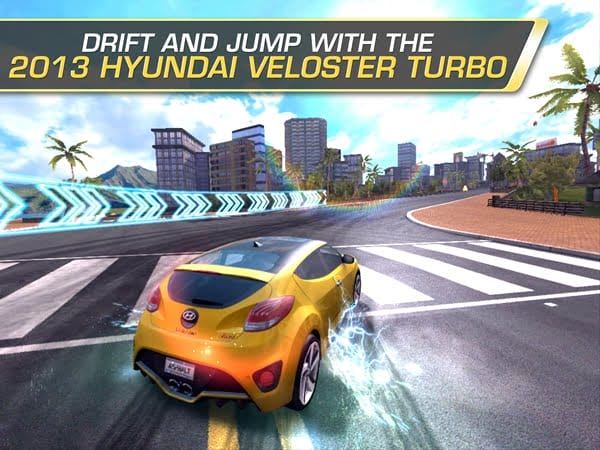 Hyundai Motor Company this week announced two of its most exciting vehicle models have made their debut in one of the most popular mobile racing games, Asphalt 7: Heat. Available on iOS and Android smartphones/tablets, the game gives players the opportunity to experience the thrill of Hyundai performance vehicles right in the palm of their hands.
Commencing this month, players can compete with both the Veloster Turbo and Genesis Coupe in Gameloft's best-selling mobile racing game, Asphalt 7: Heat, joining the lineup of 60 high-performance vehicles from the world's premium automakers.
Gameloft, a leading global publisher of digital and social games, released the latest instalment to its famed Asphalt series in June, with the Hyundai models now featured in the new game update. The collaboration syncs perfectly with Hyundai's 'Modern Premium' brand direction as it strives to use Hyundai innovation to give customers experiences above and beyond their expectations.
Known for its dynamic gameplay and high-quality graphics, Gameloft's Asphalt series has been downloaded more than 50 million times since its launch. Asphalt 7: Heat is an adrenaline-fueled car-racing game where players compete in ruthless showdowns at breakneck 'virtual' speeds across the world.
Globally, the Hyundai Veloster Turbo and Genesis Coupe models are proving popular with younger drivers, thanks to their aggressive, head-turning styling and fun-to-drive performance. The Veloster Turbo, on sale in Australia from this month, clearly conveys Hyundai's brand philosophy 'New Thinking. New Possibilities.' featuring an innovative three-door coupe design combined with the functionality of a hatch and delivering peak power of 150 kW @ 6000 rpm, and maximum torque of 265Nm @ 1750 – 4500 rpm from the turbocharged engine.
Through this partnership, Hyundai will accelerate its mobile game marketing to further enhance the company's overall brand image. In addition to the Asphalt 7: Heat brand integration, Hyundai and Gameloft are also launching an exclusive and dedicated version of GT Racing: Motor Academy on Android, where players can find the brand's futuristic i-oniq concept car along with the Genesis Coupe available in the game. In an effort to further strengthen its game marketing platform, Hyundai is collaborating with Gameloft to develop a suite of special events in the second half of 2012, with Hyundai subsidiaries preparing region-specific marketing programs to support the initiative.
"We hope this project with Gameloft will give the young generation, as well as Hyundai's current customers, an opportunity to experience the Hyundai brand," said Wonhong Cho, Chief Marketing Officer for Hyundai Motor. "Hyundai will continue to offer 'Modern Premium' values to future customers through brilliant marketing activities."
"We are thrilled to be partnering with Hyundai to offer our fans, and those of the iconic brand, an even bigger selection of vehicles in our already rich catalogue of 60 available cars for Asphalt 7: Heat, and to let players drive the famous i-oniq concept car in GT Racing: Motor Academy," said Alexandre Tan, Business Development Director at Gameloft.
Note: *Genesis Coupe is not available for sale in Australia.