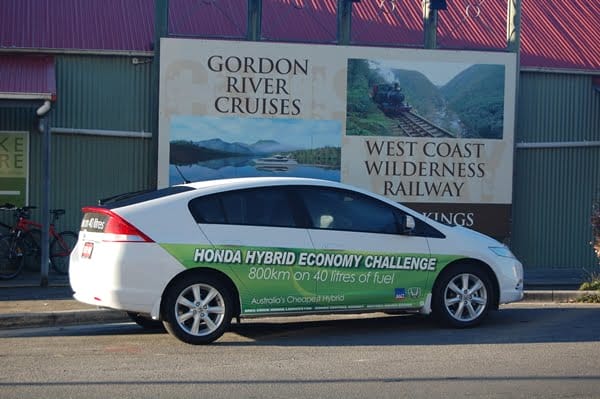 Australia's most affordable hybrid, the Honda Insight IMA, recently completed a demanding trip around Tasmania on one tank of petrol and under $60.
With fuel prices soaring, every Australian motorist is feeling the financial pain at the pump. Honda's Insight IMA (which stands for Integrated Motor Assist) is the answer.
The Insight was driven by Greg Crick, successful racing driver and Dealer Principal at Greg Crick Honda. He undertook the Insight Challenge – to drive Honda's newest hybrid around Tasmania on one tank of petrol (40 litres) – to showcase the excellent fuel economy it achieves using standard unleaded petrol and driving at normal road speeds.
"It was truly a remarkable result considering the rugged, mountainous terrain we undertook getting to the West Coast and between Strahan to Burnie," Greg Crick commented. "I wanted this to be as real world as I could, so the Insight kept speed with the traffic flow, including the highway driving."
In conjunction with the Royal Automobile Club of Tasmania (RACT), the Insight Challenge began in Launceston, where the Honda's tank was sealed by RACT's Motoring and Safety Team Leader, Michael Elliott who was on hand to verify the final result. Mr. Crick then travelled to Hobart and Strahan, where he stayed overnight, recommencing his journey up the coast and back to Launceston.
"The whole trip was scrutineered by Michael Elliott who travelled with me and he was responsible for the filling of the tank before and after the trip," Mr. Crick said. "There was a moment driving from Strahan to Burnie, that due to the rough driving conditions through the twisting and turning mountain inclines I didn't think we'd make it. I wasn't exactly holding back up the hills but the Insight pulled through. It was amazing."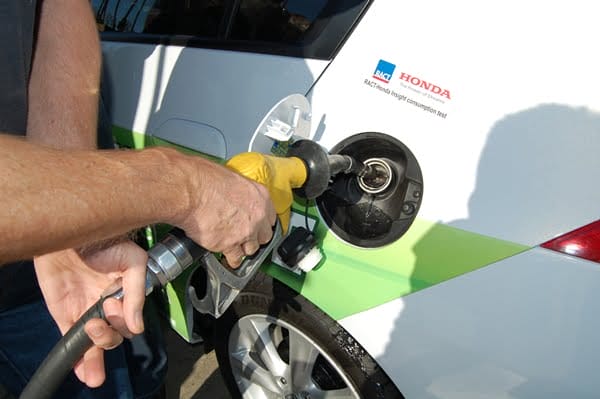 The result was an 821 kilometre trip using just 39.6 litres of standard unleaded fuel, averaging 4.82 L/100km with a driver, passenger and luggage. The cost was just under $60 for petrol ($1.499 per litre using 39.6 litres).
"To achieve a total of 821 kilometres on 39.6 litres of fuel – sensational! Just goes to show the Insight really does what it claims in real world driving, not a controlled laboratory somewhere," Mr. Crick said.
Honda Australia's General Manager Sales and Marketing, Mr. Stephen Collins, was very pleased with the Insight's performance.
"The final result of the Insight Challenge not only proves the car's outstanding fuel economy but also demonstrates it is practical, comfortable and fun to drive.
"The Insight validates what Honda has been saying all along about our hybrid vehicles. Our IMA technology is simple and easy to use in everyday life with very affordable running costs. There has never been a better time to visit your Honda Dealer and test drive the Insight," Mr. Collins said.
RACT's General Manager Roadside and Technical Services, Darren Moody, also accompanied the Honda Insight and commented on the final result: "To achieve this figure on these roads is quite exceptional and shouldn't be underestimated. The roads around Tasmania's West Coast are renowned for being challenging to say the least. The Insight encountered numerous climbs through the mountainous areas of Mount Arrowsmith before plunging into Queenstown."