The dynamic all-new Ford Focus is on its way to Australia and will come to market in August, with an exciting two-model line-up featuring a sporty five-door hatchback and sleek four-door sedan.
The all-new Focus is a key element of the Ford product portfolio in Australia and has been expanded to include a new high-series Titanium variant, offering luxury levels of convenience and comfort that will please buyers shifting from larger and luxury-class vehicles.
With over 10 million units sold since its introduction in 1998, the Ford Focus has become a firm favourite with consumers worldwide for its outstanding value, comfort and safety, and above all, for being great fun to drive.
Following an unprecedented global development program under the company's One Ford strategy, the next-generation Focus is set to continue the successful tradition of its predecessors.
"In every world market where Focus competes, customers are looking for expressive design, affordable innovation, superior quality, responsive performance and exceptional fuel economy," said Bob Graziano, President and CEO, Ford Australia.
"In Australia, the all-new Focus presents all these elements in an outstanding package. It will raise the bar in these areas and deliver a new level of standard and available content, enabled by its global scale."
Distinguished by its sleek and sporty design, the new Focus is packed with more affordable technologies and features than ever previously offered by Ford in this market sector.
"The new Focus is evidence of One Ford in action, and truly represents the best of Ford Motor Company," Graziano said.
"Our investment in a new global small car platform is enabling us to provide consumers in Australia, and around the world, with an affordable range of cars which offer quality, fuel efficiency, safety and smart technology beyond their expectations."
Developed in Europe, for sale worldwide
Developed in Europe, for sale in over 120 markets worldwide with 80 per cent parts commonality, the next-generation Focus is the hero model created from Ford Motor Company's new global small car platform. This platform will underpin at least ten vehicles around the world and account for two million units of annual production by 2012.
"A year ago, we shared our vision for a new generation of small cars from a common global platform," said Derrick Kuzak, Ford group vice president for Global Product Development.
"We've delivered the all-new C-MAX and Grand C-MAX for the European markets and with the all-new Focus we're demonstrating the possibilities this new global approach has for transforming the core of the Ford product lineup around the world."
Volume production has already commenced at the lead Ford Focus assembly plants in Saarlouis (Germany) and Michigan (USA).
European production will be expanded in mid-2011 when the assembly plant in St. Petersburg (Russia) starts building the four-door and five-door models.
Australian Focus models will be sourced from the lead European assembly plant in Saarlouis.
Striking, streamlined design
Both new Focus bodystyles share a sporty and dynamic character, marking the next evolution of Ford's acclaimed kinetic design form language, which has contributed to the growing popularity of the company's latest small and medium global cars.
With its striking front end, sleek profile, dramatic rising beltline and athletic stance, the new Focus clearly signals the rewarding driving experience that awaits customers when they take to the road.
The all-new Focus sedan has a drag coefficient as low as 0.295, compared to 0.320 for the current model. The streamlined Focus shape and steeply raked windscreen contribute to significantly reduced drag, while optimised aerodynamics help reduce wind noise at speed and contribute to improved fuel efficiency.
Noise, vibration and harshness (NVH) levels have been reduced and driving dynamics improved by the increased stiffness of the body structure, with 30 per cent greater rigidity than the previous Focus model.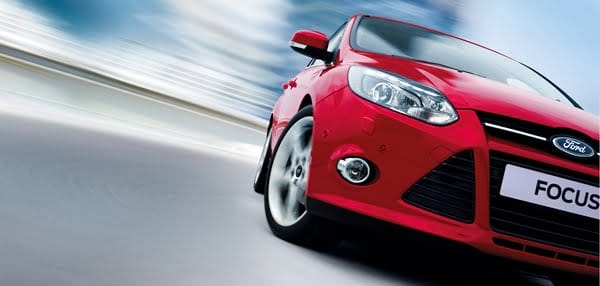 Stylish, functional interior
The dynamic quality of the exterior is reinforced by the distinctive design of the interior. The new Focus has a modern, cockpit-style interior, with the stylish centre console wrapped around the driver and providing outstanding access to the vehicle's major controls.
Ford's latest-generation Human Machine Interface (HMI) system is used within the cockpit, with twin five-way toggle switches on the steering wheel controlling the two main vehicle displays located in the instrument cluster and high in the centre of the instrument panel.
The interior combines outstanding functionality with outstanding craftsmanship. The cabin's bold and contemporary graphics, the sculptured shape of the soft-touch instrument panel and the choice of superior trim materials all help to give occupants the feeling that they are travelling in a premium-class car.
Smart technology enhances convenience and safety
The global scale of Ford's small car program makes additional technologies and features more economically viable for cars in this segment. This unprecedented technology investment is aimed at ensuring the new Focus offers customers an exciting array of advanced features generally found only in larger, more expensive vehicles.
While the number of features offered in each market will vary according to local customer demand and acceptance, the full range of technologies has been engineered for the new Focus.
Smart innovations available on the all-new Focus for Australia include Active Park Assist, cruise control with Adjustable Speed Limiting Device (ASLD), keyless entry system with push button start and Adaptive Cruise Control.
Active Park Assist is a semi-automatic parallel parking system that uses sensors around the vehicle and the new Electric Power Assisted Steering (EPAS) system to guide the vehicle into place. It measures the length and depth of the chosen parking space and then steers itself into position, while the driver controls the accelerator, brake and gear selection.
Passive safety features include a new generation of advanced airbag restraint systems with driver and front passenger airbags, side front airbags and side curtain airbags for front- and rear-seat occupants, as well as an exceptionally strong and light steel bodyshell.
The new bodyshell makes use of more high-strength steels than any previous Ford.
High strength steels comprise 55 per cent of the body shell and more than 26 per cent of the vehicle structure is formed from ultra high-strength and Boron steels. These advanced materials help the structure meet the most stringent crash legislation across world markets while minimising overall vehicle weight.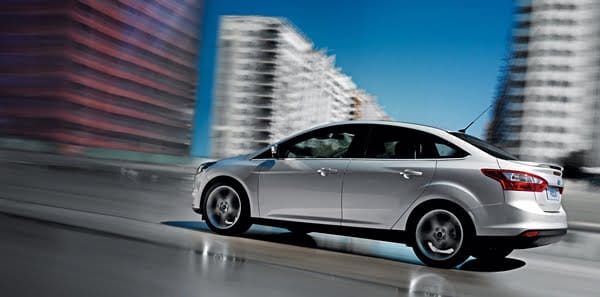 Unmatched driving quality
When it was introduced globally in 1998, the original Ford Focus brought new levels of agility and responsiveness to the small car segment. The next-generation Focus plans to raise the benchmark once more, targeting class-leading driving quality that blends outstanding steering precision and road feedback with significantly improved refinement and ride control.
Ford engineers have enhanced Focus' cornering stability and agility with the introduction of an advanced Torque Vectoring Control system, which is fitted as standard equipment.
The system behaves like a limited-slip differential to constantly balance the distribution of torque between the front wheels, which results in reduced understeer, improved traction and better turn-in. This technology has, up to now, typically only been available on premium sports vehicles.
Ford engineers have also retuned and enhanced the innovative suspension concepts from prior models, developing optimised new designs for the Control Blade Independent Rear Suspension (IRS) and the semi-isolated front subframe.
The new chassis design also now incorporates a completely new Electric Power Assisted Steering (EPAS) system on mid- and high-series models, which has been tuned to deliver precise response at speed while remaining light and manoeuvrable for easy parking.
Spirited performance with outstanding economy
The engaging driver appeal of the new Ford Focus is magnified by a three-prong powertrain range that delivers spirited performance and offers outstanding fuel economy and CO2 emissions.
The powertrain line-up includes an all-new 2.0-litre GDi (gasoline direct injection) petrol engine that combines high-pressure direct injection and twin independent variable camshaft timing (Ti-VCT) for enhanced performance and fuel efficiency
A completely updated 2.0-litre Duratorq TDCi common rail turbo diesel engine is also part of the line-up. Both engines offer significant increases in power and torque compared to the outgoing model.
Both engines can also be matched to either a manual transmission – a five-speed manual with the GDi engine or six-speed manual with the TDCi engine – or the latest six-speed PowerShift automatic transmission, depending on the variant.