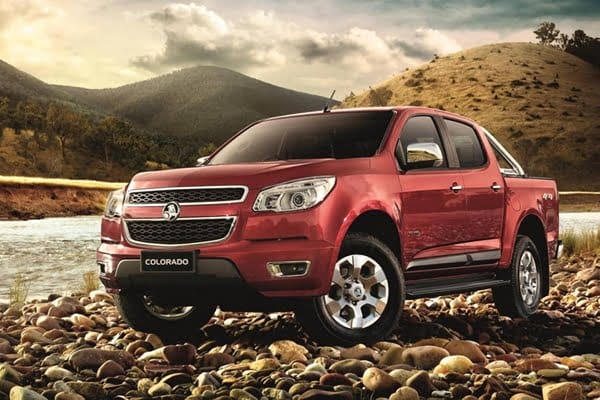 As part of its strategy to ensure the new Colorados are perefectly suited for Australian roads and conditions Holden has released a number of them for the next few months out on the roads to gather important data on engine and transmission performance, drive quality and suspension tune. From April the new Colorados will be availble for inspection at Holden dealerships with a number of Colorados touring the country as part of a pre-launch roadshow.
Holden's 2012 Colorado mini-site will go live today, coinciding with the arrival of a number of pre-production vehicles for local engineering evaluation and promotional activities to be held at Holden dealerships around Australia.
The 2012 Holden Colorado range will offer customers three body styles – single cab, space cab and crew cab – and offer two all-new 2.5-litre and 2.8-litre DOHC in-line 4-cylinder turbo diesel engines.
Both engines are tuned to deliver peak torque low in the rev range for maximum driveability and cargo carrying capability, while the 2.8-litre engine – when paired with the optional six-speed automatic transmission – produces 10 per cent more power and 40 per cent more torque than the outgoing 3.0-litre diesel powertrain it replaces.
The new Colorado will boast a class-leading 3.5-tonne towing capacity across the 2.8-litre turbo diesel range and an impressive 3.0-tonne towing capacity on all 2.5-litre variants.
An extensive list of safety features will be standard across the range, including driver and front passenger airbags, side curtain airbags, anti-lock brakes with Electronic Brake force Distribution and Electronic Stability Control.
Colorado will also be equipped with lifestyle and comfort features including Bluetooth® connectivity, air-conditioning, power windows, auxiliary plug and USB port, two auxiliary power outlets and iPod® compatible audio system.
Holden Executive Director Sales, Marketing and Aftersales, John Elsworth said the company had been working hard to finalise the local range ahead of the Colorado's official launch since the show car was revealed at the Australian International Motor Show in Melbourne last July.
"The new Colorado is a new era for Holden LCVs and will play a vital role in our product renaissance. We're so excited about its performance as a tough, daily workhorse and active recreational vehicle that we wanted to preview the range as soon as possible," Mr Elsworth said.
"This is the most impressive light truck ever designed by General Motors, and we expect it to be a serious challenger in the competitive Australian light commercial market.
"Our diesel-only powertrain strategy means we'll offer two very competitive, responsive engines that boast impressive towing capacity of up to 3.5-tonne, which we know our customers will love."
Holden is currently performing local development work on the new Colorado using a series of engineering tests, which includes a rigorous five-month real-world drive quality evaluation on Australian roads.
The Colorado workhorse will be put through its paces in a range of recreational activities typically experienced by light commercial vehicle customers, including four-wheel driving, towing, farming, camping and fishing.
2012 Holden Colorado – Standard Features
Powertrain
Engine/transmission Power (kW)
Torque (Nm)
2.5-litre in-line 4-cylinder turbo diesel engine with five-speed manual transmission (selected models only)
110 @ 3,800 rpm
350 @ 2,000 rpm
2.8-litre in-line 4-cylinder turbo diesel engine with five-speed manual transmission
132 @ 3,800 rpm
440 @ 2,000 rpm
2.8-litre in-line 4-cylinder turbo diesel engine with six-speed automatic transmission
132 @ 3,800 rpm
470 @ 2,000 rpm
Towing Capacity
3,000kg – 2.5-litre turbo diesel
3,500kg – 2.8-litre turbo diesel
Steering System
Hydraulic rack-and-pinion
Suspension
Independent double wishbone, coil spring front suspension
Leaf spring rear suspension
Safety and Security Features
Anti-lock Braking System (ABS) with Electronic Brake Force Distribution (EBD)
Electronic Stability Control (ESC)
Front Drive and Passenger Airbags
Curtain Airbags
Interior Features
Air-conditioning
Auxiliary plug and USB port
Two auxiliary power outlets
Bluetooth® connectivity
iPod® compatible audio system
Power windows
Exterior Dimensions (4×4)
Single Cab
Space Cab
Crew Cab
Wheelbase
3,096 mm
3,096 mm
3,096 mm
Overall length (chassis)
5,147 mm
5,127 mm
5,127 mm
Overall length (pick up)
–
5,347 mm
5,347 mm
Overall width
(excluding mirrors)
1,882 mm
1,882 mm
1,882 mm
Overall height
1,785 mm
1,780 mm
1,780 mm
Front overhang
944 mm
944 mm
944 mm
Rear overhang (pick up)
–
1,308 mm
1,308 mm
Front track
1,570 mm
1,570 mm
1,570 mm
Rear track
1,570 mm
1,570 mm
1,570 mm
Interior Dimensions
Single Cab
Space Cab
Crew Cab
Front legroom
1,049 mm
1,049 mm
1,049 mm
Front headroom
1,014 mm
1,005 mm
1,005 mm
Front shoulder room
1,462 mm
1,458 mm
1,458 mm
Rear legroom
–
739 mm
914 mm
Rear headroom
–
950 mm
973 mm
Rear shoulder room
–
1481 mm
1,450 mm