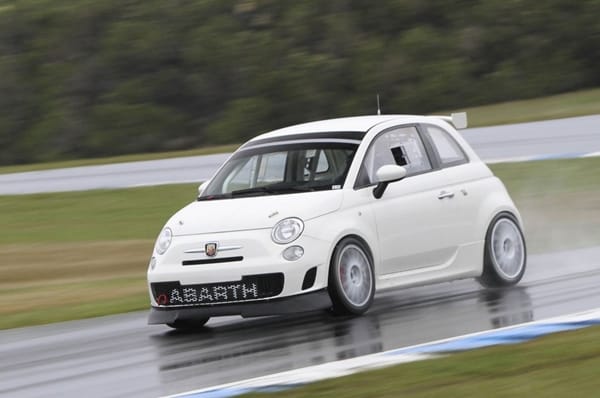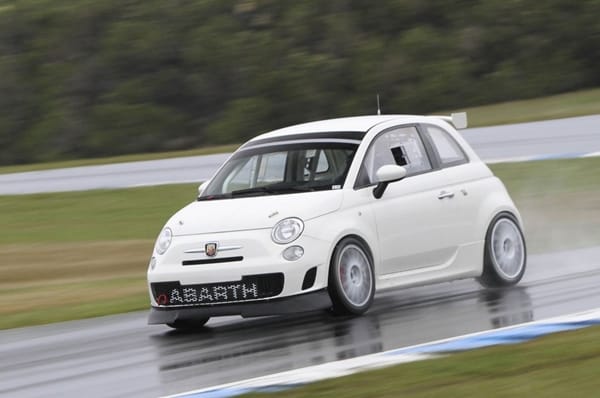 The latest incarnation of an Italian motorsport icon, the Fiat Abarth, is finally taking on the legendary Mount Panorama race track.
Two factory-backed Abarth 695 Assetto Corse race cars will deliver unique Italian style and panache to Bathurst when they take on a range of high performance production cars at the 2014 Liqui-Moly Bathurst 12-Hour in February.
The spirited Abarths have already proven their potential by setting competitive times in the wet during track testing at Phillip Island.
The cars will benefit from the experience of Alan Heaphy and his team at Performance Parts & Engineering (PPE), the force behind multiple Bathurst 1000 wins, and the sure hands of champion Australian drivers Luke Youlden and Paul Stokell.
The Abarth pocket rockets will line up in production car category F.
Fiat has an almost century long history in international motor racing and the partnership with high performance specialist Carlo Abarth has become legendary.
The alliance has also spawned a host of giant-killing racing machines and passion-inducing road cars.
Fiat Chrysler Group has moved into top gear to make sure the cars add another successful chapter to Abarth history at the Bathurst circuit.
The specially designed Fiat Abarth Motorsport livery, which will be unveiled before Christmas, is expected to showcase the brand's Italian heritage while also paying homage to the Abarth racing history.
The renowned Bathurst 12 Hour was held from 1991 to 1994 and re-established in 2007. Next year's race will be the 12th instalment and already more than 40 teams from nine countries have entered.
The race has attracted live, free-to-air television coverage for the first time in years, exposing the Bathurst 12 Hour to the largest ever audience of Australia's fastest growing motorsport event.
SBS will screen the final three hours of the tumultuous 12-hour car contest on Sunday, February 9, 2014.
The Abarths are likely to attract a strong following among fans who have embraced the vehicles as sporty city cars.
Bathurst will also be the first opportunity for Australian performance car fans to see factory-built and supported race cars take on the world's best at one of international motorsport's most highly respected race tracks.
The Abarth has evolved from the Fiat 500 Bambinas that first rolled off the production line to meet the post-war need for economical small vehicles. The little Fiats quickly became icons and set the tone for the many small city cars that followed.
The Abarth name and the stylised Abarth Scorpion, on a red and yellow background, quickly appeared on cars to denote high performance and race-tuned ability.
Experienced motoring writers Josh Dowling, Toby Hagon, Paul Gover and Mike Sinclair will join professional drivers Youlden and Stokell behind the wheel as they seek to create Abarth competition history at the 2014 Liqui-Moly Bathurst 12-Hour.
Abarth 695 Assetto Corse – Key Technical Specifications:
Engine: Straight 4 cylinder, 4 valves per cylinder
Power: 151kW @ 6500 rpm
Torque: 300Nm @ 4000 rpm
Transmission: 6-speed sequential gearbox by Sadev with optimised gear ratios
Wheels: Painted and forged aluminium wheels – 17-inch OZ Racing
Weight: 940kg