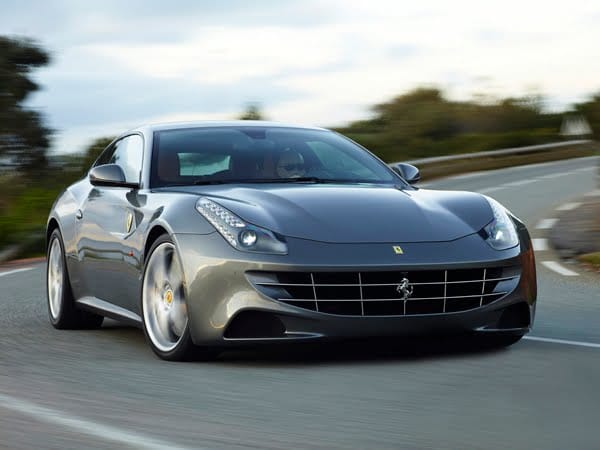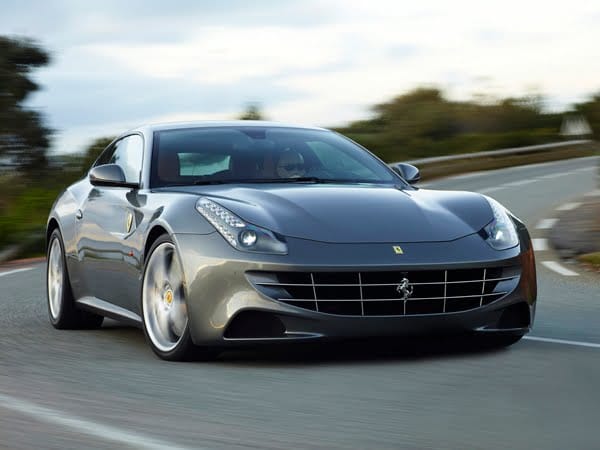 One of the most eagerly anticipated automotive new arrivals in Australia, the all-new four wheel drive Ferrari FF, is making a flying visit to Australia prior to its full launch in early 2012 so that prospective owners may see the unique supercar. The question though on everyone's lips..Is this the least beautiful Ferrari ever built?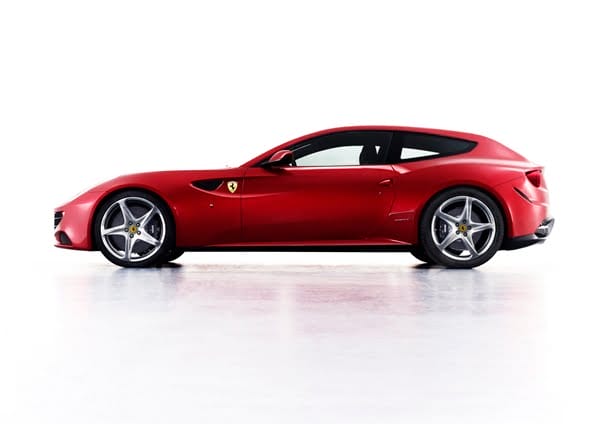 "This new Ferrari takes the prancing horse into new territory, matching the legendary performance, style and driving excitement expected of a Ferrari with new levels of ability thanks to its unique four wheel drive system and its spacious and flexible interior which makes it the most useable and versatile supercar built by Ferrari," says Kevin Wall, General Manager of European Automotive Imports, the official Ferrari importer in Australia and New Zealand.
"It is, therefore, no surprise, to learn that this new model has generated new levels of excitement and interest amongst both existing Ferrari owners and prospective owners. To meet these demands we have brought a Ferrari FF to Australia ahead of its full launch and it will be on display in Sydney, Melbourne and Brisbane during the first half of June."
The Australian price of the Ferrari FF has also been confirmed ahead of the first deliveries to Australia starting in early 2011 at $625,000 excluding statutory charges, delivery and dealer costs. This represents a saving of $73,000 before statutory charges, delivery and dealer costs compared to the out-going Ferrari 612.
Designed to be driven in any weather or road conditions – and to tackle the toughest, most complex and ambitious of driving challenges. The kind of challenges that the most uncompromising and discerning drivers will want to set it. Drivers that demand their cars give of their all. Effortlessly. Regardless of weather or surface.
The car's four generous; body-hugging seats and, more significantly, the new Prancing Horse-patented four-wheel drive system inspired the FF name. Purists will be overjoyed to know that it is still the rear wheels that actually provide the power, with torque being transferred only to the front axle when required and even then intelligently and predicatively distributed to all four wheels.
The FF also sets a new benchmark in terms of sheer innovation: it is the first four-wheel drive V12 with a rear-mounted electronic differential, the E-Diff.
The Ferrari-patented four-wheel drive system is unique of its kind and also integrated with the new generation F1-Trac traction control developed specifically for the track. The FF is also the first and only V12 in the world to sport the seven-speed dual-clutch F1 gearbox with 20% more power output and 25% lower fuel consumption. It offers four occupants superb in-car comfort with wraparound seats and absolutely unprecedented cabin and luggage space for a car in its category.
The FF's architecture too ticks all the boxes with authentic sports car driving dynamics, braking and suspensions. It also boasts the best weight-power ratio ever achieved, thanks in part to the fact that its patented four-wheel drive system is just 50% the weight of a traditional version.
The FF is powered by a completely new mid-front-mounted 6,262 cc GDI V12 that delivers unprecedented performance and responsiveness at all engine speeds: 660 CV at 8,000 rpm, a specific output of 105 CV/l (77 kW/ cu in), a weight-power ratio of 2.7 Kg/CV. The torque is also blistering: 683 Nm at 6, 000 rpm, 500 Nm available from 1,000 rpm up to 8,000 rpm (virtually across the entire range), guaranteeing unparalleled versatility.
To top it off, the FF has a top speed of 335 Km/h and sprints from 0 to 100 km/h in just 3.7 seconds.
This impressive result is attributable to a whole series of factors affecting every area of the car. They include the introduction of the HELE (High Emotions-Low Emissions) and the Stop&Start Systems.
However, importantly the car still has the symphonies associated with a Ferrari. To the ears of the driver and passengers, the FF's engine sound is seductively clear and powerful because the intake noise is channelled from the filter casings into the cabin. The Ferrari orchestra playing in this V12 never misses a note regardless of speed or conditions. It is also designed to ensure that anyone that hears an FF go by will instantly recognise its unmistakable Ferrari soundtrack without experiencing the slightest discomfort. This isn't noise: it's music to the ears.
The coupling of its powerful V12 with the Ferrari F1 seven-speed dual clutch gearbox makes it a joy to drive. Owners will be able to experience its power and sophistication on all kinds of terrain and conditions too, courtesy of Ferrari's patented new lightweight 4RM (four-wheel drive).
The FF's new suspension system features traditional double wishbones at the front (with lower L arm) and a redesigned Multilink system at the rear. This boosts transverse and vertical rigidity by 20%. It also enhances handling and that sporty driving feeling, thanks to extremely fast response times, a more direct steering ratio (-20%) and absolutely minimal body roll. Longitudinal flexibility has been tripled too, resulting in better noise filtering and even more efficient absorption of bumps and asperities.
Another completely new element s the FF's chassis, designed to meet higher cabin comfort and space requirements and future safety standards (2015). It also sets the benchmark for a new generation of chassis. It is a predominantly space frame construction and, like all recent Ferraris, is made from aluminium. The result is that the FF's chassis 10% lighter than the previous generation yet has 6% greater torsional rigidity.
Even the FFs' cabin exudes a unique allure. It is extremely comfortable and enticing with elegant, sophisticated trim and detailing, creating an impression of subtle exclusivity. The FF has the best cabin space and occupant comfort in the segment, thanks to four generous body-hugging seats that ensure each of the FF's four occupants will enjoy the same standards of ride comfort and access to the in-car accessories.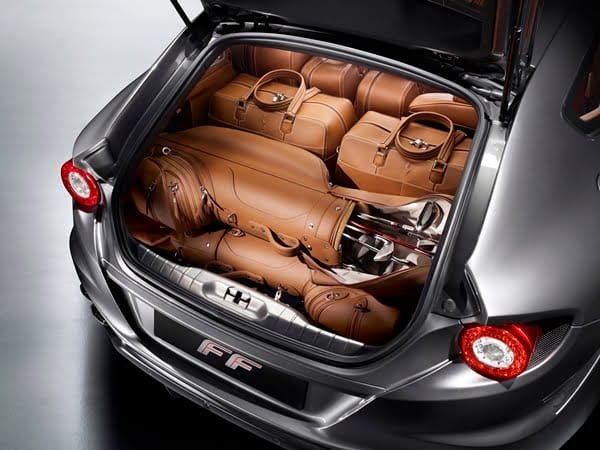 The boot size is unprecedented too for this kind of car: 450 litres in normal conditions. However, it is also extremely versatile as both rear seats can fold down separately, upping its size to over 800 litres. This means, for example, that four occupants can take four standard side trolley cases, two golf bags or two children's strollers with them.
The central section of the rear seat can also be folded down to accommodate particularly bulky items such as a large golf bag or two pairs of skis. In other words, four people can go away in the FF for a long weekend break in complete comfort. By simply folding down one or both of the rear seats, however, owners can create a record amount of luggage space too.
This makes for exceptional versatility as two occupants could easily enjoy a month-long road trip in the car. In its two-seater configuration, the FF can be used to stow any kind of hobby or leisure activity equipment imaginable, including two full sets of diving gear or sailing kits, for instance.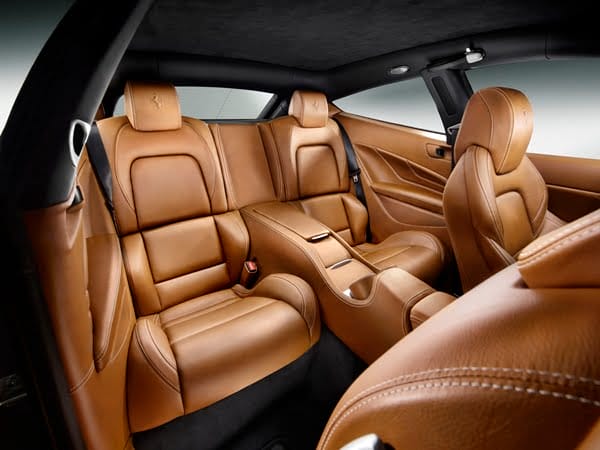 This really is the most accommodating car one could desire – the front seats comfortably accommodate taller occupants up to and over a metre 95 cm (just under 6 ft 4.7 in.) and up to 185 cm (6 ft 1 in.) in the rear. And they'll be as comfortable as in their own lounge. Its cabin also includes no less than 20 litres of smaller storage compartments for the kinds of odds and ends occupants might like to bring with them on longer trips.
There is dual-zone climate control too for added comfort, and all four occupants have a generous number of independently adjustable air vents at their disposal.
For the first time also, the front seat passenger will be intensely involved in the driving experience as a new front emotion display screen can be ordered as an optional extra.
There are also plenty of entertainment features that can be ordered as optional to keep rear seat passengers amused on long journeys. The rear seat infotainment system has remote control, two sets of cordless headphones, a 6-DVD player, a digital terrestrial TV tuner and audio/video input for multimedia devices.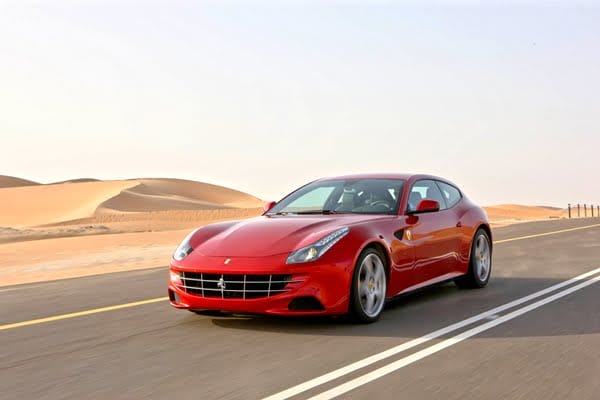 Owners may also upgrade from the already excellent standard onboard stereo system which has a 640 watt 9-channel amp to a truly spectacular system with a high efficiency 1,280 watt 16-channel stereo system with amp QuantumLogic® Surround Sound . The independent, high-containment seats easily accommodate four adults, all of whom enjoy the same space and comfort features. The front seats are electric and can be adjusted to adapt to differing body sizes and driving conditions using the electrohydraulic side and lumbar region controls and memory settings. They can also be heated or ventilated (each to three levels).
Once behind the wheel, the driver will feel instantly at one with his car. Years of research by Maranello's engineers, Ferrari's track experience and ongoing dialogue with drivers have turned the Prancing Horse into a winner across the globe.
This is what Ferrari calls the Human-Machine Interface, the effortless melding of man and car. Every single control and all the car's main functional data are instantly to eye and hand at all times and in all conditions.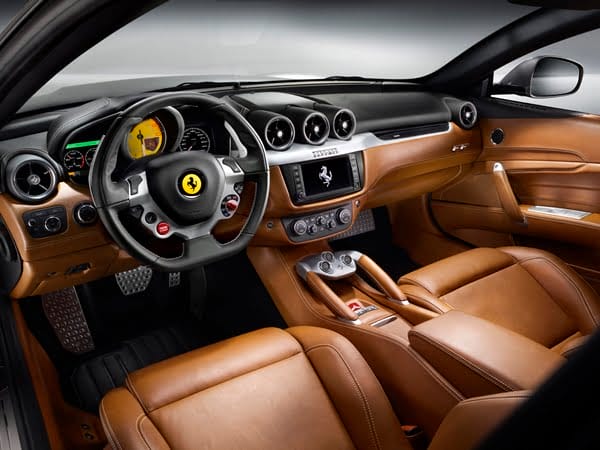 In fact, because they are ergonomically positioned on the steering wheel, the onboard controls feel like a natural extension of the driver's body and fingers and he will never actually have to lift his hands off the rim when shifting gears or making any other adjustment to the car's systems. Aside from the Manettino, which offers a choice of five different vehicle dynamics settings, the steering wheel also features the engine Start button, indicators, the two F1 gear-shifting paddles (Up & Down), the suspension decoupling button to decouple damper settings from the other manettino configurations for softer damper response on uneven surfaces, and windshield wiper controls.
The new instrument panel features the traditional rev counter, which also tells the driver what gear the car is in, is set between two high resolution 5" displays.
The left-hand display lists the main vehicle status data as well as VDA (Vehicle Dynamic Assistance) output, which shows the controls active in any given Manettino setting. Trip computer and parking sensor information are also featured.
The right-hand display shows the tachometer (a choice of analogue or digital readout), the main infotainment data and images from the front and rear parking cameras. There is also a pod to the left of the steering wheel, which manages the onboard instrument panel; located directly in front of the driver.
The centre console houses the F1 panel and its dynamic controls: the Launch Control button which sends maximum torque to the ground for spin-free, high-performance starts in all conditions including snow and ice; reverse, and the Auto switch to put the gearbox in automatic.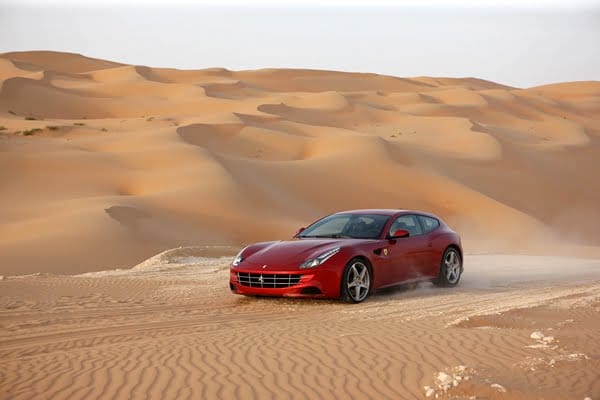 The FF's new infotainment system is the result of an evolution of the HMI (Human Machine Interface). It features: a 6.5" high-contrast display with touch screen control; a Bluetooth connection with Audio Streaming, to allow occupants wirelessly listen to music from their own multimedia devices; a sat nav with maps and 3D views; voice command function; two USB connections; and a display with alphanumeric keypad for phone dialling. It is also fully compatible with new generation iPod/iPhone. The main functions are available either at the touch of a fingertip or through voice commands: drivers can simply order the system to make a telephone call or select a predetermined road route. The display graphics have been completely redesigned to make them superbly user- and reader-friendly also. All of which makes the FF feel very much like home. Except a little faster, of course…Just a little.
In the case of the FF, the Human-Machine Interface goes well beyond creating a symbiotic relationship between driver and car, hands and steering wheel. It's also an interface between the very soul of the person at the wheel and the car's character. And that has to be a perfect marriage in which the two effortlessly become one. As a result, Ferrari is offering a personalisation programme for the FF that will allow owners to tailor their car's interior, exterior and spec to their individual tastes and requirements as neatly as if it were a bespoke suit.
An optional panoramic roof can further enhance the already superb standard of in-car comfort. This is made from low emissions glass and thus easily holds cabin temperature steady both summer and winter, for optimal climate control. The glass is also tinted for privacy but regardless of this, still gives the occupants the feeling that they are travelling with the top down.
At the end of the day, however, each and every FF will be a unique one-off creation, just like the driver that moulds it to his own specific and exclusive tastes. A 335 km/h dream-come-true.