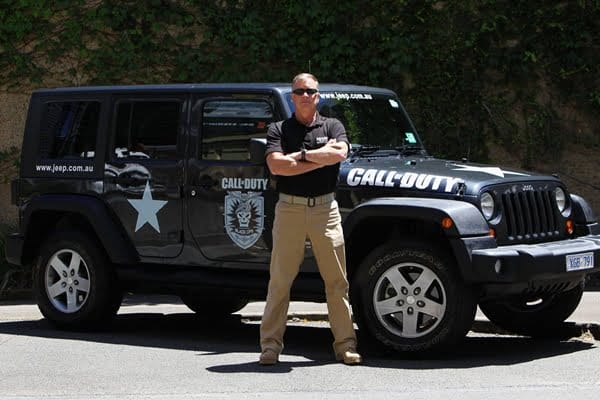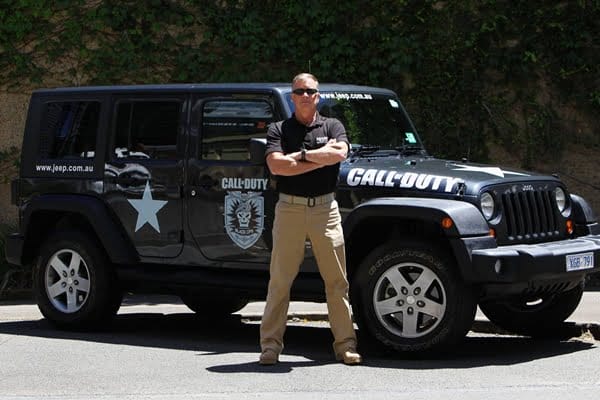 Jeep has answered the Call of Duty in Sydney this week, joining forces with Activision Publishing, Inc. for last night's highly anticipated midnight launch of Call of Duty: Black Ops.
Black Ops is the seventh installment in the hugely popular Call of Duty gaming franchise, and is expected to be the highest selling game of 2010. The iconic Jeep Wrangler Unlimited is the vehicle of choice for the game, ready to take on whatever obstacles, enemies or explosions the action-packed game has to offer. Nothing comes close to the capabilities of the tough-as-nails Jeep Wrangler, on or off the screen.
Call of Duty's Military Advisor, retired US Army Lieutenant Colonel Hank Keirsey, is in Australia for the Black Ops launch and has been getting around in rugged Wrangler style in an eye catching Black Ops Jeep Wrangler.
With 24 years experience under his belt, Hank knows what it takes to survive the harshest and most hostile environments and he plays a vital role in the creation of the Call of Duty games, advising developers on how to make the players' experience as realistic as possible. Most importantly, Hank knows you need a capable and reliable vehicle out there that can handle anything, making the Wrangler an obvious choice.
Going back to Jeep's military roots, the Black Ops Wrangler was on display at EB Games, Wetherill Park, Sydney last night, a highlight for the hundreds of fans who were desperate to be among the first to get their hands on the game at the much-hyped midnight launch.
"The Jeep brand's partnership with Activision marries the world's most capable and iconic vehicle – the Jeep Wrangler – with one of the world's most popular entertainment experiences," said Mike Manley, President and CEO – Jeep Brand, Chrysler Group LLC. "As a result, we are able to expose the Jeep brand and its legendary capability to an entirely new group of consumers."
"This is a dynamic and fully integrated partnership that brings together two iconic brands across a full array of consumer touch-points," stated Brad Jakeman, Chief Marketing Officer, Activision Publishing, Inc. "From the beginning our teams worked together to make this a truly creative partnership that added to the consumer experience of both the Jeep and Call of Duty: Black Ops brands."