BMW Group Australia has unveiled pricing and specification for the new BMW 3 Series Sedan and Touring ahead of its local market launch in October this year.
With improved driving dynamics, sharper steering and a superior ride, the latest iteration of the iconic vehicle marks the arrival of new model designations, together with some familiar favourites.  The new line-up is as follows:
•      318i Sedan
•      320i Sedan and Touring
•      320d Sedan
•      330i Sedan and Touring
•      340i Sedan
Starting from $54,900* for the 318i Sedan, the new BMW 3 Series Sedan and Touring range features enhanced levels of specification, with LED Headlights, Real Time Traffic Information, Rear View Camera, Head-Up Display, Lane Change Warning, Driving Assistant and Surround View with 360 degree visibility all standard across the range.
Adaptive M Suspension is included from the showroom floor in the 320i Sedan and Touring onwards, enabling the driver to adjust suspension settings to suit their particular driving style.
Exterior design revisions see the introduction of a new front and rear bumper, enlarged exhausts and characteristic L-shaped tail lights, resulting in a broader, more sporting stance.
The interior has also been upgraded, emphasising its premium ambience with chrome accents around the air vents, controls and trims, a new high-gloss centre stack with ambient light surround and dual-zone air conditioning display, depending on equipment line included.
The world's most successful model series in the premium segment, with more than 14 million models sold worldwide, the BMW 3 Series remains undisputed holder of the title as the manufacturer's all-time leading seller.
This equates to approximately 25 per cent of all BMW sales across the globe.
And the success story has continued in Australia, particularly in recent times, with over 80,000 examples sold since the turn of the millennium, adding another triumph to the 40-year history of the BMW 3 Series.
BMW Group Australia Head of Product and Market Planning, Shawn Ticehurst, highlighted the ongoing importance of the 3 Series to the BMW range.
"The latest BMW 3 Series will make its mark by virtue of its improved performance, specification levels and technology," Ticehurst said. "The 3 Series remains the most successful model in our current product range, proving the enduring reputation of its concept."
Ticehurst added: "This latest model, which arrives as we celebrate 40 years of the BMW 3 Series, introduces exciting changes inside and out across the range, with extensive levels of technology and innovation.
"With boosts in power and standard equipment, the new BMW 330i Sedan and Touring and 340i Sedan deliver premium motoring with sporting intent, while the attractively priced and highly specified 318i is a clear drawcard, marking the comeback of a popular name."
The first ever BMW 3 Series powered by a 1.5 litre, three-cylinder BMW TwinPower Turbo engine, the new BMW 318i Sedan produces the same levels of power as the model it replaces, the BMW 316i, but receives improvements in sprint performance, fuel economy and a reduction in emissions.
A combination of 100kW and 220Nm of torque propels the 318i from a standing start to 100km/h in 9.1 seconds, while consuming 5.4 litres of fuel per 100 kilometres, and 126 grams of CO2 per kilometre.
The achievement of recording a nine per cent reduction in fuel consumption and carbon dioxide emissions, while simultaneously enhancing performance, highlights the ambition and engineering philosophy underpinning BMW EfficientDynamics.
An extensive list of standard equipment, including Sport Line, accompanies the mechanical advances, with innovation and technology at the fore, fuelling the comeback of the BMW 318i.
Dakota leather upholstery is now included as standard with Luxury Line, which is a cost option on the 318i Sedan, 320i Sedan and Touring and 320d Sedan models.
The BMW 318i is due to arrive in Australia during November this year.
The BMW 320i, available from $61,900* as a Sedan or $65,300* in Touring form is equipped with further equipment over the 318i, with an eight-speed sport automatic transmission, lights package, electric seat with memory function, Adaptive M Suspension and DAB+ Digital Radio additions to standard specification.
Featuring a 2.0 litre, four-cylinder BMW TwinPower Turbo engine, the BMW 320i Sedan and Touring records power figures of 135kW and 270Nm, and accelerates to 100km/h in 7.3 and 7.5 seconds respectively.
Decreases in fuel consumption from 6.0 to 5.8 litres per 100 kilometres and carbon dioxide emissions from 141 to 134 grams per 100 kilometres showcase the inroads made by the BMW EfficientDynamics program.
Boasting equipment levels on par with the BMW 320i Sedan, the 320d features a 2.0 litre, four-cylinder engine, outputting 140kW of power and 400Nm of torque, charging from 0 to 100km/h in 7.2 seconds.
Its already impressive fuel economy also improves, consuming only 4.4 litres of diesel per 100 kilometres, while its carbon dioxide emissions reduce from 118 grams per kilometre to 116 grams per kilometre.
Replacing the volume selling BMW 328i which has accounted for nearly 40 per cent of all 3 Series sales 2015 year to date, the 330i Sedan and Touring builds on the success of its predecessors, pairing greater levels of specification with heightened output, and is priced from $69,900* and $73,300* respectively.
19-inch alloy wheels, navigation system professional, leather upholstery and comfort access are among the additions in specification over its smaller capacity siblings, neatly placing the model to continue its reign as the most popular 3 Series in the range.
A revised nameplate signals an uplift in performance, with the new 2.0 litre, four-cylinder BMW TwinPower Turbo engine from the BMW EfficientDynamics range, now producing 185kW of power, while torque remains poised at 350Nm.
Translated to the tarmac, the 330i now sprints from 0-100km/h in 5.8 seconds, while nine and eight per cent improvements in fuel consumption and carbon dioxide emissions demonstrate further engineering advances.
Sport Line and Luxury Line are no cost options, providing drivers with the opportunity to tailor the character of their BMW 330i Sedan or Touring.
Leading the range is the halo BMW 340i Sedan, which in replacing the 335i, is priced at a revised $89,900 and totes a full cache of equipment, as well as performance figures flagging the model as the supreme athlete of the 3 Series range.
Making the first appearance of BMW's new six-cylinder in-line engine, the lightweight all-aluminium engine provides excellent performance and efficiency, as well as the characteristic straight-six sound.
The result is power output of 240kW, a 15kW increase, a torque figure of 450Nm, a 50Nm spike, and a 100km/h sprint time of 5.1 seconds.
Fuel consumption improves to 6.8 litres per 100 kilometres, and carbon emissions reduced to 159 grams per kilometre.
Showcasing the ultimate array of 3 Series innovation and technology, the net increase in specification over the BMW 330i is substantial, as demonstrated by the lengthy list of standard features.
Heading the chart of base equipment is the M Sport package, which is optioned in over 50 per cent of 3 Series models sold this year, and features an M Aerodynamics kit and a leather M Sport steering wheel among other inclusions.
Trademark BMW technology and connectivity finds its mark with Harman / Kardon Surround Sound System, Adaptive LED Headlights, LED Fog Lights, Active Cruise Control with Stop and Go Function, Parking Assistant, High Beam Assistant, Extended Bluetooth function, BMW ConnectedDrive Concierge Services and Internet.
Luxury and comfort come to the fore in the form of a BMW Individual instrument panel finished in leather, heated front seats, lumbar support, variable sport steering and roller sunblinds for rear and rear side windows.
The eight-speed sport automatic transmission is standard, while drivers craving a direct driving experience can opt for a manual transmission at no-cost, while Luxury Line is also available in place of the M Sport package.
BMW service and selected maintenance costs can now be covered by a single, one-off advance payment with BMW Service Inclusive (BSI). BSI offers two packages: BMW Service Inclusive Basic provides scheduled servicing cover, while BMW Service Inclusive Plus combines scheduled servicing and selected maintenance items. Based on individual lifestyle needs, a year range and kilometre option is selected, starting from three years/60,000kms.
The BSI plan provides a long-term solution enabling cover to be extended and transferred to future vehicle owners before expiry.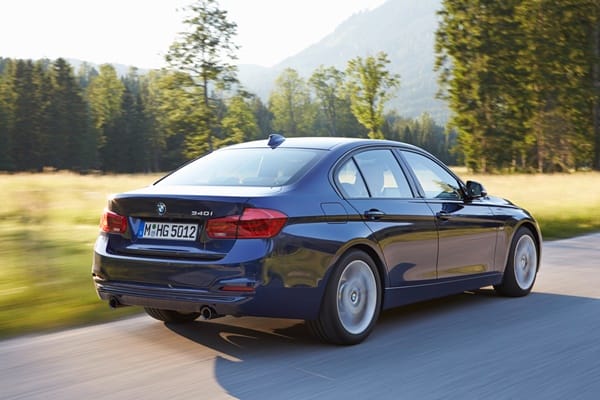 New BMW 3 Series Australian pricing and standard features*
BMW 318i Sedan                               $54,900
18-inch alloy wheels
Eight-speed automatic transmission
Sport Line
Rear View Camera
Head-Up Display
Lane Change Warning
Driving Assistant
Surround view with 360 degree visibility
Navigation System, Business
Sensatec Upholstery
Additional base equipment introduced from July production:
LED Headlights
ConnectedDrive Lifestyle
Real Time Traffic Information
BMW 320i Sedan                               $61,900
BMW 320i Touring                            $65,300
BMW 320d Sedan                             $63,800
Net specification over 318i
Eight-speed sport automatic transmission
Lights Package
Electric front seat adjustment with memory function on driver seat
Adaptive M Suspension
DAB+ Digital Radio
BMW 330i Sedan                               $69,900
BMW 330i Touring                            $73,300
Net specification over 320i/d
19-inch alloy wheels
Luxury Line
Navigation System, Professional
Leather Upholstery
Comfort Access
BMW 340i Sedan                               $89,900
M Sport Package
Electric roller sunblinds for rear window
Roller sunblinds for rear side windows
Harman / Kardon Surround Sound System
Extended Bluetooth
Lumbar Support
Variable Sport Steering
BMW Individual instrument panel finished in leather
Heated front seats
Adaptive LED Headlights
LED Fog Lights
Active Cruise Control with Stop and Go function
Parking Assistant
Concierge Services
Internet
High Beam Assistant
* Manufacturer's Recommended List Price is shown and includes GST and Luxury Car Tax (LCT) – if applicable, but excludes dealer charges, stamp duty, statutory charges and on-road charges, which are additional and vary between dealers and States/Territories. Customers are advised to contact their nearest BMW dealer for all pricing inquiries.