Sales results YTD June 2022 – The Australian economy is heading towards a recession. This is often reflected in new car sales. Buoyant sales means a thriving economy. However sales for June 2022 are down by 9.7% on the same month last year.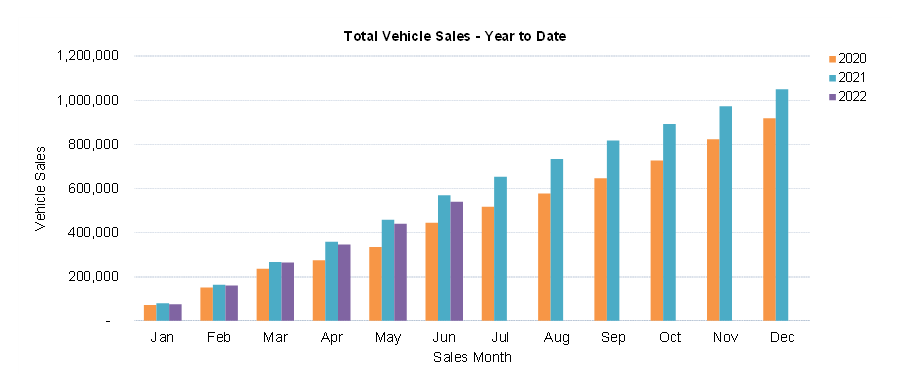 Is this a true indication of the situation? Well the answer is yes and no.
The impact of Covid on supply chains continues to have a large effect.
Globally the automotive industry faces shipping issues which hinders delivery and the ongoing microprocessor unit shortages.
But demand remains strong and many manufacturers have a healthy order book. Wait times for some cars now extends beyond 12 months. Manufacturers simply cannot get enough cars to sell.
TO LISTEN TO THE SALES RADIO REVIEW CLICK BELOW
The trend for SUVs continues with some 53% of new car sales now falling into that category. A further 24% are LCV and passenger cars are well and truly lagging.
Out of the top ten selling vehicles 4 were Utes with the HiLux taking top spot. Four were SUVs and the remaining two were passenger cars.
Toyota retains top spot with more than twice as many sales as number two Mazda. Mitsubishi, Kia and Hyundai make up the top five with Ford, MG, Isuzu Ute, Subaru and Nissan the top ten.
Note that Ford sales are almost 88% Ranger and Everest.
The rest of the year will be interesting
This is a Motoring Minute
Im Rob Fraser
Motoring Minutes are heard around Australia every day on over 50 radio channels through the Torque Radio network. 
Our Motoring Minute has an average daily audience of over 550,000 listeners and they are also syndicated through various news sites around Australia.
Additionally Motoring Minute is also broadcast as part of Overdrive Radio Program, which is broadcast through the Community Radio Network across Australia.

More Details
The FCAI, the peak body for Australia's automotive industry, has today released new vehicle sales figures for June 2022.
A total of 99,974 vehicles were sold in June bringing the year-to-date total to 537,858. This result represents a decrease of 9.7 per cent on the same month in 2021.
FCAI Chief Executive Tony Weber said the fallout from the COVID-19 pandemic continues to hamper automotive manufacturing.  This, combined with the war in Ukraine and shipping issues means that the supply of new vehicles hitting Australia's shores cannot keep up with demand.
"Globally, car makers are continuing to suffer from plant shutdowns.  In Europe we have component supply heavily impacted by the conflict in Ukraine. Microprocessors continue to be in short supply and global shipping remains unpredictable."
"While demand for new cars remains strong in Australia, it is unlikely we will see supply chain issues resolve in the near future," Mr Weber said.

Sales across every State and Territory were down apart from the Northern Territory where 1,115 vehicles were sold representing an increase of 16.3 per cent on June 2021.
Sales in the
Australian Capital Territory fell 11.6 per cent (1,486);
New South Wales 7.5 per cent (32,027);
Queensland 13.2 per cent (21,983);
South Australia 8.6 per cent (6,214);
Tasmania 17.2 per cent (1,572);
Victoria 12.2 per cent (25,764); and
Western Australia 2.2 per cent (9,813).
Toyota led the market with a total of 22,561 vehicles sold. Next in line was Kia with 8,480 followed closely by Hyundai (8,259). Mazda sold  (6,245) and Mitsubishi (5,846).
The Toyota Hi-Lux was the highest selling model with 7,582. Next was Hyundai Tucson with 2,840. This was followed by Ford's Ranger (2,802); Toyota's Landcruiser (2,783); and Toyota's Corolla (2,605).

Key Points:
The June 2022 market of 99,974 new vehicle sales is a decrease of 10,690 vehicle sales or -9.7% against June 2021 (110,664). There were 25.2 selling days in both June 2022 and June 2021, resulting in a decrease of 424.2 vehicle sales per day.
The Passenger Vehicle Market is down by 4,911 vehicle sales (-21.0%) over the same month last year; the Sports Utility Market is down by 1,254 vehicle sales
(-2.3%); the Light Commercial Market is down by 4,698 vehicle sales (-16.5%) and the Heavy Commercial Vehicle Market is up by 173 vehicle sales (3.5%) versus
June 2021.
Toyota was market leader in June, followed by Kia and Hyundai. Toyota led Kia with a margin of 14,081 vehicle sales and 14.1 market share points.