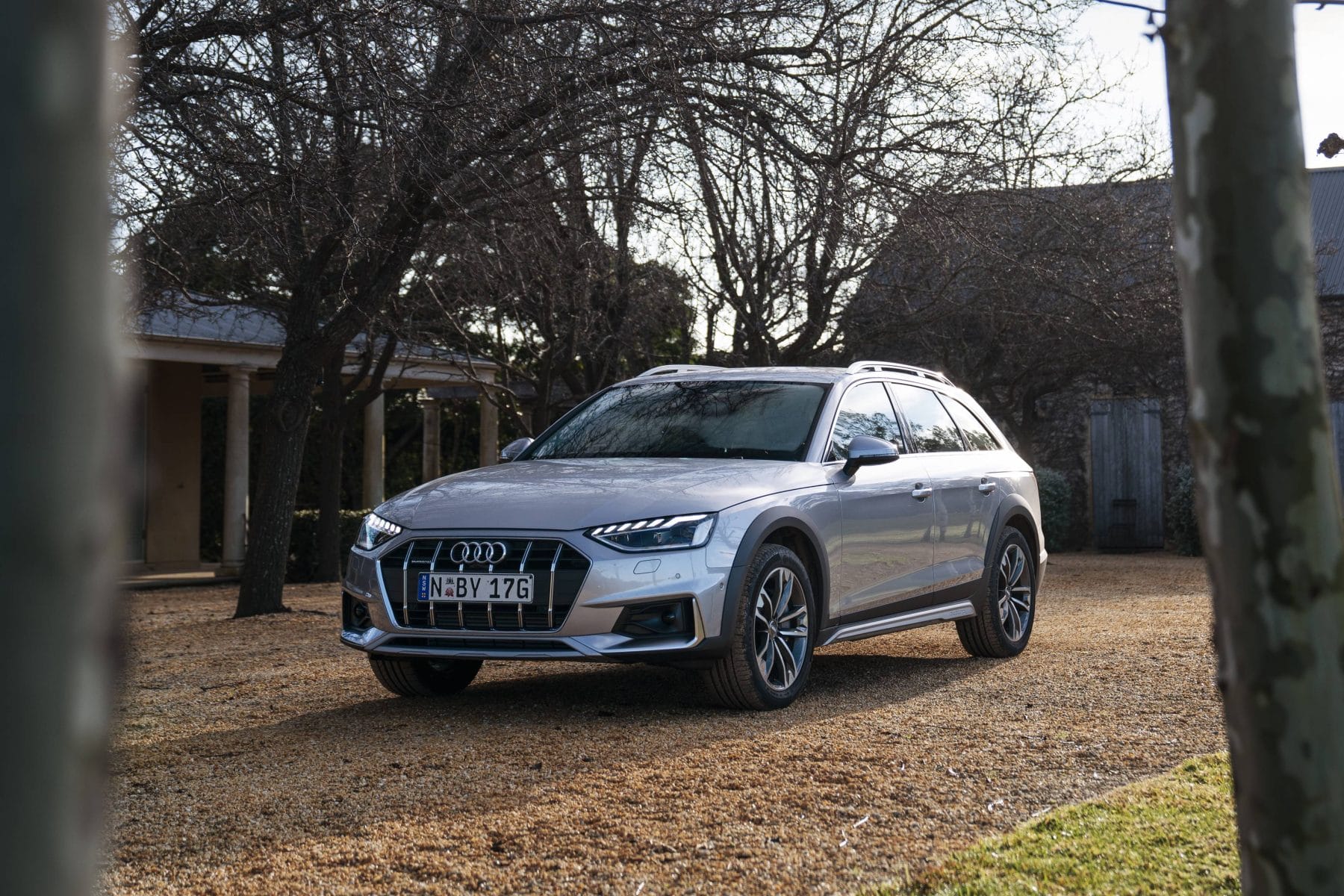 Audi A4 allroad – Australia's ongoing obsession with all things SUV means even more cross-over offerings like the Audi A4 Allroad 45 TFSI Quattro Wagon.
Old SUVs handled badly on the road, consumed fuel at the speed of light, and we uncomfortable.
Things have changed. Now, there are full-on offroaders, and something more akin to posh wagons for city use.
So, to the Audi.
Audi A4 allroad is brilliant. It has the benefits of an SUV, but the down side. There is lots of room but won't be limited by car park clearance.
Audi A4 allroad Looks:
A4 is a bit of an understated looker.
A4 is smart casual. The front end is lit by LEDs. The headlights are fully automatic, including high beam.
The rear is also tastefully illuminated by LEDs.
Wheels are 18". They're a deeply dished 5-spoke V design. The graphite glint in the sun.
Matching grey plastic arches slim the profile, and protect from wayward branches. Roof racks in polished aluminium, give the exterior the final touch.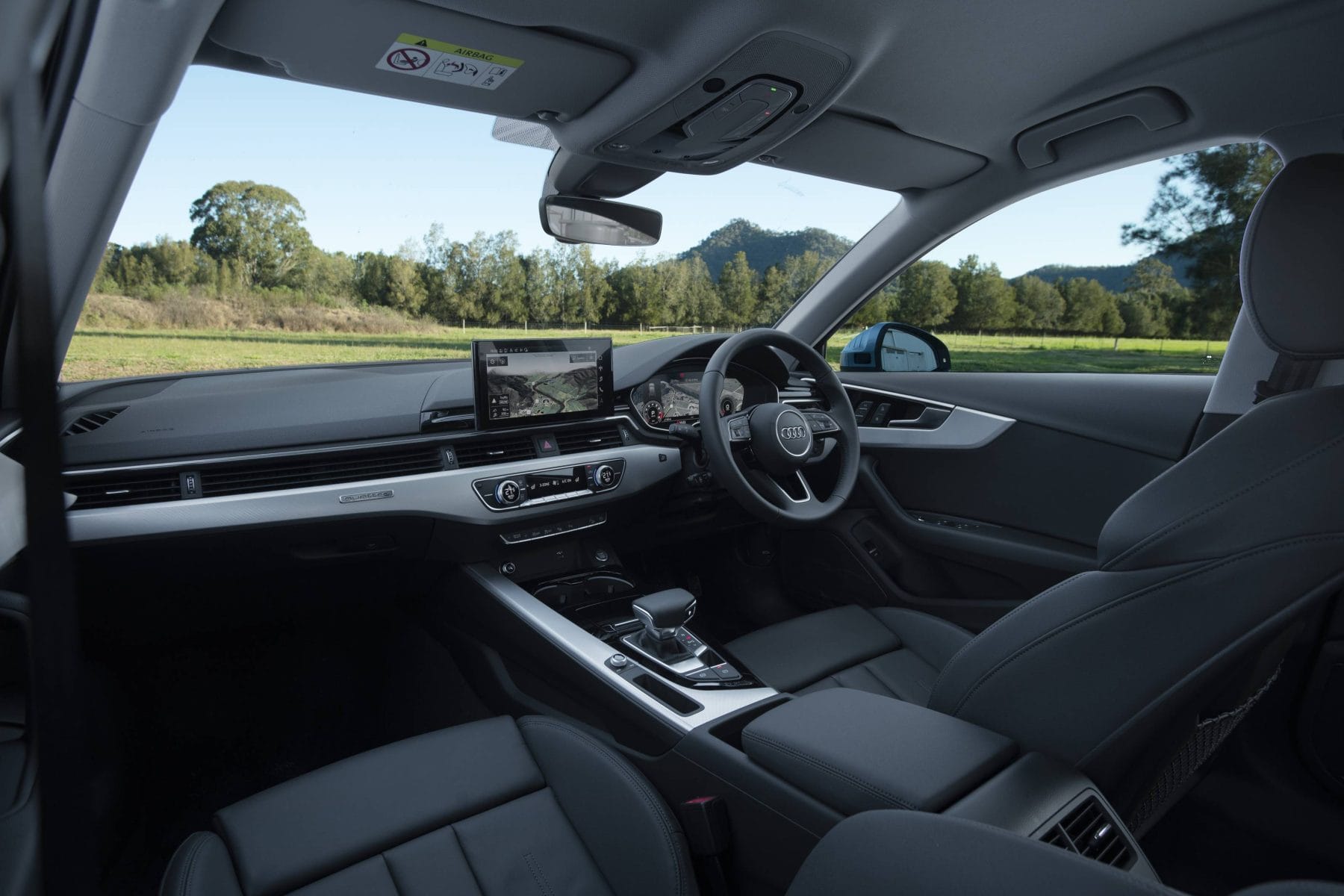 Audi A4 allroad Cabin:
A5 has the same classy interior as the tasty A5 Convertible we drove a few weeks ago. A4 misses the cool in-belt microphones which is a shame
The dash has aluminium trim above the full width front vents. Tri-zone climate control has a sync button too.
Sadly, Apple CarPlay requires a USB connection, instead of the wireless CarPlay in Q3. The high definition LCD central screen is fast responding to touch inputs. The driver gets a full LCD display, and an HUD for extra data. Sadly, the HUD, along with most of the active driver aids, is an option.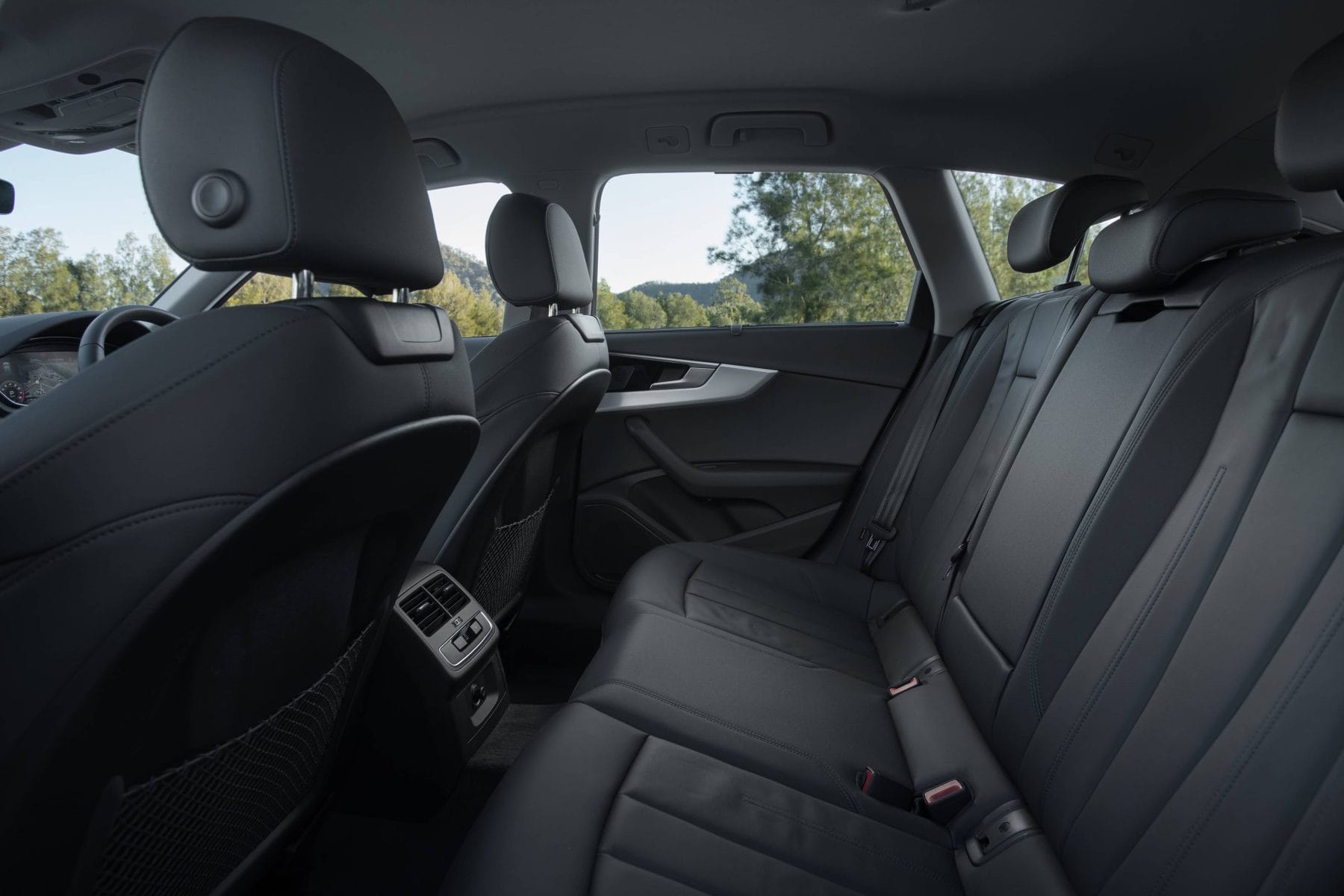 The options pack costs a princely $3,770.,The silver paint job is further $1,990. (see details below).
Rear seats have a window blind on their for shade and privacy.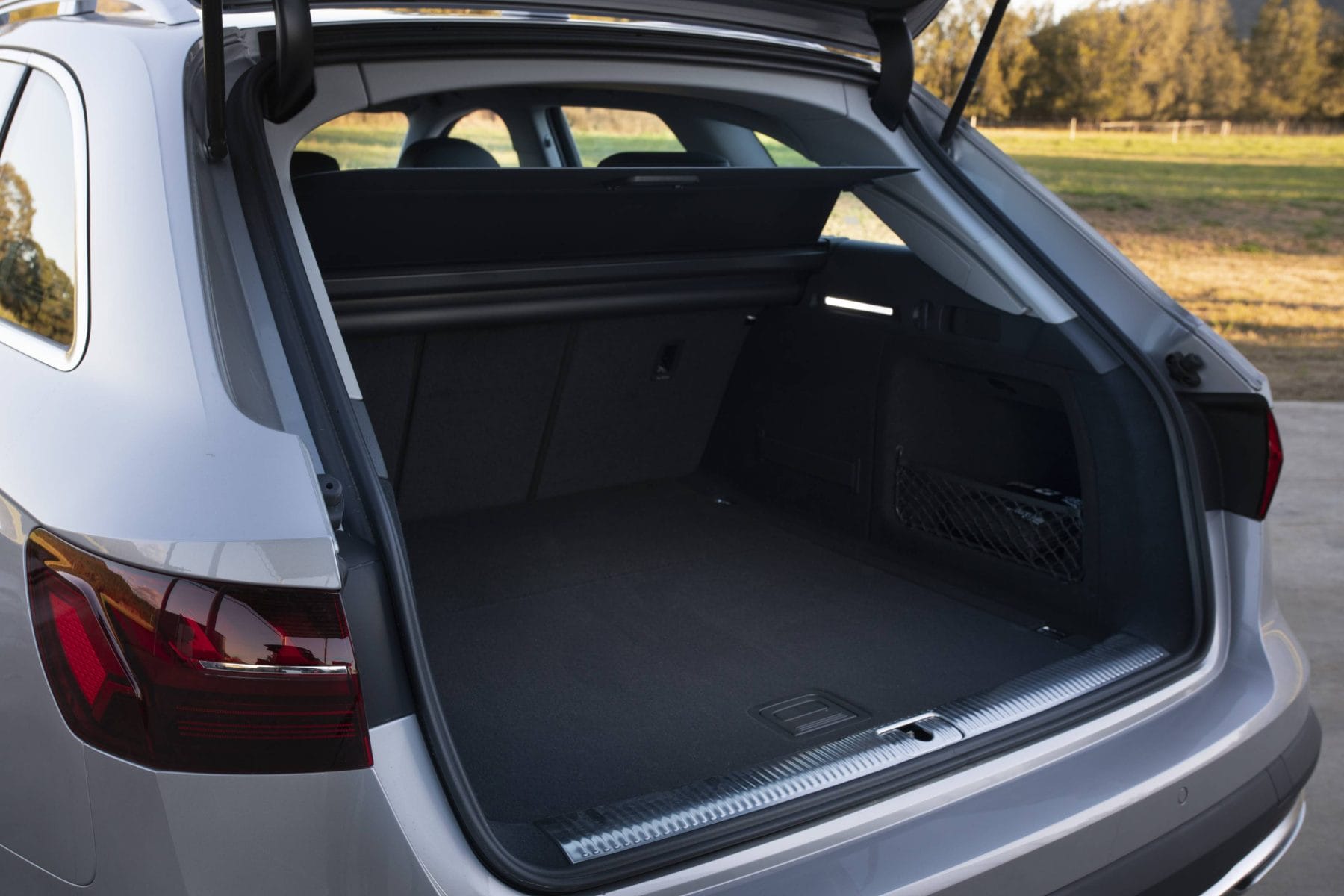 The cargo area is generous and is accessed by waving a foot under the bumper. If you don't have the key on you, there is a rubber button instead.
Audi interiors are known for being tasteful. And A4 is certainly that. The lines are smooth, and there is a light touch to the design. It is chic, airy, and comfortable.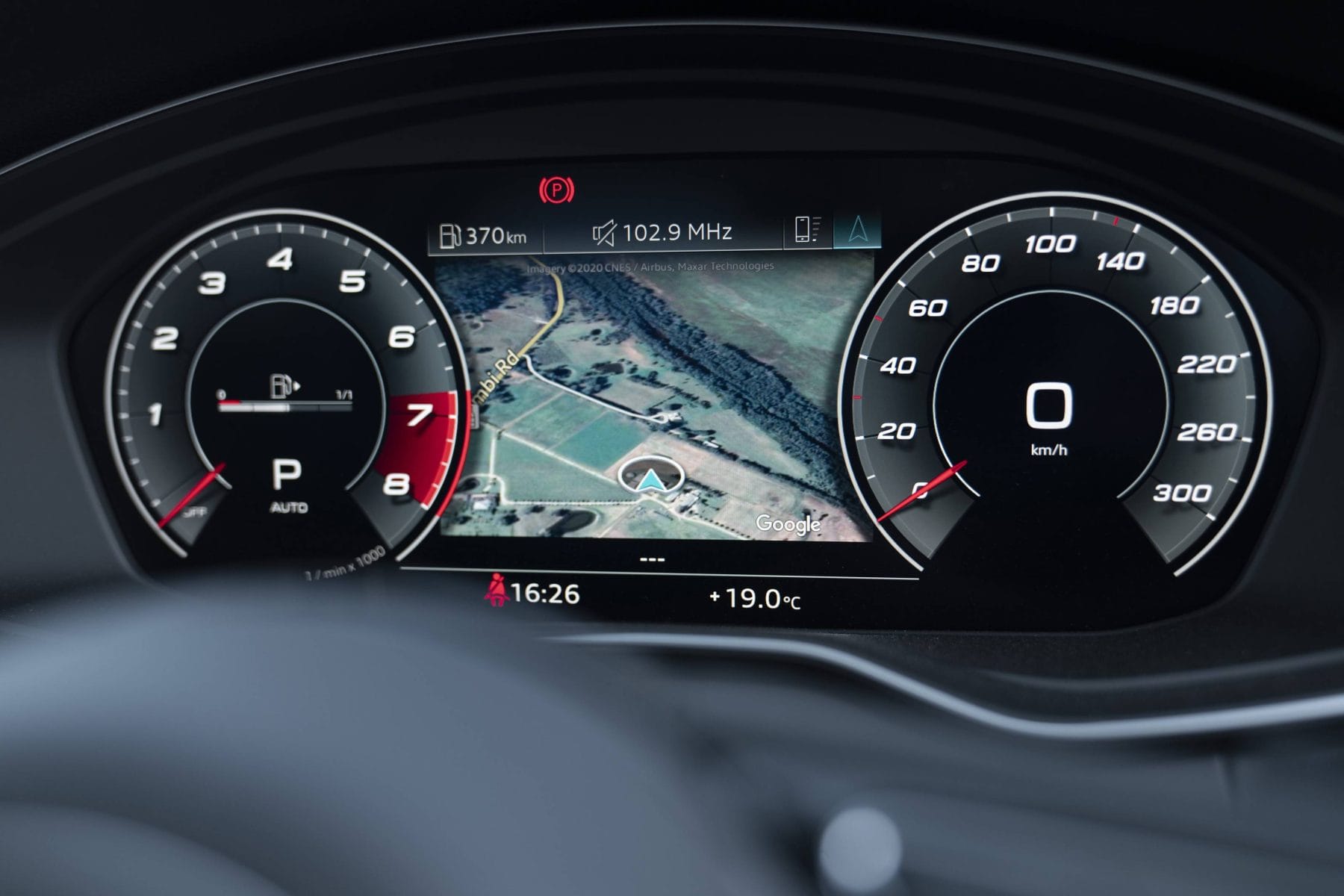 Audi A4 allroad Drive:
6 cylinders are almost as dead, so A4 has the turbo-4 drivetrain from the A5.
The 183kw/370Nm 2.0L petrol engine comes with QUATTRO AWD, and a smooth 7 speed S-tronic automatic. 0-100 is 6.1 second, with 7.1L/100k.
A4 will hum along happily at 110kph all day and all night. Active steering keeps you centred in the lane. The option pack also includes Active Cruise Control, and AEB that can see around corners. Queue assists takes the worry out of traffic jams, but my guess is you finish up doing that bit yourself. She is a little slow off the mark, and smart arses keep jumping in the lane ahead of you. She not is quite smart enough to see that, and unless you hit the anchors, trouble may well come..
The audio system has concert hall-like performance.
Conclusion:
I love the Audi A4 Allroad. Is it a pleasure, but can't go far enough off-road, and that's fine by me. Most SUVs don't, even if they can.
Audi A4 Allroad is all things to most people. It does nothing badly, and most things, very well indeed.
What's Good?
Allroad capability
Style and design
Interior ambience
What's Not?
DSG Longevity
Thick 'A' pillars
Its a little pricey

Model: Audi A4 allroad 45 TFSI Quattro
Model Price $72,990 MLP*
Drivetrain Quattro 45 TFSI 7 SP STronic
Power 183kW @ 5,000rpm
Torque 370Nm @ 1,600rpm
Acceleration: 0-100 km/h in 6.1 seconds
Safety 5 Star ANCAP
CO2 Emissions 206 g/km
Economy (ADR comb) 7.4L/100km
Tow Capacity – 1700Kg
Tow Ball Rating 170Kg
Warranty 3yr/Unlimited km with full roadside assist
*MLP – Manufacturers List Price includes GST and LCT but excluding statutory charges, dealer costs and dealer delivery. See your dealer for RDAP. Does not include price of any options.
Options
Metallic paint: $1,990
Assistance plus package: $3,770