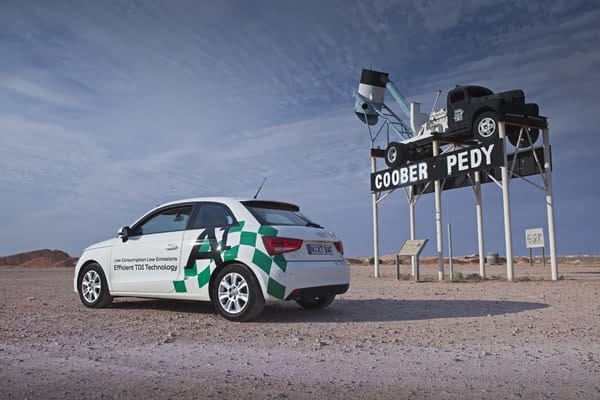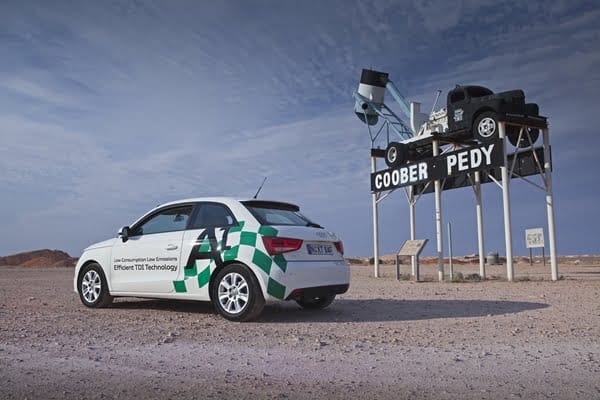 The Audi A1 1.6 TDI which has been running in conjunction with the 2011 Veolia World Solar Challenge reached Port Augusta yesterday (Thursday) with only 302km left to run in its incident-packed 3028km Darwin to Adelaide journey with official confirmation of its best one-day fuel consumption of 3.2 litres/100km.
The figure was recorded on the 684 km run from Alice Springs to Coober Pedy, the longest leg in the five-day cross-country trip after yesterday morning's official refueling.
But conditions which battered the solar cars in the World Solar Challenge yesterday also hurt the Audi A1. Following Wednesday's 37.5C temperatures the temperature climbed quickly yesterday to 35.5C with a blustery side wind for the 541km run from Coober Pedy to Port Augusta. As the day progressed a weather front moved across South Australia dropping temperatures by 10C but the welcome cool change was accompanied by a fierce southerly wind – right on the Audi's nose. The strong headwind was an unwelcome addition to an already difficult day for the Audi driving team.
The solar cars, which had been running more or less in convoy with the Audi since Alice Springs, dropped back as a result of the winds which whipped up clouds of red dust while the high cloud cover restricted the efficiency of their solar panels.
The Japanese Tokai University team beat the weather in to Adelaide to take victory in the event albeit at an average speed some eight kilometres an hour slower than last year.
The Audi A1 pulled into Port Augusta yesterday afternoon for its scheduled final stop with the trip computer showing a consumption of 3.5 litres/100km although the official refueling and consumption calculations won't be done until this morning (Friday 21 October).
Audi gained approval from the organisers of the Veolia World Solar Challenge to run the Audi A1 in conjunction with the solar car race to demonstrate the car's low fuel consumption and low carbon dioxide emissions in everyday driving. Organisers have appointed an independent adjudicator to supervise the run.
The Audi A1, which is about to go on to the market in Australia, is powered by a four-cylinder, 1.6-litre turbocharged diesel engine producing 66kW of power and 230Nm of torque.
The car's lightweight construction – it weighs 1135kg – is complemented by a low, 0.32 drag coefficient. It runs on low rolling resistance tyres and incorporates "start-stop" technology which turns off the engine when the car is stopped in traffic and restarts it when the clutch pedal is depressed.
The A1 1.6 TDI will be available with a choice of five-speed manual gearbox or seven-speed S tronic transmission.