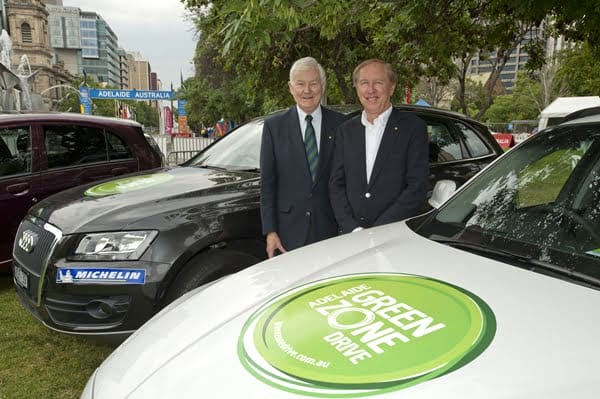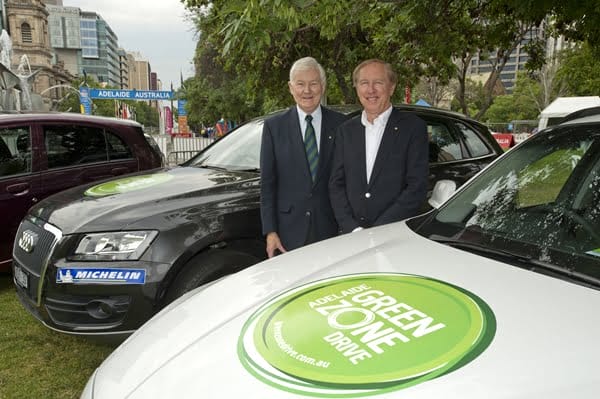 Adelaide GreenZone Drive kicked off with a flurry of activity on Thursday 20th October as South Australians took the opportunity to test drive the very latest in green cars.
The four day public event, which is part of the Veolia World Solar Challenge finish line activities at Victoria Square, hosted its first test drive at 11am on Thursday 20th October and was visited by South Australian resident motor sport legend Vern Schuppan, OAM and Deputy Lord Major of Adelaide, David Plumbridge, AM.
Mr Schuppan took the opportunity to try some of the cars available including the fully electric Nissan LEAF and Mitsubishi iMiEV.
Over 100 test drives were conducted on the first day with at least seven vehicles available to drive on the 3.5km city drive route at any one time.
The Adelaide Green Zone Drive runs until 3pm on Sunday October 23 and bookings can be made on www.greenzonedrive.com.au or on-site at Victoria Square.
The following vehicles will be available to test at the Adelaide GreenZone Drive:
Audi A1 1.4 TFSI Sport, Audi A6 3.0 TDI quattro, Audi Q5 2.0 TDI quattro, BMW 320d, BMW X1 sDrive 2.0d, Honda Jazz GLi, Honda Insight VTI-L, Mitsubishi i-MiEV (2 examples), Nissan LEAF, Renault Latitude 2.0 dCi, Renault MEGANE hatch diesel, Toyota Hybrid Camry, Toyota Prius i-TECH