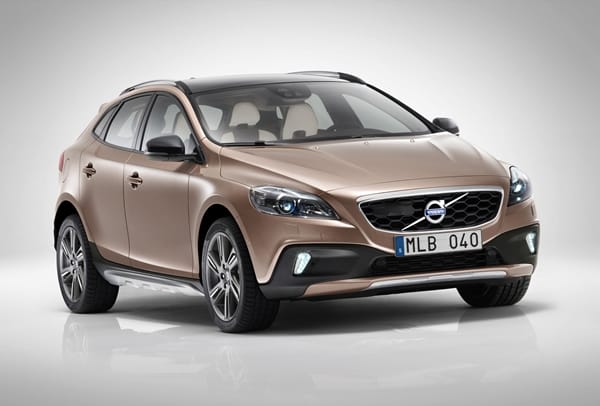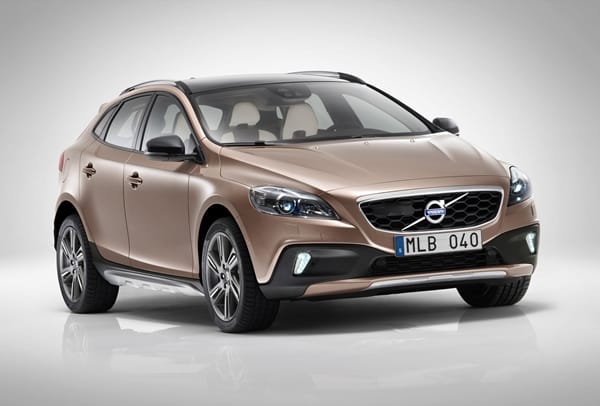 "The new V40 Cross Country is built on the heritage that started with the V70 Cross Country back in 1997," says Lex Kerssemakers, Senior Vice President Product Strategy & Vehicle Line Management at Volvo Car Corporation.
"It is designed for those who want a sense of adventure in their everyday life. When you want a break from the city, it is capable enough to take you and your gear to your favourite adventure and back. However, you still need to climb the mountain yourself."
Capable all-roader
When the Volvo XC-models happily flex their muscles, the V40 Cross Country boasts a sleek ruggedness with its unique features integrated in the stylish design."There is a clear distinction between our XC and Cross Country models. The Volvo XC models have a distinct crossover character with unique body styles, including an elevated seating position, while the Cross Country models are expressive all-road versions of our dynamic wagons and hatchbacks," explains Lex Kerssemakers.
"When it comes to driving dynamics, the V40 Cross Country is eager to take on the sportiest competitor versions. It features an attractive blend of sportiness and comfort."
The driver rides 40mm higher in the V40 Cross Country than in the standard V40. This capable impression is enhanced by a number of unique Cross Country details:
Wheels the same size as the Volvo V70, including up to 19-inch rims
Contrasting dark front bumper, honeycomb mesh grille, vertical daytime running lights
Sculpted, contrasting sills
Contrasting rear bumper with integrated skid plate
Elegant, refined premium crossover
Yet, the five-door, five-seat premium all-roader features refined off-road inspired details such as the anodized, black high-gloss frame around the greenhouse, the black rear-view mirror housings and the sleek rails floating over the roof.
"The V40 Cross Country retains its V40 stylishness by integrating the ruggedness in the design with meticulous attention to detail. It has an extrovert, expressive character that promises the open-minded adventurer a great time," says Simon Lamarre, exterior design manager for the V40 Cross Country.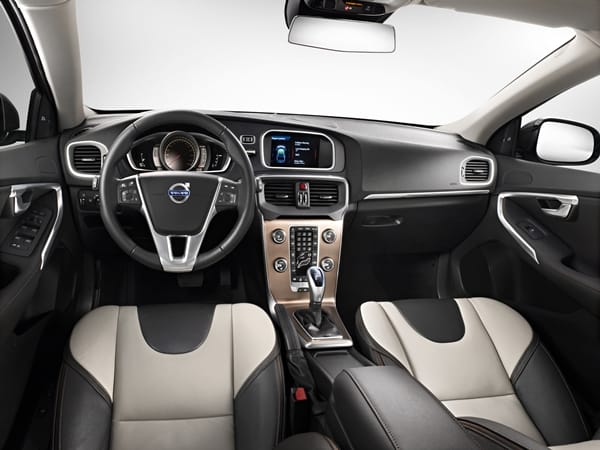 Copper and brown theme
Inside, the Raw Copper exterior launch colour is echoed in the contrasting stitching – and it can be emphasised even further by choosing the Copper Dawn centre stack inlay. The leather upholstery comes in five different versions, including the Espresso Brown accent colour.
"Our customers are individualists, so we want to offer them a lot of possibilities. All choices feature the same strong, emotional expression as the exterior of the car," says Maria Uggla, colour & material design manager for the V40 Cross Country.
"The two-tone upholstery alternatives are the perfect choices for those who want a truly individual look. There is a generous range of individual possibilities. Dark elegance?
Scandinavian bright? Sporty ruggedness? Just choose the interior that fits your personality best."
Versatility for open-ended adventures
The V40 Cross Country offers thrill-seeking customers the right versatility to bring both friends and gear along on an open-ended adventure.
The two-piece, 40/60 split, rear seat backrest can be easily folded. The load compartment can be equipped with a practical hanging load net. A soft safety net is optional and a steel version is available as an accessory.
The car can be equipped with a versatile 'extra' floor in the load compartment which creates several useful possibilities:
Fold it up – and get a grocery bag holder
Fold it away – and get best luggage volume
Flat floor – load long objects
Flip it over for protecting and to maximise the volume
The front passenger seat can be folded forward to create even more space. In addition to the two permanent hooks, the extra floor integrates hooks for bags. Between the upper and lower floors there is a concealed storage area.
The accessory range includes a cargo mat organiser that keeps smaller items secure and in order, as well as a load organiser that includes a load compartment divider, a load belt and two floor rails.
Smart storage
Below the armrest is a storage compartment suitable for CDs and other small items. It also features a connector for either USB/iPod or AUX, depending on the audio system specified. The armrest can be adjusted to provide extra support for the driver. Two cup-holders and a 12V power outlet are integrated in the console in front of the armrest. The glove compartment includes space for two soft-drink cans or bottles that are kept cool with cold air from the Electronic Climate Control system. Other convenient features include:
Height adjustable headrests on the front seats and the centre rear seat
A sunglass compartment above the driver's door
A penholder in the glove compartment
Integrated cup holder in the rear seat
Handy storage under the instrument panel, on the front seat cushions, on the front seat backrests and on the outside of the rear seats
Another smart detail for the keen winter adventurer is the specially designed, drained storage unit for an ice scraper in both front door panels.
Seven different mood light options
The interior lighting is designed to give a 'theatre lighting' feel. LED lamps are used to light up strategic areas. The driver can enjoy a red-to-blue setting that adapts the light to the interior temperature – or choose between another seven mood themes. The reading lights front and rear can be dimmed.
All-wheel drive enhances capability
The V40 Cross Country features class-leading driving dynamics with all-wheel drive available on the T5 petrol turbo to enhance the all-road, all-weather capability.
The five-cylinder 2.5-litre T5 engine has a power output of 254bhp (187kW) and 400Nm of torque, including 40Nm overboost delivered during acceleration. It comes with automatic transmission and acceleration from 0-100km/h takes 6.1 seconds. Fuel consumption is 7.8L/100 km (EU Combined).
The T5 is also available in a 2.0-litre version with 213bhp (157kW) and 300Nm of torque on certain markets.
There is also the T4, a 1.6-litre GTDi engine with 180bhp (132kW) and maximum torque of 270Nm, including 30Nm overboost. Fuel consumption is 5.5 l/100 km. This corresponds to CO2 emissions of 129g/km.
A 2.0-litre five-cylinder T4 engine with 180bhp (132kW) and 300Nm of torque is available on certain markets.
Smooth Powershift transmission
The T5 version comes with a six-speed automatic gearbox, while the T4 is available in combination with the automatic six-speed Powershift transmission or a six-speed manual gearbox.
Powershift operates in principle as two parallel manual gearboxes with separate clutches, a system that provides quick and fuel-saving gear changes.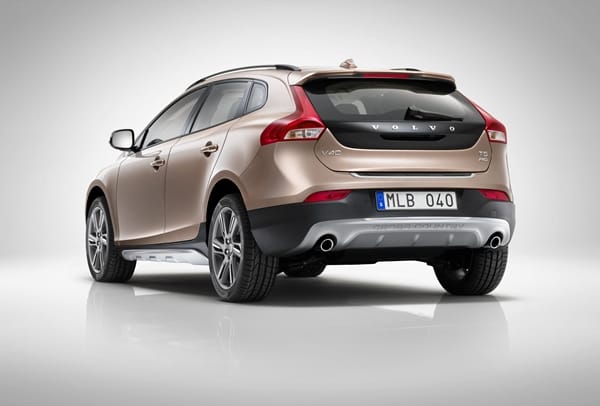 Fuel-efficient diesels
The five-cylinder 2.0-litre D4 turbodiesel has been optimised for fuel-efficient driving pleasure. It delivers 177bhp (130kW) and has torque of 400Nm across a wide rpm range. Acceleration from 0-100km/h takes 8.3 seconds with the automatic gearbox (8.6sec with manual).
Fuel consumption and CO2 emissions are 4.4L/100 km (117g/km) with a manual gearbox and 5.2L/100 km (137g/km) with the automatic (EU Combined).
In addition there is the 2.0-litre D3 producing 150bhp and 350Nm of torque. Both turbodiesels are available with a six-speed automatic transmission or six-speed manual gearbox.
D2 version with class leading CO2 emissions of 99g/km
The D2 version of the V40 Cross Country comes with CO2 emissions at a class-leading 99g/km – corresponding to fuel consumption of just 3.8L/100 km. The 1.6-litre diesel engine has 115bhp (84kW) and 285Nm of torque, including 15Nm overboost. The D2 engine is combined with a six-speed manual gearbox and start/stop function.
Start-stop on all versions
All engine versions have start-stop and braking energy regeneration, no matter whether they are fitted with a manual or automatic gearbox.
Hill Descent Control
To make altitude-changing adventures more comfortable for the driver, the V40 Cross Country also features Hill Descent Control on the T5 version with all-wheel drive, which controls the car's speed automatically when driving down steep inclines. The V40 Cross Country also has a practical Hill Hold function that makes starting on a hill easy.
Focus on Europe and China
Volvo Car Corporation expects to sell 17,000 units per year of the all-new Volvo V40 Cross Country. Around 50 percent of the total volume will go to European customers and around 30 percent to Chinese buyers.
The V40 Cross Country will be built in Volvo Car Corporation's production plant in Ghent, Belgium. Production gets under way in November 2012.