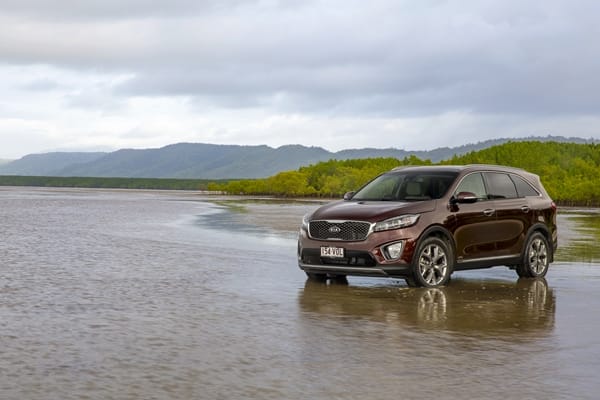 With the availability of a new platform in the KIA assembly shed, Kia have taken the opportunity to redesign the third generation Sorento. About the only carry over from the previous model is the tweaked 2.2L diesel, the 3.4L V6 is a new engine for this platform.
The body has been redesigned with more aggressive and defined lines as well as generous new proportions. The body is 95mm longer, 45mm lower and 5mm wider with an 80mm longer wheel base. Even with the lower body height the seating has been redesigned to provide more head room in the front and second rows. This is more than evident by the fact that I didn't need to put the driver's seat all the way back to be able to get a comfortable position (all 6'5" of me).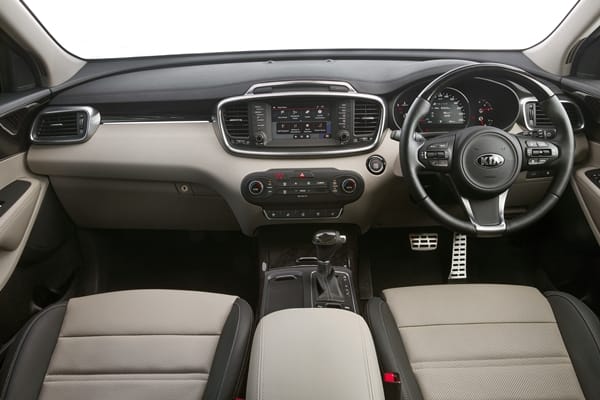 On the inside the redesign has continued and stepped it up to the next level with a smooth flowing package that is easy on the eye and easy to use. The dash has been laid out with distinct and easy to see clusters that don't overwhelm you with complicated buttons or gadgets. The steering wheel on the SLi and Platinum is a good looking affair with the trim broken up with a feature piece and all steering wheels come with controls to activate your most used functions. All variant come with dual zone A/C as well as second and third row cooling.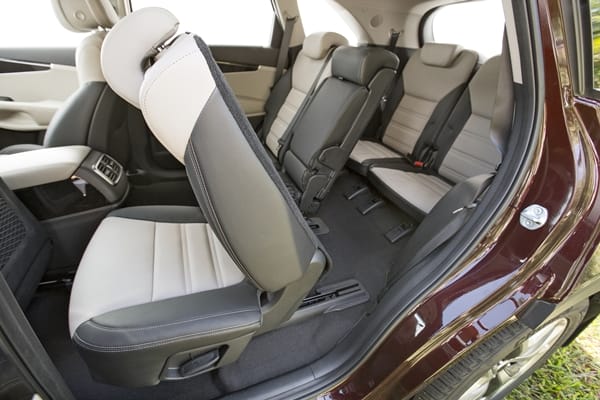 The Platinum comes with heated steering wheel as well as front and second row seat heating and front seat cooling. Platinum and SLi have leather while the Si has cloth and start at 6 way adjustable to 8 way and 10 way on the Platinum which also has an 8 way passengers front seat. SLI and Platinum have auto sensing smart tailgates which open with a proximity sensor while Platinum pics up a panoramic sun roof.
All models have auto headlights with led parkers while Platinum picks up DRL's and led rear lights. Static cornering lights are standard and Platinum has HID auto levelling adaptive (cornering) headlights.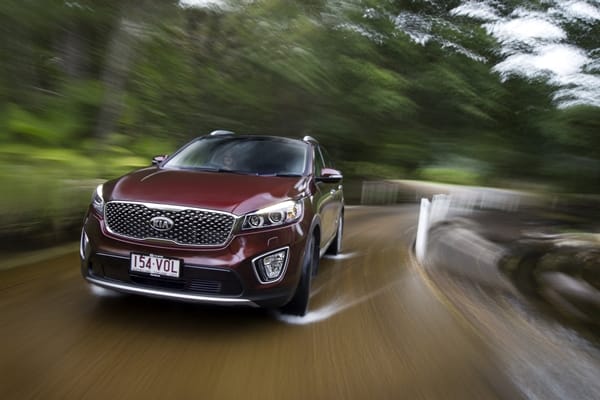 An interesting factor about the entertainment system is the fact that there is no cd player available. While some may lament this it is the way of the future and it has full compatibility with media devices via USB and 3mm jack. However the stereo isn't video capable. The Platinum is the pick of bunch with its premium sound system (10 speaker Infinity) though the Si and SLi sound good as well. All models have sat nav.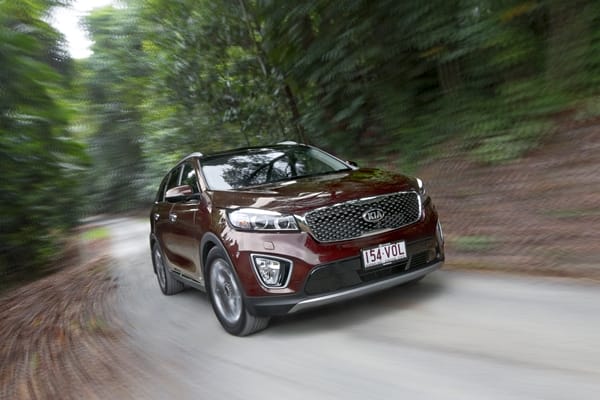 Safety has had a major haul over and the Sorento now achieves a 5 star ANCAP rating. All models have front side and curtain airbags, 7 seat seatbelt warning lights as well as the usual acronyms for safety. The Platinum also picks up some other features. Blind spot and lane change assist, lane departure warning as well as rear cross traffic warning for reversing out of places and to top it off smart cruise control. All models have front and rear sensors and reversing camera as well as TPMS.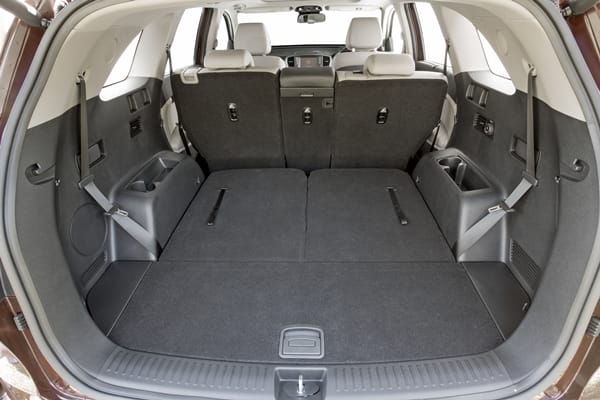 One major improvement with the Sorento is the suspension package which was exclusively designed in Australia for Australian conditions and this was evident on the drive. The KIA handles well on road taking the twisty hills around Port Douglas and Cairns in its stride and comfortably cruising along at high speeds. The short stint along some gravel and dirt was promising, with the bumps and corrugations being soaked up with minimal intrusion into the cabin but some longer testing will show the true capabilities of the Sorento to tackle this kind of terrain.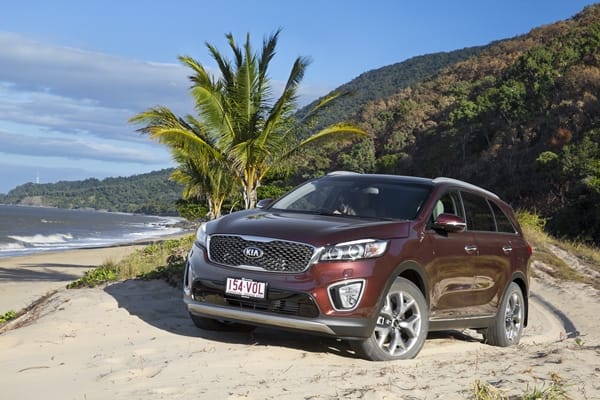 It will also be a chance to see how well it performs in appropriate off road terrain. The sports mode for the transmission actually made a noticeable difference to the way the gearbox performed compared to some. Another improvement is with the NVH levels as the engine and road noise was hardly audible especially on the Platinum.
Towing has been bumped up to 2 tonne with a 100kg ball weight which will require some thought to loading your trailer.
The V6 makes 199kW and 318Nm while the Diesel makes 147kW and 441Nm.
Fuel consumption is claimed at 9.9L/100Km for the petrol and 7.8L/100Km for diesel.
Sorento is offered in three trim levels with 2 engines:
Si V6 2wd at $40,990
Si Diesel AWD at $44,490
SLi V6 2wd at $45,990
SLi Diesel AWD at $49,490
And my personal choice Platinum Diesel AWD at $55,990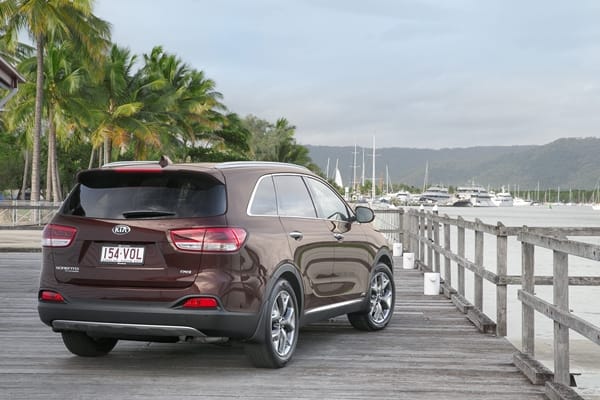 To top it all off KIA now offer their 7 year unlimited km warranty, 7yr capped price servicing and 7yr roadside assist which is a big statement on how confident they are with their engineering.