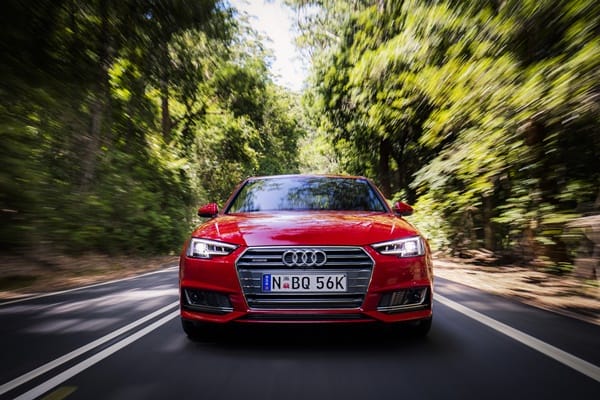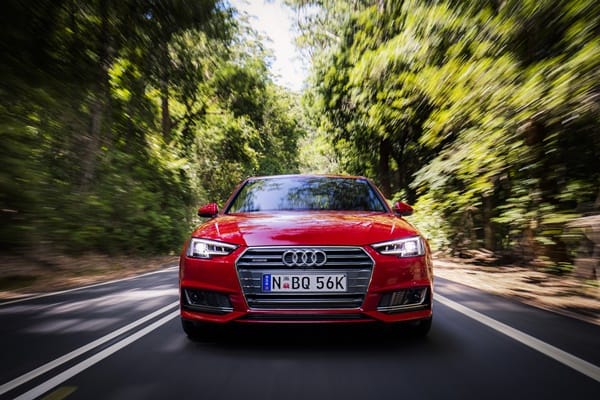 When a vehicle is in its 9th generation, has been around for over 20 years and previous versions have been offered since 1974 you know there must be something special about that vehicle. This is exactly the case with the all new 9th generation Audi A4.
The all new Audi A4 is slightly longer, slightly wider, has a more squat aggressive stance and with striking horizontal elements to the design is simply better looking than the previous model. It is packed with more standard features and more technology than most people could comprehend, a class leading drag coefficient of .27 and yet is some 65 kg lighter.
The A4 competes in the compact executive class of the market, a segment that sees offerings from Audi's main competitors, BMW , Mercedes Benz and Lexus as well as Citroen, Peugeot and Volvo to name a few. It is a fierce competition for the executive dollar which often leads to brand loyalty.
It's also a game of tic tac toe with every new model from each manufacturer pushing the boundaries of what is offered in terms of features, technology and safety. To state it simply with the launch of the A4, Audi has set the bar for the others to catch up.
On the launch I had the opportunity to drive four variations of the A4 over roads that ranged from windy back roads to highway and freeway driving. Prices of the vehicles driven ranged from MLP $58,420 through to some MLP $92,480. Like most European brands the options list is long and very expensive.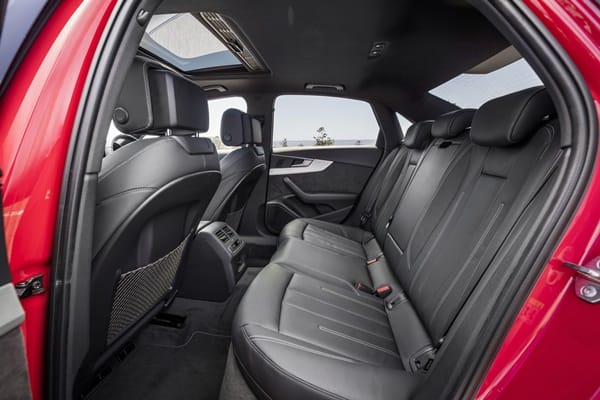 The extra length and width is noticeable, especially for the rear seats. I am 190cm tall or 6'3" in the old scale and larger than the average bear and I easily found a very comfortable driving position. To be honest there wasn't much room behind me, a problem with all vehicles in this segment, but on the trip back to the airport I had the opportunity to sit behind a more average sized driver and found adequate knee, leg and shoulder room. My head was just touching the roof but it was comfortable.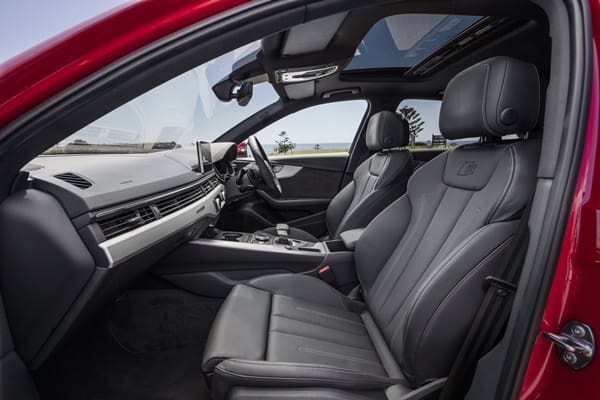 Taller drivers will notice that the 'B' pillar intrudes on ease of entry and exit with the driver's seat back. Rear exit also can be a source of amusement for onlookers with taller passengers. I am glad I was able to provide comical relief for those watching!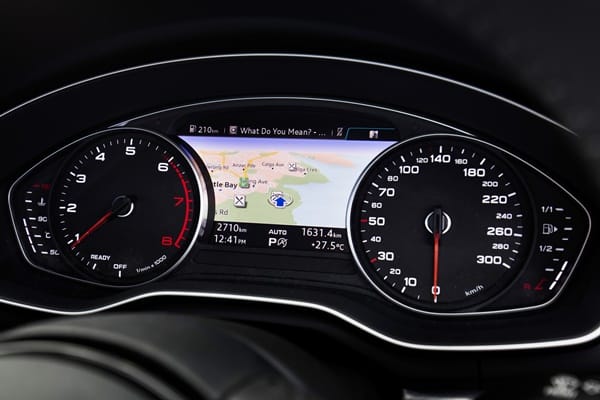 Part of the technology is evident in the dash. Framed with two large dials on the side, the centre section can be a normal MFD with multitude of information or can replicate the Sat Nav system, showing exactly where you are driving while you are driving it. Once you get used to it, it is quite cool actually.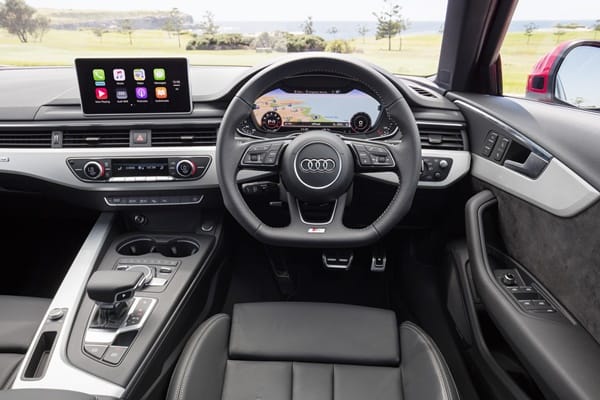 An option is the fully customisable 12.3 inch digital dash that provides stunning graphics and the ability to change the view depending on personal preferences. The magnesium based steering wheel is thick rimmed and flat bottomed for the 'S' line option and houses the usual controls. Unlike many cars the steering wheel doesn't obstruct any of the dash. The normal wheel is deeply scalloped with a bulbous Audi emblem in the centre. It is a little old school.
Leather is standard across the range as is multi adjustable electronic seating for the driver with lumbar support. The dashboard and centre stack has what the marketing people describe as 'horizontal lines' which is accentuated by the full width ventilation outlet. There is a three zone A/C system with great rear outlets as well.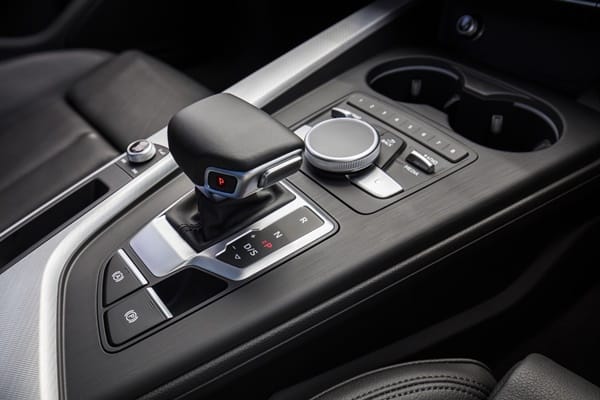 The centre screen is Audi's standard, high-end integrated infotainment system featuring MMI Navigation plus with MMI touch. It includes 10 gigabytes of flash storage, a DVD drive, Audi connect services for three years, up to five free navigation updates (available at six-month intervals), a further improved voice-control system and an 8.3-inch monitor with a resolution of 1,024 x 480 pixels. It does look a little out of place but like a lot of the technology in the A4 the more you use it the more seamless it becomes.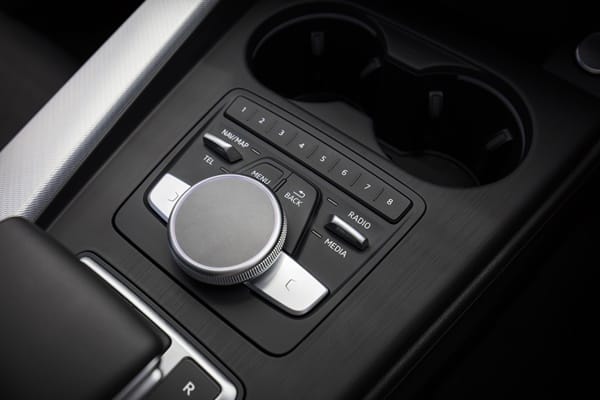 The centre console is a mix of new and old. The centrally mounted rotary controller for the centre screen is easy and intuitive to use. The transmission selector looks and feels a little chunky and takes a little getting used to.
Storage is a feature with good bottle holders in the doors as well as map storage, good cup holders in front of the centre console and centre storage bin and glove box are both useful. Rear seats are also well looked after. The boot area is adequate for the vehicle, even with the space saver spare.
Safety is rated 5 star by ANCAP and the list of features is way too long for this first drive impression. Let's just say that it has outstanding safety credentials.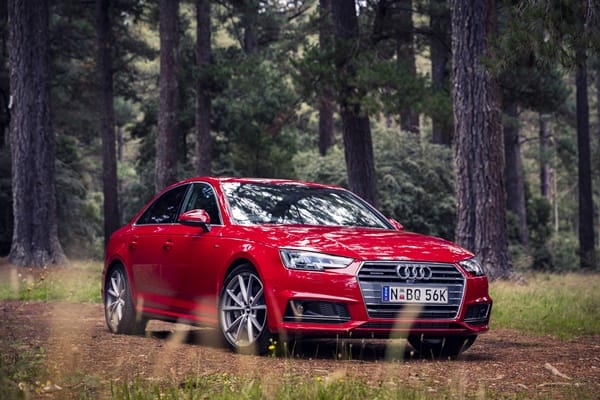 Let's look at what drives the A4. Starting with the A4 1.4 TFSI S Tronic Sport which is the entry level A4. This is the smaller motor of the four offered and is front wheel drive. Often in this size vehicle a 1.4L engine would be considered underpowered and figures of 110 kW @ 5000rpm may back that up, however the 250 Nm @ 1500rpm of torque ensures that the flexibility and delivery through the 7 speed S tronic sport transmission provides more than adequate power. Economy is just 5.5 litres per 100 kilometres in the A4 Sedan, resulting in CO2 emissions of 126 grams per kilometre.
To drive it is smooth, quiet and economical.  Any driver that purchased a vehicle with this engine in isolation would be more than happy with it.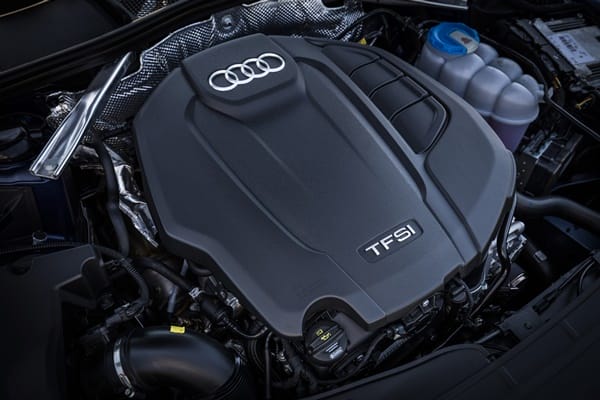 However it only gets better from there. The 2.0 TFSI with a displacement of 1,984cc is available in two versions for the Audi A4. In the high-end version, the 2.0 TFSI delivers 185kW and torque of 370Nm between 1,600 and 4,500rpm. This allows sporty driving: The new A4 with quattro drive and seven-speed S tronic sprint from 0 to 100kmh in 5.8 seconds and has an electronically limited top speed of 250kmh.  This engine combined with the S Tronic Sport transmission really is a picture of beauty.
The second version of the 2.0 TFSI, the high-efficiency petrol model, delivers 140kW and torque of 320Nm between 1,450 and 4,200rpm. This also results in very agile performance: 7.3 seconds from 0 to 100km/h and a top speed of 240kmh. Fuel consumption is excellent: consuming approximately 5.3 litres per 100 kilometres, equivalent to 119 grams of CO2 per kilometre.
Audi also offers a 1,968cc four-cylinder TDI engine in a high-output version. It delivers 140kW and torque of 400Nm between 1,750 and 3,000rpm.   The new A4 2.0 TDI with seven-speed S tronic and quattro all-wheel-drive has approximate fuel consumption of 4.6 litres per 100 kilometres and CO2 emissions of 121 grams per kilometre.   The powerful drivetrain also delivers impressive performance: acceleration from 0 to 100kmh in 7.2 seconds, with a top speed of 235kmh.
As mentioned before Audi's new seven-speed S tronic is standard for all engines in the new A4 paired with either front-wheel or quattro drive. Ride and handling are fantastic, even for the standard front wheel drive version. Add in one of the optional adaptive suspension systems and quattro drive and you have a vehicle that performs beyond its class. On uneven surfaces the standard suspension soaks up most bumps and undulations, provides firm ride and engaging handling. Like the engines it gets better from there.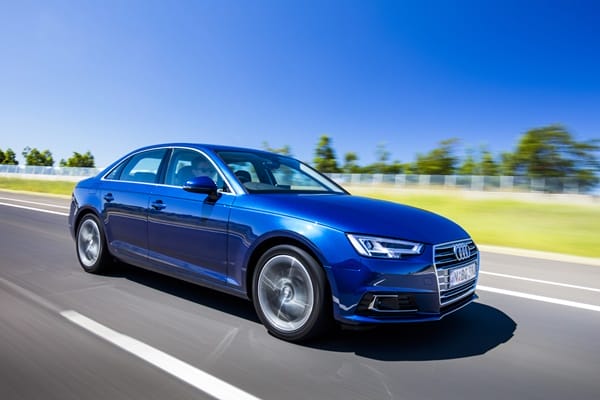 This performance is based on the redeveloped five-link axles and the electromechanical power steering – they are exceptionally light. They lay the foundation for dynamic handling and first-class ride comfort while also reducing fuel consumption. Additional options are dynamic steering, which varies its ratio according to the car's speed and the steering angle, and suspension with adjustable shock absorbers with which the driver can for the first time select between two settings: sports or comfort. Both of suspension settings are included in the Audi drive select driving-dynamics system, which is standard equipment for all models.
I have mentioned the abundance of technology and that will be the subject of a separate article, however to give an example of the lengths Audi have gone to is the lighting. Again way too much to mention here but one of the really cool innovations is the city/ motorway lights. The A4 senses where you are driving and will automatically adjust the height of the low beam to compensate. If you happen to be on high beam and approach another vehicle it will lower the beam behind the object and maintain high beam around it to provide visibility. The rear indicators are alive with the LED lights lighting up in a fluid motion indicating the direction of turning. There are also matrix beam headlights.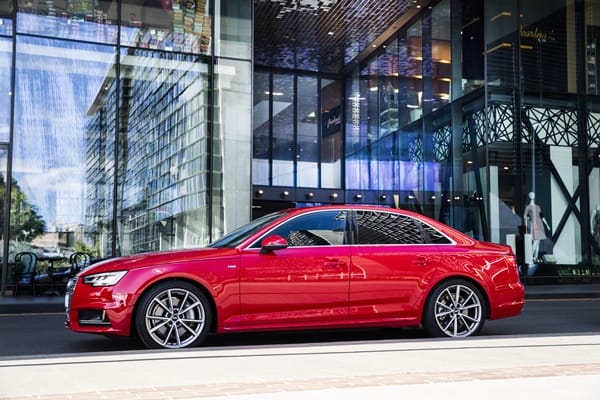 Other features worth briefly mentioning are the smartphone interface, acoustic glass, a filtration system that filters twice the amount of particles than its competitors, Audi tablet, predictive efficiency assistant, driver assist features, B&O 19 speaker sound system, 15 new and additional safety features over what we consider normal. The list keeps going.
I will be doing further road tests soon so stay tuned for a more in-depth driving review.
As I mentioned before the all new Audi A4 has set the new benchmark by which its competitors will now be judged. The A4 is backed by Audi's 3 year unlimited kilometre warranty.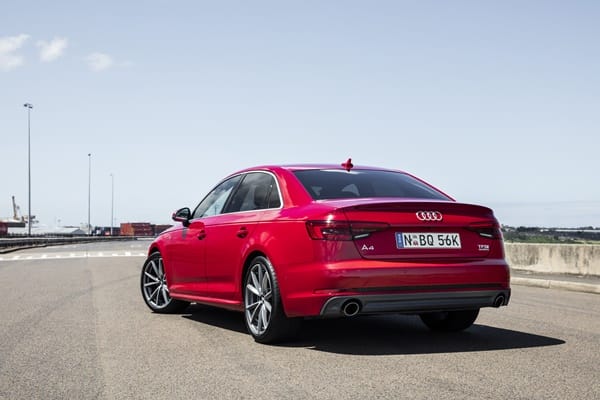 Purchasers of the entry level A4 1.4 TFSI S Tronic Sport vehicle will be extremely happy with their purchase. You can get into this vehicle for around $60,000 give or take and at that price represents outstanding value. The A4 is quiet, smooth and fun to drive with excellent fuel economy.
If you want to spend more for more power, or diesel power, quattro drive, and any of the abundant options Audi will happily accommodate you. You could easily near $100,000 which is a lot for this vehicle, but some buyers just have to have their options.