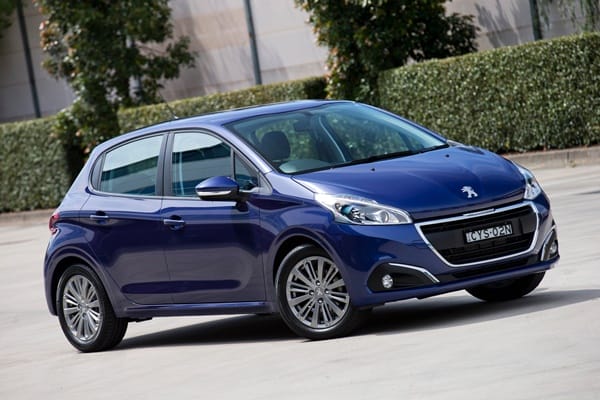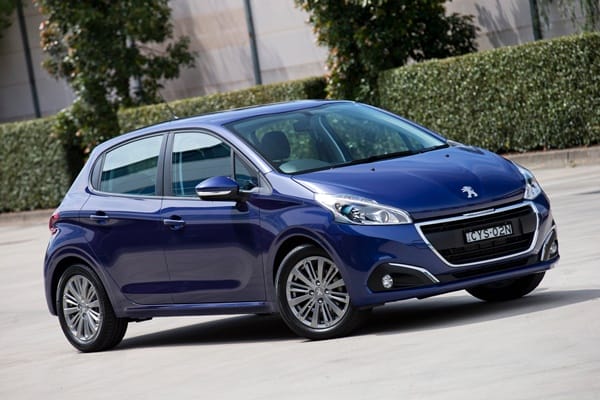 Peugeot Australia updated the 208 range late in 2015. The relaunch saw the range with a redesigned exterior, increased technology, new segment-leading drivetrains, a whole new model and increased personalisation options.
On test this week we had the opportunity to drive the somewhat sporty 1.2 e-THP Active Hatch. Overall the impression it left was positive. Peugeots are known for their quirks but the 208 has tamed these to provide a value based spritely 5 door hatch that provides comfort, style, safety and plenty of competition for the segment leaders.
Externally the 208 is stylish enough to differentiate itself from the main offerings that abound. The 208's redesigned front bumper features a sharper line, pairing to the wider, deeper grille. Other external features include front fog lamps, rear parking sensors, two tone black/chrome headlamps with LED DRL's, LED tail lights, heated electric side mirrors, 16 inch Titane alloy wheels with full size steel spare and body colour door handles.
The 208 is definitely aimed at the fashion conscious buyer with 12 vibrant, lively colours, including the new Orange Power hero colour as well as an option for textured paint – a first for a mass production vehicle. Other changes to the standard colour palette include Hurricane Grey, Bianca White, Virtual Blue and Twilight Blue.  You have to love the people that think up these names!
Normally we don't get excited about paint colours but Peugeot has developed something that makes us just a little excited. This is the availability of world first Textured Matte Premium Paint. Four years in development and previously used on the limited edition Peugeot 208 GTi 30th Anniversary model it has an innovative Matte and Satin finish, a clear break from mainstream colours and paints on offer for production cars in Australia.
These tones react strongly under light, with variations in finish and shade, contrary to conventional matte paint that smooths out curves and hides body lines.
In a world first for a mass production car, these paints are more robust than conventional matte paints, with particularly good resistance to micro scratches and are easier to maintain as they are compatible with pressure-washers and brush car washing machines; both of which would destroy a traditional matte paint finish.
In line with Peugeots on trend persona the new 208 Active also features four Personalisation option packs, two interior and two exterior. Available in Menthol White or Lime Yellow and are a factory-fit option from the Active model up.
Exterior packs include a new grille with stamped 3D effect, gloss black grille finisher, gloss black front fog lamp finishers with laser engraved lines and coloured Peugeot lettering front and rear, while the Interior packs feature sports seats with contrasting stitching, coloured door handles, grained dashboard mouldings and satin chrome air vent finishers.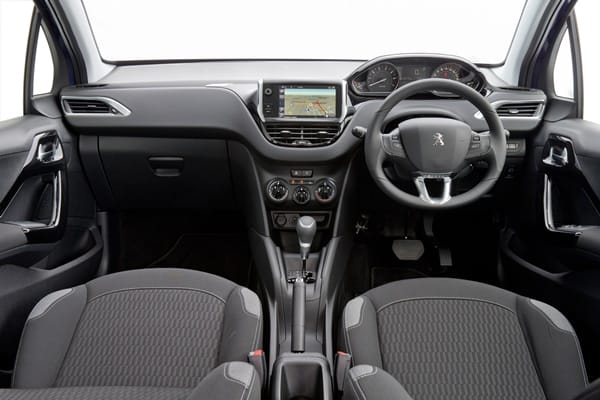 Internally the 208 Active has plenty of room for the front passengers. The cloth trim seats are comfortable with enough seat travel for taller drivers, but the driver's seat lacks lumbar support. It also slides behind the 'B' pillar which restricts ease of access for taller drivers.
The dash is typically Peugeot, with large easy to read twin dials and MFD. The dashboard is hard plastic but the front fascia is a soft textured material.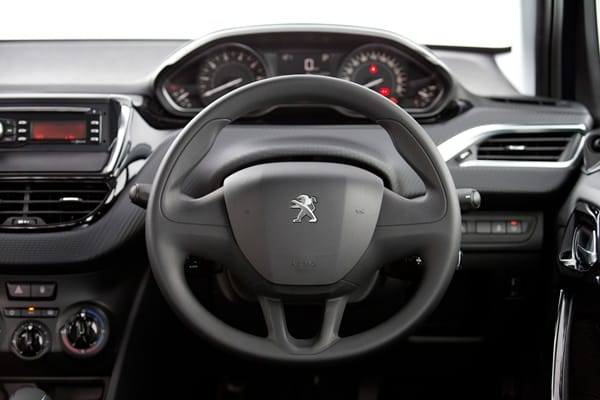 On occasions the height and reach adjustable leather steering wheel obscures some of the dials. But that would be an individual setting. The other thing I find annoying is the cruise control stalk is totally hidden behind the steering wheel making it near impossible to use on the go as it is somewhat complicated.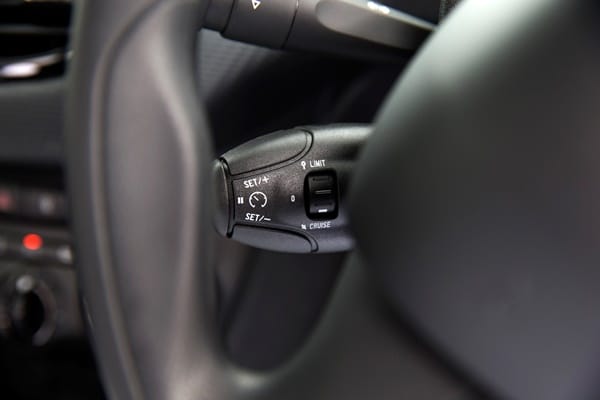 The centre stack protrudes and houses the 7 inch colour display screen. The model we tested had the optional sat nav and reversing camera: the screen again was easy to use. Not something that can be said for all French vehicles. Air-conditioning controls are dial based and practical.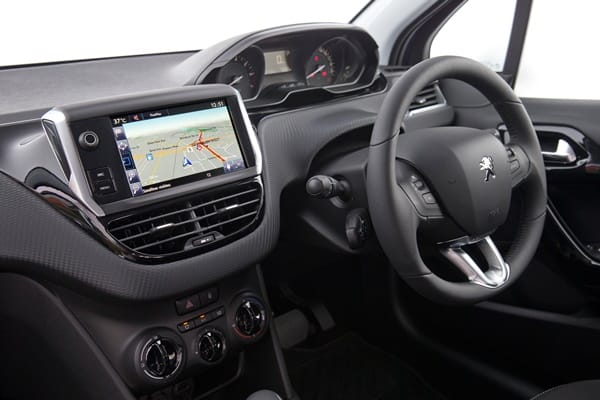 Somewhat unusual for a French vehicle there are 4 cup holders, albeit with small base rims and in the case of the forward two, very crowded. There is a neat storage area in front of the transmission lever and two cup holders and a small bin between the seats. Door bins are huge and practical, one touch front windows are a nice touch and the air conditioned glove box is very handy.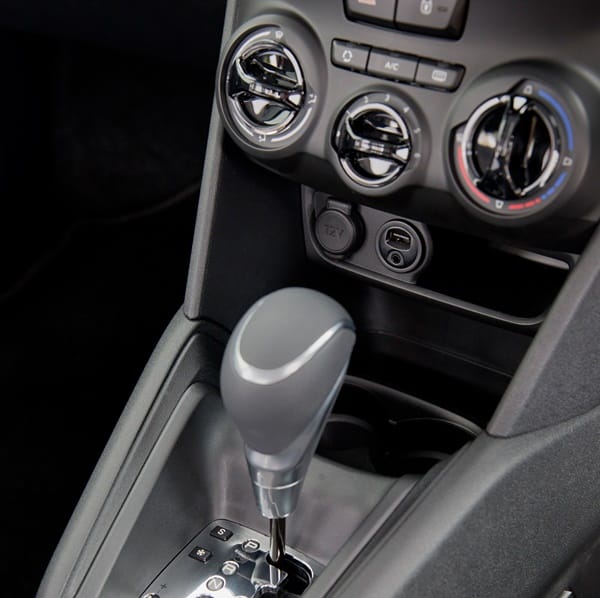 Overall the front seat occupants are comfortable with plenty of room. The same cannot be said for the rear passengers though. The seats are designed for two really and with the front seats back, there is little knee room. Head, shoulder and foot room are adequate. This is however not restricted to the 208, more a product of vehicle size and something all vehicles in this segment face. Boot room is generous.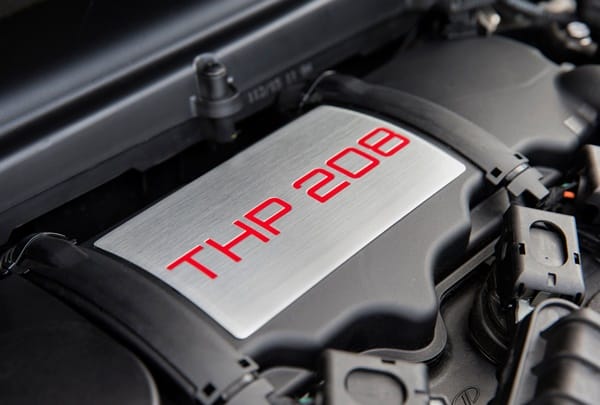 The 208 we tested is driven by a 1.2 PureTech e-THP 81kW engine with a new Aisin six-speed automatic and Stop & Start technology. This engine produces 81 kw @ 5500rpm and 205 Nm @ 1500 rpm. This is the key to the flexibility and driveability of the 208. Maximum torque comes in at 1500 rpm. While this means spritely driving it certainly isn't a sporty vehicle with a 0-100 time of 10.9 seconds. Everyday driving though is fast enough. However fuel economy is outstanding with a combined 4.5 l/100k and achieves CO2 emissions of just 104g/km.
The Stop& Start system to be honest I found just plain annoying. It certainly wasn't as smooth as others and the delay in restarting necessitated a different driving style at roundabouts, corners and traffic. I ended up turning it off after a day and the driving pleasure immediately improved. Probably to the detriment of fuel economy but I would rather enjoy my drive and use more fuel.
Safety includes dual front, front side and front to rear curtain airbags, ABD, EBD, Traction control and brake booster, tyre inflation pressure warning.
Driving the Peugeot 208 1.2 e-THP Active Hatch is overall pretty good. There is no feeling of front torque steer, and the balance between ride and handling is almost perfect for the segment. Once I dispensed with the stop start technology, the 208 was responsive to drive, even a little fun, and the engine mates exceptionally well to the 6 speed automatic Aisin transmission.
We had the vehicle through some terribly hot days in Sydney and had the airconditioning full blast. It did struggle a bit to keep the car at the selected temperature, something we have experienced previously on Peugeots, and it did take its toll on the performance as you would expect. There was very little wind or road noise, some sweet engine noise that gave just the right amount of aural pleasure and the 16 inch wheels provided a soft ride.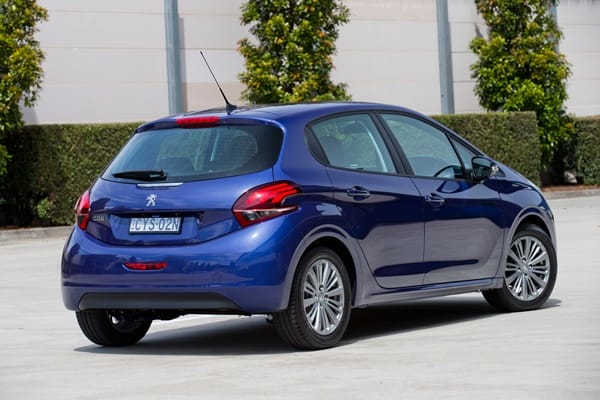 This was my first drive in the updated 208 and I am suitably impressed. With a 3 year 100,000 km warranty with 3 year roadside assistance the peace of mind factor is good as well. I am keen to test the 208 side by side with some of the better selling vehicles in the class as my gut feel is that it will hold its own and then some.
What is good?
Engine / transmission combination
Economy
Styling
What is not so good?
Steering wheel covers some of dash
No lumbar support
Cup holders small