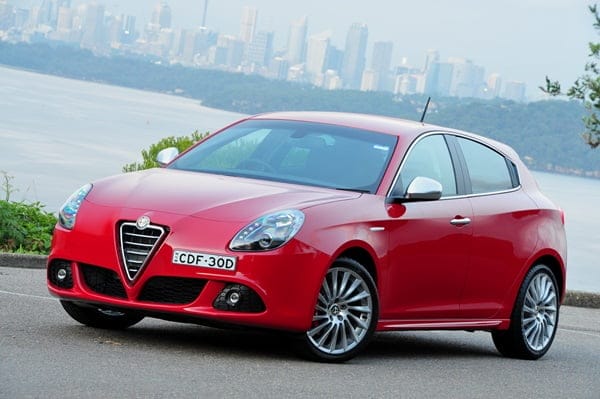 The Alfa Romeo 2012 Geneva Motor Show exhibition area unfolds like a winding, dynamic road, the ideal scenario for experiencing the emotion that only Alfa Romeo cars can offer, thanks to their agility, power and safety. Two examples of the Giulietta Exclusive – 2.0 JTDM 170 HP and 1.4 TB MultiAir 170 HP – steal this evocative scene, both equipped with Alfa TCT.
The spotlights are also trained on the flagship of the model: the 235 HP 1750 TBi combined with the exclusive Quadrifoglio Verde trim level. This engine offers a specific torque of 195 Nm/litre (the highest of all petrol engines in the category) and – an excellent quality – the maximum torque of 340 Nm is delivered at just 1,900 rpm. A 120 HP Giulietta Distinctive 1.4 Turbo completes the exhibition.
Together with the four examples of the Giulietta, the public can admire three Alfa Romeo MiTos: the 170 HP 1.4 MultiAir Turbo Quadrifoglio Verde, the new 85 HP 0.9 Turbo TwinAir outfitted with the Distinctive trim level and the innovative 135 HP 1.4 MultiAir with Alfa TCT twin clutch automatic transmission.
Finally, visitors will be introduced to the products of FGA Capital, a finance company specialising in the automotive sector, through illustrative materials and certain dedicated media at the stand. The company is operative in the major European markets, and in Switzerland with Fidis Finance, with a sole mission: supporting the sales of all Fiat Group Automobiles brand vehicles by offering innovative financial products with high-added-value services targeted to the dealership network, private customers and companies.