Mazda CX-9 – a mature package that gives a sense of confidence
Mazda CX-9 Overview
Mazda has launched an upgrade of their large SUV the CX-9.  This is becoming a frequent event.
They launched the car in 2016 and a year later they gave it a "significant" upgrade and now a year after that they've added some more features.
In this latest incarnation in 2018 they're concentrating on comfort and safety improvements.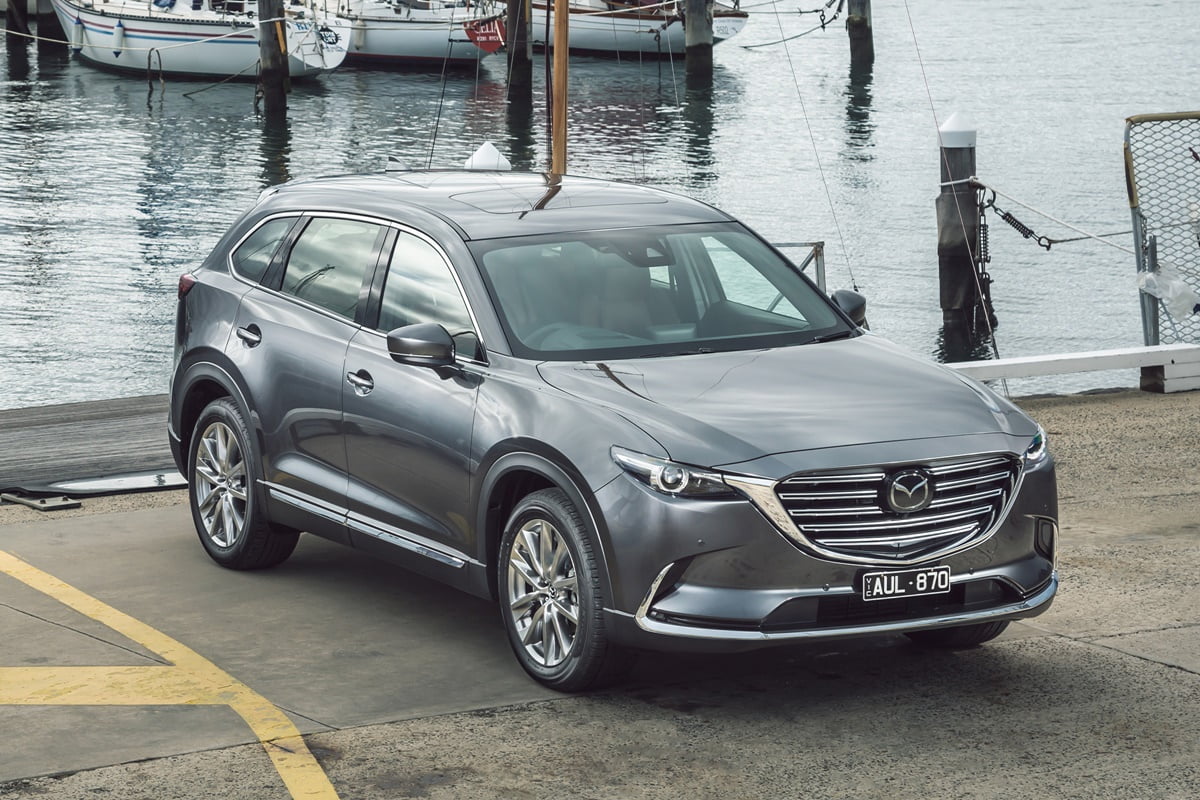 Mazda CX-9 Exterior
It's hard to make one of these big SUVs look good. They are fundamentally a two-block design, the first housing the engine, the second the passengers and luggage.
Mazda takes a "less is more" approach. Clearly, they are hinting at those companies that have put a large number of creases and lines to try and make a silk purse from a sow's ear especially in the smaller SUVs.
Mazda still puts in a lot of effort to design.  At the launch, the chief designer, Shinichi Isayama spoke of the scrupulous approach to crafting elegant flowing lines on the vehicle.  He spoke not of designers but of artisans sculpturing the final shape.
It's hard to see especially on a white vehicle from any reasonable distance. It becomes more obvious when you see reflections of the surrounding environment in the darker coloured models. The high-quality advertising pictures are typically taken where trees, marinas or shops create a reflection where the shape of the vehicle becomes more obvious.  Most of the PR shots are with a grey colour but I liked the red model.
A close inspection of the rear of the car shows a slight hatchback look with stylish lights. At the front the most prominent thing is the nose which is quite long and droops down.  Mr Isayama says it is intended to give a balance to the whole vehicle. You like it or you don't but it is a distinctive feature and its part of the Mazda common look on most of their vehicles.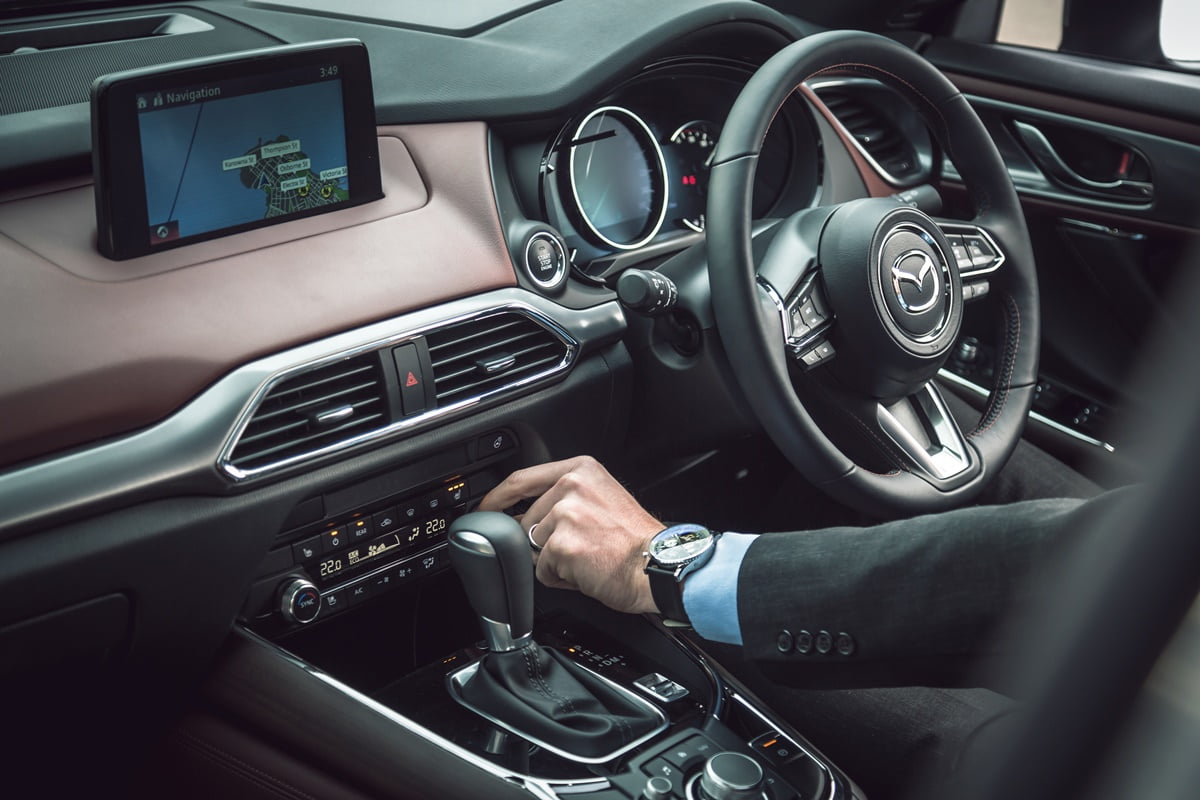 Mazda CX-9 Interior
The first impression in getting in the driver's seat is that you sit up high, a highly desirable feature for an SUV.
I actually tried to get the seat a little lower to test its limits but found that it was already at its lowest position.
The steering wheel has a good range of controls, is solidly built and is close to the dash board, so felt a little cramped and I moved the seat back and the steering wheel out, not only because I drive in that position but because it removed an element of claustrophobia.
The dials are well laid out and easy to read in a traditional style.  Every model has a heads-up display (Mazda calls it Active Driving Display just to be different).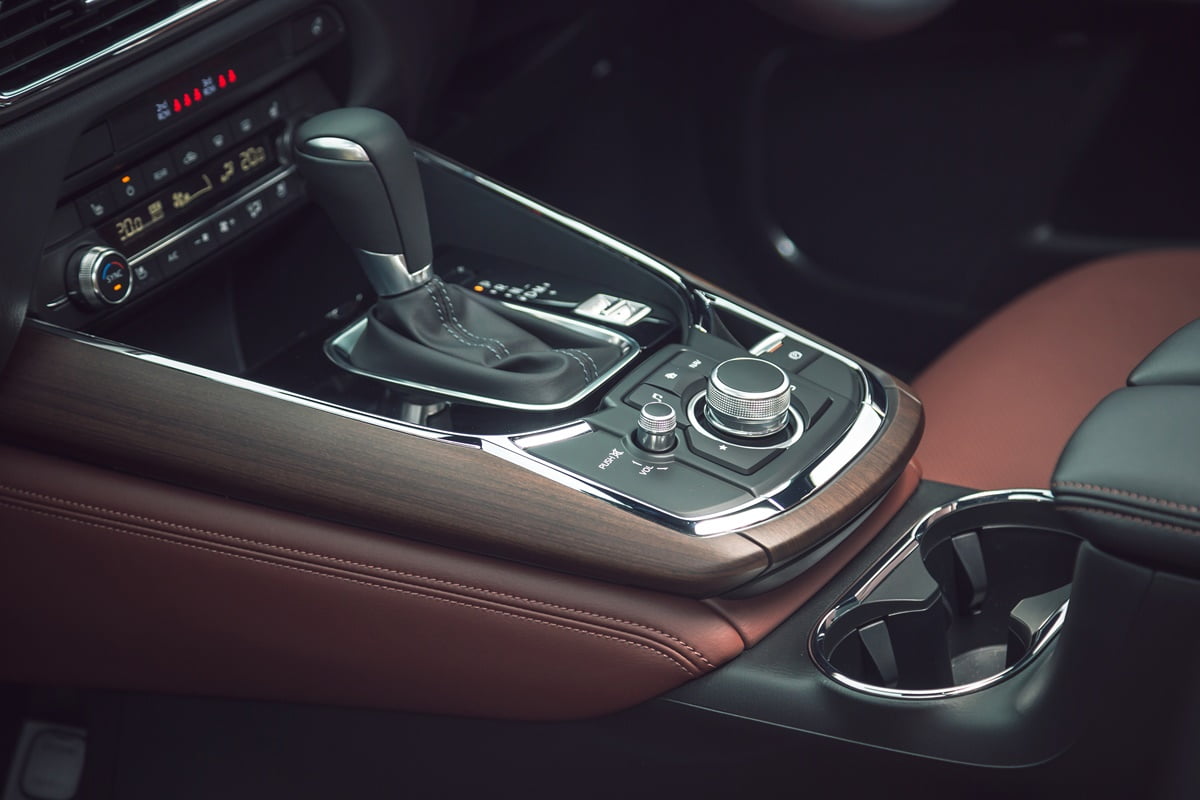 I drove the top of the range Azami LE which had sophisticated leather seats, a stylish layout and some wood panelling.  The timber was not the highly lacquered and polished efforts of some earlier luxury cars that ended up looking like plastic.  It had a strong timber look with grey overtones.  It was clearly the real thing.
The infotainment screen is wide and is a touch screen but not when you are moving.  You have to revert to the dial with surrounding buttons down near the gear level.  Mazda says this is a safety feature although I found that looking for the dial and figuring out how it works didn't give a sense of security.
Mazda has yielded to the customer pressure and the car is the second in their range to have Apple CarPlay and Android Auto.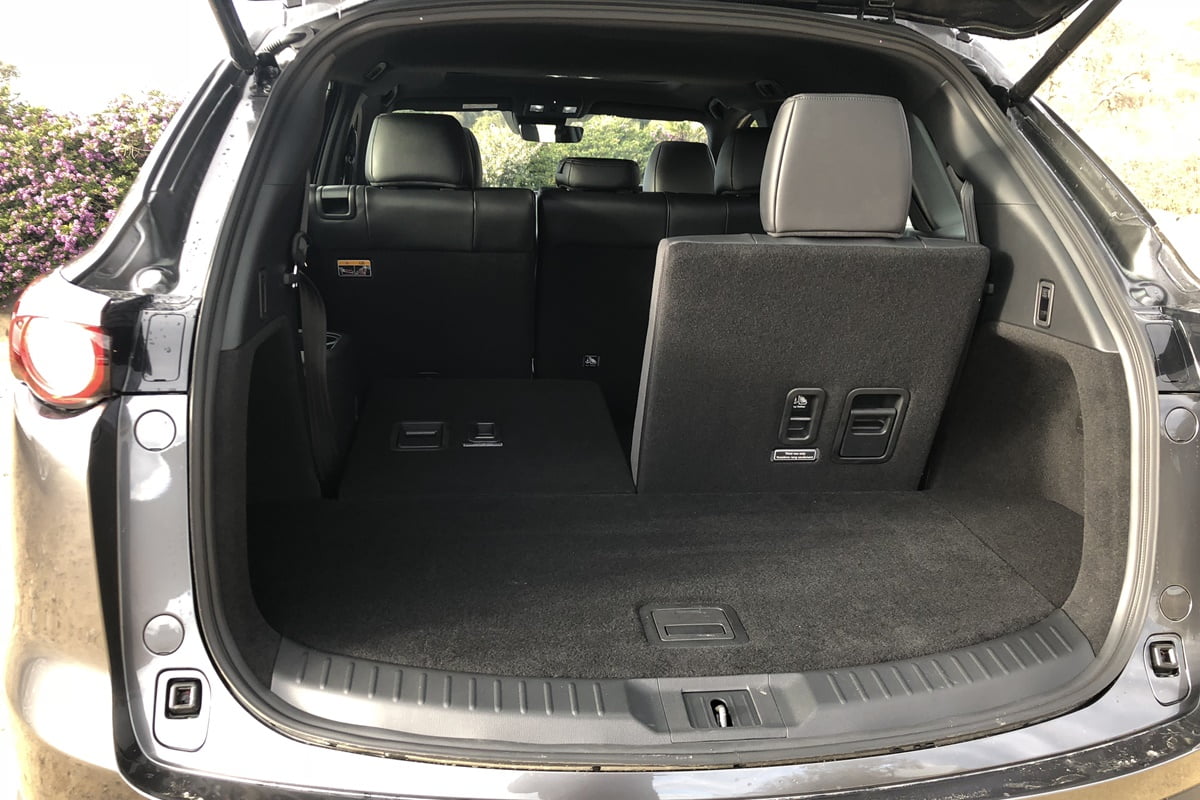 The CX-9 like its competitors is classified as a seven-seater.  Like most of the competitors I consider it more of a five and two halves configuration. The third row of seats is hard to get to and cramped.
Mazda CX-9 Power Train
The powertrain has not changed.  It still has a 2.5 litre turbo charged four-cylinder petrol engine with 170 kW of power at 5000 rpm. It is redlined at 6,000 rpm so you have to push towards the upper limit to get the most power. It has a 420 Nm of torque reaching the peak at a more usable 2000 rpm which represents 110km/hr in top gear.
It maintains a six-speed automatic as the only available gearbox. While some of its competitors, particularly the Koreans, have gone to eight-speed automatics, Mazda feels that the typical customer will not be aware of the difference. I'd prefer to have eight-speeds but it is not that critical.
All models are available in front or all-wheel drive except the top of the range Azami LE which only comes in all-wheel drive.
The more basic models, the Sport and the Touring, have a kerb weight of 1,878 kgs and you add 50g when you move up to the GT, Azami or Azami LE. To go from front-wheel drive to all-wheel drive adds a further 72 Kgs.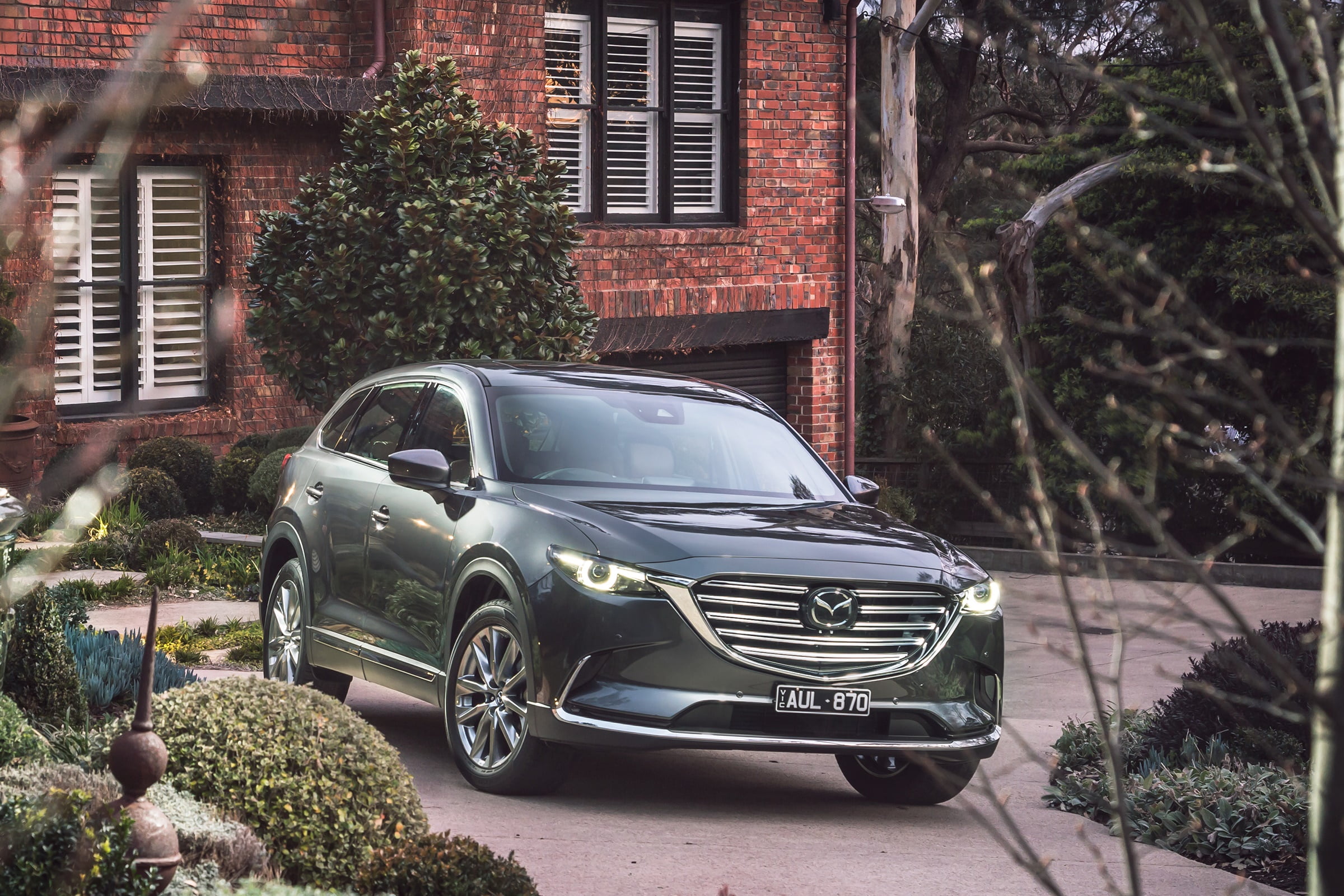 Mazda CX-9 Fuel Consumption
The fuel consumption is quite remarkable.  It gets 8.4 l/100 km in 2WD versions and an increase of 4.6% to 8.8 l/100km in 4WD versions. The top selling, large petrol SUVs are typically over the 10 l/100km.
Mazda achieves this with a relatively small engine that is turbo charged for power when you need it and with its SkyActiv technology. While other manufacturers give most of their promotion to the development of electric vehicles, Mazda is prominent in its development of traditional internal combustion engines.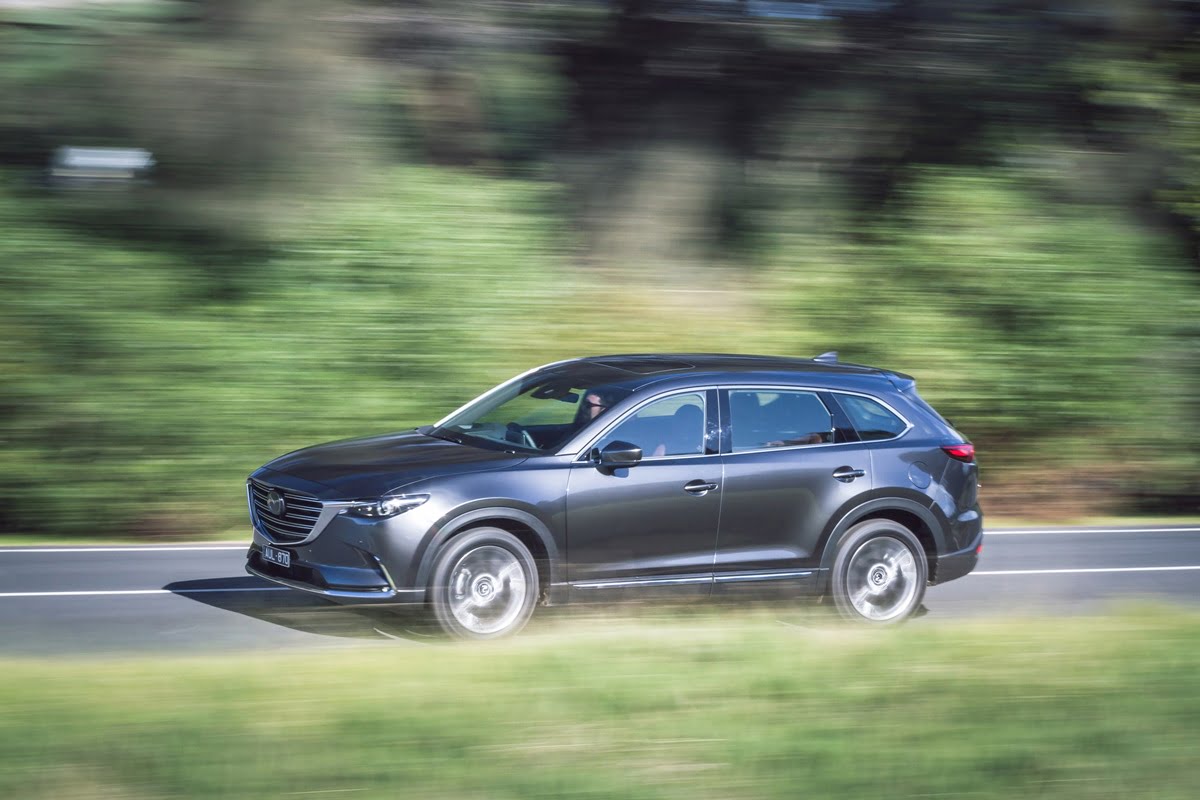 Mazda CX-9 Ride and Handling
On the open road the vehicle is comfortably and quiet. It tours well and overtaking on the flat and downhill is fine but on hills there were times when you were more conscious of it grabbing for a gear and revving more loudly but it was still good for this type of vehicle.
As we drove down the back roads of Tasmania it was not unusual for the road conditions to quickly change from sweeping bends to tight twisting sections of road. The car felt as though it came into its own.
It was remarkably stable and competent. At reasonable speeds, when a corner tightened up, there was no sounds of tyres scrubbing or the car becoming wobbly.  We even went down some dirt roads and you felt like you could start to drive this seven-seater SUV with a bit of rallying flare although it did understeer strongly.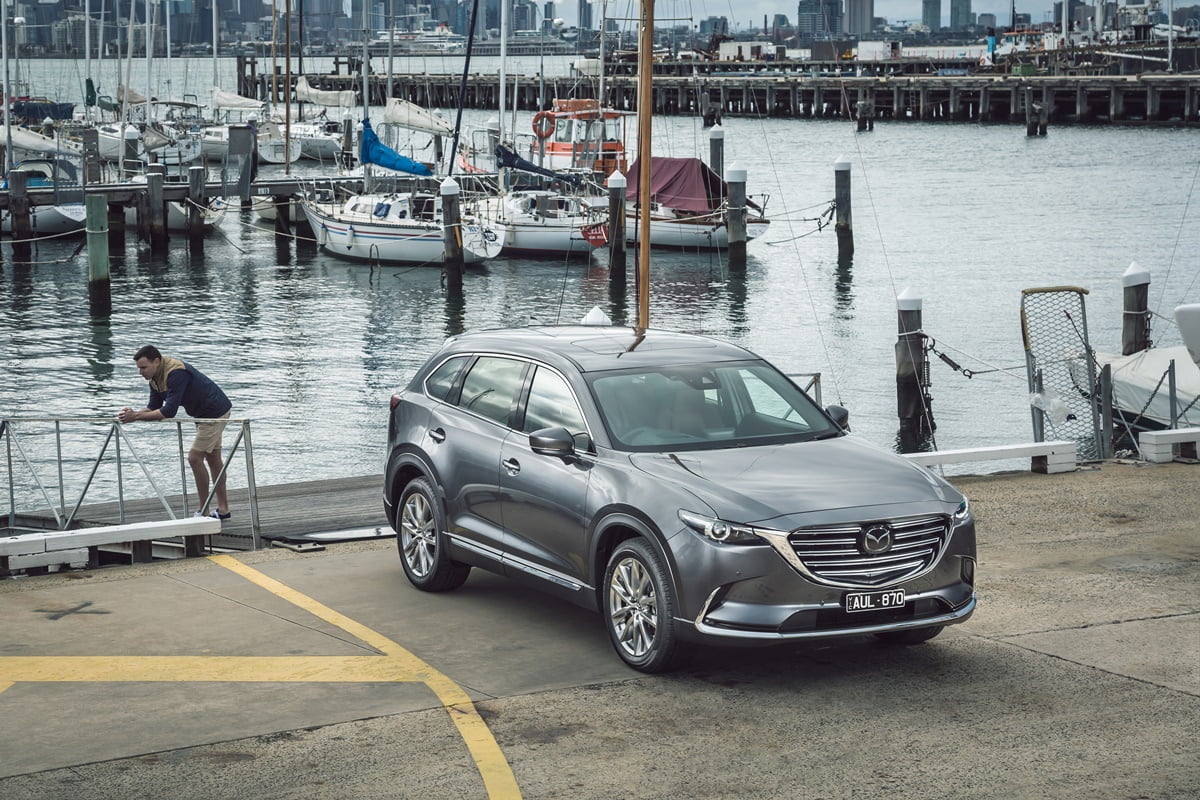 Mazda CX-9 Safety
In the past, the CX-9 has had a number of safety features on all variants, such as blind spot detection, Smart City Brake Support (Forward/Reverse), rear across alert and a driver alert system.
Now they have added radar cruise control, smart brake support, lane departure warning, lane-keep assist, traffic sign recognition and high beam control to all grades.
Mazda CX-9 Pricing
The entry level Sport has a recommended retail price of $44,990 to which you have to add on-road costs. The four-wheel drive option is a further $4,000.
The price steps for each grade are:
Sport to Touring – $6,400
Touring to GT – $8,000
GT to Azami – $1,600
Azami to Azami LE – $5,500 (includes the cost to go to AWD)
This makes the highest spec Azami LE, which is new to the range, $66,490 plus on road cost.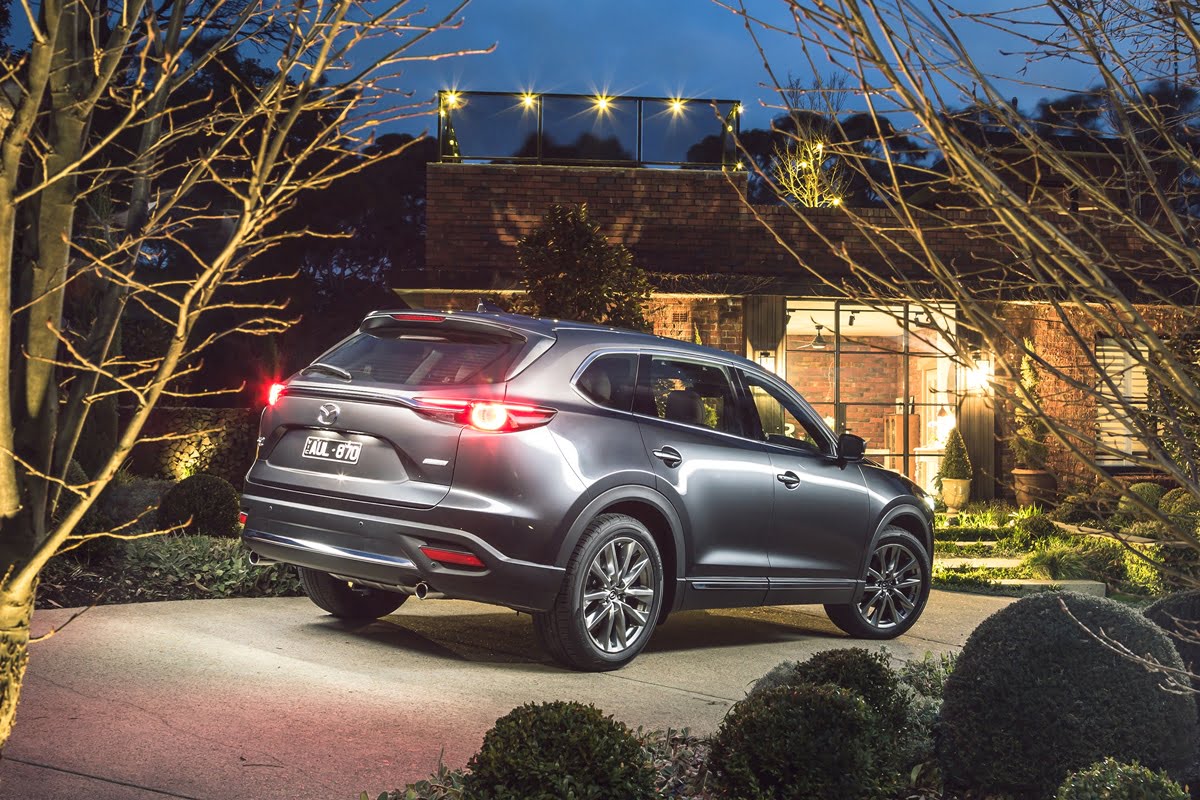 Mazda CX-9 Summary
It's not the most powerful petrol engine in it class nor the most modern gearbox, and it is just catching up with features such as Apple Carplay/Android Auto but as an overall package the Mazda CX-9 is a competent, mature vehicle that does what it is meant to do very well.
With good fuel economy and good safety features across the range it is a car that gives you satisfaction and confidence.
The Good Bits
Safety across the range
Solid, competent ride and handling
Fuel economy
The Not So Good Bits
Third row of seat is cramped
Power and gear box are not class leading
No diesel option
Also look at:-
Model:                Mazda CX-9 Azami LE
Model Price:      $66,490 RDAP
Engine:                              2.5 litre, 4 cylinder, turbocharged, petrol
Drivetrain:         6 speed automatic AWD
Power:                170 kW @ 5000 rpm
Torque:              420 Nm @ 2000 rpm
Safety:                               5 Star ANCAP (as tested in 2016)
CO2 Emissions:               206 g/km
Economy:           8.8 L/100km (ADR comb)
Tow Capacity:   Max 2,000 kg
Tow Ball Rating: 150 kg
Servicing:            N/A
Warranty:          5 year unlimited kilometres
Overall Rating     83/100
Behind the Wheel           9
Comfort                            8
Equipment                       9
Performance                    8
Ride & Handling              9
Practicality                        8
Fit for Purpose                10
Towing Ability                  7
Off Road Ability               7
Value for Money             8
2019 Mazda CX-9 Upgrade
Summary
It's not the most powerful petrol engine in it class nor the most modern gearbox, and it is just catching up with features such as Apple Carplay/Android Auto but as an overall package the Mazda CX-9 is a competent, mature vehicle that does what it is meant to do very well.