Kia Picanto GT Review
The Kia Picanto GT is the tiny car punching way above its weight. I must say, this car impressed me from the get go. As soon as I jumped in, I felt an unexpected level of comfort and impressive design.
The more I looked, the more I found to love. Its impressive value offering and peppy nature really grew on me, so much so I found myself considering I'd be fairly chuffed if this were my everyday car.
What was it that convinced me unequivocally that the Kia Picanto is worth considering? Well, let's take a look.

I like to move it, move it!
Powered by a 1.0L turbo engine producing 74kW of power and 172Nm of torque, mated with a 5-speed manual gearbox, the Picanto GT may not seem impressive on paper, but this combination sure does move its 1,007kg weight fairly swiftly.
I had the opportunity to do a fair chunk of freeway driving and was a little nervous as to how we'd go overtaking, especially given I was slipping into 5th and final gear at around 70km/hr. Again, to my surprise, there wasn't an issue. Freeway overtaking, tick! The performance of this little beast continued to find new ways to impress.
Granted, I didn't have the opportunity to test the vehicle fully laden with friends, but you'd expect it'd lose a bit of pep in its step.
The only problem I faced was being pushed around a fair bit on the road as it was a rather windy day. The perils of being in a tiny car I suppose. I'll take that any day for the benefit of squeezing into the last parking spot that the long line of SUV's in front of me have driven past, looking at forlornly.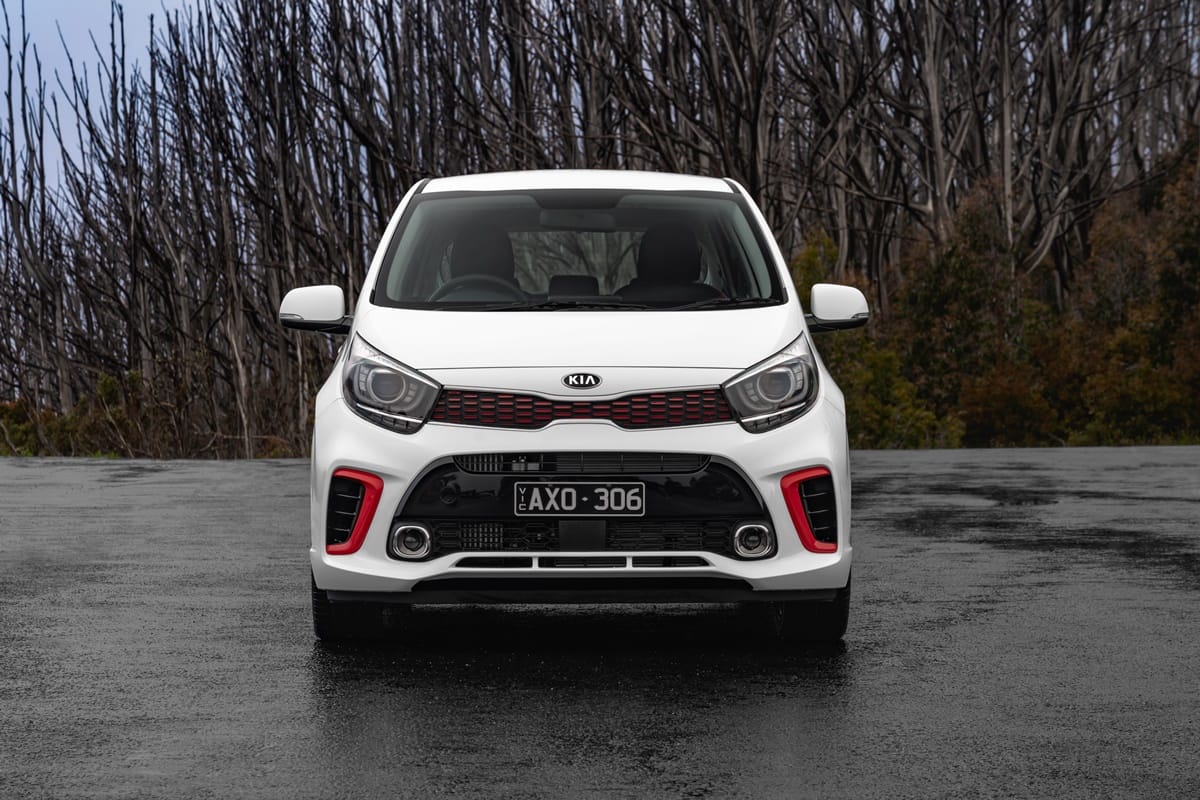 Unfortunately, I didn't get anywhere close to the claimed 4.8L/100km combined cycle fuel consumption, instead sitting around 6.5L/100km, which is still impressive. In terms of handling dynamics, the Picanto feels responsive and solid, more planted and assured than I was anticipating. While there is a bit of road noise, it's nothing a Spotify playlist can't drown out.
I can't help but wonder just how much more popular the Picanto GT would be if an automatic transmission were available. A vehicle of this nature is destined for inner city driving, and we all know how irritating a manual is in the daily commute and stop-start traffic.
Safety is sexy
This car is aimed perfectly at the first car buyer and will comfortably suit well into your mid-twenties; get your license, get a Kia Picanto. While safety may not be at the top of the priority list for this type of buyer, it should be, and it most likely is for their parents!
The Kia Picanto GT offers an impressive list of safety features as standard including the long list of three letter acronyms (including ABS, ESC, VSM, HAC, AEB and ESS) as well as a Forward Collision Warning System, reverse parking sensors, rear-view camera, automatic headlights and daytime running lights, some of which I really didn't expect for the comparatively small price tag.

Champagne tastes on a beer budget
As with the safety features, there are several convenience and design features that one might expect to forgo at a low price point: think keyless entry, premium seats (with sporty red accents to match the exterior body highlights might I add), chrome door handles and waistline, electric and heated mirrors along with Apple CarPlay and Android Auto connectivity. Well fear not, you get the whole kit and kaboodle with the Kia Picanto GT.

The layout behind the wheel is intuitive and the driving position comfortable for an average height driver. The steering wheel houses audio, phone and cruise control buttons and there is adequate accessible storage.  If I am nit-picking, it's missing a digital speedometer and could do with more than 1 USB charging port.
A 7-inch colour LCD screen is home for all your audio requirements and there's 4 speakers to provide the backing for your road-trip karaoke. It does miss out on an in-built satnav, but in city cars like this, they really are becoming a thing of the past. Hello, that's what Apple CarPlay and Android Auto is for!

In a small car, one expects a small boot. So, in a tiny car…well actually, with this one you'd be pleasantly surprised. It's not going to be the car of choice for an Ikea shop, but the 255L of boot space is rather deep and will easily accommodate the weekly shop or a Thursday night shopping spree. Pop the seats down and you access 1,010L, so you can go wild on the latest home décor range at K-mart.

Couple all the above with Kia's industry leading 7-year unlimited km warranty and the Picanto GT offers what I consider a very strong value proposition all wrapped into an attractive, intuitive and downright impressive package. If the tiny/micro car market is where you're looking, at $17,990 RRP (and with driveaway offers getting you on the road at this price too), the Kia Picanto GT is a hard car to pass up.