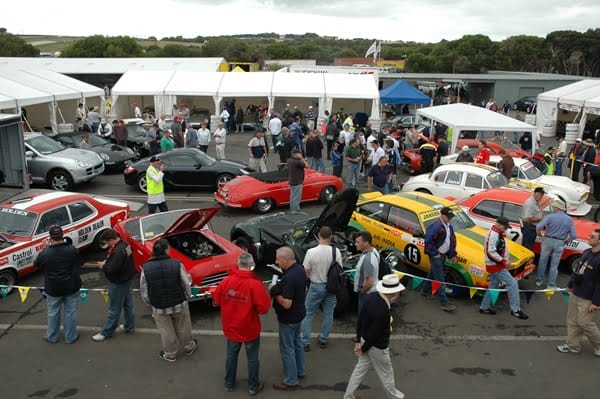 Despite more than 550 vehicles competing on the 4.55km Grand Prix circuit, the excitement for many visitors to the 2012 Phillip Island Classic Festival of Motorsport from March 9-11 will be 'in-tents', in the vehicle displays and in the circuit's permanent Expo Centre.
Around 500 special vehicles from 43 clubs will be on display around the circuit on the Sunday, while 300 will also in attendance on the Saturday of the three-day meeting.
The participating clubs include those representing Alfa Romeo, Aston Martin, BMW, Bolwell, Citroen, Cobra, Corvette, Daimler, Ferrari, Ford, Fiat, Holden, Jaguar, Lancia, Lotus, Mazda, Mini, MG, Morgan, Mustang, Nissan, Porsche, Renault, Singer, Torana, Vauxhall and Volvo.
Additionally there is a group of 40 Torana XU-1s celebrating Peter Brock's historic first Bathurst victory 40 years ago in 1972.
Meanwhile another very special group can be admired under cover in Phillip Island's expansive new Expo Centre, opposite the pits on the outside of the circuit.
There you will find the new Lotus range (celebrating Lotus Engineering's 60 years in Grand Prix racing), the 2012 Mustang range, four of the best Torana GTR XU1s, three of Australia's best Valiant Chargers, a replica of Murray Carter's racing Falcon XC Coupe and assorted Holden Dealer Team race cars.
Also in the Expo Centre visitors will find a range of fascinating sporting cars like a Lancia Aurelia B20, a 1983 Treser Audi Quattro Turbo Coupe, an original Shelby Cobra 389, a Ferrari F40 and a classic 1960s front-engined 275 GTB.
Finally behind the pits in a separate collection you will find the fully restored Gardener/Crompton Coca-Cola Commodore, plus famous former race cars of Bob Jane, Brock and Jim Richards.
VHRR Patron Sir Jack Brabham, Bob Jane, Jim Richards, John Bowe, the meeting's Patron Fred Gibson many other driving greats will also be on hand to meet enthusiasts and sign posters in the paddock throughout the weekend.