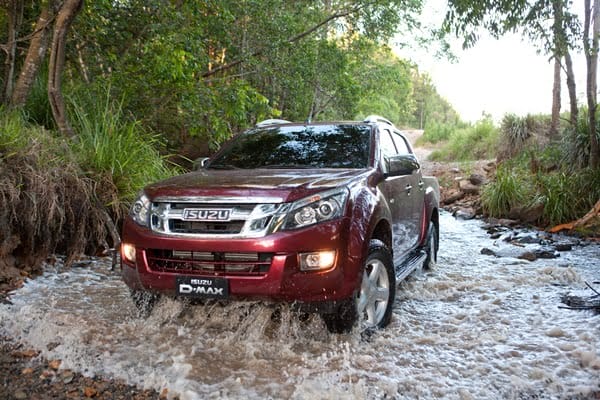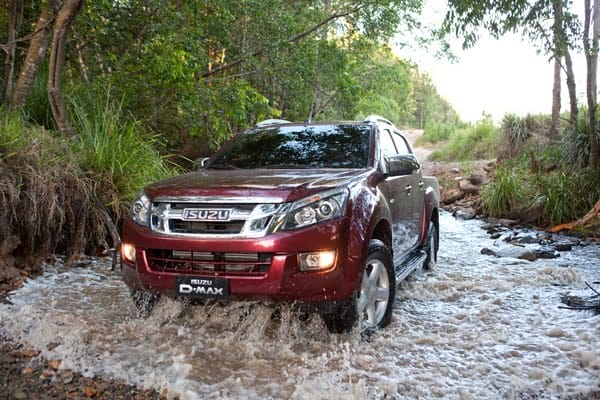 Finally Isuzu has launched its all new D Max. The 2012 Isuzu DMax is available from the 2nd July in in five specification levels and three body configurations along with one engine and two transmission choices. The all new Isuzu DMax continues the Isuzu history of robust competent and practical utes.
While related to the all new Colorado Holden launched last week the Isuzu DMax retains many unique characteristics tp the model.
As mentioned the all new Isuzu DMax ia available from Monday 2 July in five specification levels and three body configurations – with a new 'Space' cab body configuration featuring rear 'Wing' doors joining the single and crew cab variants – the All-New Isuzu D-MAX builds on its reputation of reliability and economy with new levels of performance, safety and comfort across the entire range.
The All-New Isuzu D-MAX continues to harness 'The Spirit of Truck' in its design and remains the only Ute produced by a commercial vehicle manufacturer. Over 4,000,000km of testing (100 times around the Earth!) was conducted in the development of the All-New D-MAX to ensure our customer's expectations are exceeded.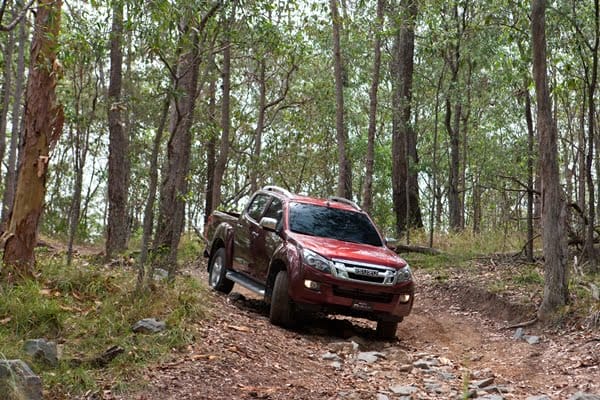 All-New Comfort
From the entry-level Isuzu D-MAX 4×2 SX single cab through to the top-of-the-line 4×4 LS-Terrain crew cab, the All-New D-MAX offers a generous complement of standard equipment, including air conditioning with a fine-particle pollen filter and a new audio system with iPod® and Bluetooth® connectivity. Various models in our range also see the introduction of Isuzu's new 'Sky Sound' roof-mounted surround sound system, and our new LS-Terrain boasts a touchscreen multimedia and navigation system that features 10,000 off-road destinations for the adventurous explorer.
An overall extension of the chassis has also allowed for a larger cabin interior across the range, further improving driver and passenger comfort levels, while newly-designed wider door arches and A-pillar assist grips make access even easier. A new seat design with 'wrap-around' bolsters provide increased shoulder, back and base support delivering more comfort for occupants.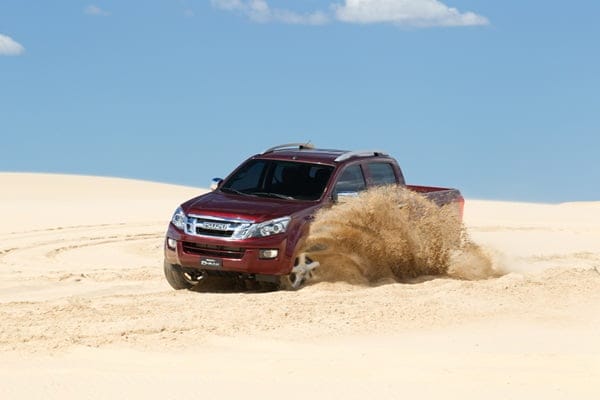 All-New Safety
In addition to an upgrade in the comfort stakes, the entire D-MAX range now also comes equipped with a host of added safety benefits, including 4-channel 4-sensor Anti-skid Brake System (ABS) with Electronic Brakeforce Distribution (EBD), Electronic Stability Control (ESC), Traction Control System (TCS) and Brake Assist (BA), along with six (6) airbags (dual front, curtain and side). A high-strength tailor blank welded passenger safety cell also increases occupant safety.
The new Brake Assist and Anti-lock Brake Systems are designed to detect an emergency braking situation during hard application of the brakes. These systems work in unison to slow the vehicle without locking up the wheels and aiding stability. Electronic Brake Distribution (EBD) further assists by detecting the payload weight and modulating the rear breaking force to compensate, giving the driver more control regardless of the load weight and road conditions.
Further enhancing driver safety is a new collapsible steering column and brake pedal, while pedestrian safety has been improved with an impact absorbing bonnet design, recessed fog lamps and shatter-resistant polycarbonate headlamp covers.
New rear LED brake lights are also standard on the Isuzu D-MAX LS models, as are projector lens headlights, while our top-line LS-Terrain also features the added piece of mind of a reversing camera.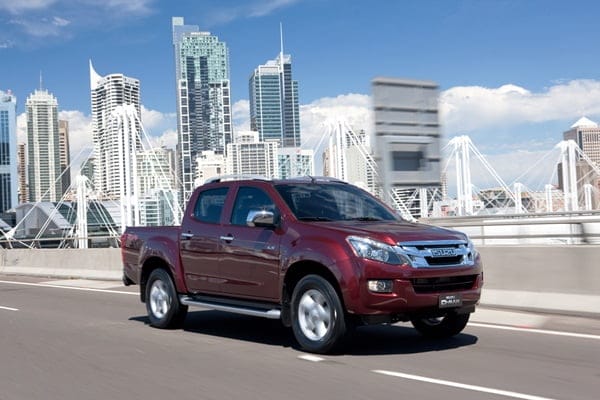 All-New Performance
Performance upgrades haven't been ignored either, with the All-New D-MAX range powered by a new highly refined fuel efficient 3.0litre turbo common rail diesel engine. This advanced Euro4-compliant unit generates 130kW and a peak torque output of 380Nm at 1800rpm. The torque is delivered across a flat curve through a large majority of the rev-range to aid drivability and make ease of towing. The All-New Isuzu D-MAX also introduces a new "Terrain Command" 4WD select dial, allowing the driver to adjust between two-and four-wheel drive modes while travelling at speeds of up to 100km/h.
Mated to a newly-developed five-speed 'Rev-Tronic' automatic transmission with sequential sports mode, the all-new auto box is electronically controlled by the transmission control module (TCM) and features an adaptive-learning function which constantly monitors brake and throttle applications. This allows the transmission to automatically select the most appropriate shift points and lock-up points depending on the driver's behaviour, the vehicle speed and the vehicle load. The auto also has 'Hill Descent' and 'Hill-Ascent' modes.
A new five-speed manual transmission is also available. It features a revised gear-lever pivot point, reducing gear-lever travel when changing gears giving a sportier feel.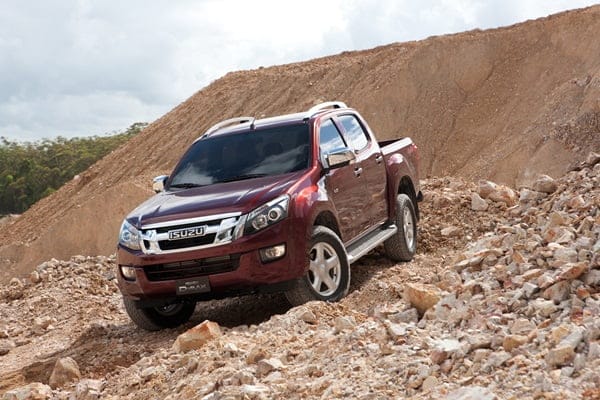 All-New Styling
Sporting all-new exterior styling, the All-New Isuzu D-MAX has further improved fuel efficiency and performance after months of wind tunnel testing at the Japan Railway Technical Research Institute where the Shinkansen (Bullet train) is developed. Advanced refinement in the wind tunnel of Italian auto design house Pininfarina – which is usually reserved for the likes of Ferrari and Maserati – has ensured the All-New D-MAX is the most aerodynamic yet with record low Cd (drag coefficiency) figures. This development has also realised an improvement in cabin noise levels.
Modern and sleek exterior lines compliment the new bulkier and aggressive on-road stance, with the larger exterior dimensions affording a considerable increase in interior space, further raising occupant comfort levels and improving the rear seat access in crew and space cab models.
All-New Chassis
A newly developed ladder frame chassis in the All-New D-MAX builds on the engineering successes of the class leading platform. Dubbed the "i-GRIP" (Isuzu Gravity Response Intelligent Platform), it features a stiffer design with improved cross bracing at the rear, further improving stability while both loaded and while towing. It also ensures long term durability when exposed to harsh driving environments.
This new chassis design also provides excellent vehicle stability because of an extended wheelbase, wider wheel tracks and optimal engine installation just behind the front wheels – allowing for optimal weight distribution. The i-GRIP chassis has improved strength and rigidity by 42% over its predecessor thanks to an increased side rail cross-section and the addition of 'cross member to chassis rail' braces. An increased length wheel base from the current model's body of 3050mm to 3095mm is now standard across the entire vehicle range.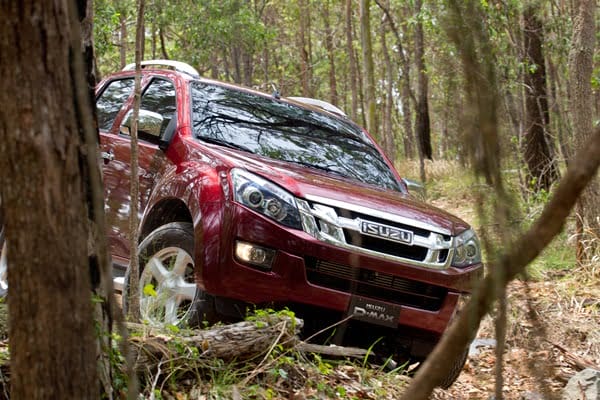 All-New Suspension
Ride and handling of the All-New Isuzu D-MAX has also been improved with a newly developed "Flex-Ride" suspension geometry. Independent double wish-bone with coil springs and gas shock absorbers guarantee superior front end grip and steering control, while the rear suspension consists of long span leaf-springs (under-slung 4×2 models – over-slung 4×4 models) resulting in excellent power down and stability under every road condition with or without loading the vehicle, and of course a smooth and comfortable ride at every speed level.
As well as being the most comprehensively developed, most efficient and most refined Isuzu Ute ever produced, the All-New Isuzu D-MAX is also the highly capable load-lugging workhorse you've come to expect: 4×4 models have a 3.0tonne (braked) towing capacity and a load capacity of approximately 1,000kg across the range.
Isuzu UTE Australia expects its all-new Ute to build on the remarkable success of its predecessor.
All-New Isuzu D-MAX Model line-up Pricing & Fuel Consumption
Drive Cab Style Tray Style Model Trans RRP T l/100km CO2
4 x 2 SINGLE Cab Chassis SX man $27,200 8.0 212
4 x 2 CREW Ute SX man $33,200 8.2 216
4 x 2 CREW Ute Hi-Ride SX auto $36,300 8.0 211
4 x 2 CREW Ute Hi-Ride LS man $38,800 8.3 220
4 x 2 CREW Ute Hi-Ride LS auto $41,000 8.1 214
4 x 4 SINGLE Cab Chassis EX man $33,400 8.3 220
4 x 4 SINGLE Cab Chassis SX man $36,400 8.3 220
4 x 4 SINGLE Cab Chassis SX auto $38,600 8.1 214
4 x 4 SPACE Cab Chassis SX man $39,100 8.3 220
4 x 4 SPACE Cab Chassis SX auto $41,300 8.1 214
4 x 4 CREW Cab Chassis SX man $41,300 8.3 220
4 x 4 CREW Cab Chassis SX auto $43,500 8.1 214
4 x 4 CREW Ute Hi-Ride SX man $42,000 8.3 220
4 x 4 CREW Ute Hi-Ride SX auto $44,200 8.1 214
4 x 4 CREW Ute Hi-Ride LS-M man $44,000 8.3 220
4 x 4 CREW Ute Hi-Ride LS-M auto $46,200 8.1 214
4 x 4 SPACE Ute Hi-Ride LS-U man $43,700 8.3 220
4 x 4 SPACE Ute Hi-Ride LS-U auto $45,900 8.1 214
4 x 4 CREW Ute Hi-Ride LS-U man $45,500 8.3 220
4 x 4 CREW Ute Hi-Ride LS-U auto $47,700 8.1 214
4 x 4 CREW Ute Hi-Ride LS-Ter man $49,500 8.3 220
4 x 4 CREW Ute Hi-Ride LS-Ter auto $51,700 8.1 214