Toyota's Camry Hybrid created a new niche when it was launched with much press coverage and a $35 million subsidy from the Federal Government's Green Car Innovation Fund in early 2010.
Here was a mainstream larger car, packed full of Toyota's hybrid engine technology and to be sold at a relatively affordable price. Hybrid technology would be more accessible for mainstream car buyers who wanted to reduce their carbon footprint and their fuel bill.
The Camry Hybrid was launched with initial targets of 10,000 cars per year and there were suggestions it might even become Toyota Australia's biggest seller.
Lower fuel prices, a wider range of fuel-efficient petrol and diesel alternatives, a purchase price premium for mainstream buyers, and a higher rate of depreciation slowed the uptake of the Camry Hybrid but Toyota has still sold more than 7,000 since the model's launch a year ago.
So how does the Toyota Camry Hybrid, tested here in Luxury form, stack up after its first year on sale?
What do you get?
Want a Camry Hybrid? You'll need to pay $6,500 more than the least expensive petrol Camry Altise for the entry level Hybrid or $9,500 more if you want the Hybrid Luxury tested here. At a MLP OF $36,990 and $39,990 respectively, both Hybrid variants are well-equipped with subtle design differences to set them apart from their petrol-only siblings.
Externally, only a different front bumper, blue tinted headlights, fog lights and redesigned tail lights set the Hybrid apart from the rest of the Camry clan. The Hybrid rides on 16-inch alloy wheels.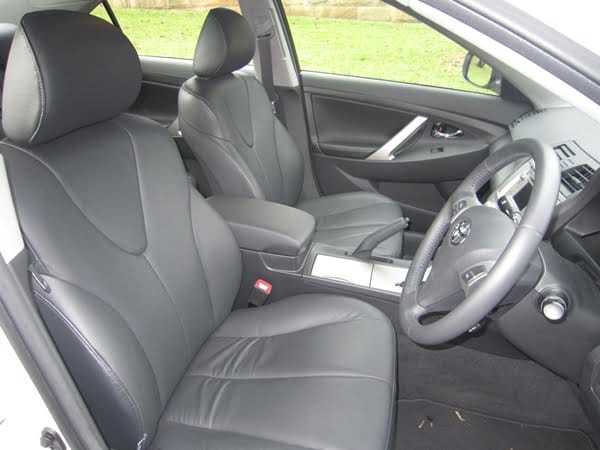 Inside, the changes are still subtle. The Camry Hybrid gets top-line Camry touches like dual-zone climate control, six-stack CD player with Bluetooth connectivity and a USB input jack, rear parking sensors, reversing camera, keyless entry and push-button start. The Luxury also scores leather-faced seats (electrically adjustable for the driver and front passenger), self-dimming rear vision mirror and rain-sensing wipers.
The obvious differentiation is the instrument panel that has distinctive lighting and a more comprehensive trip computer with more detailed information on fuel efficiency and range.
Performance
Toyota has honed the petrol-electric hybrid combination to good effect in the Camry Hybrid, offering more power than a standard Camry with a combined output of 140kW – up 20 percent – while being slightly quicker from 0-100km/h and using 30 percent less fuel than its petrol-only sibling according to official figures.
The 110kW 2.4-litre petrol engine pairs well with the 140kW electric motor to deliver surprising performance. With torque immediately available from rest courtesy of the electric motor, the continuously variable transmission (CVT) finds the engine's sweet spot to deliver quick, seamless acceleration.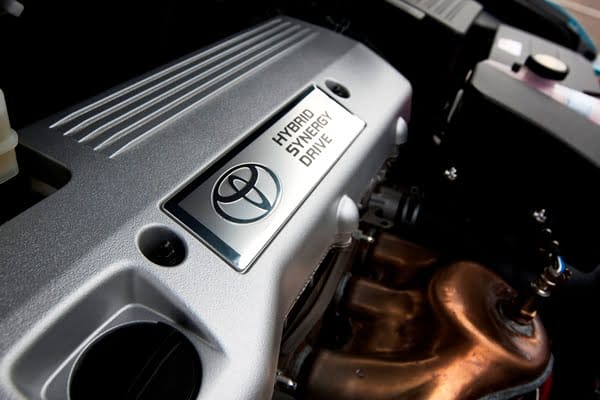 It's easy, quiet and smooth, both off the line and in cruise mode. The petrol engine does the lion's share but the instruments tell you the electric motor still plays a major role and is responsible for traction during reversing.
You would expect performance and efficiency to be blunted by the extra 200kgs of weight the Hybrid carries, courtesy of the sealed nickel-metal hydride 244-volt battery that consumes a large portion of the Camry's boot space. However, the petrol-electric combination managed to average 7.0-litres/100kms in our hands across 732kms from a single tank with a little to spare. Not as good as the official numbers, especially if you do a lot of freeway driving, but still impressive and far more than a standard Camry would deliver.
On the road
Hit the road and the Camry Hybrid might appear a bit of a mixed bag. From a driver's perspective, you would struggle to call this an exciting car. It is however blessed with the latest, proven Toyota petrol-electric hybrid technology and the underpinnings of the successful Camry series so family, fleet and eco-drivers alike will feel right at home.
The regenerative braking system take a little getting used to and bringing the car to a stop requires practice. The brakes need a good shove and it's easy for passengers to question your ability as the car sometimes comes to a sharp stop.
Despite the extra weight, the car rides and handles as well as a standard Camry, perhaps even better. It feels planted, demonstrates excellent body control, rides well if a little firmly at times, goes around corners with ease and composure and does it all without raising a sweat. In short, it does everything you ask of it but on a driver's road may leave some people feeling as though they are being transported rather than actively driving.
Practicality & safety
Entering the Camry Hybrid Luxury is a pleasant enough experience. The doors close with a solid thunk, the leather-faced seats prove comfortable over short and long distances, the entertainment system delivers a quality sound, there's a familiar feel to soft-feel dashtop and door trims and most of the controls fall easily to hand. It's a Camry.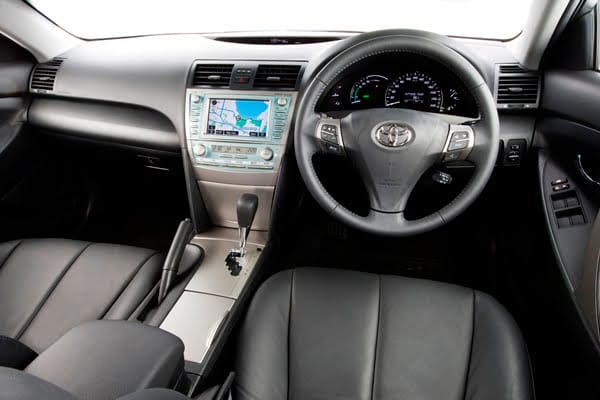 Starting the car is as simple as having the remote key close by and pushing the start button. With a proper handbrake and the gearlever for the CVT in its expected position, operating the Camry Hybrid is a very easy affair. You can waft around in relative silence, the petrol and electric motors working in harmony to keep things quietly humming along and the climate control making progress comfortable. Drive gently and you can watch with a slight sense of smugness your economical progress on the dash read-out, hoping to be rewarded with an 'Excellent' message at trip's end.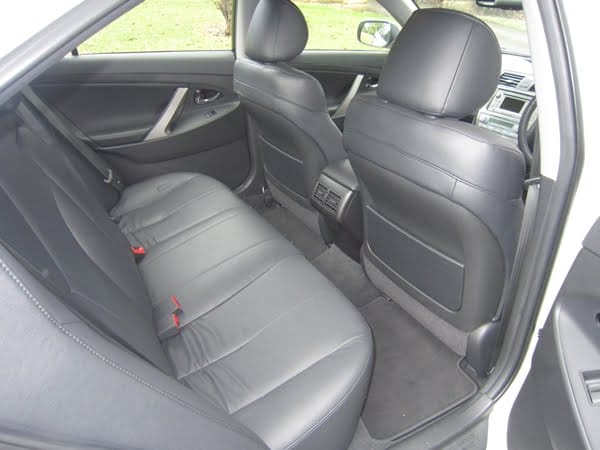 There's plenty of space for five adults in the cabin and the seats are generally comfortable, although the leather-faced seats in the Luxury lack support during cornering. However, those five adults should pack lightly because the Camry Hybrid's battery pack eliminates much of the standard Camry's boot space.
Rear and three-quarter vision is a bit compromised by the thick C-pillars but parking manoeuvres are ably assisted by the standard parking camera and reversing sensors.
The Camry Hybrid only scores a four-star ANCAP rating which puts it behind other large car offerings from Holden and Ford and even its Toyota cousin, the Aurion. However, it's still a proven, well-built and strong car with the active and passive safety features expected of a modern car in this price bracket.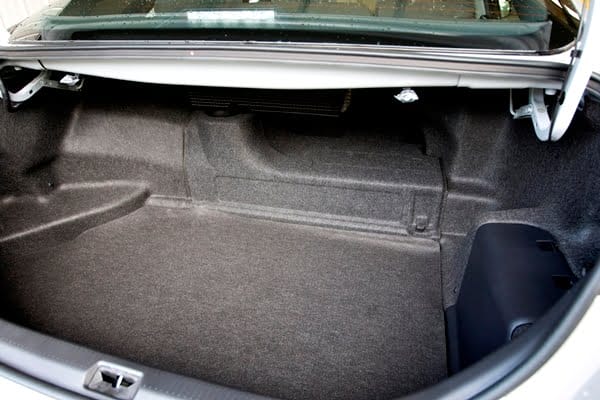 To buy or not to buy?
With roughly 60 percent of our test time spent in urban areas, the Camry Hybrid's fuel consumption averaged 7.0-litres/100kms – good but not truly great for an eco-car seeking mainstream approval.
The Camry Hybrid should sell better since it marries the size and features that many Australians still want with an easy-to-drive hybrid powertrain that delivers agreeable performance and improved efficiency to justify its green tick.
It is still too expensive and there are diesel-powered competitors such as Ford Mondeo, Skoda Superb or Volkswagen Passat who can balance the performance/economy equation just as well while delivering a more engaging driving experience. But the locally-built Toyota Camry Hybrid Luxury is definitely worth a look.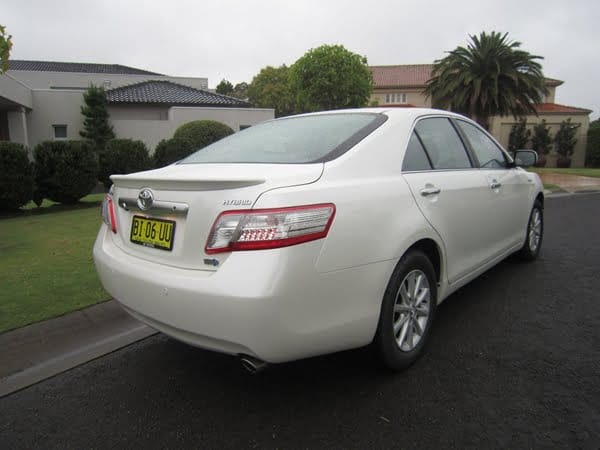 What is good
Petrol-electric hybrid and seamless CVT combination
Excellent performance and economy for a large car
Well equipped
What is not so good:
Too expensive and Resale not as good as standard Camry
Boot space too small for a larger, family car
Some diesel competitors match it for performance and economy but offer better driving experience