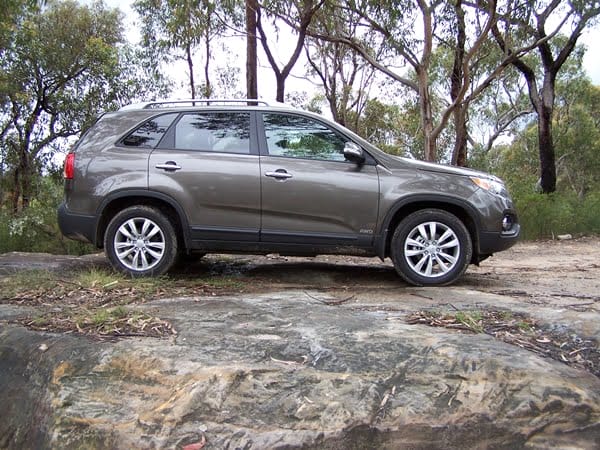 We have taken delivery of our latest long-term test vehicle Kia's all new 7 seat SUV Sorento Platinum with its modern and crisp styling. Launched in October 2009 the new Sorento loses the superseded models 4wd credentials but significantly lifts the comfort stakes.
I missed the launch in 2009 and this is the first time I have had a chance to drive the new Sorento and my first impressions are excellent.
Kia kindly gave us the high-tech R-series 2.2l turbo diesel engine with 6-speed automatic transmission. It produces 145kW @3,8000rpm and an astounding 436Nm from 1,800 – 2,500rpmtorque. The engine delivers fuel consumption (ADR Combined) of just 7.4L/100km and produces 194g/km of CO2 emissions. The Green Vehicle Guide rating is 3-stars.
This motor transmission combination pouts a number of Japanese diesel motors to shame. Toyota take note.
The 4WD is a single ratio (high range) 4WD system, with a default status that delivers 100% of engine torque to the front wheels. 'Lock Mode' splits the torque 50/50 between the front and rear axles for better stability and maintain that split up to a speed of 30 kmh.
With a 5-Star Euro NCAP rating it is equipped with dual front airbags, dual front side airbags and full-length side curtain airbags (linked to rollover sensors as well as impact sensors) maximise head protection for all occupants.
2010 Model Shown
Inside styling has an entirely new ambience. Immediate impressions are of the cabin's generous proportions, sweeping dashboard design, high-quality fit, discreet trim accents, leather and the availability of numerous high-tech features.
The vehicle we have is the 2011 model upgrade with the latest Bluetooth technology providing hands-free mobile phone connectivity and media streaming, all operated through steering wheel mounted controls.
Also included is an upgraded in-mirror display rear view camera offering a higher resolution image and parking guide lines, making the accidental 'touch park' a thing of the past, the instrument cluster housing has received a new leather wrap and the front passenger window is now automatic both up and down with a built-in safety function. The panoramic sunroof is now alarmed which is activated when the car is "OFF" and the driver's door is opened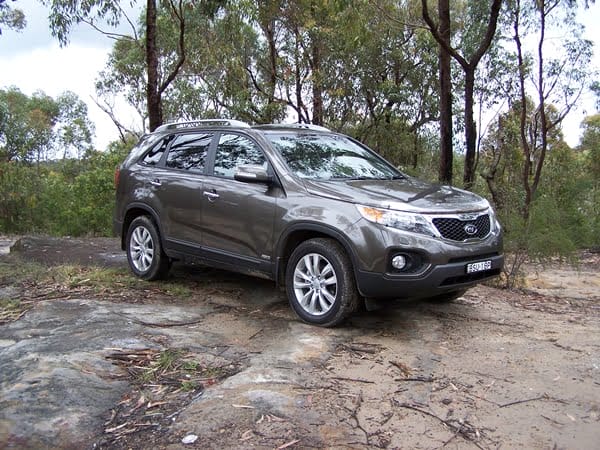 The Sorento has an overall length of 4685mm, wheelbase of 2700mm, width of 1885mm and height of 1710mm. The ground clearance is 184mm and the Tare mass is 1959kg.
Sorento has a MLP of $49,190 for the Sorento Platinum 'R' Series 2.2L diesel with 6 speed automatic. The Sorento comes Kia's amazing 5 yr Unlimited km warranty, stylish looks, great performance and interior space.
Stay tuned over the coming months, as the Kia is inducted into family life, transporting hordes of teenagers around, towing camper trailers and seadoos, used as a transporter for gear and general runabout.