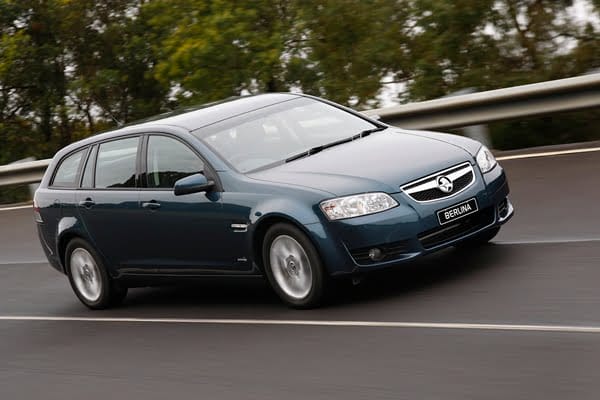 Holden has introduced the 2011 VE Series Berlina Sportwagon 3.0L SIDI. The Holden Sportwagon VE fights back against the SUV's.
Instead of looking like the 'tool of the trade' fleet vehicle it used to, it now follows the trend of sleek Euro estates, introduced in July 2008, the AU$110 million VE Sportwagon programme represented a departure from previous Commodore station wagons. Holden was concerned that the traditional wagon market was being severely eroded by growing sport utility vehicle (SUV) sales. How good is it? Let's check it out:
Behind the wheel
There's sufficient driver's seat travel to accommodate any physique, plus height adjustment. A few tall drivers may want more head room. The wheels is also height and reach adjustable. The driver's seat in the Berlin test car was reasonably comfortable on a long journey. Though it could use more substantial bolstering to hold you more securely when cornering. You sit high, facing a dash modelled on the Mercedes E Class with. Instruments are clear, uncluttered white on black dials. The scroll buttons on the wheel, for trip computer and audio adjustment, are great because you can perform these tasks without having to take your eyes off the road for more than a moment, or your hands off the wheel. Plenty of storage includes large open door bins.
Holden still can't do a simple cruise control wand though, and features such as one touch window up or down and an electrochromatic mirror, now common on luxury cars, are also absent here. The thick front pillars in the VE Commodore create a serious problem with vision. They are thick enough to completely obscure a car coming towards you from certain angles, especially on the driver's side.
Holden is not alone in this – thick front pillars are there for strength, to protect the integrity of the central occupant space, and the people within it, in a frontal impact – however the vision problem is particularly apparent in the VE. As with the sedan, the back seat in the Berlina Sportwagon is very comfortable and wide enough for three. There's also ample leg room for anyone, heaps of head room, and a long, supportive cushion, angled in to the base of the backrest. This is comfortable for adults, but you do sit low, with high window sills, so little kids may complain about not being able to see out of the car.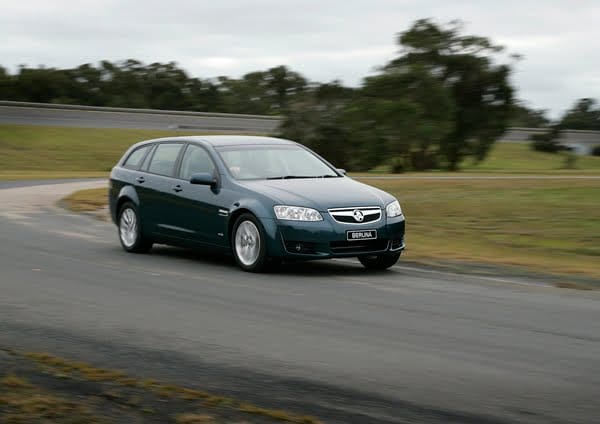 Performance
Because of the additional weight (Sportwagon adds around 90 kg over the sedan), the suspension has been stiffened and roll bar diameters have been reduced slightly. On the road you are aware of the five door's bigger bum floating above the rear axle, but it's far from unwieldy thanks to high-strength reinforcing added to the roofline and floor pan, which all helps create a rigid structure. You also appreciate the attention paid to reducing cabin noise. In the previous VZ wagon surrounding noise resonated terribly, while the front passenger's voices were absorbed by the recesses of the cargo area. So this Sportwagon is reasonably quiet, except when the engine is pressed hard, then it sounds harsh and unappealing. The fuel consumption claim of 9.2L/100km is improved in the VE, but real world testing has proved the 3.0-litre struggles to haul the Commodore's substantial 1690kg kerb weight any more economically than the 3.6-litre V6 available further up the model tree.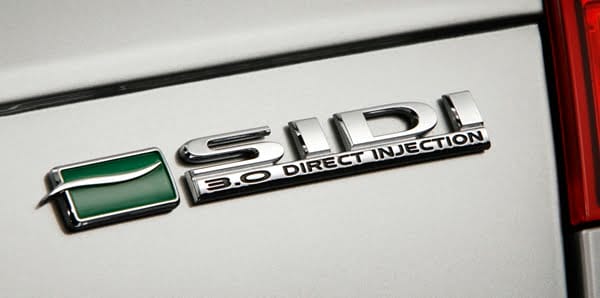 There's no doubt that you can wring a lot of power out of the 3.0-litre, six-cylinder SIDI engine that sits under the bonnet of the Berlina Sportwagon (190kW @ 6700rpm and 290Nm @ 2900rpm). The six-speed auto gearbox is the only transmission offered with the Berlina Sportwagon and most people will find that it's smooth and predictable. Our tester had no problems with the gearbox but there were times when I seemed to be able to catch it in the wrong gear and I definitely did not like the cruise control on the test vehicle. It seemed slow to react to changes in gradients and at the bottom of a hill it would drop 10km/h in speed before suddenly speeding up and wanting to race, so be very careful, this is a vehicle that could get you into a lot of trouble every time you pass a hidden speed camera up a hill.
Handling
By adding thicker rear sway bars and a new spherical bearing fitted to the rear lower control arms, replacing the rubber bushing used by the outgoing model improves suspension performance under load. On the road, the Sportwagon is typically well-balanced, with sharp turn-in and the right damping and isolation from broken surfaces. The suspension settings on the Berlina Sportwagon are firm and there's definitely no wallowing on rough roads. The steering is light and direct and the Sportwagon doesn't bounce around as you might expect from a station.
Comfort
The combination of tilt/reach wheel and the enormous range of fore aft adjustment for the seat provide far more space than I could ever need. It is hard to find a car that provides enough comfort when you are over six foot. But this does, the seats in the Berlina were adequate and both front seats have great lumbar support but I don't think that I had enough support under the backs of my legs. The Sportwagon's seats are definitely a lot better than Ford Mondeo seats but in my opinion there's still not enough support there. Each door skin has its own large water bottle holder in the door bin, overhead sunglass holder pops down from the interior lighting unit just aft of the rear view mirror and the centre console has a suitably CD case sized bin. The glove box is enormous, but is made of the same hard plastics found on the door handle surrounds and sides of the centre console. There are a few little niceties hidden about the rear, including aux power and netted bin. You also get a couple of (retractable) shopping bag hooks, net and cargo tie down points and lights that are on the side of the d-pillar rather than on the ceiling.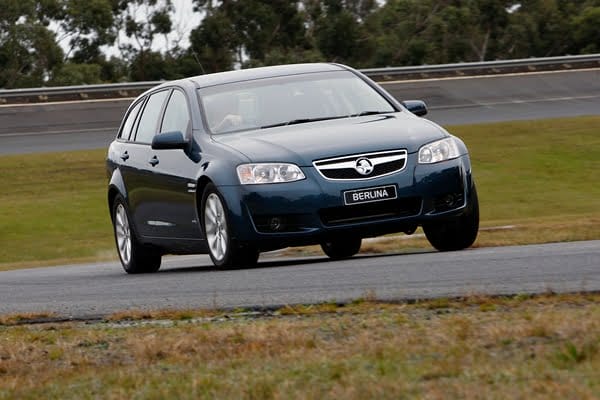 Practicality
While the Sportwagon does not have the biggest luggage space of the station wagons in its class it does have a very credible 2000 litres of space once the rear seats are folded down completely, with the seats in place there's 895 litres. Ample for most applications, although the sleeker roofline does mean there's a significant loss in cargo space over the VZ wagon. The rear door's pivot point is inboard from the very rear of the roofline; this enables a much wider aperture area for ease of loading and also means the hatch requires less than a foot of space behind it to open. A simple solution that really enhances practicality. The backend also boasts concealed carry hooks, luggage net tie downs and a nifty cargo cover that can slide up or down the D pillar. Remote opening for the rear door wouldn't have gone astray but otherwise it's a convenient layout.
Equipment
The Berlina Sportwagon comes equipped with dual-zone air conditioning as standard and the air conditioner can certainly handle the hot and humid conditions that can envelope you in this part of Australia. There's a very good six-disc CD audio system with MP3 compatibility and auxiliary input jack with the audio controls are mounted on the steering wheel. There's Bluetooth compatibility for mobile phones and there's also Rear Park Assist but a rear view camera is only an option. While you may not need the camera it's certainly worth the extra cost if you have small children around.
There's also a multi-function trip display that can provide you with a large amount of important information. Interestingly that trip information is displayed across three different places on the dash and actually is quite easy to read and it works rather well. There's a very good six-disc CD audio system with MP3 compatibility and auxiliary input jack with the audio controls are mounted on the steering wheel. There's Bluetooth compatibility for mobile phones and there's also Rear Park Assist but a rear view camera is only an option. While you may not need the camera it's certainly worth the extra cost if you have small children around.
Safety
GM Holden's VE Omega Sportwagon has become the first locally manufactured wagon to receive a maximum five star safety rating from the Australasian New Car Assessment Program (ANCAP).The Sportwagon comes with six airbags as standard equipment and that means that both front and rear-seat passengers are covered. There's also Electronic Stability Control, Anti-locking Brake System, Electronic Brake force Distribution, Electronic Brake Assist and Traction Control and while those things are not what you're likely to think about while you're driving it is reassuring to know that you're a lot safer in today's Holden Commodore than in years gone by.
Summary
The Sportwagon has some real competition in the diesel Mondeo as far as load space and fuel efficiency is concerned (read Mondeo review). However the real ace in Holden's line up has to be its leading-edge SIDI engine, (Spark Ignition Direct Injection) technology. The SIDI system works by injecting fuel directly into the combustion chamber. This process allows higher compression resulting in improved efficiency, greatly improved fuel economy, reduced CO2 emissions and improved output and performance. Advanced multi-point injectors, a high-pressure engine-driven fuel pump and cam-phasing also improve both the environmental numbers and dynamic capabilities of Holden's new V6s.
There is also a lower idle speed, now just 550rpm (down 50rpm), further reducing fuel waste and emissions when in heavy traffic or waiting at lights. Holden claims that the Commodore with the SIDI 3.0 litre can travel from Melbourne to Sydney on just one tank of fuel. Such a claim for a large family car would have been a pipe-dream just a decade ago. The 3.0 litre SIDI engine power the Commodore sedans and Sportwagon. The 3.6 litre unit powers the premium Commodore range – SV6, Calais, SV6 Ute and Statesman. Both engines are all-alloy (with iron bore liners), DOHC and under square. Both run relatively high compression: the 3.0 litre at 11.7:1, the 3.6 litre, 11.3:1, but each are perfectly happy with 91 RON fuel.
So does the rather modest loss of torque, load space and visibility endanger its appeal to traditional Aussie wagon lovers? I doubt that many people would actually be anywhere near as anal as I have been. The fuel economy is really there to impress the fleets and to tackle the Commodore's wider reputation as an aging dinosaur. To that end, Holden have kicked a goal even if some people think it's a Hybrid. A regular Joe will check the tow rating (2100kg ), take it for a spin and then spend the rest of the afternoon crossing his fingers hoping his wife will love that sexy rear end….at least that's what I did (and she did).
Considering the Sportwagon offers a similar blend of practicality, styling, affordability and comfort that one would typically associate with a good-sized SUV, it stands as a good alternative for families without a genuine need for four-wheel drive or high ground clearance. It is fun to drive (despite its more conservative suspension tune), roomy enough to sleep in and still a practical choice for man who needs room. Don't take my word for it. If you have the opportunity, take one for a drive.
What is good?
· One of the best looking wagons around.
· Represents value against $100,000-plus Europeans
· Comfortable seats and compliant ride
· The relatively good fuel consumption
· The dust-free interior
· Who needs an SUV?
What's not so good?
· Overweight
· Doesn't handle nearly as well as the sedan
· VE quality and reliability issues
· Resale values likely to be weak
· No back seat head restraints and a space saver spare