We test the 2010 Chrysler 300C 5.7L V8 Hemi as a family car. The Chrysler 300C is big and brassy but suprisingly competant.
The design of the classic American muscle car is all about power and appearance blended together to produce a stunning vehicle. It is contrary to the conception that classic muscle car emphasized power over appearance. A look at the classic muscle car can stop you in your tracks.
The verdict is clear, the 300C is a classic and on appearance alone is going to be difficult to beat, but is it as good to drive as it looks. Let's check it out:
Behind the wheel
This cabin is the best that Chrysler has ever produced – it's simple, clear and comfortable to be in. This makes it an easy car to drive with well-placed controls and a comfortable driving position but one downside is that the steering wheel adjusts for height only. The Chrysler 300C delivers a sumptuous leather interior with the typically large American front seats (heated and eight-way power adjustment for driver and passenger).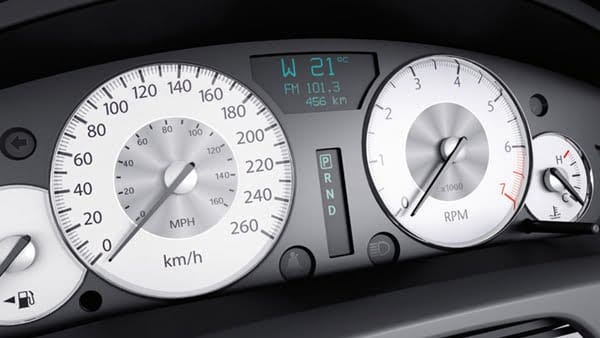 The Chrysler 300C boasts a beautiful, four-spoke tortoise shell/leather steering wheel which looks great. Visibility isn't great because of the 300C's shape. A narrow rear screen means the view out of the back can be restricted, while thick windscreen pillars can make pulling out from the kerb trickier. The 2008 the model was face lifted with the main focus being the cabin.
 The design was enhanced with a new instrument panel and centre console design, highlighted with satin silver trim. Soft touch surfaces on the arm rests and door panels were added while new dark interior colours make it feel more sophisticated. A new ignition key with one-touch start-up as well as LED lighting in the front cup holders and front and rear door pockets were all welcome improvements in the last upgrades. For the driver, Chrysler 300C provides four gauges (speedo, tacho, fuel and engine temperature) with very stylish graphics and nice chrome trim. To the left is a funky chrome-trimmed clock and the centre console (upgraded to a satin silver finish) houses the infotainment 6.5-inch touchscreen plus controls for the climate control air-conditioning.
Performance
The engine, transmission and gearing are very well matched so motorway cruising is quiet and unflustered. Yet bury the pedal and you're up to 120 very quickly. On main roads, the Geartronic selector means you can select and hold 3rd to overtake by simply knocking the lever left a couple of times. Then get back into D by knocking it right. Chrysler 300C pulls strongly all the way through to its 5800 rpm redline – accompanied by a hearty roar from the dual tailpipes. Chrysler 300C delivers 265kW of power at 5000 rpm and peak torque of 528Nm at 4000 rpm.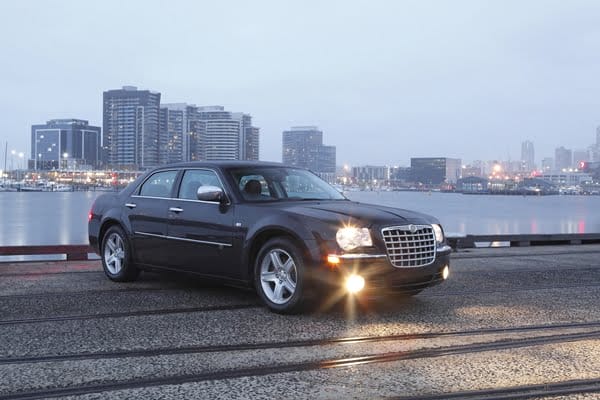 Combined cycle fuel consumption for the Chrysler 300C is 12.2l/100kms and the exhaust C02 emissions are rated at 283g/km. As part of the most recent upgrades, the Chrysler 300C V8 gained 'Fuel Saver Mode' technology (Chrysler's Multi-Displacement System) which cuts-out four cylinders on light acceleration and trailing throttle. A green 'Eco' light on the Chrysler 300C dashboard advises the driver when this is happening. And it's easy to drive the Chrysler 300C economically –.Chrysler 300C drives the rear wheels via five-speed automatic transmission with sequential manual mode. For a car that weighs 1835kgs, the Chrysler 300C delivers impressive acceleration – zero to 100km/h in 6.8 seconds.
Handling
American cars have tended to handle badly on Australian roads in the past, with soft suspension, vague steering and iffy brakes. But don't let the 300C's all-American looks fool you into thinking it follows this pattern. It's actually rather good and doesn't feel as unwieldy as its proportions suggest. And that's because it's not entirely American. The Chrysler 300C uses the same platform and in the diesel, brilliant 3-litre diesel engine as in the old Mercedes E-Class, but fused with an unmistakeable design customary on American muscle cars. Besides the exterior design, the first thing you notice about the Chrysler 300C is its sheer size.
Measuring five metres in length and 1.9-metres across, it's a big brute, but it handles surprisingly well. The ride is superb, soaking up all the bumps from Australia's lousy and battered roads. The steering is surprisingly sharp (albeit lacking in feel), body roll is well contained and it feels quite agile through corners. But it also makes a good cruiser: the suspension, developed in conjunction with Mercedes-Benz, soaks up lumps and bumps in the road well.
Comfort
Although three can sit in the back, the middle seat is really just for show – it's too narrow with little foot room for an adult to sit comfortably. That said the two outer seats are big, wide and very comfortable with a great amount of legroom. It's remarkably quiet at speed, with wind and road noise kept to acceptable levels.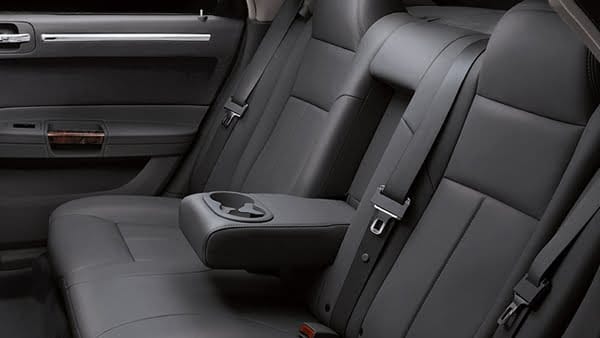 Practicality
The boot is huge, wide, deep and more than capable of swallowing a family's luggage. The load lip is also quite high off the ground, so loading heavy or bulky items can prove difficult. On the plus side there's plenty of stowage inside including a large glove box and a number of cubby holes and cup holders.
Equipment
The 300C has cruise control, heated leather seats, leather steering wheel, auto-dimming rear-view mirror, trip computer, seat and mirror memory, six-speaker sound system, 18-inch alloy wheels, body coloured bumpers, chrome wing mirrors, parking sensors, metallic paint, ABS, traction control, electronic stability programme, seat belt pre-tensioners, rain sensitive wipers, remote central locking, dual front and side airbags and xenon headlamps, seven-speaker stereo system with six-CD auto-changer.
The facelift in February 2008 brought a fresh interior and upgraded equipment levels including a new optional satellite navigation system. In 2010 new trim levels were introduced with the entry-level offering leather seats (heated in the front), ESP stability control, dual-zone climate control, front fog lights, parking sensors (front and rear).
Safety
The 300C hasn't been crash tested by Euro NCAP, but it feels solidly built and comes with plenty of safety kit. All models get electronic stability programme (ESP), traction control, ABS and front and rear side airbags. Security-wise, there's an alarm and remote central locking, seat-mounted airbags that were added to the front (and side-curtain airbags to the rear) for increased driver and passenger safety.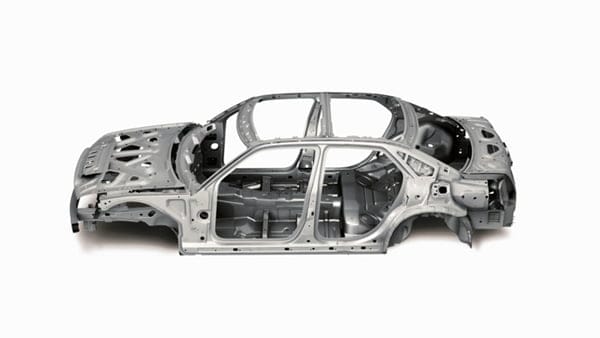 Summary
Built in Austria, with its attention-grabbing looks, high waistline, bold egg box-shaped front grille and chrome trim, there's no mistaking the Chrysler 300C. If you're after something different from the usual German saloons the big Chrysler is an ideal choice and comes with plenty of road presence as standard. Exceptionally well-equipped, spacious and comfortable, the 300C undercuts its rivals by several thousand dollars.
There's also the option of a great 3.0-litre V6 diesel that's fairly economical, although the 3.5-litre V6 and 5.7-litre V8 patrols are very thirsty. The dramatic styling of the Chrysler 300C still turns heads and is the ultimate boulevard cruiser – a luxury limousine with big dimensions, a big personality and a big engine.
Recommended Retail prices across the range are: 3.5L V6 petrol – $54,990, 3.0L V6 turbo diesel – $60,990,5.7L HEMI V8 petrol – $60,990 and the 6.1L HEMI V8 petrol (SRT-8) – $74,990. However you can slash $10k to $15k off these prices due to the current run out sale.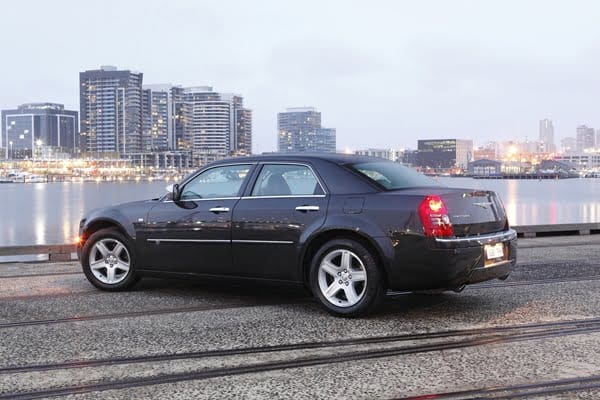 What is good?
· Unmistakable styling,
· Outstanding comfortable cabin,
· Great V8
· Plenty of road presence,
What's not so good?
· Rear seat legroom
· Looks may be too brash for some,
· Thirsty petrols,
· Steering lacks feel
· Wood trim looks a bit cheap