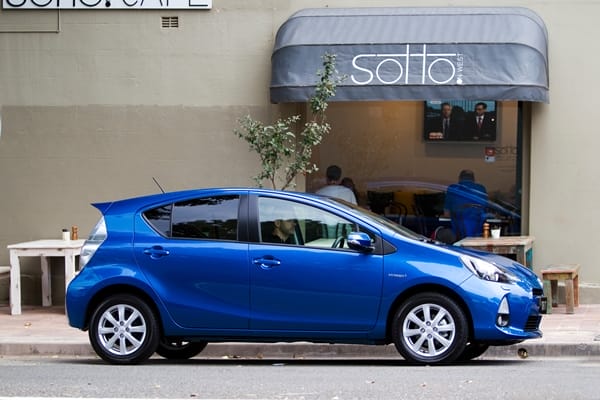 With a more conservative design than previous models, the new "compact, city" Prius C emulates more Yaris than futuristic, hybrid vehicle. A revamped and shrunk version of the Prius petrol-electric hybrid system is paired with a four cylinder, 1.5L petrol engine. The result is a fuel efficient, smooth and peak hour perfect car.
As standard the Prius C boasts keyless entry and start, Bluetooth (phone and audio), a touchscreen controlled infotainment system, cruise control, power windows and mirrors, climate control, a reversing camera, 6 speaker audio system and self-levelling LED headlights with washers. For a budget start of $23,990, buyers are treated to a feature packed, environmentally conscious car with bang for their buck.
The driver can achieve a rather comfortable driving position and is greeted with a more modern interior, designed to appeal to a wider market, something Toyota learnt from the original Prius design. A centrally mounted digital speedo, trip computer and touchscreen provide all the information you could possibly need. It does however take a while to get used to using your peripheral vision to read all the information you're used to having right in front of you.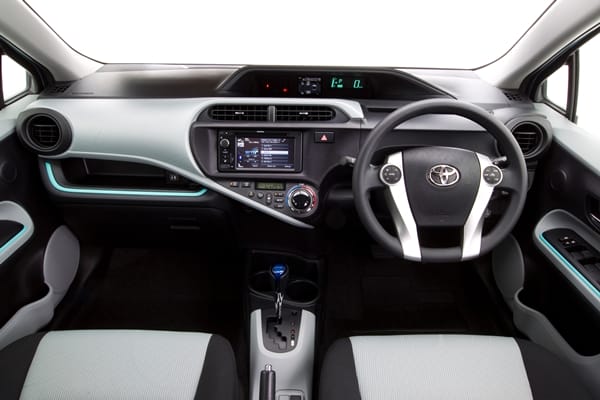 One thing drivers will be super impressed with is the amount of steering-wheel mounted controls, including the ability to adjust the cabin temperature. The interior décor still retains the harsh dark-on-light plastic that I was hoping would disappear!
An array of different storage areas make it a user-friendly place, although rear-seat passengers will have to fight over the single flip-out cup holder. The boot is comparable to the Yaris, thanks to the storage of batteries under the rear seats. However, the room in the rear seats is not compromised and still provide a generous amount of space for a small city car.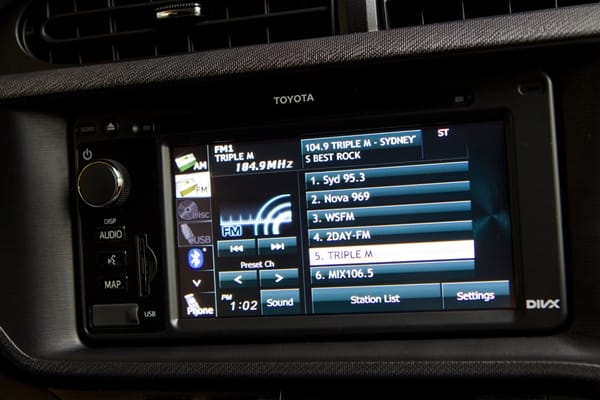 Driving the new Prius C is a unique experience. For a hybrid it does keep up rather well while zipping through the traffic, however it does become lethargic when navigating a hill or taking off from lights. Occupants of the Prius C are treated to a very grounded and secure ride, albeit a little bumpy in the rear seats. While the official fuel consumption is 3.9L/100km, my economic driving was not quite up to scratch, sitting just shy of 5L/100km. However, what is so fantastic about the Prius C is that it actually teaches you to drive more economically, and the information-packed display embarrasses you with shameful statistics if you try to drive it like a sports car.
The Toyota Prius C has improved from its predecessor and now seamlessly switches between electric and petrol modes and the braking system is more advance and feels a lot like a normal car. With the ANCAP tick of approval, the Prius C achieves a 5 star rating from all the standard safety features. The Prius C unsurprisingly also gets the tick of approval from the Green Vehicle Guide with a 9/10 greenhouse rating and 8.5/10 for air pollution.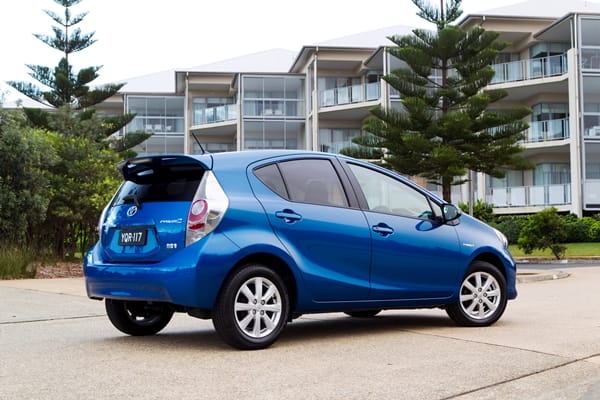 For those with an eco-conscious mind, and for those who need to 'grow' one, the Prius C is an excellent choice. Value for money, not too many compromises when it comes to power and an exterior that doesn't look like it's from out of space all help the Toyota Prius C achieve a growing presence in today's market.