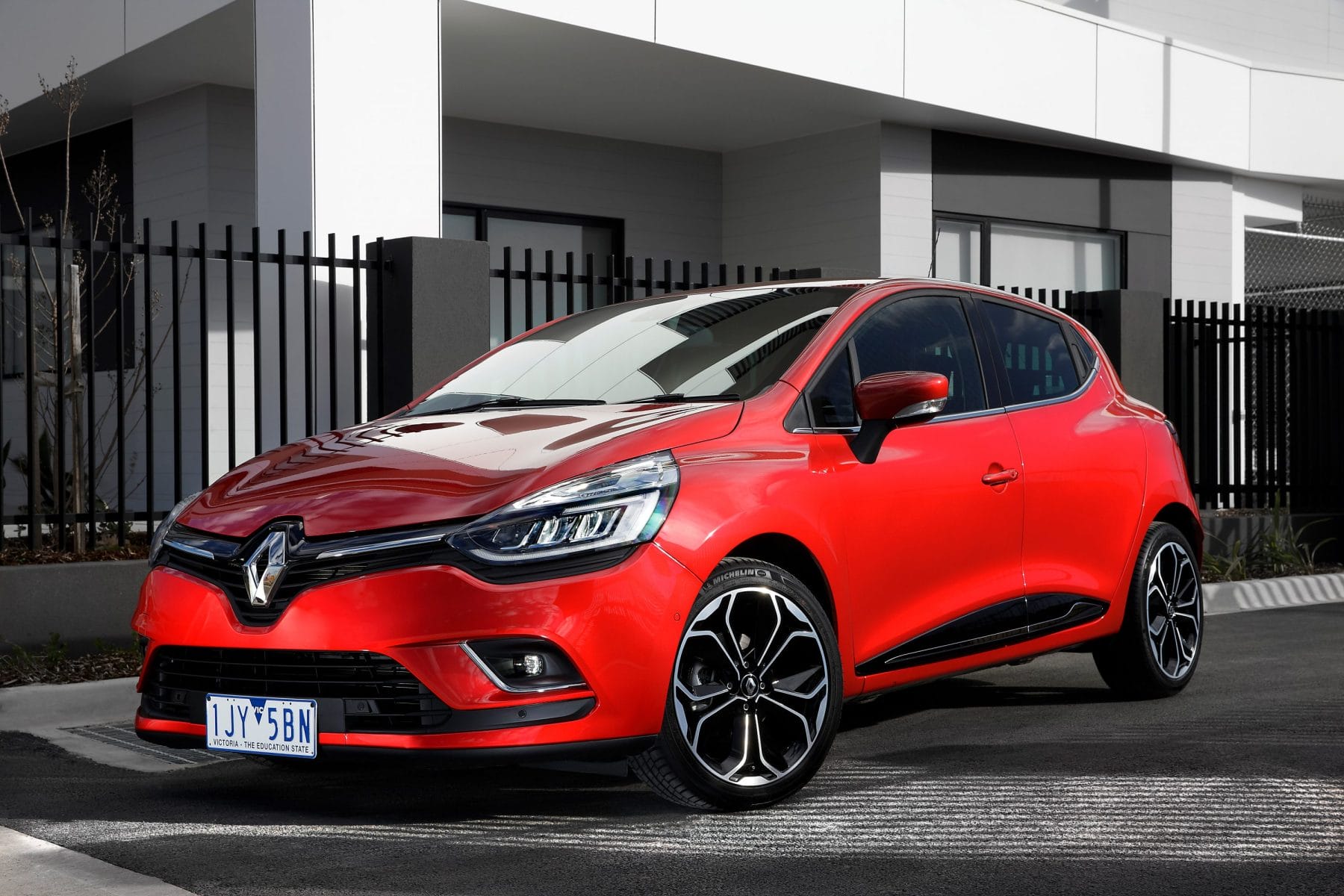 We have a look at both the Renault Clio Zen and Intens. Both with the same engine and transmission but with different external and internal features. This is a walk around video to show some of those features.
Renault Clio Intens and Zen
What we like: fabulous looks, comfort, loads of tech, walk away locking
Not so much: jerky DCT, manual only in base model, no CarPlay
Silly names, but great cars, Renault's Zen and Intens are brilliant city car packages.
A 2,589 wheelbase isn't huge, and with a torsion beam rear end, and rear drum brakes, we expected to be a bit disappointed. But, not a bit of it.
First, there's the look.
Cute as a button with big bright Pure Vision headlights. They're highlighted by massive LED daytime running lights for added safety. The rear LEDs are just as bright, and give the exterior a premium touch.
Depending on the model, you get either 16" or 17" wheels. The brochure says there is a space saver spare, but our cars only had the inflation kits.
I particularly like the body coloured trim accented with chrome on the grille and side panels.
The rear doors have concealed handles, and privacy glass in the top two models. There is smart entry and start, so the card/key can stay secreted about your person.
Clio seats 4, but rear passengers are going to be cramped if there is someone tall in front. You can fit 5 adults if they're very, very, good friends.
That's true of almost all city cars, and since you'll be doing short trips, it won't much matter.
Seating is super comfortable.
Upholstery is a combination of leather, leatherette, and cloth, and differs between models. It looks good. I tried to pick what was real leather and not. And, I couldn't tell the difference, and decided it didn't matter.
In most models, the lighting inside is LED, and includes mood lighting.
As usual, the main cruise control switch is on the centre console, a fact that continues to annoy me.
The infotainment system is a fast responding 7" LCD, with additional steering wheel, and stalk, controls. The stalk controls are behind the wheel, and are blocked when the wheel is in its home position. It's annoying, and unnecessary.
I'd rather the audio controls on the front of the wheel like every other car.
Although the standard speakers are excellent, there is an optional Bose fit out that can be specified on Intens and GT-Line. The top 3 models get voice control, with the top two getting R-Link navigation and multimedia as well.
The sound is amazing, especially given the relatively low asking price.
Bluetooth pairing is simple, and can be done by pressing the phone button and following instructions. We did it in under 10 seconds, as is the case with most new cars.
Always try pressing the "phone" button first when trying to pair. A car's system will usually say there are no phones paired, and ask you if you want to pair one. You can also go into the Bluetooth menu, and do it from there.
Self-parking on the Zen and Intens is easy to use, and will do parallel, angle, and 90° parking by selecting the option you want on the touch screen.
The DCT dual-clutch automatic isn't as smooth as in the Megane. It tends to be a bit "grabby", with surges especially at lower speeds. You can learn to get around it fairly quickly. Other than that, gear changes are reasonably fast, and manual changes can be made via the floor shifter.
The drive is utterly divine. The ride is as smooth as silk, even on the larger wheels. This isn't a sporting model, so has nice soft compliant suspension. It still manages to be great in corners.
The electric steering is very light, but precise and direct too. A directional change is made without drama, and long sweeping bends are a joy. In fact, all of the drive is a complete joy.
Although Clio is a city car, you'd have just as much fun touring.
The seats fold down in the back to take extra gear, but remember, there is only an inflation kit for punctures. The "well" where a wheel would normally be, is available for extra loads. For the times when you have the cargo hold full, you'd appreciate the extra space.
There is oodles of space for gear.
The 1.2 turbo petrol 4-pot is incredibly flexible. At 88kw, it is not the fastest kid on the block, but it is happy to be taken by the scruff of the neck.
Simply stick your foot on the floor and leave it there to turn the fun factor up. Because it handles so well, Clio is happy to be thrown in to corners far faster than it has any right to.
That's the real joy of a small car with a willing power plant. What it lacks in fire and brimstone, it makes up for in style and class.
And, it is very stylish.
Yu probably won't turn too many heads, but that's OK, who really cares.
If you want something flashy, you're going to need many more shekels. And, even with a puny 45 litre tank, you'll get around 900 k's on the open road.
Renault wants you to use 95ron unleaded, but I'm willing to bet Clio will be just as happy on E10. Most E10 is 95ron anyway.
Conclusion:
Clio is happy in all it's guises.
Only the base model gets a manual which is a bit of a shame. It's only a 5 speed, so I won't be shedding too many tears.
Even with the slightly awkward DCT, you feel that you're driving a car with far more zip. It's fun, and cute, and has heaps of gear.
The diminutive body fits in to tight parking spaces.
You can easily dart in and out of traffic, and if you keep the revs up, there is plenty of dash for most needs.
The strange thing is, I felt special.
That usually doesn't happen in a humble little city car, but there it is.
I'd buy this car with my own money, and, I'd probably take the Intens, but only after taking the GT-Line out to make absolutely sure.
Price:
Life 0.9 petrol $16,990
Life 1.2 Petrol $ 18,990
Zen 1.2 petrol $19,990
Intens Petrol $22,990
GT-Line Petrol $22,990
Engine: Zen and Intens
1.2 petrol turbo, Euro6
88kw/135Nm
95ron, 5.6L/100k
Transmission:
6 speed DCT (dual clutch auto)
Weight:
1104 kg
Thanks to the band Into The Wild for the permission to use their music for the video. See their You Tube Channel https://www.youtube.com/channel/UCmkC…