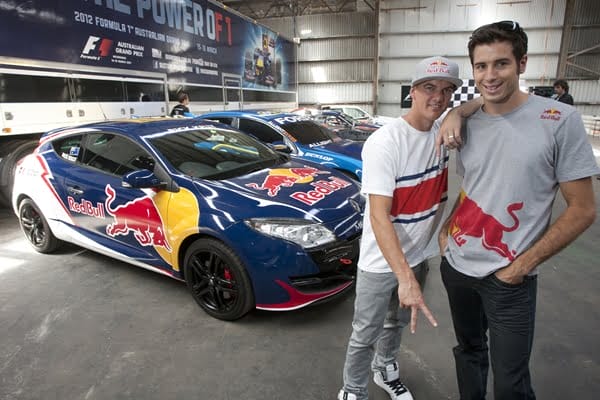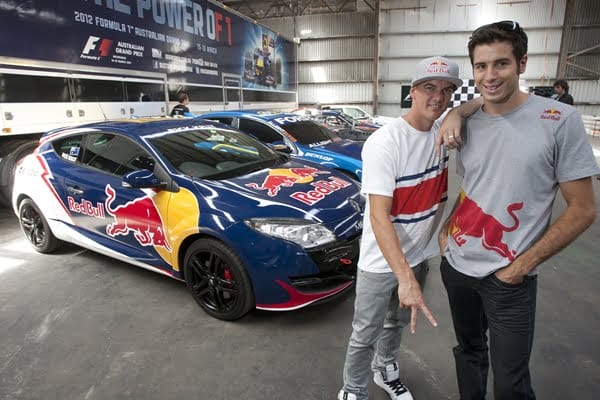 Renault and Red Bull will return to Albert Park on Grand Prix weekend to recreate the excitement and door-to-door racing that characterised the Red Bull Race Off's inaugural stoush in 2011.
Echoing the increase in Renault Sport F1 engine penetration in the Formula 1 field (eight drivers are now powered by Renault), the Red Bull Race Off grows 50 percent bigger with six Mégane Renault Sport 250 coupés in action, battling for on track glory.
Renault and Red Bull have announced the return of crowd-pleaser and former F1 race winner David Coulthard along with V8 Supercar driver Rick Kelly, and two-wheel daredevil Robby Madison.
Given West Australian Daniel Ricciardo's attention is likely to be taken up with his new role as a fulltime Scuderia Toro Rosso F1 driver this year, his seat will be filled by drifter extraordinaire, Mad Mike.
The two other newcomers are World Speedway champion, Jason Crump, and New Zealand born 2011 GP3 Series champion, Mitch Evans.
The race-ready Mégane Renault Sport 250s will be on track on Thursday, Saturday and Sunday of race weekend, the race-day track time a reflection of the crowd-pulling power of the cars and their red-mist afflicted drivers.
Mégane Renault Sport 250 specifications
The Mégane Renault Sport 250 is powered by a Euro 5-compliant 2.0-litre 16-valve turbocharged petrol engine, which boasts maximum power of 184 kW (250 hp) at 5,500 rpm and peak torque of 340 Nm from 3,000 rpm.
The Renault Sport 2.0 T engine's twin-scroll turbo is exceptionally responsive and is particularly flexible at lows revs, with 80 per cent of maximum torque available from 1,900 rpm. Acceleration is smooth and responsive thanks to the twin scroll turbocharger and continuously variable intake valve timing.
The Mégane Renault Sport 250 drives through a six-speed manual gearbox with a 0-100km/h time of 6.1 seconds and the 1,000-metre standing start covered in 25.7 seconds.
To enable the fastest possible start, the new Mégane Renault Sport 250 is equipped with a system designed to optimise standing start performance. Known as Power Start, this system functions when the car is at a standstill – with ESP selected – and allows the driver to profit fully from the engine's acceleration performance without grip being lost.
Red Bull Race Off
For the Red Bull Race Off, Renault Australia will be making a number of modifications to the Mégane Renault Sport 250s to ensure the best possible safety for the drivers. A six-point full roll cage will be installed into each vehicle along with a racing window net. Each driver will have a racing seat fitted along with a 5-point racing harness. In addition, the vehicles will have fire extinguishers fitted. All modifications made to the vehicles are in line with CAMS regulations for the safe operation of the Red Bull Race Off.
"We are delighted to be able to partner with the Australian Grand Prix and Red Bull once again to bring the Red Bull Race Off to life," said Justin Hocevar, Managing Director of Renault Australia.
"Last year we all had such a blast, from the drivers to the fans, that we were determined to come back and do it again this year, and do it better.
"By adding two more cars to the field we will be providing an even bigger spectacle, and by inviting some of the most competitive drivers around to have a steer, the result is sure to be edge-of-your-seat entertainment.
"I will definitely be on the edge of my seat if those guys try to take each other off on the first corner like they did last year," Justin quipped. "We'll have the Renault parts department on stand-by, too!
"Renault has powered the Formula 1 World Drivers' Championship and World Constructors' Championship winners for the past two years in a row, and so the Red Bull Race Off is a great way to show how Renault Sport F1's DNA is translated into road cars that are fun to drive on the road and greased lightning on an F1 race track.
"This is especially so because the cars that David Coulthard and company are driving are showroom standard, aside from the CAMS mandated safety equipment," Justin said.
"This year we are also delighted to announce the Red Bull Race Off will be transmitted by the host broadcaster Network Ten, bringing the event's adrenaline rush to a huge audience right around Australia.
"Renault Australia will once again host a huge display at F1 Central throughout race weekend. We are very excited by the prospect of eight Renault Sport F1 engines firing up for the first time this season on Thursday March 15," Justin said.