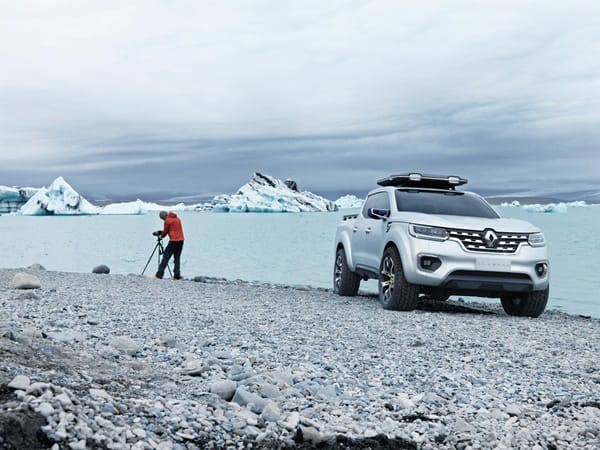 Renault has now taken the wraps off the ALASKAN Concept which marks the first step forward in its bid to win over customers in the constantly-growing pick-up market. Pick-ups account for around one-third of total LCV sales and open up a fresh front for Renault's product offensive.
The ALASKAN Concept is a striking show vehicle that paves the way for a pick-up that will have a global calling. It combines a payload of one tonne with cutting-edge, athletic styling to meet the exacting needs of business users and individuals alike
The ALASKAN Concept's status-enhancing design fits perfectly with the aesthetic expectations of the pick-up segment, whilst remaining true to the Renault brand's own styling cues.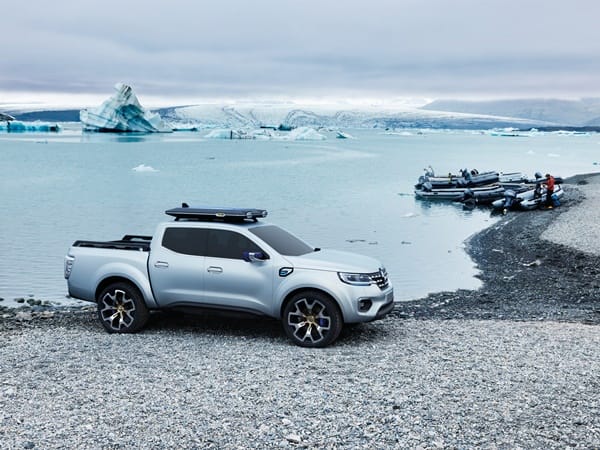 A head-turner…
The dimensions of the assertive, status enhancing ALASKAN Concept ensure a forceful stance,
The design of its robust yet athletic sculpted sides includes prominent wheel arches filled with 21-inch wheels,
Its lines combine a sense of high-tech engineering with an impression of robustness.
Its eye-catching front-end styling incorporates Renault design cues which bring a modern, aesthetic touch to the world of pick-ups:
A large, prominent logo,
An impressive bonnet highlighted by four sculptured ribs that heighten the impression of strength,
A combination of satin-effect, brushed and polished metal finishes,
Blue and yellow detailing on the door mirrors, brake calipers, wheel rim centres and front tow hook visually enhance the ALASKAN Concept's poise,
C-shaped head lights,
Full-LED lighting signature.
Laurens van den Acker, Senior Vice-President, Corporate Design, commented: "The styling of the ALASKAN Concept sticks to the rules of the pick-up segment, including impressive dimensions and a visual sense of power and robustness. At the same time, we have dialled in specific Renault cues in the form of an attractive, status-enhancing front-end design."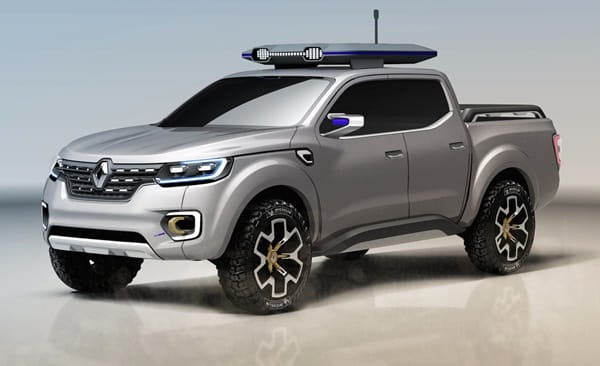 The ALASKAN Concept is powered by Renault's proven four-cylinder, twin turbo diesel engine which features in the existing Master range:
Twin turbo technology: a small turbo for smooth acceleration at low engine speeds, plus a bigger turbo for higher revs.
This longitudinally-mounted twin turbo powertrain is lighter than average equivalent engines,
Outstanding acceleration performance, plus class-topping fuel economy and low CO2 emissions. 
The ALASKAN Concept: designed to make the most out of life in three different worlds
The ALASKAN Concept is a 'work hard, play hard' all-road vehicle designed to meet the requirements of three different worlds: business and leisure use, plus everyday motoring.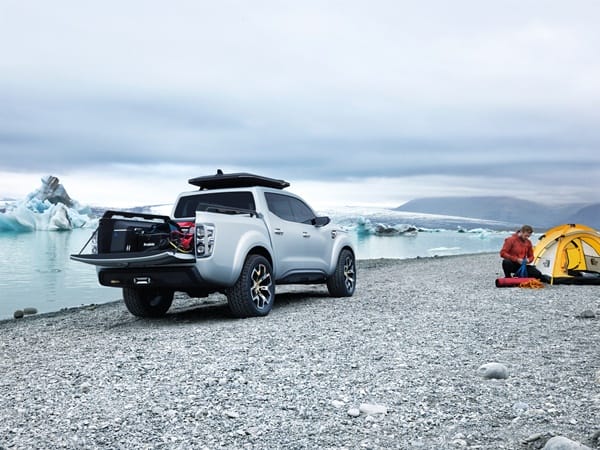 Perfectly suited to the needs of business users:
Strong chassis for excellent road holding, high ground clearance and distinctive driving comfort,
A payload of more than one tonne with five passengers onboard and a long, wide load bed,
Load bed incorporating three longitudinal recesses suitable for fixing equipment,
Additional storage bins either side of the load bed for the secure protection of equipment,
Best-in-class fuel efficiency, plus impressive power output and acceleration performance.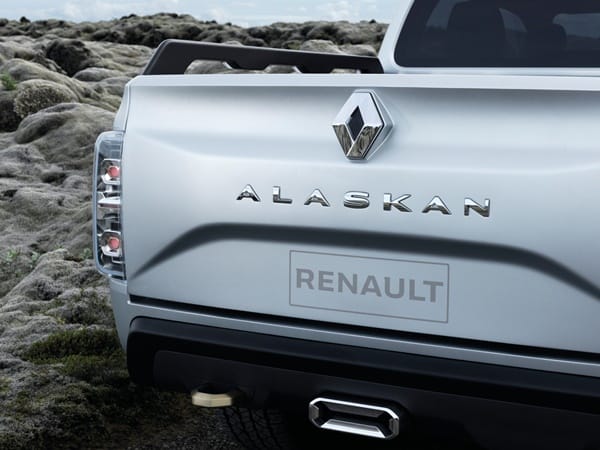 The ALASKAN Concept is the perfect companion for leisure use, too:
Ideal for road trips, adventure or sports use. Its big load bed can comfortably accommodate mountain bikes, camping gear or surfboards, etc. Availability of a range of outdoor accessories (load bed liners, covers, etc.),
Premium travelling comfort, together with highest quality standards in terms of equipment and connectivity,
Last but not least, a camera located inside the door mirror housings to permit the filming of passing landscapes.
For everyday motoring:
A status-enhancing vehicle complete with large 21-inch wheels, user-friendly driving comfort and modern urban styling that sets it apart in the pick-up world,
A sporty, appealing look
Large LED Pure Vision rear lights with brushed and polished aluminium surrounds framed by C-shape direction indicators,
Sophisticated rear-end styling heightened by the central aluminium exhaust tail pipe.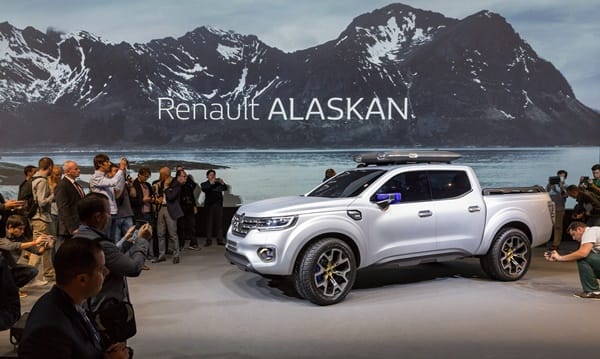 Hasselblad and ALASKAN Concept
Renault and Hasselblad worked jointly to underline the ALASKAN Concept's ability to adapt to three different types of use: business and leisure use, and everyday motoring. Hasselblad is a Swedish manufacturer of cameras and photographic equipment. It is famous for having provided photographic equipment for the Apollo programme which took men to the moon for the first time.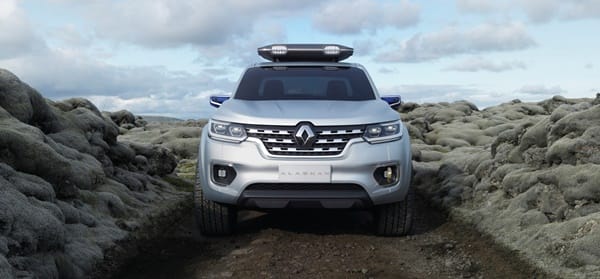 A one-tonne pick-up to follow in the wake of the ALASKAN Concept show truck:
The production version's design will be similar in spirit to that of the ALASKAN Concept and will feature the same dimensions,
A broad range of body types and powertrains will be available,
It will be a high-end pick-up for business and leisure use, as well as for everyday motoring,
It will capitalize on Renault's crossover know-how with models like Captur and Kadjar.
This new one-tonne pick-up will be unveiled in the first half of 2016.