Ram Trucks 1500 joins the increasing number of vehicles offered in the growing Ute market in Australia.
The last few years has seen the strong growth in the Ute market. This has been fuelled by a number of factors. The increasing demand from the mines, prosperous tradies, a burgeoning retiree market and recreational owners.
Amongst the growth is the segment of the more luxurious end such as the Holden Colorado Z71, Ford Ranger Wild Trak, and Toyota Hilux Rouge etc. Add to these other high end offerings such as the Silverado, Ford F250, F 350 and other American conversions from places such as Performax etc.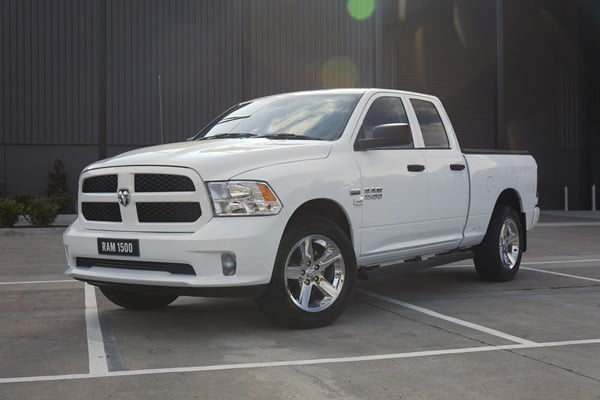 In amongst these, Ram Trucks now adds to their 2500 and 3500 the 1500. I was present at an unveiling of the soon to be released 1500 series. Unfortunately this was an unveiling only and a detailed drive review will follow when a test vehicle becomes available.
First impressions of the 1500, in both Express and Laramie form, are that it will set a benchmark for the upper end of the luxury Ute segment.
These factory backed vehicles from the importer Ateco, offer another dimension above what we, in Australia, have come to expect from our Utes.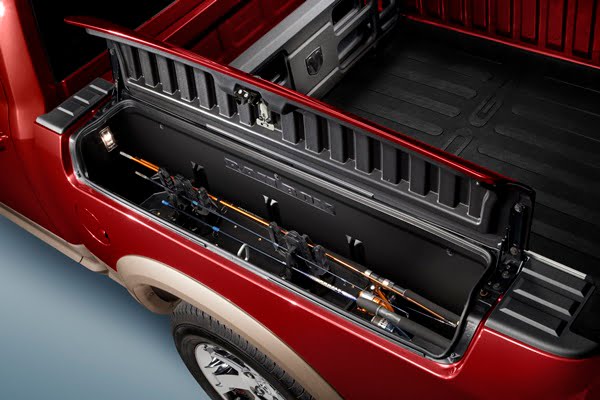 The key differences between the Ram 1500 and other Utes such as the Colorado are:
Higher towing capacity – up to 4.5 tonnes
Longer Ute bed
More interior space
5.7L Hemi V8
Higher levels of interior comfort.
Four wheel disc brakes
Optional RAMBoxes, 2 x 240L lockable storage boxes for the tub sides
Entry pricing from $79,990 RDAP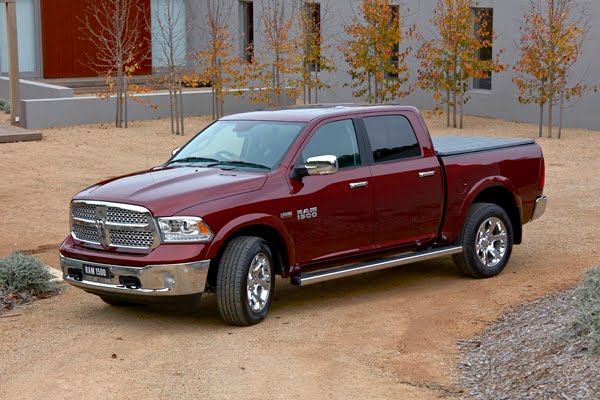 RAM 1500 Exterior
Externally the RAM 1500 has the American Truck look as you would expect. The RAM 1500 Express with its colour matched grille, bumpers and trim is clearly aimed towards the sports Ute buyer. RAM 1500 Laramie with its traditional RAM chrome grille and tasteful use of chrome highlights clearly indicates its intent to offer a more luxurious offering.
At 5.8 metres long and a little over two metres wide, the RAM 1500 is significantly larger than other Australian Utes in its market sector and this translates into more space inside and outside and a much larger towing capacity.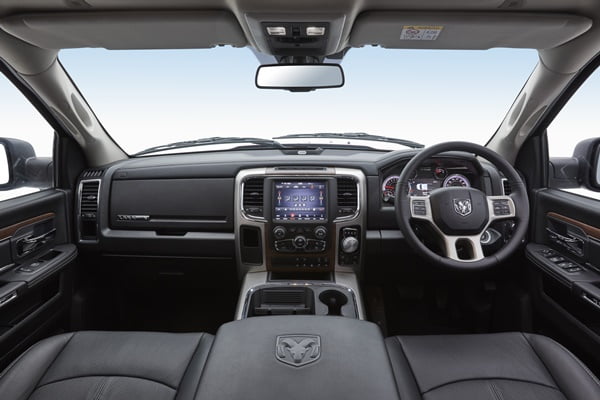 RAM 1500 Internal
Step inside and the RAM 1500 hold the promise of space and comfort.
RAM 1500 is offered with a choice of two cab sizes, the Express with the Quad Cab and the Laramie with the Crew Cab. Although the Quad is the smaller of the two, an interior volume of 3.3 cubic metres still places it ahead of majority of conventional Utes, while impressive levels of shoulder and hip room make it a comfortable place to be, front or back. The Quad cab is as we have come to expect from our normal Utes.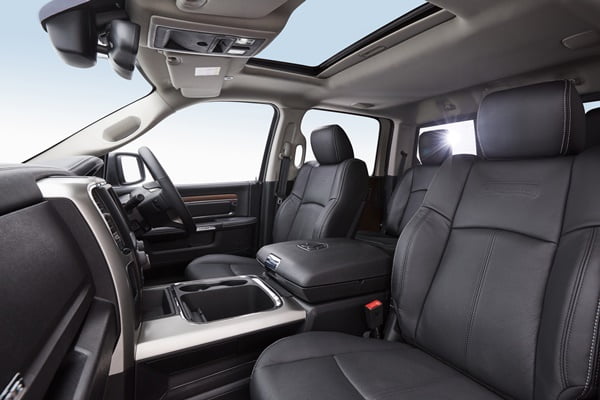 The Laramie has a full crew cab with 3.5 cubic metres of interior space with a rear seat leg room length of more than a metre, it is as spacious in the back as the front.
I am 190cm tall and was very comfortable in my brief sitting. The CrewCab also offers a clever variable rear seat arrangement that allows flexibility in load carrying capacity.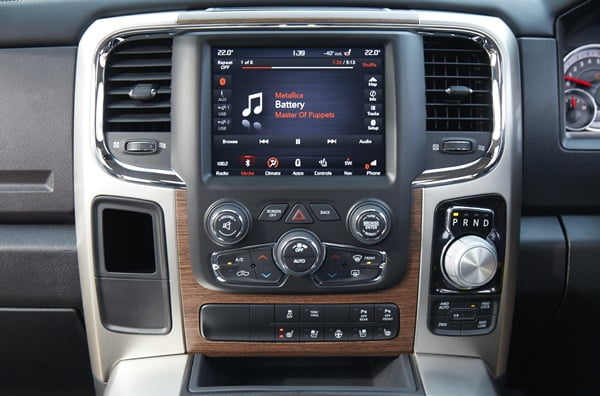 There are two levels of interior appointments, with the Express having cloth seats and more modest appointments while the Laramie has  its heated and cool ventilated front seats, its heated steering wheel and rear seats to its use of leather, deep pile carpeting and an equipment list that is more expansive.
RAM 1500 Drivetrain and Engine
RAM 1500 is powered by the well-known 5.7 litre HEMI V8 engine. Producing 291kW @ 5,600 rpm and torque of 556Nm @ 3,950 rpm. This power and torque drives through an innovative rotary e-shift dial for that controls the TorqueFlite eight-speed transmission that replaces both column and floor shifters, and a dual range 4WD system. The new rotary e-shift dial also yields space for more functional and usable storage in the console.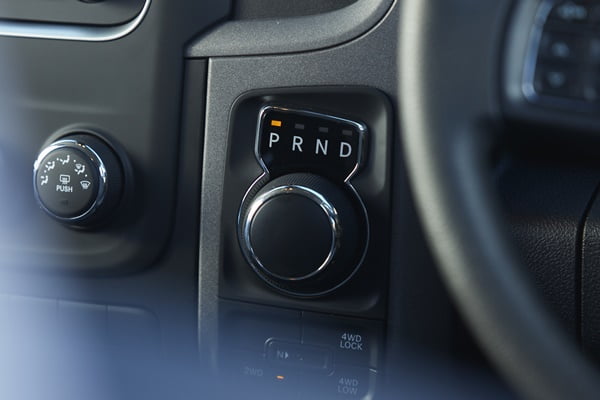 It is often the way that V8 petrol engines are seen as gas guzzlers. The latest incarnation sees many technological advancements such as VVT, dual spark plugs per cylinder and to increase fuel efficiency a Multi-Displacement System (MDS) is used in some versions which can shut off two cylinders on each bank under light load to improve fuel economy.
The engine bay also features active grille shutters, which only allow the right amount of cool air to enter engine bay. This means more consistent engine temperatures, faster warm up from cold starts and less aerodynamic drag.
The Ram 1500 also features electric power steering (EPS). This allows each Ram 1500 model to be specifically calibrated to optimize steering effort and precision regardless of body or powertrain configuration.
The RAM 1500 is also different in that buyers can specify different axle ratios to better suit their purposes. To aid in towing and payload capacity the RAM 1500 has an advanced separate chassis and sophisticated suspension which is mounted on it.
Now becoming more prevalent amongst Utes, Ram 1500 uses an exclusive multi-link, coil-spring rear suspension and this innovative rear suspension provides improved ride and handling characteristics with no loss of capability.
A coil-spring design centralizes and absorbs bumps and impacts, while reducing the amount of friction in the spring system and it is some 20 kilos lighter than a leaf-spring configuration.
The front independent suspension combines upper control arms, aluminium lower control arms and retuned geometry with coil springs for improved responsiveness and handling while robust ball joints on the front suspension yield greater durability and are engineered with improved sealing methods.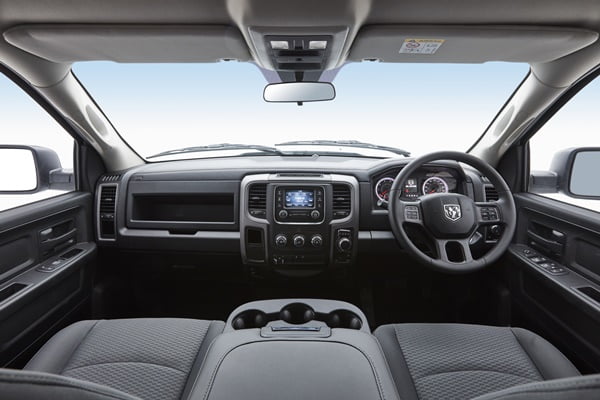 RAM 1500 Conclusion
It has taken Australian expertise through the combination of Walkinshaw and the importer Ateco through American Special Vehicles to make the RAM 1500 fully available in Australia. The right-hand drive RAM 1500 has been designed and developed in Australia and refined for Australian requirements. It is built in North America and then remanufactured on a brand-new state of the art production line in Melbourne.
This process means production quality and consistency. An Australian market RAM 1500 is built specifically for this market, imported by the factory appointed distributor, remanufactured to right hand drive in Melbourne and then sold through a nationwide dealer network.
There is a growing demand for this size and type of Ute and I believe the RAM1500 will benefit from a dealer wide network and fortuitous timing.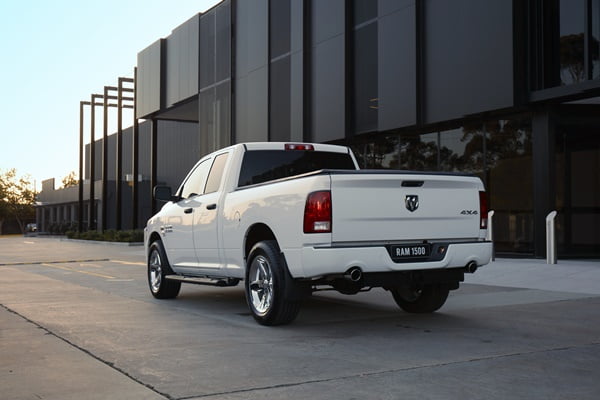 2018 RAM Price List from 1 July 2018
Recommended retail prices excluding statutory charges, dealer costs and delivery unless indicated as driveaway
RAM Model and version
Price
RAM 1500 Express
RAM 1500 Express Quad Cab 4×4 6'4" Tub
Driveaway
$79,950
RAM 1500 Express Quad Cab 4×4 6'4" Tub with RamBoxes
$84,450
RAM 1500 Express Quad Cab 4×4 6'4" Tub Black Pack
$89,450
RAM 1500 Express Quad Cab 4×4 6'4" Tub Black Pack with RamBoxes
$93,950
RAM 1500 Laramie
RAM 1500 Laramie Crew Cab 4×4 5'7" Tub
$99,950
RAM 1500 Laramie Crew Cab 4×4 5'7" Tub with RamBoxes
$104,450
RAM 2500 Laramie
RAM 2500 Laramie Crew Cab 4×4 6'4" Tub
$139,950
RAM 2500 Laramie Crew Cab 4×4 6'4" Tub with five seats (*)
$140,950
RAM 2500 Laramie Crew Cab 4×4 8' Tub (*)
$140,950
RAM 2500 Laramie Crew Cab 4×4 6'4" Tub Sport Appearance Pack
$146,550
RAM 2500 Laramie Crew Cab 4×4 6'4" Tub with RamBoxes
$144,350
RAM 2500 Laramie Crew Cab 4×4 6'4" Tub with RamBoxes and five seats (*)
$145,350
RAM 2500 Laramie Crew Cab 4×4 6'4" Tub Sport Appearance Pack with RamBoxes
$150,950
RAM 3500 Laramie
RAM 3500 Laramie Crew Cab 4×4 6'4" Tub, car driving license rating
$144,350
RAM 3500 Laramie Crew Cab 4×4 8 Tub, car driving license rating (*)
$145,350
RAM 3500 Laramie Crew Cab 4×4 6'4" Tub, light rigid truck driving license rating
$146,950
RAM 3500 Laramie Crew Cab 4×4 8 Tub, light rigid truck driving license rating (*)
$147,950
Options
1500 Express
1500 Laramie
2500
3500
Metallic paint
$850
$850
$950
N/A
Pearl paint
$850
$850
$950
N/A
Wheel to Wheel side steps
N/A
N/A
$1500
N/A
Trifold Tonneau cover for non-RamBox versions
$1795
$1795
$1795
$1795
Auto level rear air suspension (*)
N/A
N/A
$4000
N/A
* Factory order versions