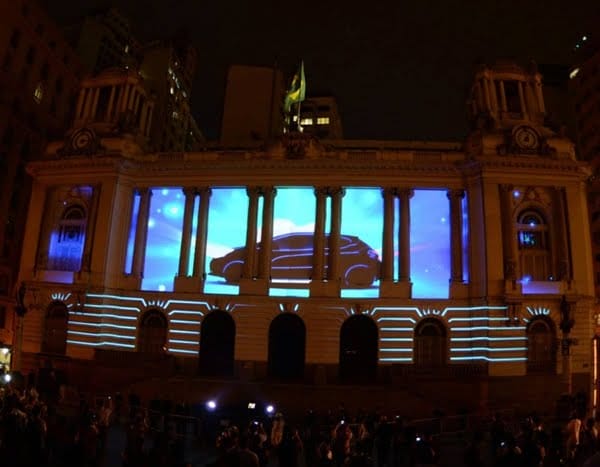 Peugeot stunned the people of Rio de Janeiro with an exceptional and unique event, calling on an original combination of technologies – simultaneously deployed for the first time, so as to generate a prelaunch global buzz around its new emblematic model, the Peugeot 208.
After the release of the initial details of the 208 earlier in November, this event represents the second key stage in the 208's gradual ramp up. A show at the heart of the Carioca city and worldwide distribution on the web.
The highly spectacular show was held at Cinelandia Square in Rio de Janeiro, the iconic cultural and social site of the Carioca city, on the evening of 8 December in front of thousands of spectators.
The choice of Brazil symbolises the internationalisation strategy of the Peugeot brand and also ties in with the 208's "Let Your Body Drive" signature. An initial teaser film was shown on the web on 9 December. The entire video of the event allowing the sensorial experience to be enjoyed "live" is now being shown on the web and via the YouTube and Facebook social networks. It can be viewed at: www.youtube.com/Peugeot
A display boasting state-of-the-art technologies symbolising the modernity of the Peugeot brand and the product, this show combines use of cutting edge technologies (3D projection mapping and Kinect) to which a 4th dimension has been added in the form of direct interaction with the public.
In the course of this show, spectators were given a chance to bring the "Let Your Body Drive" signature to life by collectively interacting with the rhythms and pulsations of the event.
Peugeot has high hopes for the 208, heir of the successful 200 series produced in its millions, and this new model will have an international vocation with staggered launches between March 2012 and March 2013.
In Europe, the 208 will be produced at the Poissy and Mulhouse plants in France and at the Trnava plant in Slovakia. To serve the needs of the Latin American market, it will also start rolling off the production lines at the Porto Real plant in the State of Rio de Janeiro in 2013. The plans for Australia include an "in the metal" reveal at the 2012 Australian International Motor Show in Sydney.