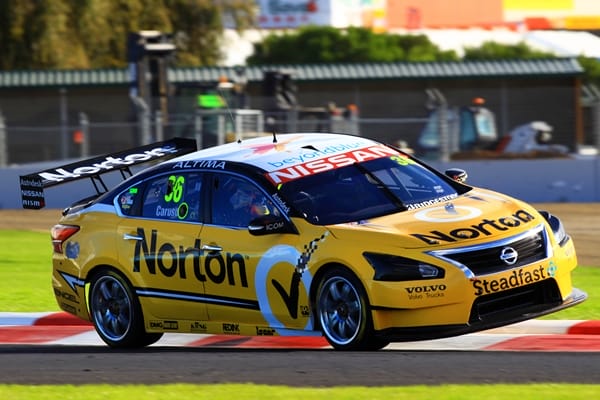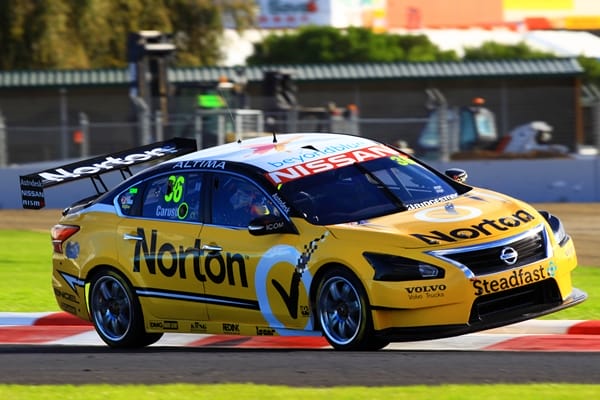 Nissan Motorsport has continued its rise in the V8 Supercars Championship, finishing with four top 10 results at Pukekohe Park in New Zealand on the weekend.
In Nissan's return year to top-level Australian Touring Car racing, factory Nissan Altima driver Rick Kelly (#15 Jack Daniel's Nissan Altima) finished seventh in Saturday's Race 7 of the championship, while team-mate James Moffat (#360 Norton 360 Nissan Altima) took ninth place in the same race.
On Sunday, Kelly finished 10th in Race 8, while Moffat also took the team's fourth top 10 for the weekend in Race 9.
After a character building event at Symmons Plains in Tasmania just one week ago, the progress made by the Nissan Motorsport squad points towards a positive future for the all-new Altima V8 Supercar.
Adding to the team's upwards results was the fact that across the four races at Pukekohe, the four Nissan drivers finished inside the top 15 on every occasion except one, where Michael Caruso (#36 Norton 360 Nissan Altima) took 16th place in the final race.
The Nissan Motorsport drivers also moved up or maintained their positions in the championship as well, with Rick Kelly now running 13th, James Moffat 15th, Michael Caruso 22nd and Todd Kelly 27th.
The next event of the V8 Supercars Championship will be held at Perth's Barbagallo Raceway in Western Australia on May 3-5. The race meeting will see the second running of the new 60/60 SuperSprint race format.
RESULTS & QUOTES:
James Moffat – #360 Norton 360 Nissan Altima
Race 6 qualifying: 24
Race 6 result: 22
Race 7 qualifying: 17
Race 7 result: 9
Race 8 qualifying: 14
Race 8 result: 13
Race 9 qualifying: 14
Race 9 result: 10
Championship position: 15th
"It was pretty solid weekend, apart from the silly mistake I made in the first race on Saturday, which cost us a few positions," said Moffat.
"I'm happy enough. Obviously, we always want more, but to salvage a top 10 in the last race, adding to our ninth from Saturday, was a decent result.
"We know we still have a bit of work to do, but I'm very proud of all the guys."
Rick Kelly – #15 Jack Daniel's Nissan Altima
Race 6 qualifying: 15
Race 6 result: 12
Race 7 qualifying: 12
Race 7 result: 7
Race 8 qualifying: 15
Race 8 result: 10
Race 9 qualifying: 20
Race 9 result: 15
Championship position: 13th
"I'm really excited about scoring a top 10 results, we're really hitting our straps with the car set up now and there are not too many corners where others are getting an advantage on us," said Rick Kelly.
"We know where our weaknesses are and we're really starting to build on our strengths, which is very exciting.
"To jump into our first top 10 is great and all the way up to seventh. We're really focused on capitalising on other mistakes and aggression at the moment, but we did find time in that last race compared to others and that's what we're after."
Todd Kelly – #7 Jack Daniel's Nissan Altima
Race 6 qualifying: 19
Race 6 result: 17
Race 7 qualifying: 24
Race 7 result: 18
Race 8 qualifying: 20
Race 8 result: 15
Race 9 qualifying: 21
Race 9 result: 14
Championship position: 27th
"It's a hard place to pass, but we actually got the car half reasonable then in that last race," Todd Kelly said.
"It wasn't too bad to drive, very hard to pass again, really in all the passing areas we're trying to make up the ground that we lose in other places.
"Overall where we ended up for the weekend with the car is quite promising, it's just a shame we didn't get on to that set up a little bit earlier."
Michael Caruso – #36 Norton 360 Nissan Altima
Race 6 qualifying: 17
Race 6 result: 13
Race 7 qualifying: 16
Race 7 result: 12
Race 8 qualifying: 18
Race 8 result: 14
Race 9 qualifying: 17
Race 9 result: 16
Championship position: 22nd
"We tried a lot of things this weekend, and we're learning," said Michael Caruso.
"We're building our data base, so when we're in a position to challenge for race wins, we'll be very competitive."
2013 V8 SUPERCARS CHAMPIONSHIP
1. Will Davison 697
2. Jamie Whincup 681
3. Craig Lowndes 591
4. Garth Tander 553
5. Fabian Coulthard 552
6. Jason Bright 539
7. Shane Van Gisbergen 532
8. James Courtney 510
9. Jonathon Webb 477
10. Scott McLaughlin 457
13. Rick Kelly (#15 Jack Daniel's Nissan Altima) 378
15. James Moffat (#360 Norton 360 Nissan Altima) 349
22. Michael Caruso (#36 Norton 360 Nissan Altima) 268
27. Todd Kelly (#7 Jack Daniel's Nissan Altima) 151