Motoring Minute weekly news for Saturday 5 March 2022 lets listeners and readers find out about the latest of news for car enthusiasts of the International and Australian Automotive landscape. 
First up this week, our roving reporter David Brown bring us news from the KIA EV6 launch.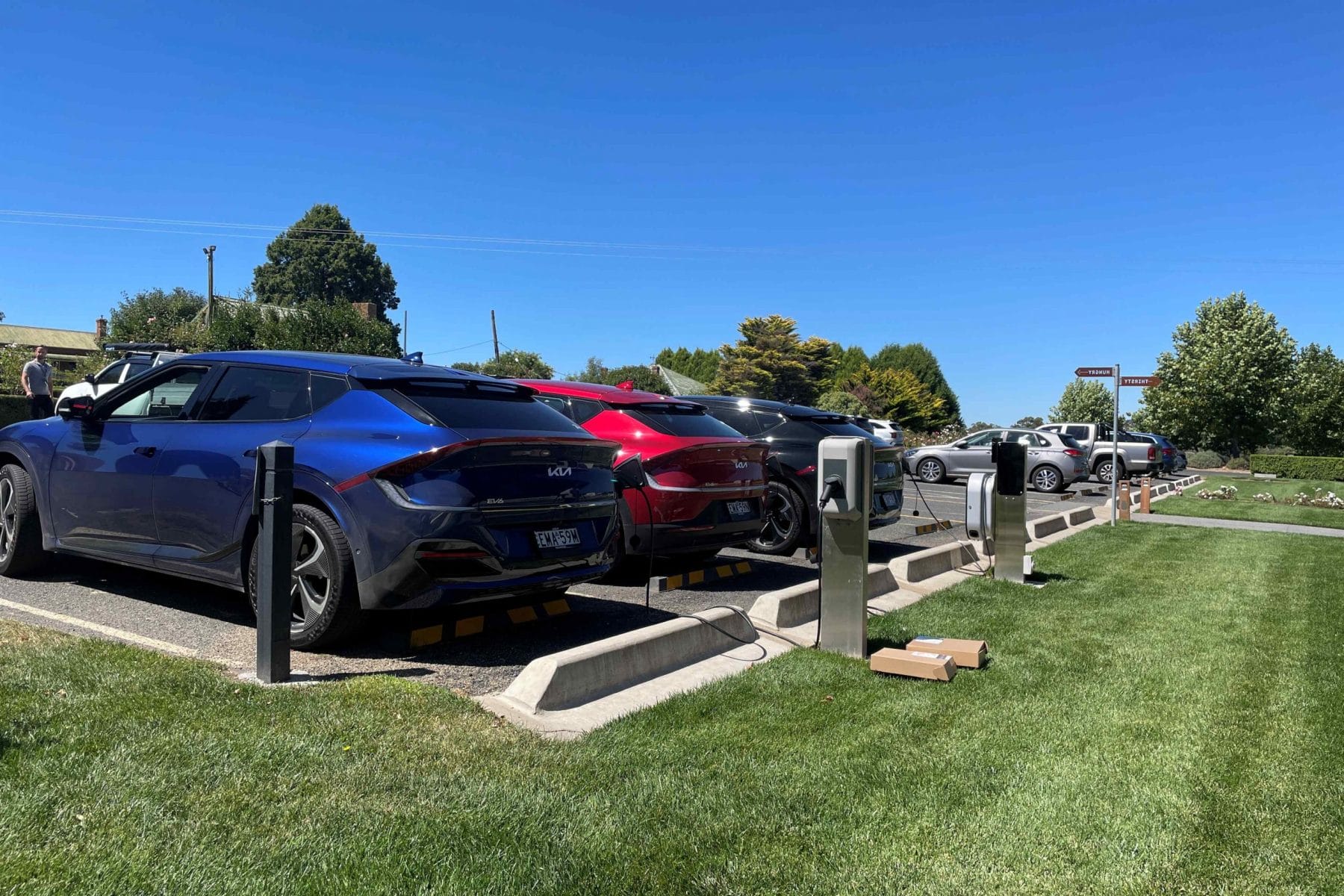 Kia becomes more prestigious with the EV6
Kia has launched their electric large SUV the EV6.
The vehicle with eye-catching appearance, many features and great performance is now their halo car as the brand becomes more prestigious.
Two equipment levels, Air (only in two-wheel drive) and GT-Line (in two or four wheel drive)
All models have a 77.4 kwh battery and the range varies from 484 km to 528 km.
Red is the standard colour, most other colours cost and additional $520. The GT line has a Kia first: a matt finish called Moonscape with an additional cost of $3,295
All models have a locally tuned suspension to suit Australian roads and it handled the twisting roads in the ACT rural areas very well.
The head up display on the GT-Line, with a wide lay out is class leading
Prices before on road costs range from $68,000 to $83,000.
Graham Gambold is the expert suspension tuner. We caught up with him at the launch and began by asking him about the difference between tuning a traditional internal combustion engine vehicle and this new electric car.
Graham Gambold: Well, a global modular platform Kia have developed for this car and others is dedicated to electric vehicles, so it doesn't have a transmission tunnel and it doesn't have a large opening in the rear for fuel tank and all that sort of thing. So the battery is lying under the floor which gives a very low centre of gravity, but it also gives the axles with the suspension is connected to the car as separate units, and it gives the vehicle a completely different drive dynamic.
It's a heavy car compared to some.
DB: Big springs?
Graham Gambold: So same springs as a heavy SUV vehicle, but 30 percent or 30-35 percent lighter stabiliser bars to a passenger car.
DB: So why is that, because of the weight?
Graham Gambold: We don't need the lateral full support for mechanical devices like stabiliser bars, so the car's got a lot of vertical mass to control, but not a lot of lateral mass to control it sort of manages itself because the batteries being wide and flat under the car
DB: That's to the advantage of the vehicle
Graham Gambold: An advantage of handling and an advantage of ride, but a challenge for the engineers to get right and sort out; and this being our first modular platform vehicle, electric motor platform vehicle, it was a new experience for us, so a lot of our numbers in our simulation that we changed, and that started off with a bit of guestimation and validation of the actual vehicle.
DB: Other luxury prestige car manufacturers have developed big SUVs that handle very well, but they're very expensive, and they include some very heavy technology in the suspension.
Graham Gambold: Well, this car is conventionally coil sprung. So it's got no old style springs. Conventional shocks absorbers in terms of not being electronic, conventional stabiliser bars, mechanical springs. A lot of high end European and other marque SUVs, all of those are electronically controlled. So this cars got none of that when.
TO LISTEN TO THE RADIO REVIEW CLICK BELOW

Car Sales continue to recover 
A total of 85,340 vehicles were sold in February. This represents a 1.6 per cent increase on February 2021 figures.
While demand remains buoyant, there are considerable delays for many models and the global supply chain definitely hasn't fully recovered nor has the supply of microprocessors.
Some interesting things that come from the sales figures. Four out of the top ten models sold were Utes. However the perennially popular Ford Ranger has slipped, as news of the new model filters through.
Three of the top ten selling models were from Toyota.
There were mixed results across the various states, with some showing increases and some decreases.
Sales of SUVs continue to dominate now making up some 53% of sales YTD and Light commercial vehicles still riding on the back of changing consumer behaviours are about 25% of sales.
Toyota continues its market leadership with twice as many cars sold YTD as the number two spot held by Mazda.  The rest of the top ten in order are Mitsubishi, Kia, Hyundai and Ford.  MG continues its meteoric rise, followed by Subaru, Isuzu and Nissan rounding out the ten.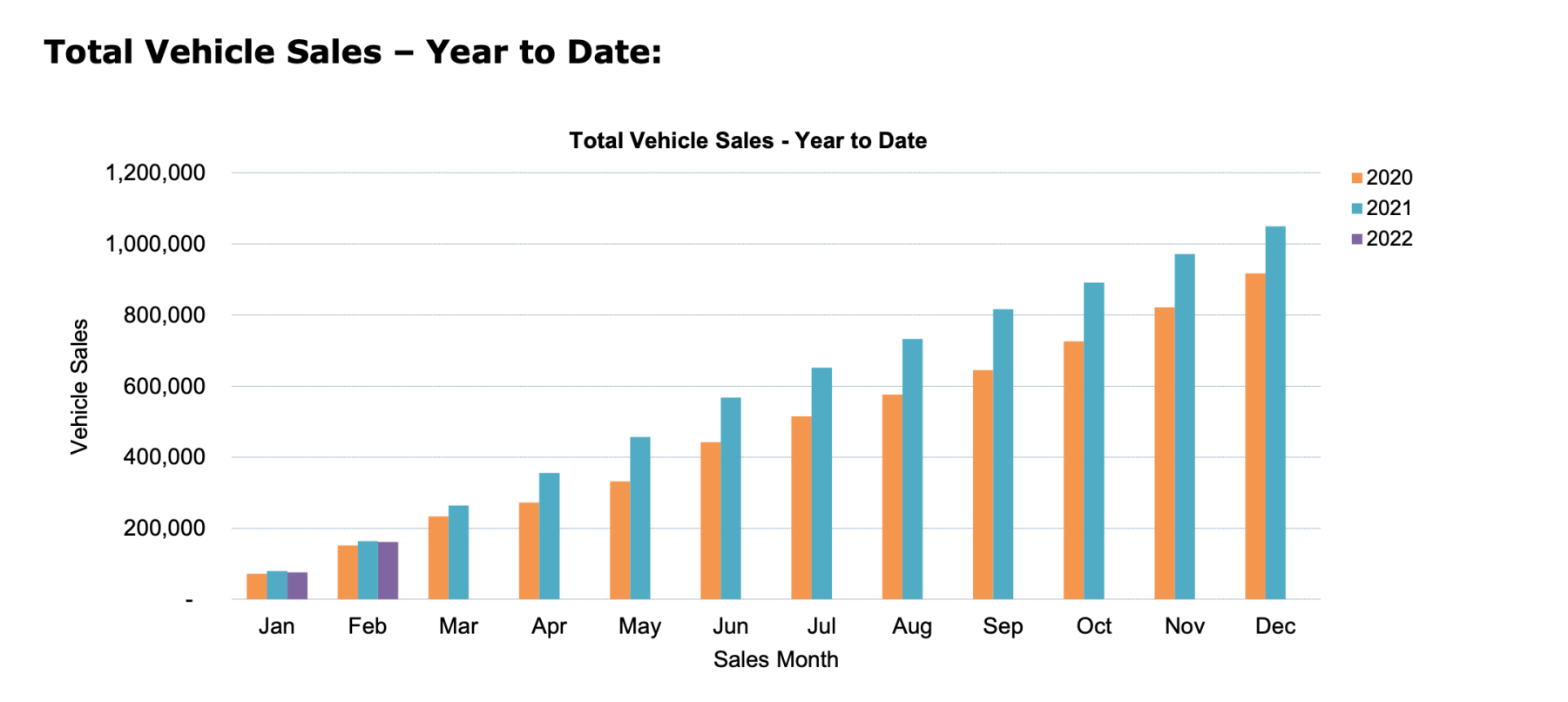 Sales in the Australian Capital Territory were down 2.6 per cent compared with the same period in 2021, with 1,356 vehicles sold. New South Wales sales were down 3.5 per cent with 26,360 sold. Northern Territory sales decreased by 5.6 per cent with 705 vehicles sold. Queensland sales were up 3.8 per cent with 18,962 vehicles sold. South Australian sales increased by 8.9 per cent with 5,810 vehicles sold. Tasmanian sales increased by 16.6 per cent with 1,561 vehicles sold. Victorian sales increased by 5.5 per cent with 22,177 vehicles sold. Sales in Western Australia were down 1.7 per cent with 8,409 vehicles sold.
Toyota was again the market leader in February 2022 with 20,886 vehicles sold. Toyota was followed by Mazda with 8,782, Mitsubishi with 7,813, Kia with 5,881 and Hyundai came in fifth place with 5,649.
Toyota's Hilux was the highest selling model with 4,803 sold. The Toyota RAV4 came in second place with 4,454 sold.  Mitsubishi's Triton was in third place with 3,811 sold. The Ford Ranger took out fourth place with 3,455 vehicles sold. Toyota's Prado was in fifth place with 2,778 sold.
Also from David Brown who attended the reveal of the beautiful Audi s-tron gt and RS GT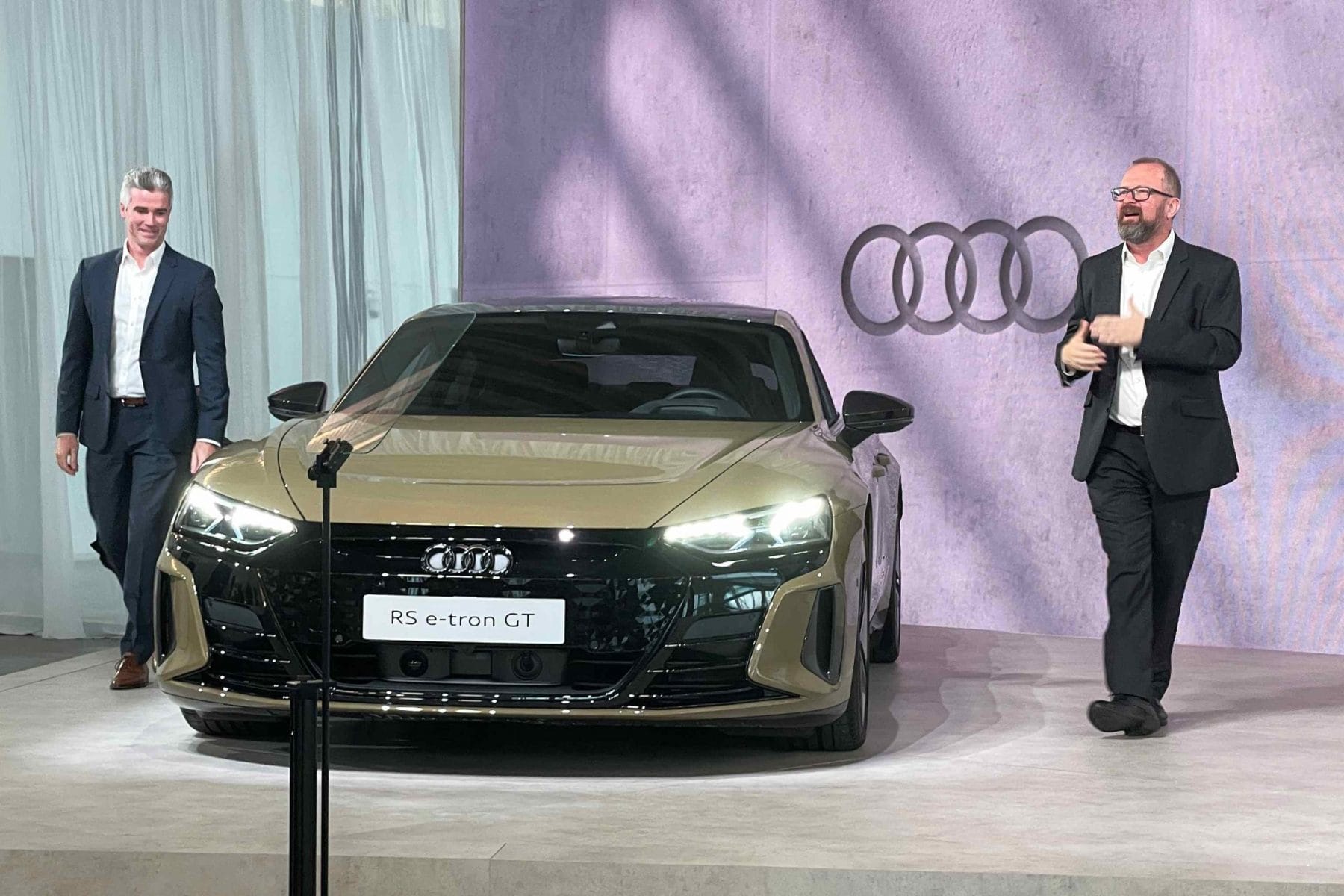 Audi e-tron GT – It's about performance and style
Audi has shown Australia for the first time an electric vehicle with style and supercar performance.
The e-tron GT is a four-door fastback with a wide, low, sleek, flowing design. With supply constraints, however, it will not be in the show rooms here until September 2022 at the earliest.
This is truly a performance car with both of the two variants having all wheel drive.
The power figures are staggering. The base model e-tron GT has 350kW (which you can boost to 390kW for a short time) and 630 Nm of torque
If that is not enough there is the RS e-tron GT with 440kW (boosted to 475) that's nearly 640 hp in the old measurement and it has 830 Nm of torque. You do not normally see those sort of torque figures unless it is a thumping big twin turboed diesel. The acceleration for 0-100 km/hr in 3.3 seconds which is high class supercar territory.
The GT will accelerate form zero to 100km/hr in 4.1 seconds while the RS takes just 3.3 seconds.
Power comes from a 93kWh battery about the same capacity as the Jaguar i-pace.
The efficiency is enhanced with a two-stage planetary gear box that will drop into a higher ratio at highway speeds. This is the start of using gears in electric vehicles for greater efficiency.
The price starts at $181,700, and reaches nearly a quarter of a million dollars plus on road costs.
Experience from Kia and their EV6 has shown that sustainability is still a critical issue although it may not be the top issue in looking at purchasing a car.
But it is very important for the image of the brand
Shaun Cleary the Corporate communications manager at Audi Australia, in opening the Audi presentation, noted in part:
"The e-tron GT rolls off our production line at the Audi Sport Facility in Neckarsulm, Germany. You might know the facility there as it's on a shared assembly line with the legendary Audi R8.
The e-tron GT, whose entire production process is net carbon neutral, which is important for the car for the times we live in and for prospective owners of this exceptional vehicle.
Sustainability is an important theme for Audi Australia. Since 2021, our business operations have been powered by renewable energy sourced from the capital wind farm near Canberra. Even today, the carbon emissions produced by this event have been offset on behalf of all of our guests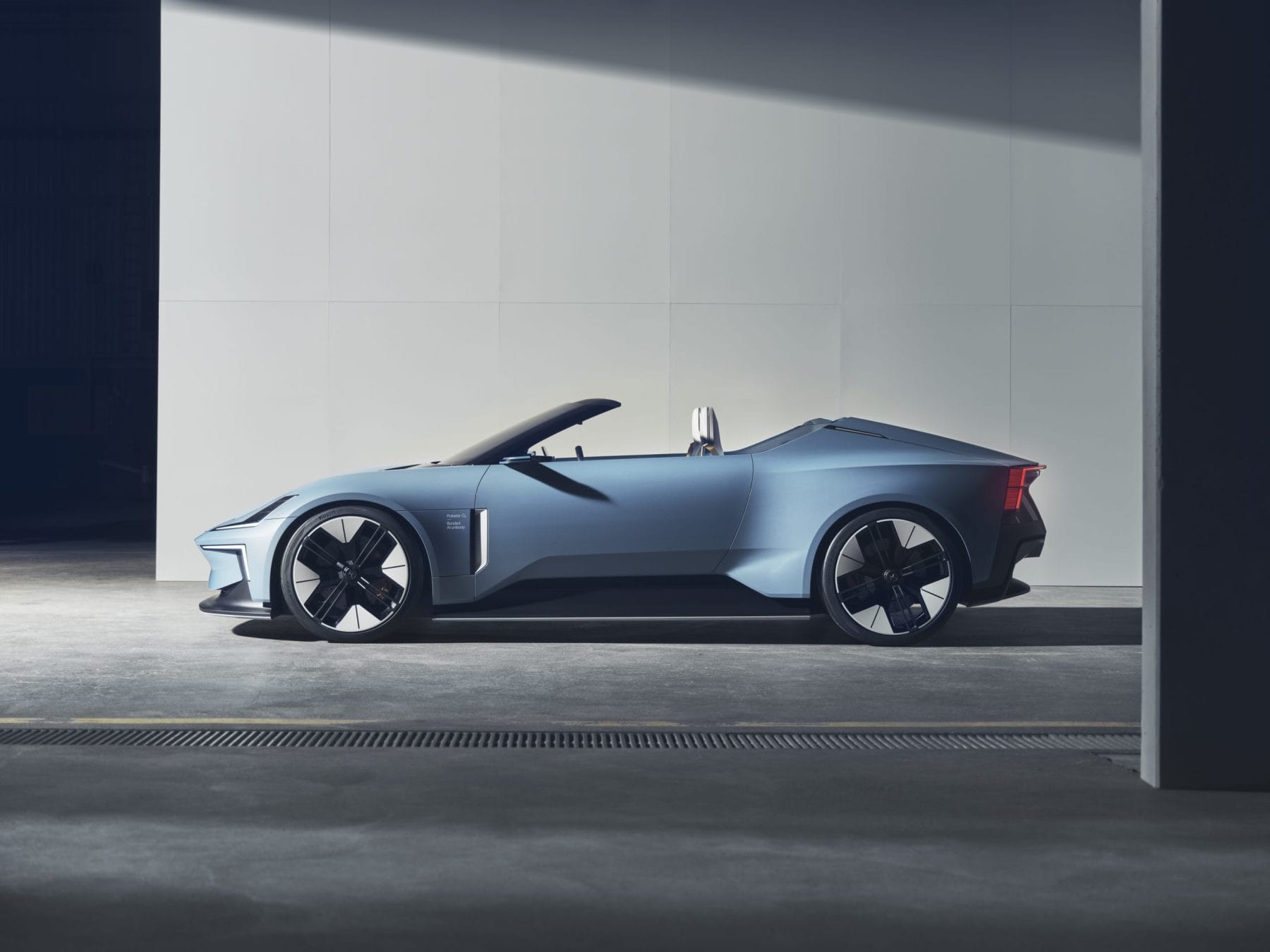 Polestar O2 concept envisions new age for electric roadsters
Polestar, the pure play electric performance car brand, has revealed a new concept car that redefines sports roadsters for the electric age. Named Polestar O2, the hard-top convertible is Polestar's vision of open-top performance and a thrilling driving experience – with all the benefits of electric mobility.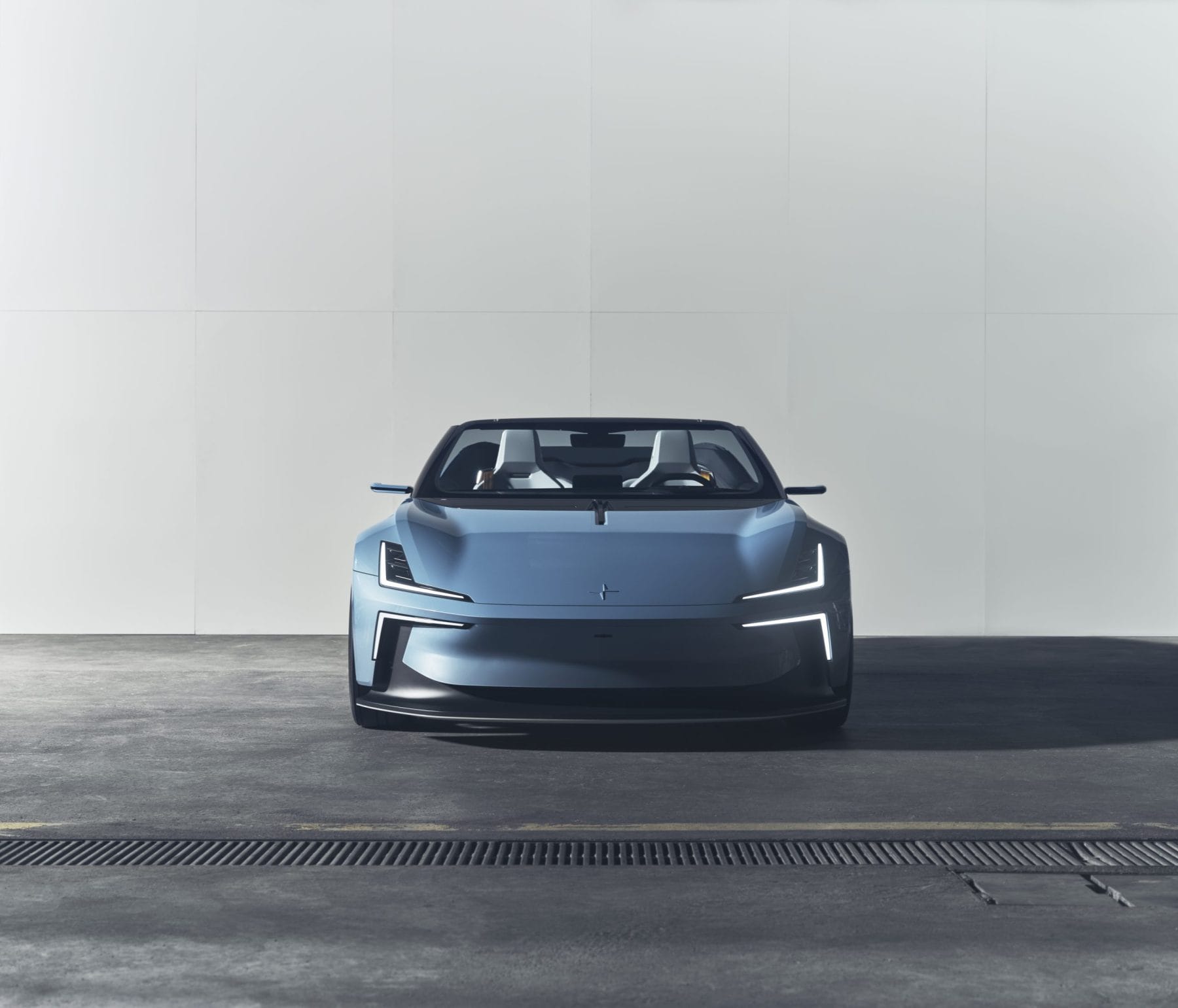 The low and wide body with an assertive stance, compact 2+2 cabin design, minimal overhangs and a long wheelbase, embody classic sports car proportions but with a clearly modern, electric feel.
Polestar O2 also showcases advances in sustainability and technology.
However one of the pure joys of open top motoring is to hear the rasp of an exhaust note. I wonder how driving with no engine noise will appeal.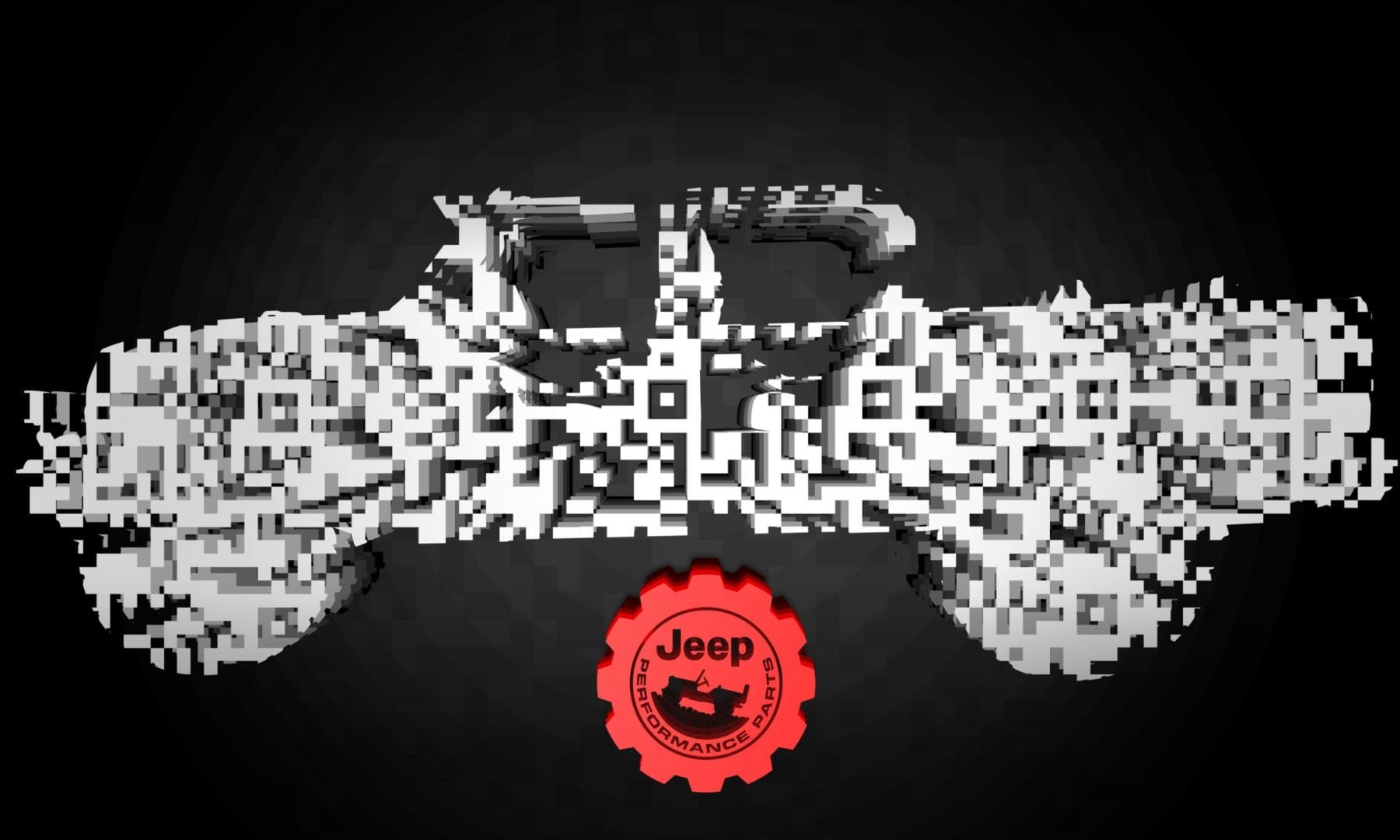 Jeep Performance Parts Concepts Heading to the 56th Annual Easter Jeep Safari
The Jeep® brand is headed back to its 'home away from home' – Moab, Utah, – for the 56th annual Easter Jeep Safari, scheduled for April 9-17, 2022.
For more than five decades, thousands of enthusiasts and Jeep brand loyalists gather to take part in one of the largest off-road gatherings in the world hosted by Moab's Red Rock 4-Wheelers club.
The Jeep brand and Jeep Performance Parts (JPP) design teams are hard at work once again creating several one-of-a-kind Jeep concept vehicles that will take four-wheeling to the next level and prove why there's nothing quite like legendary Jeep 4×4 capability.
A sneak peek behind the curtain shows what's in store for this year's Easter Jeep Safari lineup. Jeep and JPP sketches hot off the drawing table hint at two of the new concept vehicles, including one 4xe electrified Jeep SUV that will certainly conquer even the most tumultuous terrain along the back-country trails of Moab and further highlight the Jeep brand's vision of accomplishing Zero Emission Freedom.
This is the Motoring Minute Weekly News
Im Rob Fraser
Motoring Minutes are heard around Australia every day on over 50 radio channels through the Torque Radio network. 
Motoring Minute has an average daily audience of over 150,000 listeners. That's over 750,000 listeners a week.
Motoring Minute is also broadcast as part of Overdrive Radio Program, which is broadcast through the Community Radio Network across Australia.
Motoring Minutes are also syndicated through various news sites around Australia