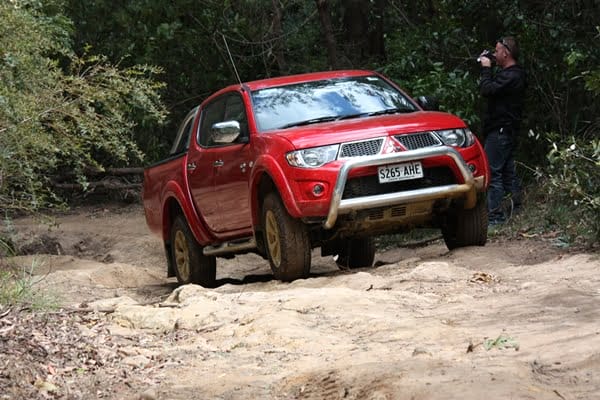 The vehicle on test is a Mitsubishi Triton GLX-R dual cab turbo diesel fitted with the 5 speed sports auto, super select transfer case, rear diff lock and MMCS (Mitsubishi Multi Communication System).
The Triton has a smooth flowing body hiding the fact that it has actually got a reasonable cargo area and payload. Inside the Triton, the finish is not bad for a work Ute. The driver's seat is reasonably comfortable with firm support on the base and back but misses out on lumbar support and squab adjustment. There is room in the back for two adults to sit comfortably for short trips and children will be good for the long haul, however three would be a bit squeezy.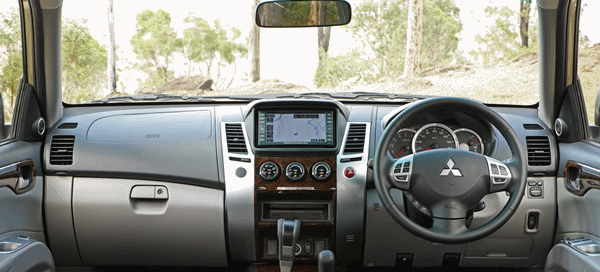 The driving position with height adjustable leather steering has reasonable over bonnet visibility and overall visibility is excellent.
The MMCS works a treat with intuitive Bluetooth connection and clear sound. The mapping software was good with reasonable coverage off road but I wouldn't want to rely on it if you go too far off the beaten track. The only thing that let it down was the lack of reversing camera.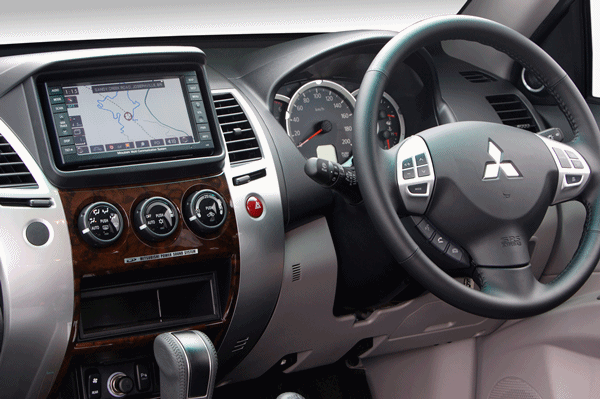 Mitsubishi's All Terrain Technology (MATT) is standard on all GLX-R models, and features the acclaimed Super Select four-wheel drive system, which includes Active Stability & Traction Control, Multi Mode ABS, Electronic Brake Force Distribution and an optional Diff Lock.
The GLX-R has standard driver and front passenger SRS airbags, front and rear door impact bars, ABS brakes with Electronic Brakeforce Distribution, front seatbelt pretensioners and child restraint points.
The Active Stability Control works pretty well as I found out on a heavily corrugated dirt road when the vehicle took action to correct a pending slide. The Triton suffers from the same rough ride that all leaf sprung utes suffer from. If you are carrying a load all week and having a bit of fun on the weekend then this isn't a problem but if you are using it as a vehicle to commute to and from work with occasional load carrying and the odd big trip then a set of aftermarket springs would make life a lot more comfortable.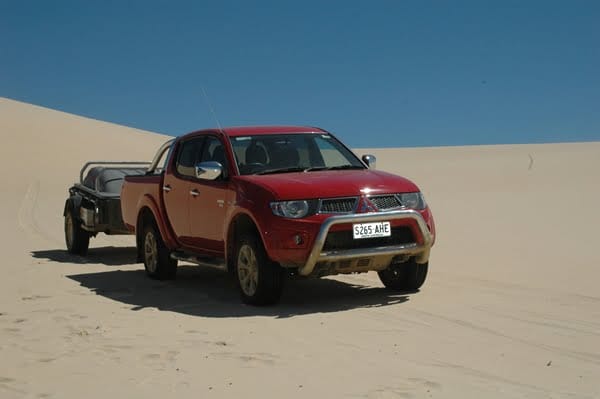 The GLX-R has a gutsy 2.5L common rail intercooled turbo diesel engine producing 131kW of power and 350Nm of torque for the auto. Off idle there was a moment of turbo lag before it kicked in but then there was plenty of power to keep you moving. It is however a bit noisy.
Transmission ratios seem well spaced as there was little hunting experienced and off road in low range it was easy to keep the revs in the torque range.
Climbing up through the hills out of Sydney the Triton took them in its stride only kicking down when given a bit of right boot or getting stuck behind slow moving traffic. Engine braking was good enough to moderate speed on the steep down hills but off road there was still a little brake application required as there is no descent control.
The roll bar on the tub is like most utes in similar trim specs, largely ornamental as there are no ears to secure loads to prevent them shifting and no tie down points in the tub.
I found the triton to be a good off roader. It went everywhere we pointed it and only touched underneath once or twice on the more difficult sections but with the traction aids engaged made it through. The rear diff lock is rarely needed and wheel articulation is excellent, especially in the back as it took some pretty gnarly terrain to get the wheels off the ground.
A snorkel would also be a good investment if frequent creek crossings were planned as the intake is situated on top of the radiator. There is also good towing capacity at 3000kg with 300kg ball weight and with a 938kg payload means it will take a lot of gear.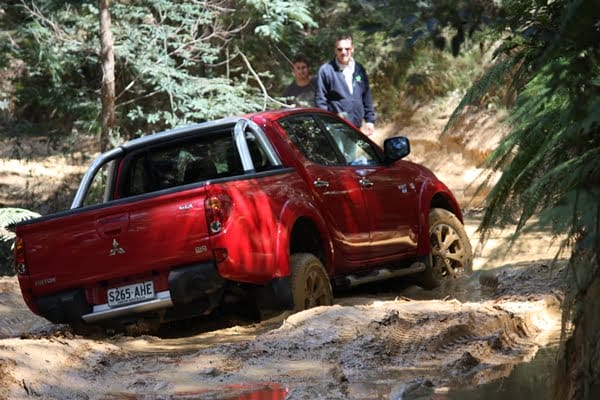 All things taken into account this is a good vehicle for the worker who wants to take the family away on the weekend or those who don't want to get into the wagon market. For a stock vehicle it took everything I dished out to it within its limits and would take you to most places in Australia and with a little bit of aftermarket gear would take you the rest of the way.
There are lots of genuine and aftermarket accessories available allowing you to customise to your needs.
What is good:
• 4WD/stability system
• Load carrying
• Rear diff lock
What is not so good:
• Unladen ride
• No reverse camera with MMCS
• Lack of hill descent control
Model Mitsubishi Triton GLX-R
Model Price $57,750 RDAP
Drivetrain 4WD 2.5L Diesel 5 speed auto
Power 131 Kw @ 4,000 rpm
Torque 350 Nm @ 2,000 rpm
Safety 4 Star ANCAP
CO2 Emissions 253 g/km
Green Vehicle Rating 2½ Star
Economy (ADR comb) 9.6 L/100km
Tow Capacity Max 3000 kg
Tow Ball Rating 300 kg
Servicing $2,020 – 3yrs/60,000km
Warranty 5yr/130,000 km with full roadside assist
Overall OzRoamer Rating 85/100
Behind the Wheel 8
Comfort 8
Equipment 7
Performance 8
Ride & Handling 8
Practicality 10
Fit for Purpose 10
Towing Ability 9
Off Road Ability 9
Value for Money 8