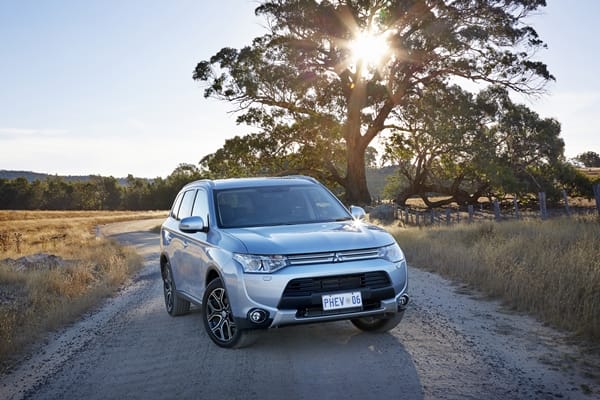 Mitsubishi may have found the holy grail of AWD SUV power plants with its all new PHEV Outlander. The MY14.5 update of the Outlander includes two models with the PHEV engine. PHEV stands for Plug in Hybrid Electric Vehicle. Yes that's right it's a normal petrol engine that is a hybrid as well as an all electric vehicle that plugs in at night. Talk about hedging your bets.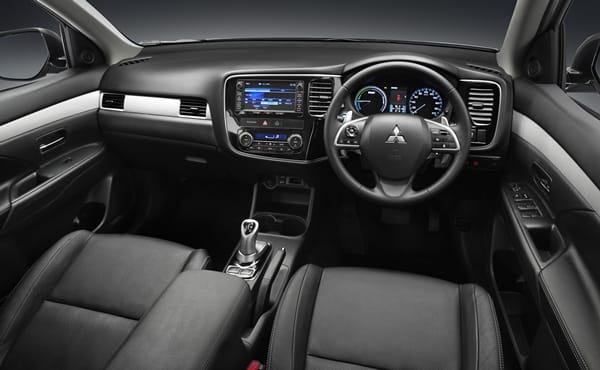 The PHEV Outlander comes in two models, the PHEV AWD (at around $47,490 MLP) and the PHEV AWD ASPIRE. (at around $52,490 MLP). Unlike a lot of electric or hybrid vehicles that come with a hefty price premium, The PHEV Outlander is reasonably priced for a medium sized AWD SUV and comes packed not only with the technological marvel engine but a host of safety and comfort features as well.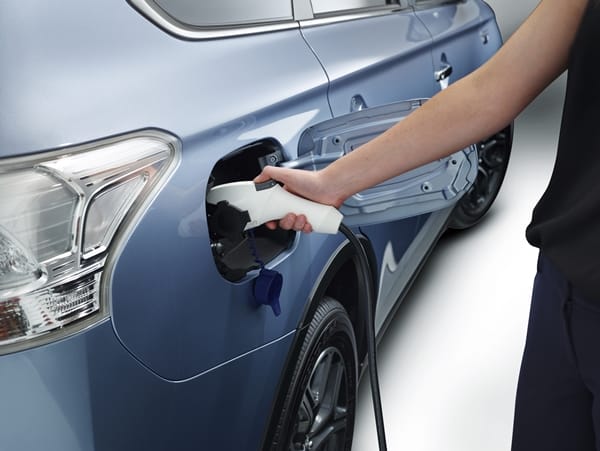 So basically it is an updated restyled Outlander with a complicated engine combination. As this is a first impressions review I won't go into all the details here but suffice to say that a figure of 332Nm of torque from a standing start is impressive. Yes that's right 332 Nm of torque instantly available for towing or sand driving etc.
The other impressive feature of the 2.0L petrol engine is an ADR combined fuel economy figure of 1.9l/100km. That's not bad considering the vehicle weighs a hefty 1800 odd kg. On the launch we drove an 80km test loop around Canberra and achieved for the most part that figure, except for that last few km where it went to 2.2l/100km. So normal driving should see about 4-5l/100km. We will test this on a longer drive and let you know in our next review.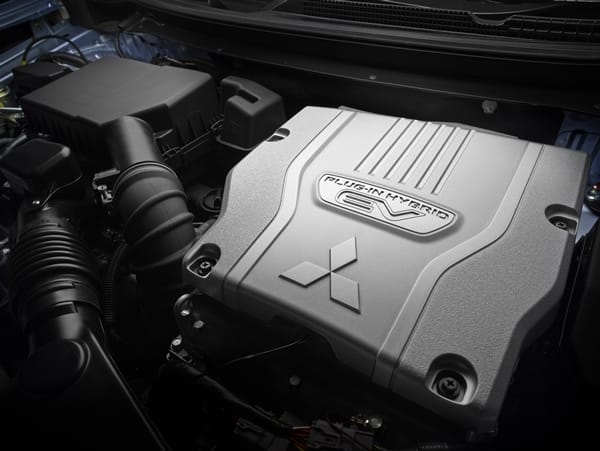 So how does it all work. Basically there is the standard 2.0l petrol engine that produces maximum power of 87kW@4500rpm and maximum torque 186Nm@4500rpm. On top of this there is a 300v Lithium Ion battery that drives 2x60Kw electric motors. The front electric motor produces 137Nm and the rear produces 195Nm. That is where the 332Nm total instantaneous torque comes from. Here is where the clever bit starts. The petrol engine can act like a generator and charge the battery while driving and produce another 60Kw of power front and back as well while still on battery power. If more than 120Kw of power is needed the petrol engine kicks in and drives the front wheels.
In addition to this when you get home at night just plug it into a 15amp plug and next morning you are ready to go again. A full charge costs around $3- $3.60 per charge. Distance is around 50km on EV power alone.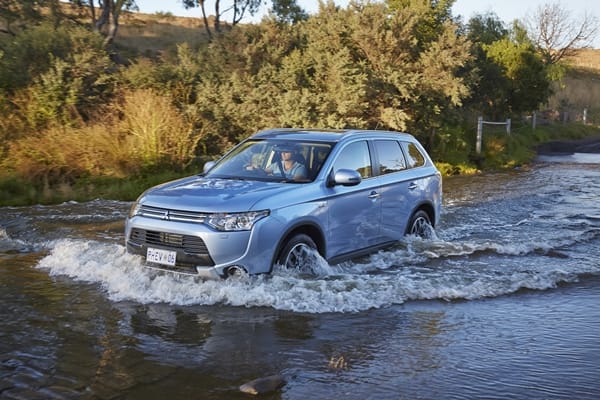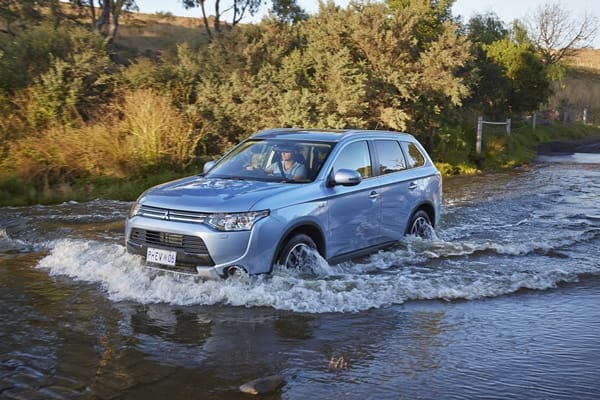 lets allow Mitsubishi to explain it better
Drive Modes
The Outlander PHEVs default operation is EV Drive mode, but the system will automatically select the ideal driving mode based on performance and speed demands to optimise efficiency. The engine will start to either act as a generator or provide drive directly to the front wheels, with assistance from the electric motors.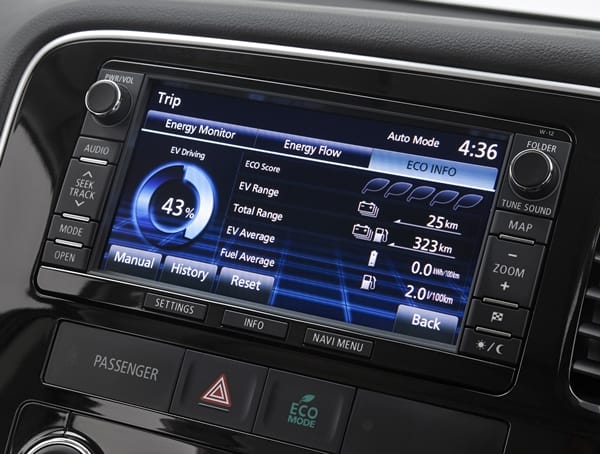 EV Drive Mode: Drive by front and rear electric motors
EV Drive mode is an all-electric mode in which the front and rear motors drive the vehicle using only electric power from the drive battery. Zero CO2 emissions and petrol consumption up to a maximum of 120km/h
Series Hybrid Mode: Engine generator assists electric motors
The electric motors power the vehicle using engine-generated electric power to supplement the energy provided by the drive battery. The system switches to this mode when the remaining battery charge falls below a predetermined level or more performance is required, such as accelerating to pass a vehicle or climbing steep inclines.
Parallel Hybrid Mode: Motors assist engine drive
The PHEV switches to Parallel mode when the vehicle reaches higher speeds with assistance from the electric motors when extra power is required for overtaking manoeuvres or steep inclines. In this mode the high-efficiency petrol engine provides direct drive to the front wheels, assisted by the electric motors.
It's all rather clever and complicated yet simple at the same time, and it really works in real life situations. Range anxiety is a thing of the past.
We will have another review of the PHEV Outlander very soon but suffice to say that this may be the most sophisticated AWD SUV engine on the planet at the moment. It is a complicated piece of work that works exceptionally well in real life and well worth a look. This is another model in the range, not an odd man out vehicle that stands alone. If you are in the market for a midsized AWD SUV that also has an alternative fuel delivery source that is seamless but still allows exceptional fuel economy without sacrificing daily comfort, then the PHEV Outlander should be top of your list to have a look at. Yes Mitsubishi have taken the game to another level.