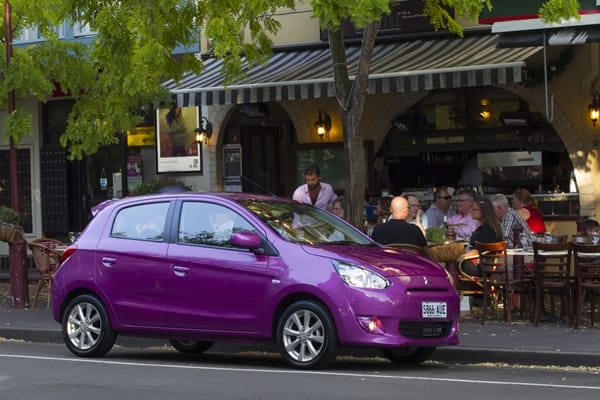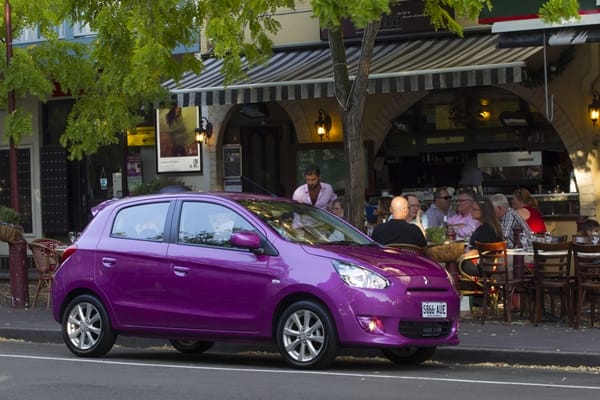 It is always exciting when a manufacture enters a market with a bang, and that's just what Mitsubishi has done. The new Mirage commands attention, especially in they eye-catching "LOOK AT ME" Mulberry colour. While it may don the same name, the new Mirage has altered and improved since its last model, transforming into a purpose fit car jam packed with value for money.
First of all, let me explain about the light car category that the Mirage fits into. Many members of the public are unaware that 'small' and 'light' cars are completely different. A 'light' car is just that, it weighs less than most! A lighter weight means better performance on a smaller engine, better fuel efficiency and loads more. To help you understand where the Mirage is sitting in the market, it is in direct competition with the Volkswagen UP!, Suzuki Alto, Holden Barina Spark and the Nissan Micra.
The Mitsubishi Mirage comes in three models – entry level 'ES', mid-level 'Sport' and top of the range 'LS' – all of which are powered by a 1.2L 3 cylinder petrol engine available in both 5 speed manual and CVT automatic. Earlier this week at the launch we were able to drive a range of the cars through the CBD all the way out to Galston Gorge and back, really putting the car through its paces in city driving, suburbs, hair pin turns and peak hour traffic.
While we had the opportunity to drive both automatic and manual versions of the Mirage, many of the journalists – myself included – preferred the automatic. Providing a smoother transition and the added bonus of slipping into the 'B' – braking – gear, the CVT was a clear winner. Despite this, both were more than capable of keeping speed while overtaking and providing a swift take off from a standpoint. The maximum power stands at 57kW @ 6000rpm and the torque peaks at 100Nm @ 4000rpm.While it's no race car, it's all about fit for purpose and Mitsubishi has achieved that!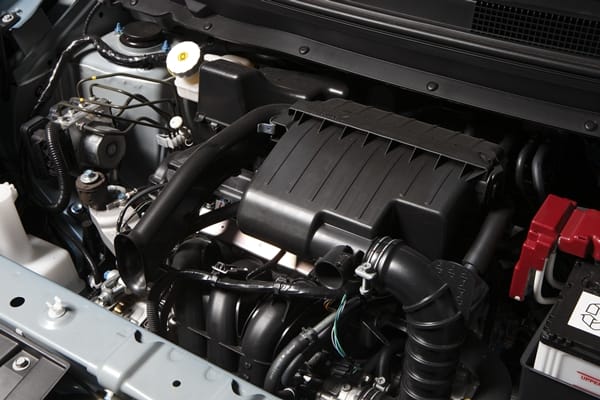 While we're on the subject, the Mirage has managed to snatch the title of the most fuel efficient compact car off the Suzuki Alto, coming in with a combined fuel consumption of 4.6L/100km. On our testing we noticed the fuel consumption sat around 6.5L/100km, which is by no means a fuel guzzler and I was very pleased, especially considering we sat in a lot of stop and start traffic. Another title the Mitsubishi Mirage can proudly claim is that of emissions leadership, which exhaust CO2 only 109g/km.
Enough about the stats, let's talk about what really matters in today's market, looks! Before we go any further I must confess my love of the 'Mulberry' colour, something I told anyone who would listen on the launch. Most of the gentlemen surprisingly didn't share my enthusiasm and my remarks were often met with shaking heads. Sure it may not be everyone's cup of tea, but as a 19 year old girl, and in the target market, I say its fantastic! The pearl illuminated, almost neon purple, radiates fun and is very easy to spot in traffic. The most important thing is it's different, a talking point and you can't help but feel happy when you're driving what feels like a giant purple bubble!
Mitsubishi has dramatically altered the shape of the Mirage to make it a taller, more curvaceous design that is refreshingly clean and contemporary without looking like something sent from outer space! The narrow grille, rear spoiler (on the Sport & LS), alloy wheels (14" on the Sport & 15" on the LS) and body coloured mirrors and door handles, the Mirage is an attractive car. I can't help but seeing the similarity to a balloon, I may be losing it however!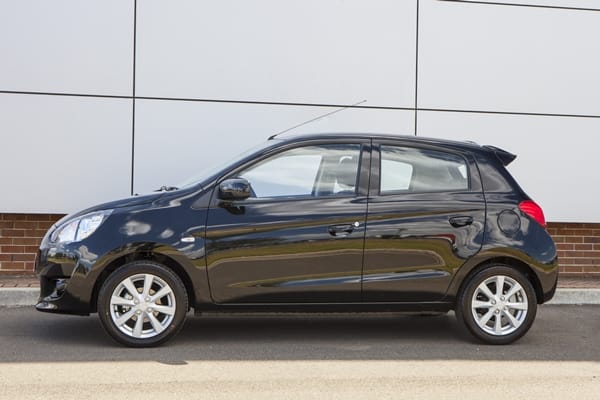 While the exciting Mulberry colour has been mentioned, the Mirage also comes in white, silver, red, blue & black. Disappointingly however, the blue and black are not available in the entry level ES. Why this is I have no idea, especially the essential and basic black.
Once inside the boot space is rather generous for a car this size, however I wouldn't plan on filling the car up with friends and their luggage for more than a weekend. The dash and radio display mirrors the overall description of the car, basic yet functional and stylish. What is missing however is a centre console and its absence is noticed, especially with my abundance of keys, phones, spare change, lip gloss and other knick-knacks.
The shelf above the glove box is a welcomed addition however. The two tone beige and black interior is refreshing and helps add to the feeling of spaciousness. The seats are comfortable for what you would expect in a car like this. What you wouldn't expect, and if a welcome discovery, is a foot rest for your left foot and a heel rest under the accelerator, providing a very comfortable driving position.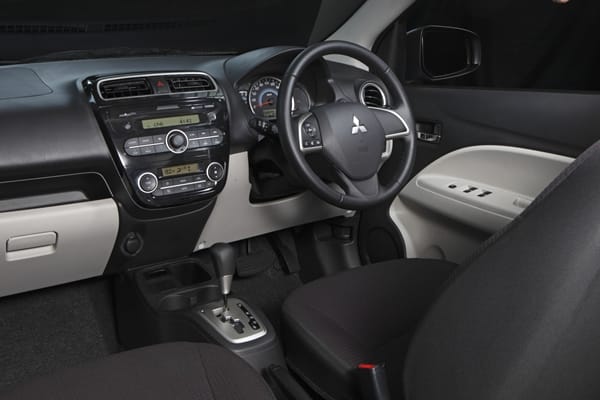 The leather bound steering wheel sits comfortably in your hands and houses handy audio and phone controls. The Mirage does miss the cruise control function, something its competitors the Volkswagen UP and Holden Barina Spark have – begging the question, why doesn't the Mirage.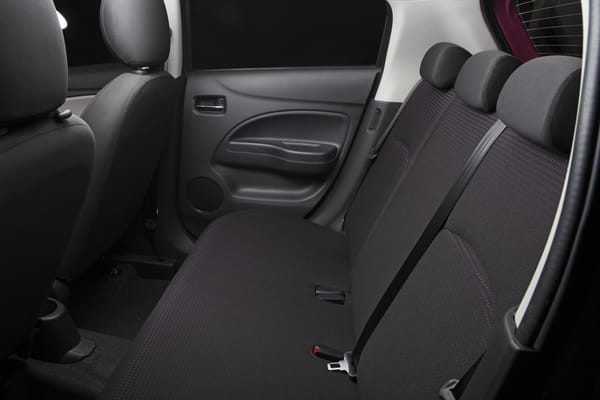 The cloth seats fold 60:40 creating an adaptable boot space. One thing that is surprising is the fact that the old style lever air conditioning controls on the ES and Sport (LS has digital climate control), actually fits in nicely with the fun and basic design.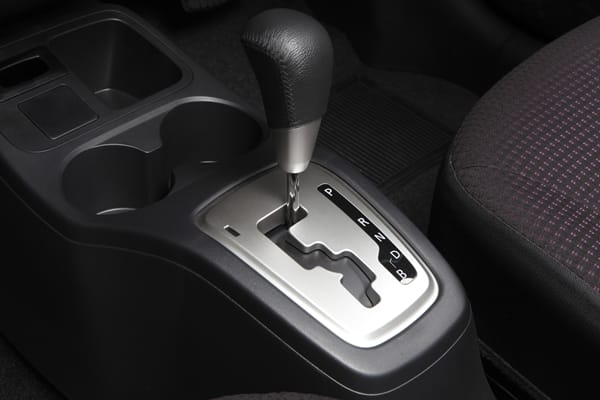 The bottle holders in the doors come in handy however when I went to check my make up in the mirror in the passenger seat, I was surprised to discover that there was no mirror, unlike the driver's side.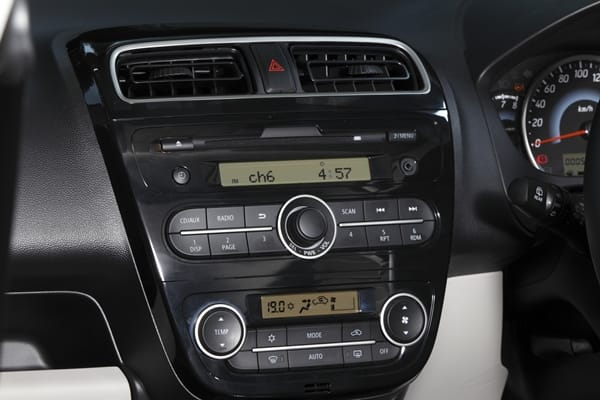 As far as media all the basics are covered, AM/FM radio, CD, MP3, USB/AUX and 2 speakers in the ES and 4 speakers in the Sport & LS. An added bonus Mitsubishi has included in the Mirage is the Bluetooth audio streaming and keyless entry as standard.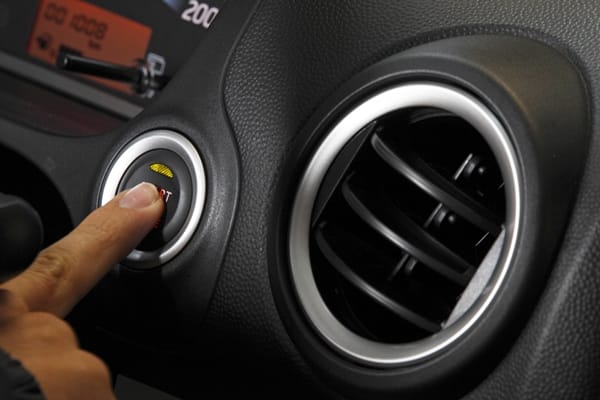 When it comes to safety, which I am a big advocate of, the Mirage has all the essentials. As standard there are 6 airbags, EBD, ABS, HSC, ASC, Reinforced Impact Safety Evolution (RISE) body and plenty more. At the time of our launch, the Mirage was currently undergoing ACAP testing with a rating to be released early February.
Mitsubishi revealed to use that with the Mirage they aimed to create a car that has sex appeal, safety, style, gets you from A to B, has excellent fuel efficiency, a trustworthy track record and won't send you broke – both in the original purchase price and ongoing costs such as fuel and servicing. Speaking on servicing, the Mirage is covered under Mitsubishi's fixed price servicing, coming in at $250 per service for four services (recommended at 15,000 intervals).
It is also covered by the 5 year warranty for peace of mind. Mitsubishi has managed to create a car that ticks all the boxes – function, form, style and most importantly price. A harmonious car that is perfect for first time buyers or downsizers. With the slogan of fun, affordable and imaginative in mind, I believe that Mitsubishi have created a superb car to catapult them into the light car segment and I believe they are set to become front runners for this category!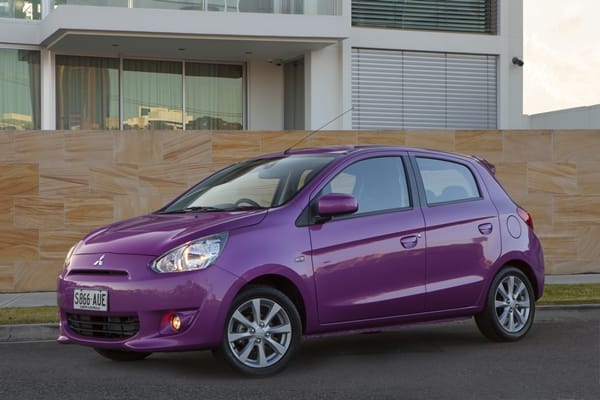 Price Range:
ES Manual: $12,990
ES Automatic: $15,240
Sport Manual: $14,190
Sport Automatic: $16,440
LS Manual: $15,490
LS Automatic: $17,740
How Does it Fare with Competitors?
Volkswagen UP: 55kW/95Nm from UP's 1.0-litre three-cylinder petrol engine. Prices start at $13,990 and it's only available with a five-speed manual transmission which is useless in this market.
Holden Barina Spark: 59kW/107Nm from the 1.2-litre four-cylinder engine and is sharply priced from $12,490. They have just introduced an automatic transmission.
Nissan Micra: offers either a 56kW/100Nm 1.2-litre three-cylinder or a 75kW/136Nm 1.5-litre four-cylinder engine. Prices start at $12,990.
Suzuki Alto: 50kW/90Nm from a 1 litre engine starting at $11,990.