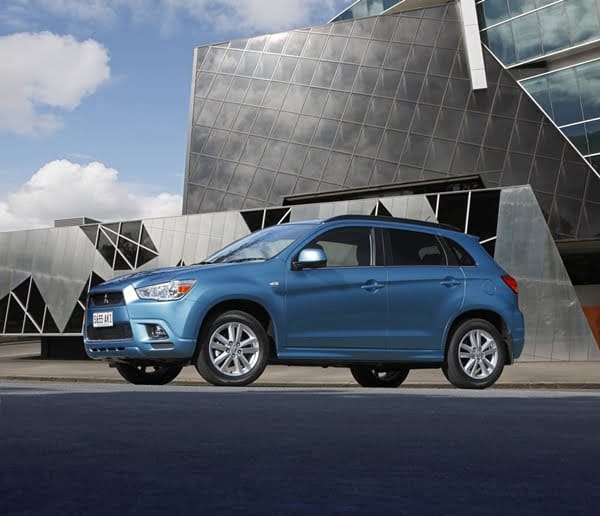 We reviewed the Mitsubishi ASX Aspire 1.8L turbo diesel around 15 months ago, since then the competition has been hotting up, the latest update to the all- terrain compact Mitsubishi's ASX Aspire wagon was released on 15/08/2011. The refreshed range includes a reversing camera for the entire model range as well as new seat materials, new interior finishes and a centre-rear armrest with cup holders and plenty more.
Let's check it out
Behind the Wheel.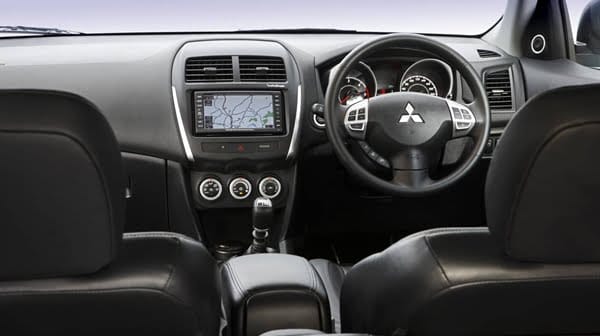 Our test car had an optional moon roof which covered the entire length of the cabin and gave the interior a light open upmarket feel combined with privacy glass and soft-touch surfaces to the door trim, and leather seats, plus all the mod cons you'd expect from a flagship mode. The overall layout is simple, but not cheap-looking and the Aspire impressed with a genuinely quality feel. The driver sits high compared to a regular family hatchback. This gives a good view when driving in town although the high bonnet makes it a bit tricky to judge where the front of the car is. There is a lot of dark black plastic surrounding the dash that is broken across all models by subtle brushed metal trim highlights in the dash and doors.
Performance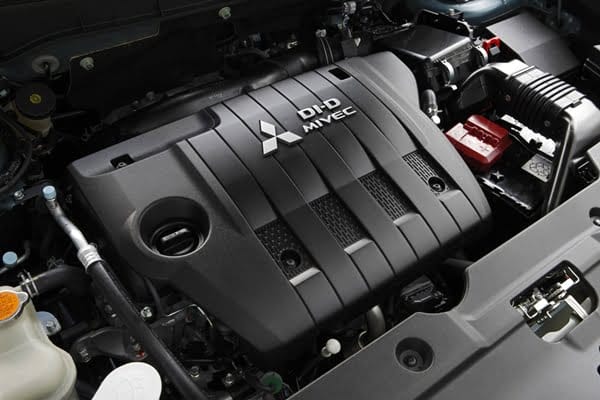 Even though the two engines available on the ASX sound relatively small in capacity for an SUV at 110kW don't be put off – as the 1.8-litre turbo diesel engine has plenty of grunt to keep things moving along well and was surprisingly quiet for a Mitsubishi diesel. As a matter of interest, Mitsubishi says their 1.8-litre turbo diesel engine is the most fuel efficient in class and the world's first passenger car diesel to use variable valve timing. The downside is that the diesel is only mated to a manual gearbox, and the auto option won't be available for 12 months according to Mitsubishi. With all wheels powered, the diesel delivers a strong spread of power and plenty of low-down pulling power that makes for relaxed progress. Against the clock the diesel is also significantly quicker than the petrol. From standstill to 100 kph take low 10s seconds compared to the petrol's low 11s. The manual six-speed gearbox is reasonably slick and matches the engine's power well. Combined with the car's nimble handling it feels a pleasure to use both round town and on more twisty roads. The four-wheel-drive versions offer more grip on slippery surfaces and is sure footed even on bush trails.
Handling
Based on the same platform as the Lancer & Outlander, the ASX could be mistaken for a small Outlander. It uses the same brakes, similar suspension, same 4WD system and many other features of the Outlander. However I believe if you look at the ASX as Lancer on stilts you wouldn't be far off the mark. The car has a higher ground clearance than a Lancer but it handles like a regular hatch and doesn't roll excessively in corners. In fact, the car feels quite nimble especially around town and it inspires confidence when nipping in and out of traffic. Obviously it's not a sports car and you can feel the gravitational forces if you try to treat it like one. But decent, honest steering and a reluctance to let go at the front will keep you out of trouble at the sort of speeds most drivers are comfortable with. Out on more twisty roads the ASX is surprisingly rewarding to drive, while on dual carriageways and motorways the ASX is a competent and quiet cruiser. On some undulating roads the ASX didn't feel fully composed but the cars ride mostly feels secure and smooth while coping well on the dog tracks they call roads around Sydney.
Comfort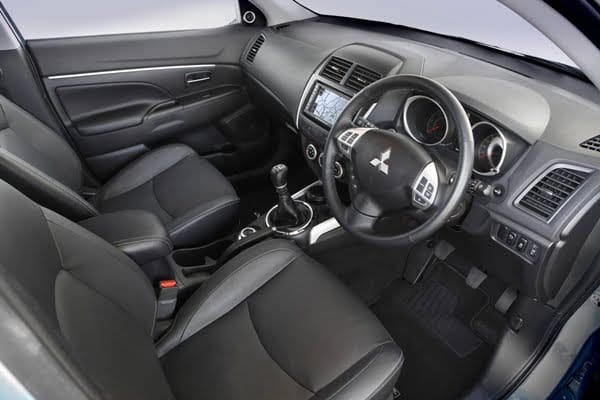 The ASX is roomy, with reasonable space for four adults and five will fit in with a pinch, in reasonable comfort. Due to the same chassis as its big brother, the Outlander – they even share the same wheelbase, but the ASX is 37 centimetres shorter than the Outlander, and the ASX's hatchback body has much less of a "wagon" look to it. So up front, the steering wheel is adjustable for both rake and reach; while the driver's seat is easy to adjust meaning most should find a comfortable driving position. The seats are reasonably supportive and offer reasonable side supports. Rear passengers get good legroom and shoulder room for a car this size, and there is an arm rest. The cockpit feels spacious for what is essentially a small car on stilts. The boot is surprisingly roomy for its compact dimensions, with a volume of 416 litres with the rear seats up, which jumps to a voluminous 1193L with the rears folded flat. The leather seats feel a tad slippery, though they are still supportive enough, with driver's seats electronic adjustments making it easy to get into the right position. The passenger's seat however seat seemed a bit high, and could do with a height adjuster of its own.
Practicality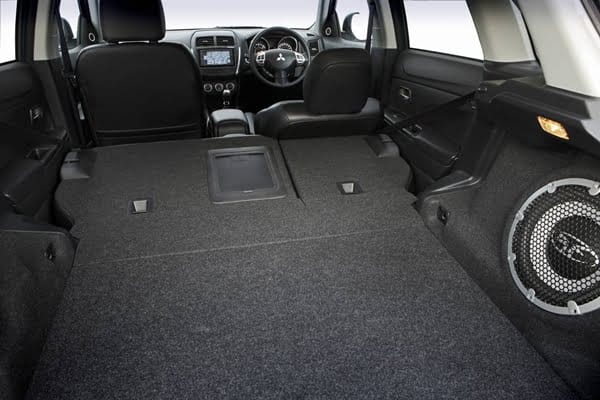 The ASX is a car ideally suited to family motoring. The boot size is bigger than the average small family hatchback at 416 litres that increases to 1,193 litres with rear seats folded. The rear seats are easy to fold and form one flat load space so it's ideal for trips to DIY stores. The back seats spilt on a 60/40 basis for further flexibility, and there is a through-load ski hatch. The boot floor also lifts up to reveal an extra 30 litres of storage space. Up front there are several storage areas including in door pockets that can take a 500ml bottle, large glove box and central console with storage area and cup holders. For those wanting to get off the beaten track, be mindful that this isn't a heavy duty 4X4 but it's as good as the Outlander in fact better because of the weight advantage it offers, so on dirt roads in 4WD it behaves just like an Outlander does, except that it feels more nimble and is capable of getting the family to some out of the way fishing or camping spots. For really rough or slippery off-road conditions, the system provides a 4WD Lock mode that transfers around 1.5 times the torque to the rear wheels to improve traction .The six-speed manual is smooth and precise through the gears.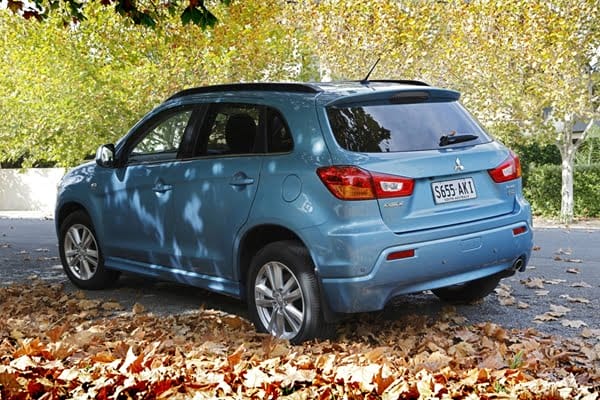 Equipment
Lower spec ASX models now adds an electro-chromatic mirror and camera system as standard, while the top of the range Aspire model gets a few small chrome tweaks to the instrument panel. The top of the range Aspire has a mile of fruit and it is worth checking out the Mitsu website for the full list. In the lower spec ASX line up, Mitsubishi has Convenience Packs starting at $500 and adds hands-free Bluetooth and steering wheel-mounted remote audio controls. The second Convenience Pack adds heated leather seats (electronic adjustment for the driver), fog lights, 17-inch alloy wheels and some extra chrome. Our Aspire also gains Mitsubishi's Multi Communication System (MMCS) so you get a Rockford Fosgate stereo that comes with a 7 " touch-screen display which is also used for the sat-nav and rear camera. In addition it also gains front fog lamps and rear parking sensors. Our top of the line Aspire all-wheel drive combines all the safety, versatility, and comfort features a number of luxury features that are rarely found in this class of vehicle including leather seats with seat heating for driver and front passenger, power driver's seat, keyless operating system with a one-touch start, rain sensing automatic windscreen wipers and dusk sensing automatic lights and chrome accents for the radiator grille and belt line moulding and 17-inch alloys.
Safety
The ASX has scored the maximum five stars in the ANCAP tests so provides a high level of crash protection. It comes with up to seven airbags including driver's knee airbag, electronic stability system, hill start assist that keeps the brakes on while you move your foot from brake to accelerate to pull away uphill. Pedestrian safety is provided by plastic front wings, double bulge bonnet and energy absorbing front bumper.
Summary
Mitsubishi applied more "best bits" from Outlander and Lancer to create a brilliant auto that is great value, practical, and safe with stand-out looks that will make your friends envious. The Mitsubishi ASX Aspire is a surprisingly good package and provides the driving experience of a standard hatchback but with the benefits of a 4×4 such as high driving position and four-wheel drive.
Great car Mitsubishi
What is good and not so good?
What is good?
• Diesel's good spread of power/economy
• Practical family car
• Lots of kit as standard
• Refined and comfortable ride
• Warranty
What's not so good?
• Back seats lack support
• Passenger seat needs height adjustment
• No auto version in diesel
Vehicle: Mitsubishi ASX Aspire 2011/12 ($36,990)
Drive train: 1.8 litre, 4-cyl 6-speed manual, AWD
Power and Torque: 110 kW / 197 Nm
Safety: 5 Stars
CO2 Emissions g/km: 155 g/km
Green Vehicle Guide Rating: 3 1/2
Fuel Economy L/100km (ADR comb): 5.9 L / 100 km
Tow Capacity: 1050kg
Tow Ball Rating: NA
Warranty: 5 year/ 130,000 km
Alternative: Hyundai ix35
Alternative: Honda CR-V.
Alternative: Kia's Sportage
AnyAuto Ratings 81/100
Behind the Wheel 8
Practicality 8
Comfort 8
Fit for Purpose 9
Equipment 8
Value for Money 8
Performance 8
Build Quality 9
Ride & Handling 7
Environment 8