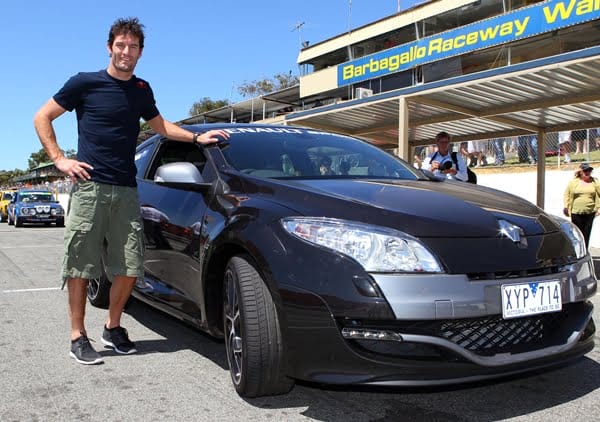 Mark Webber caught switching between his Red Bull RB6 racer and the new Renault Sport 250 to bring to life the link between Renault Formula One engines and Renault Sport road cars yesterday, delighting a capacity crowd at Perth's Barbagallo Raceway.
Webber was in Western Australia to drive demonstration laps in the RB6 followed by hot laps for VIPs in the brand new Renault Sport 250 coupé, at the inaugural Festival of Speed – a magnificent event for car enthusiasts that brought an immense range of sports-oriented vehicles together in one place.
More than 20,000 people packed the circuit in order to watch Webber, and Western Australia-born Formula One rising star Daniel Ricciardo, complete the first laps by a Formula One car at the track for almost 50 years.
Also in attendance was 1980 Formula One Driver's Champion Alan Jones, introducing his own supercar, while Geoff Brabham, winner of Le Mans and Bathurst represented his father, Sir Jack Brabham, a triple World Champion.
Webber put in more than 25 hot laps in the Renault Sport 250 using the actual car Drive had just voted Performance Car of the Year under $60,000.
Renault Australia shipped the car direct from Drive testing to Perth for Webber to drive, adding only some Renault Sport decals.
"Last time I raced at this track I was 17," Webber said between driving duties. "It hasn't changed much.
"There's a good atmosphere and lots of people and lots of cars," he said. "It's nice for me to drive around and wave to the fans and say hello."
Daniel Ricciardo also managed some wheel time in the Renault Sport 250, completing two stints in the car chauffeuring VIPs on hot laps, as well as a stint in the Formula One car, during which he entertained the crowd with lurid wheel spins, smoking up the tyres.
Renault Australia Managing Director Justin Hocevar was on hand to watch Webber send the 184 kW turbocharged front-drive Coupé around Barbagallo's tight and twisting turns.
"It was really good to see Mark Webber giving the Renault Sport 250 a good work out around the circuit. The car looked very impressive, cornering flat and obviously generating high levels of grip. I'm sure Mark enjoyed having a bit of fun in the car. It's probably a lot more comfortable than his Formula One car, too," he said.
"Our Renault Sport 250 was very well received by the crowd. There were a lot of people coming up to look at it who had not seen one before. And having it parked next to the Formula One car made the link between Renault Formula One power and our road cars a lot more visible," Justin said.
"The Renault Sport 250 received a rapt response on the track as well. People were captivated by its performance and fantastic looks. And we had a good response from many racers from the other categories who were keen to know more about a high performance car they could drive on the road everyday.
"November will go down as a significant month for the Renault Sport 250," Justin said.
"At the start of the month the car won a head-to-head comparison against the Ford Focus RS, and then this very car that Mark drove won over the Drive Car of the Year judges.
"It impressed them so much it beat off well-established rivals to claim the DCOTY Performance Car under $60,000 title, displacing the VW Golf GTI which had won the segment every year for the past five.
"It's not hard to see why. With its very powerful but tractable engine, Dynamic Cup Suspension, Limited Slip Differential and Brembo brakes, the Renault Sport 250 boasts a very competitive and performance-oriented chassis, while offering deeply bolstered Recaro sport seats inside."
Priced from $41,990 in Renault Sport 250 Cup and $45,990 in Renault Sport Cup Trophée guise (as driven by Webber), the new car offers performance car fans a significant bang for their buck.
The 2010 AAC Australian Festival of Speed was presented by the Burswood Entertainment Complex and featured a full program of more than 14 different types of motorsport on the one circuit, on the one day.
The event was billed as Perth's premium adrenalin-charged annual motoring event with the largest collection of cars and bikes ever, including Formula One, V8 Supercars, and rally cars. The organizers envisage the event will run annually as a southern hemisphere alternative to the UK's Goodwood Festival of Speed.