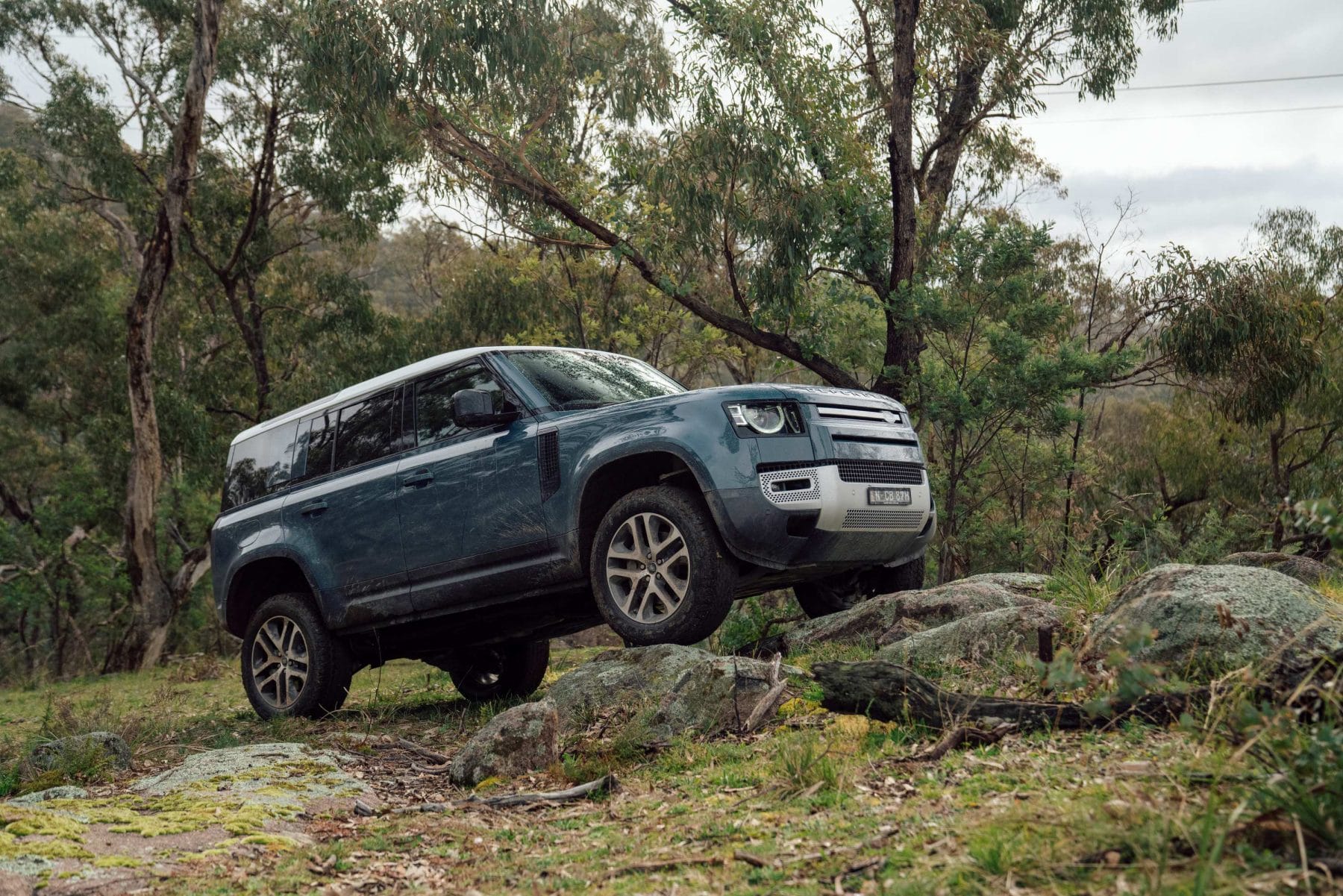 Land Rover has finally launched its all new Defender 110 in Australia. I attended the initial drive program and I can't keep you in suspense.
Land Rover Defender – it's simply stunning how good it is
Originally scheduled for earlier in the year, the COVID-19 worldwide restrictions delayed production and has placed strain on the model line-up. It's the P400 version only for the remainder of this year, but the MY 21 is just around the corner.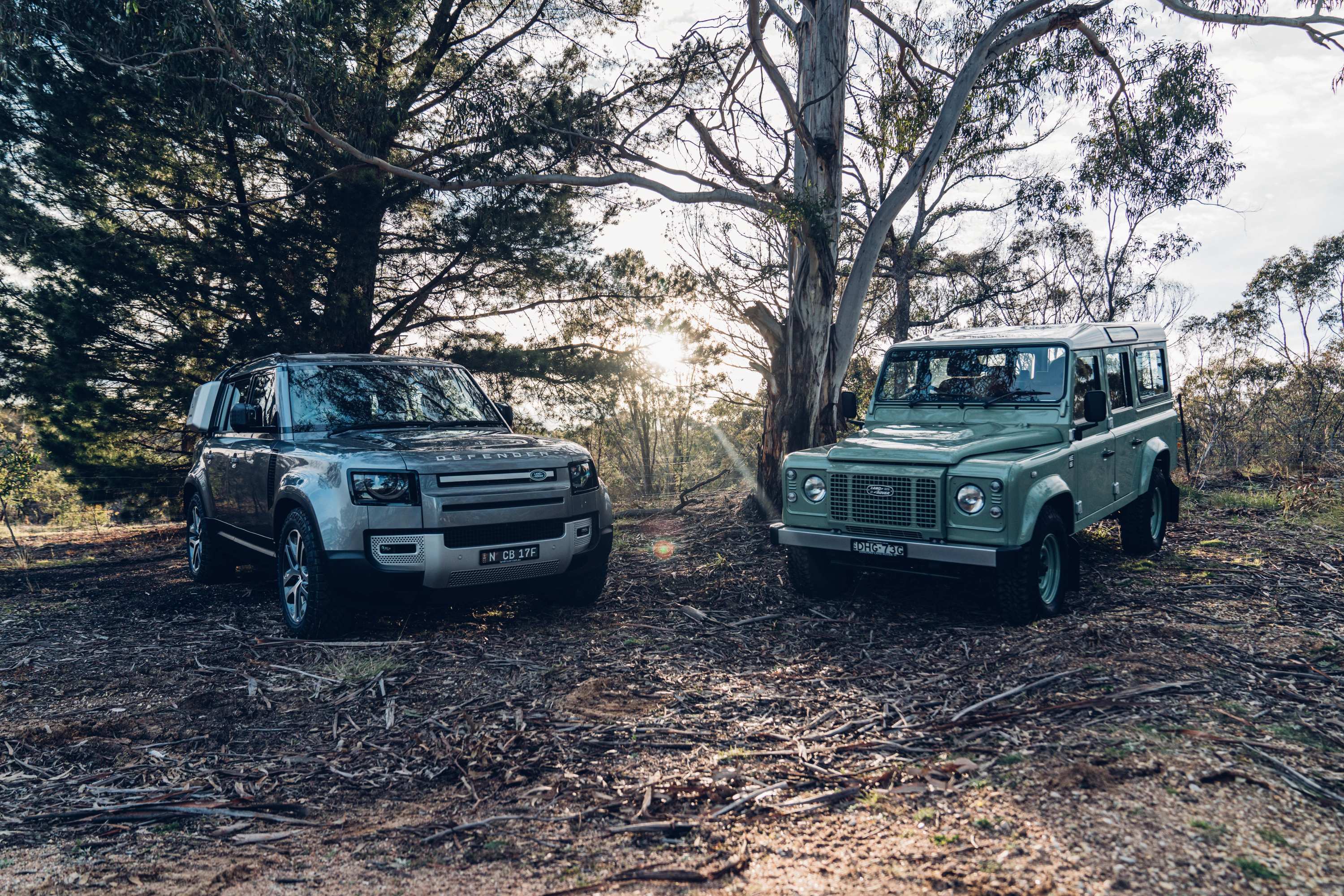 While the all new Defender retains definite design homage to the original, it's completely different. And that is a good thing.
We drove the P400 S and SE version on the launch and our comments are mostly reflecting those vehicles.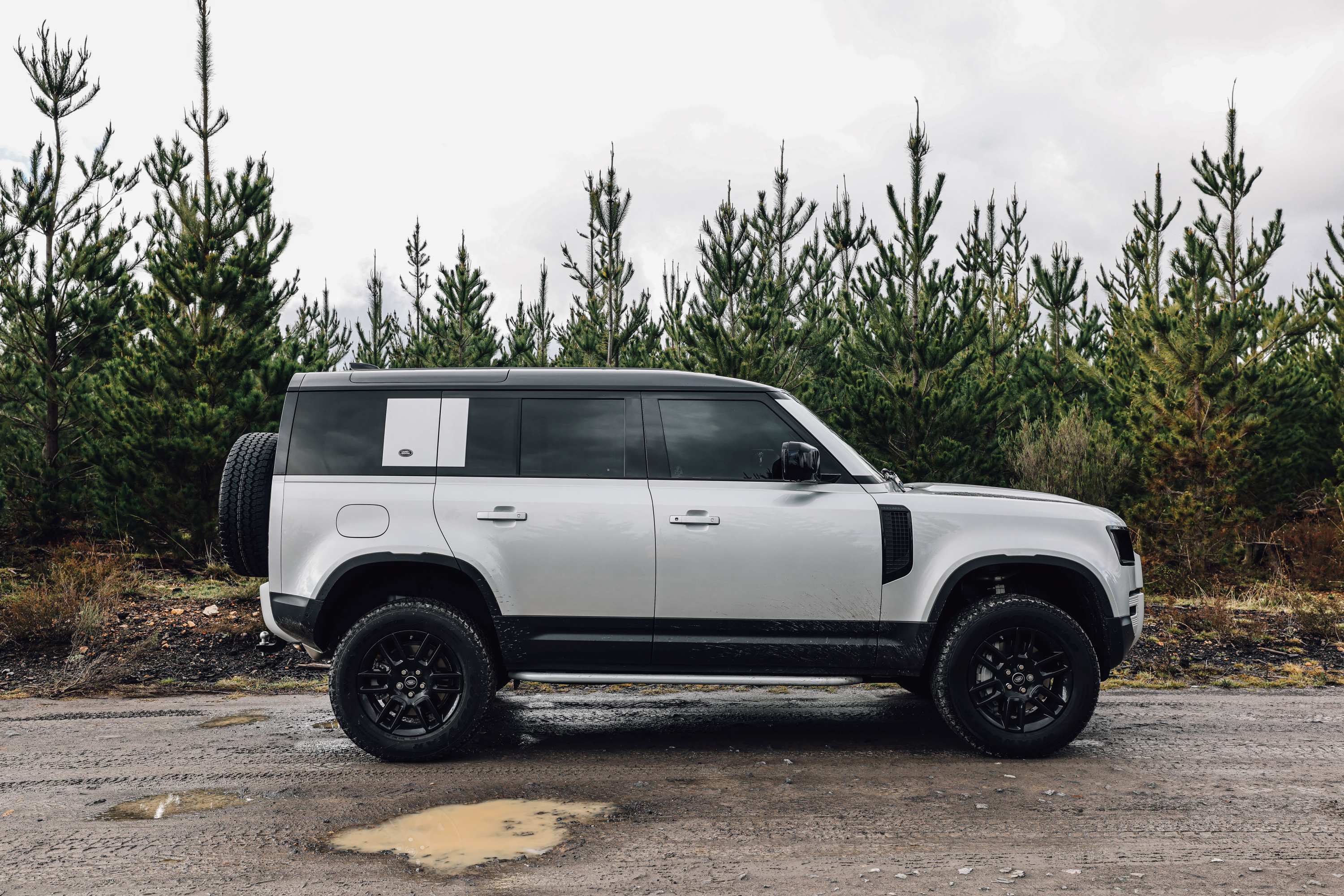 What does the Defender look like?
Actually pretty good. There are old school design clues such as the rear panel, rear mounted spare wheel, swing away rear door, bonnet decals, modern versions of rivets, curved roof lines and more.
Overall this respect to a long and proud heritage is blended with a modern stylish 4WD.
It has a long wheelbase and from the side you can see the wheels are at each corner, a clever way to improve off road ability.
The grill is both stylish and practical and exudes character. It looks like a big kid with droopy eyelids. The sides are quite flat without being slab sided, allowing good side visibility.
From the rear it looks most like the old Defender.
Defender sits upright and proud.
Tyres are 18 inch to 22 inch alloy rims with "255/70R18 through to 275/45R22"       all terrain tyres. Australian spec vehicles run all terrains at all times.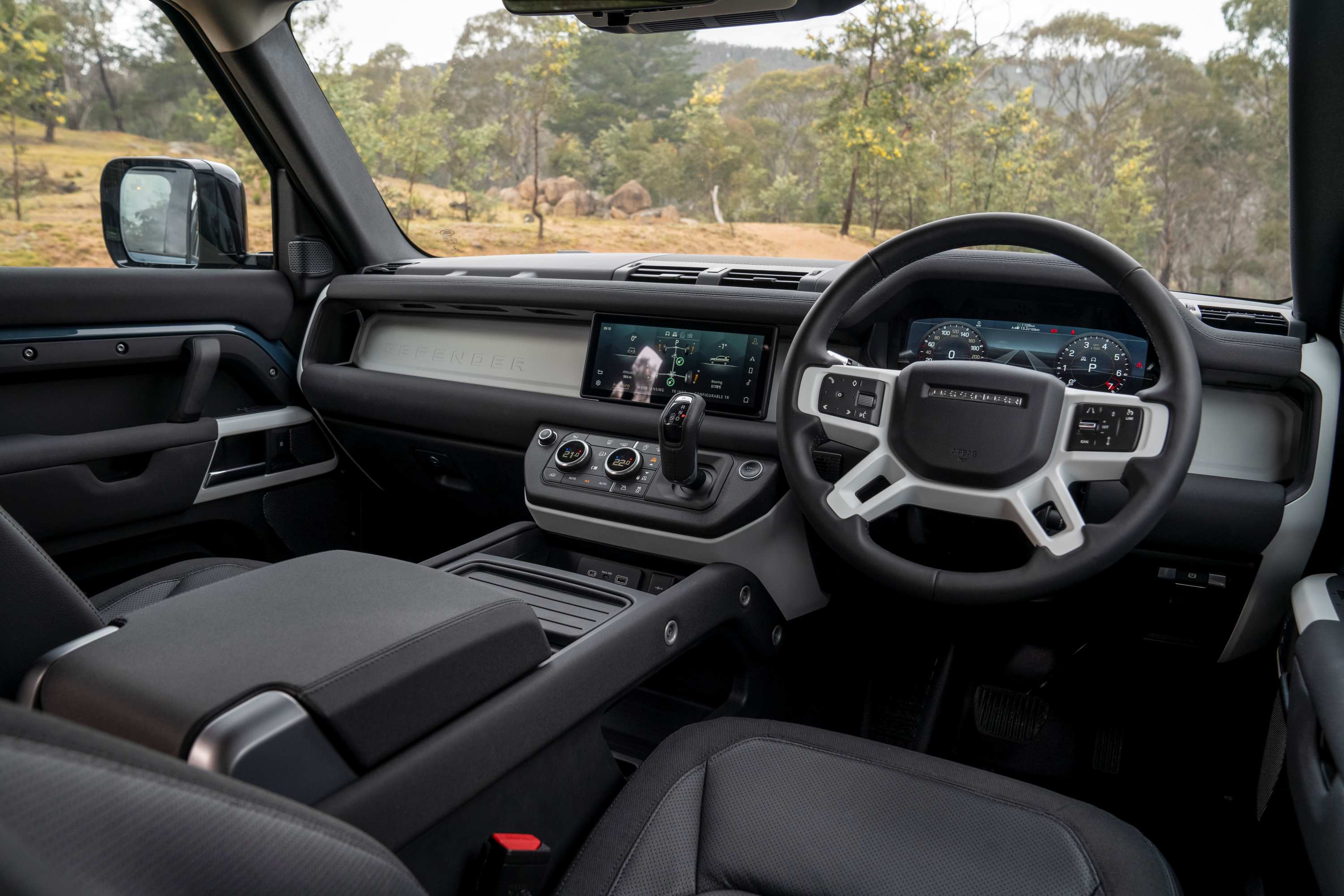 Yes but is the Defender comfortable inside?
Coming from someone that is larger than the average bear and struggled to drive the old models, the new Defender is an awesome upgrade. In short it's extremely comfortable inside.
You step up into the cabin and immediately notice the overall feeling of space. Something totally lacking on the previous model.
Driver seat is good, and varies between fabrics with manual adjustments through to leather electric adjust everything. But the base seat is comfortable both on and off road.
A four spoke steering wheel feels good in the hands, has the usual series of controls that once you get used to the LR style work well and the stalks sit up above the spokes for easy visibility. Obviously it's both reach and height adjustable. One note, the left hand buttons change depending on what you are putting in the MFD. It was a tad confusing the first time, but showed clever design once I understood what was happening.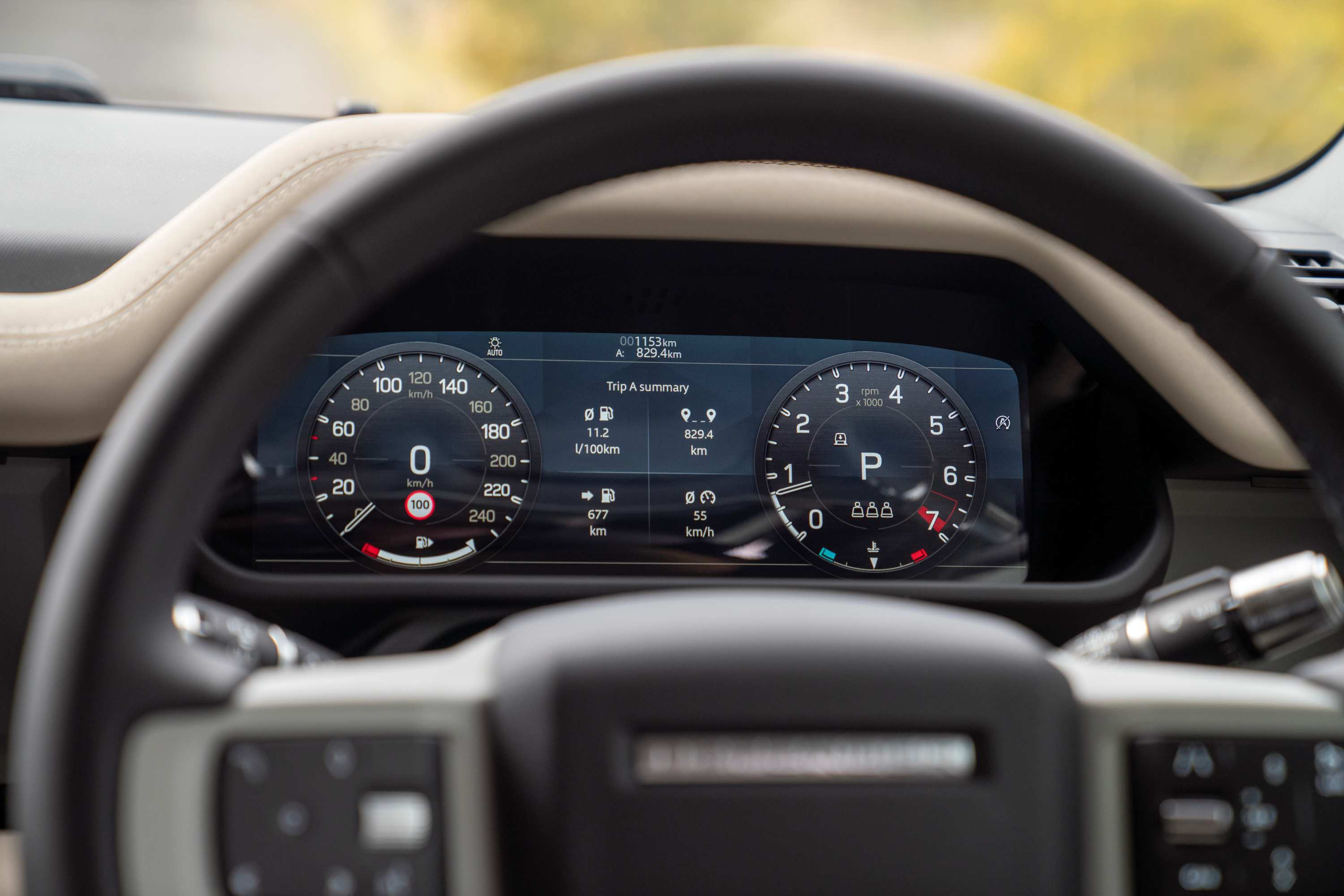 Instruments are twin large outer white on black dials with a configurable central MFD. Typical Land Rover. Clear as well as easy to use and read.
Sitting in the driver's seat there is good seat slide for longer legs and more than enough head room.
There are a couple of niggles that arose as a result of my long legs. I struggled to get enough adjustment on the right hand exterior mirror and the 'B' pillars seem to bulge from seat back height and restricted my shoulders. Normal size drivers however will have no issues.
One thing I loved is the central console, stack relationship. First is the clever console bin with variations that include both a cool box and a phone charging tray. Something the old school Defenders never contemplated.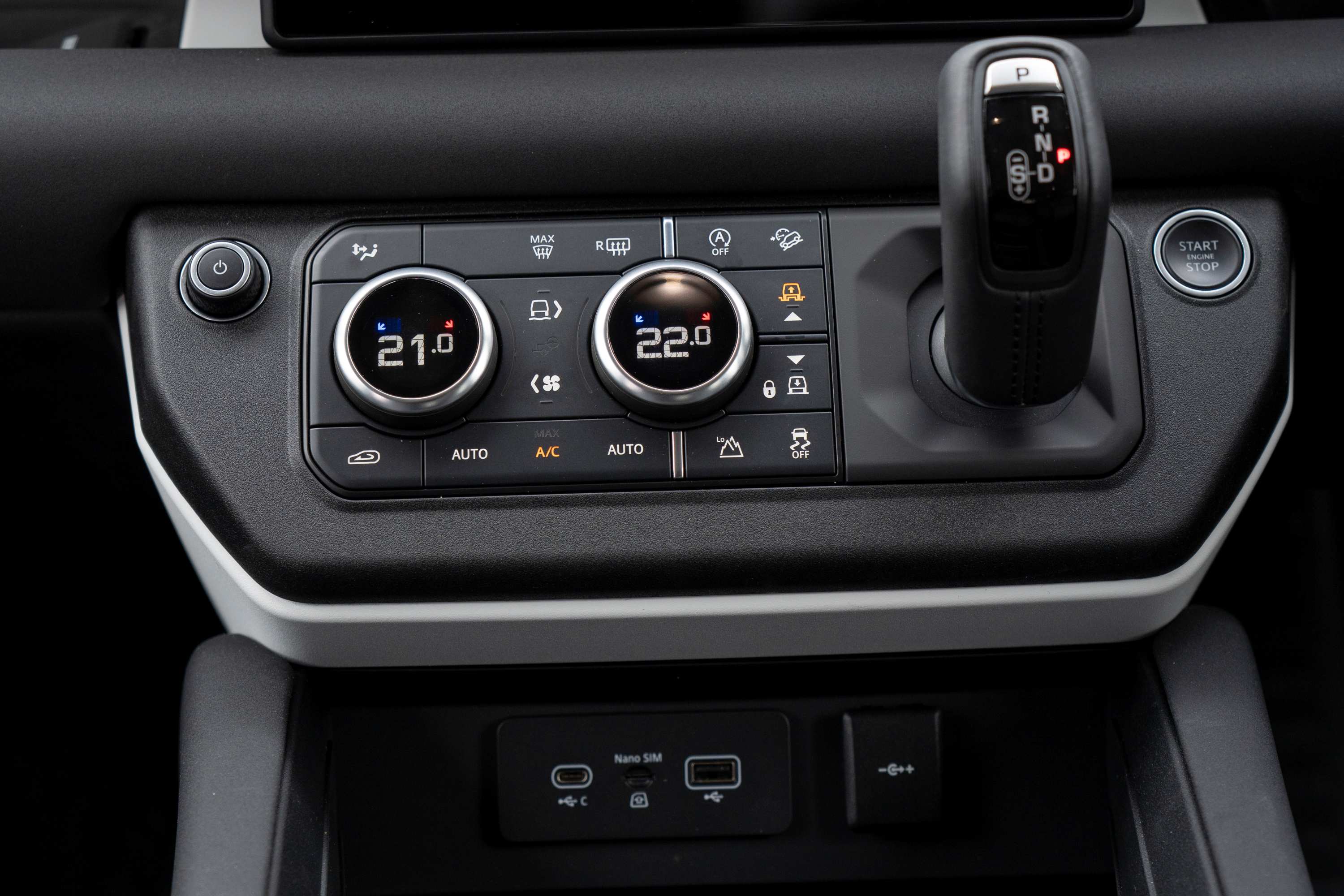 While I am a fan of the touch screens for Land Rover products, there is something special about the dash mounted transmission lever with all the controls for 4WD, Terrain Response 2, A/C and more surrounding it. I love it. There is of course a 10 inch touch screen above that as well.
Along the dash there are clever and practical trays for storage as well as below the transmission lever. Large twin bottle door pockets and a USB ports complete what is a well laid out interior. I also love the tek screw style on the centre console grab handles and door inserts, again a homage to the old school, rivets.
Defender discovers driver ergonomics at last.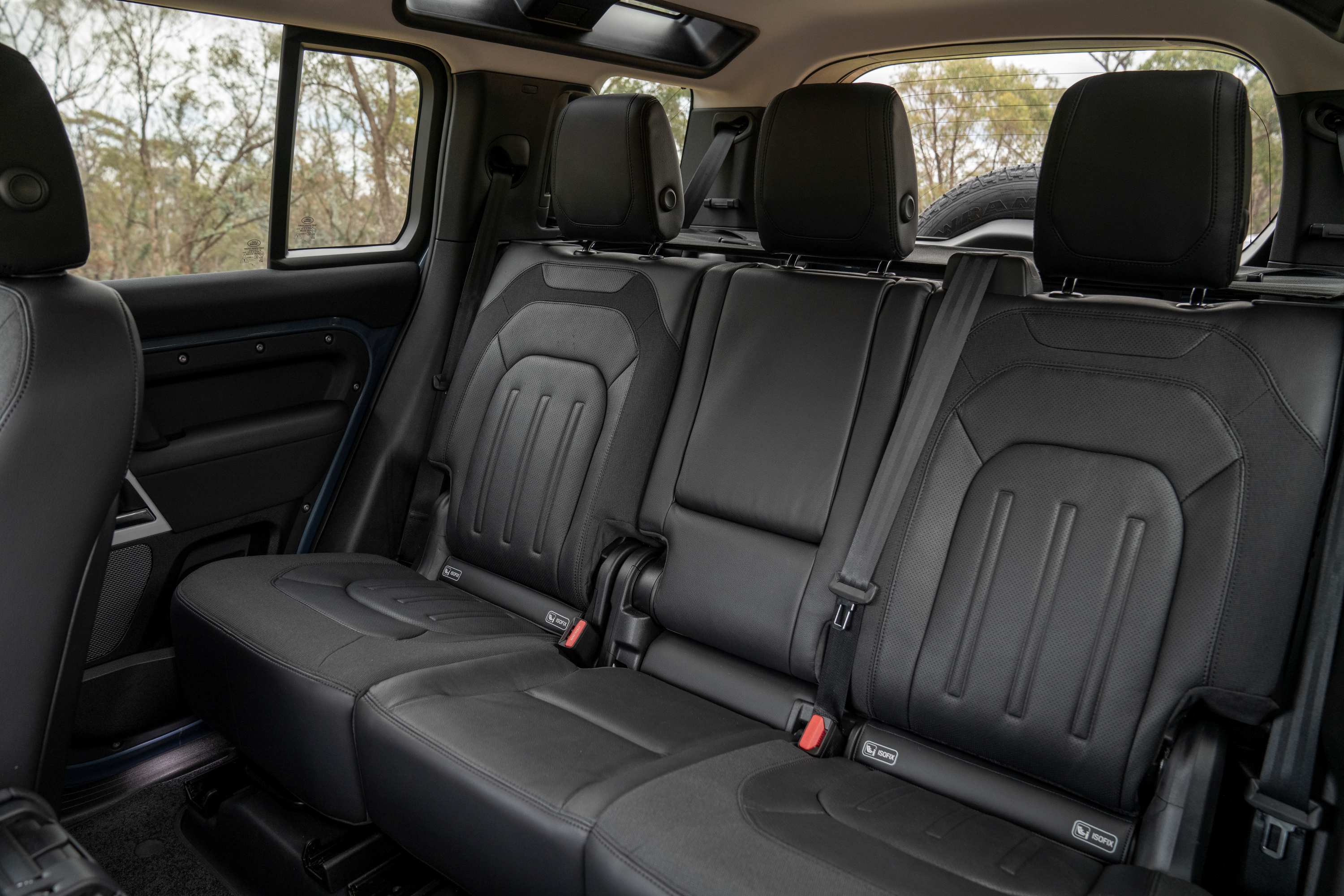 Rear seat passengers get good room and comfortable seats. More focused on the outer two. Seats fold almost flat. There is also air vents, grab handles to help with getting in and USB and 12V ports. Overall visibility is good with large windows and the iconic rear sky glass.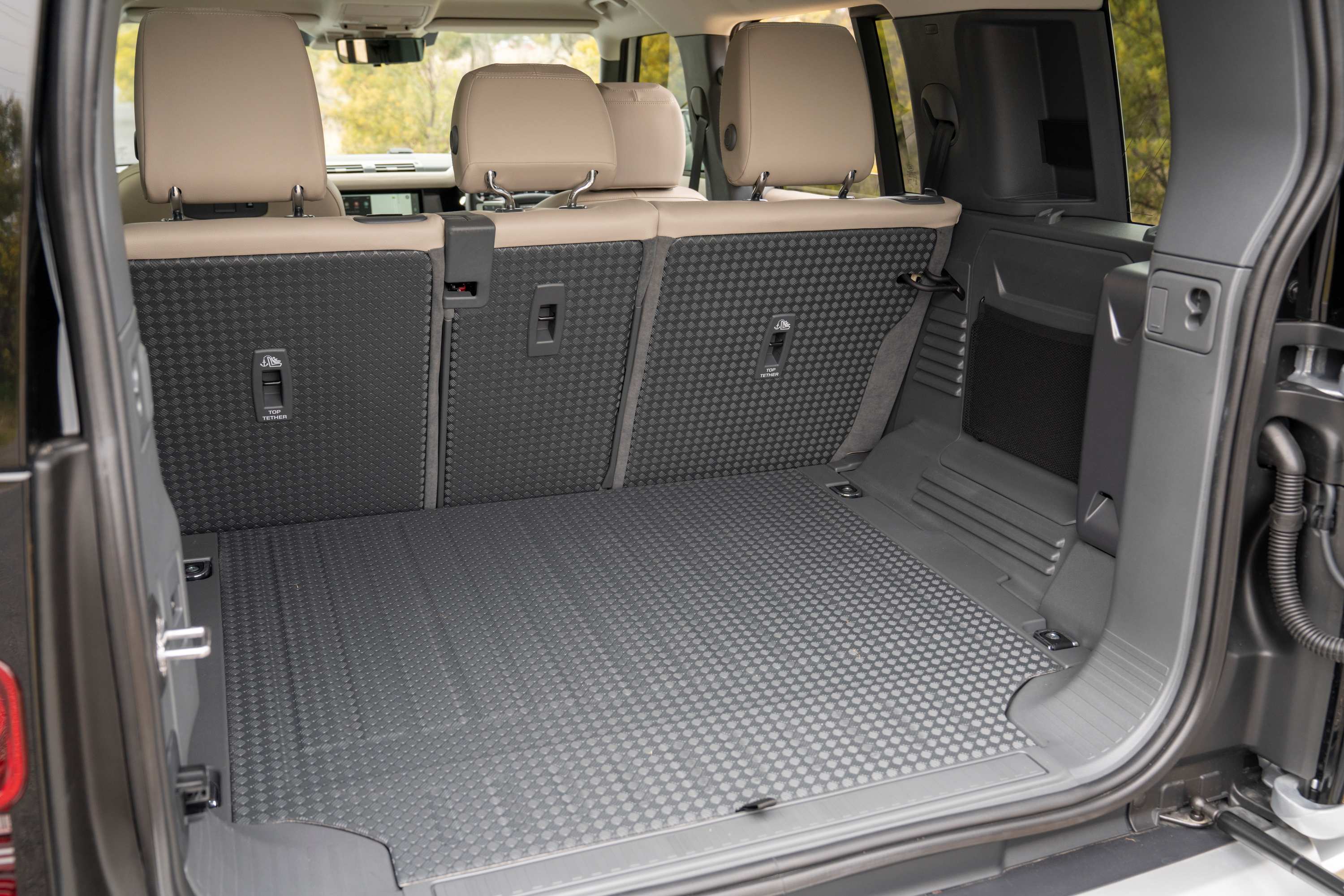 Boot area is large and practical. The accessories such as the air pump are set out of the way. I didn't check out the seven seats that will be next time.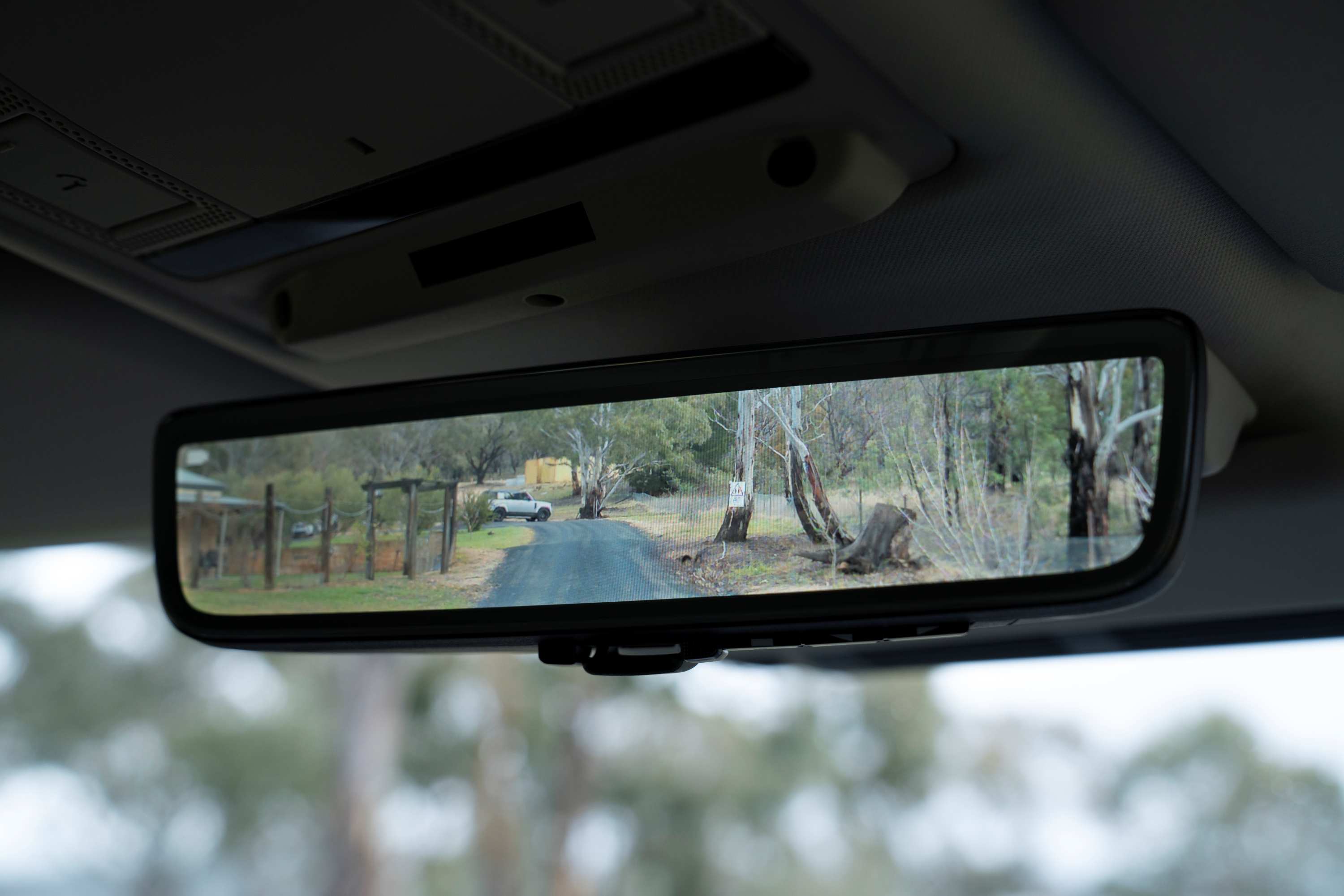 What features does it come with?
Surprisingly the entry level 110 model is well equipped with
Exterior Features
Body-coloured roof
LED headlights,
Heated, electric, power fold door mirrors with approach lights &
auto-dimming Keyless Entry
Wheels and Tyres 18″ Style 5093,
Gloss White, Steel* Off-Road tyres
*Available Q4 2020, 19" 6-spoke, Gloss Sparkle Silver standard rim in the interim
Capability
All Wheel Drive
Twin-speed Transfer Box,
Electronic Air Suspension with Adaptive Dynamics
Terrain Response
Interior Features
Cross car beam in Light Grey Powder Coat Brushed finish
Cabin walk-through
Auto-dimming interior rear view mirror
Carpet mats
Seating and Interior Trim Fabric
8-way heated semi-powered front seats
Infotainment
10″ Pivi Pro Smartphone Pack (Apple CarPlay®, Android Auto™)
Connected Navigation Pro
Sound System 180W with 6 speakers
Online pack with Data Plan Digital Audio Broadcast (DAB) radio

Driver Assistance
3D Surround Camera
360° Parking Aid
Wade Sensing
Cruise Control & Speed Limiter
Lane Keep Assist
Emergency Braking
Traffic Sign Recognition & Adaptive Speed Limiter
The model walk and option packs, options list and accessories all add to the features and of course price.

Some interesting highlights are
Next generation infotainment: Jaguar Land Rover's new Pivi Pro software debuts in Defender.
Latest system is always on, making it faster and easier to use while allowing customers to connect two smartphones at once
Digital Defender: Intuitive 10-inch touchscreen with Apple CarPlay and Android Auto compatibility delivers enhanced user experience and broader range of functions. There was one minor incident where the screen turned itself off and on again while driving.
New Activity Key: Waterproof and wearable Activity Key watch works independently of the state-ofthe-art fob, allowing customers to lock and unlock the new Defender from their wrist
Command driving position: ClearSight Ground View and ClearSight Rear View help you see more with 3D on-screen visualisation when using the Advanced Tow Assist and Wade Sensing systems,
Head-up off-road: Full colour Head-up Display provides on and off-road information with new video capability putting important information directly in front of the driver
Remote tracking: Using an app on their smartphone, owners can remotely keep track of the fuel level, location and journey history of their vehicle as well as and heat or cool the new Defender

What are the engine and drivetrain options?
Well there are three engines, two diesels and one MHEV Petrol. The image above is the best summary.
Currently there is only the P400 inline six cylinder engine available. The diesels will be arriving early next year, hopefully sooner.
The P400 (294kW) MHEV powertrain is a state-of-the-art MHEV powertrain that harvests energy normally lost during deceleration and redeploys it to optimise efficiency.
The in-line six-cylinder Ingenium petrol features both a conventional twin-scroll turbocharger and an advanced 48-volt electric supercharger, with a belt-integrated starter motor in place of the alternator to assist the petrol engine, and a 48-volt lithium-ion battery to store energy captured as the vehicle slows down.
In combination, these advanced technologies provide 400PS (294kW) and 550Nm of torque, 0-100km/h in 6.1 seconds.
Future diesels engines are a choice of four-cylinder D200 (147kW) or D240 (177kW) engines, with sequential twin turbo technology providing 430Nm of torque to optimise performance and economy.
The D200 delivers fuel economy of 7.6 l/100km and 0-100km/h in 10.3 seconds, while the more powerful D240 matches the D200 for efficiency while accelerating from 0-100km/h in 9.1 seconds
All engines drive through a smooth and responsive eight-speed ZF automatic gearbox and twin-speed transmission, to provide a set of low-range ratios essential for towing or off-road driving when more control is required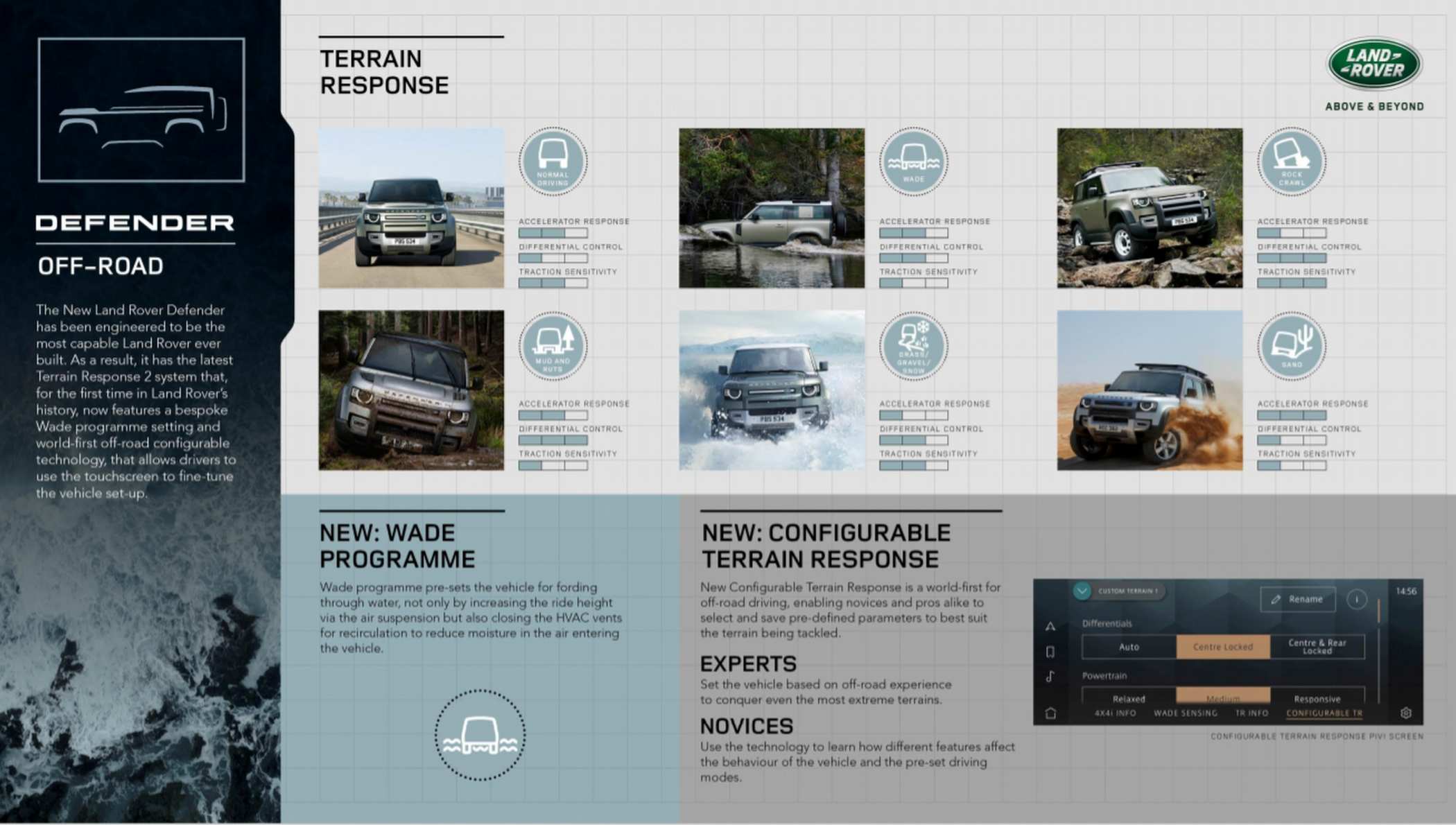 Is the new Defender better to drive than the old one?
Here is where the story gets really interesting.
First thing is there is great visibility all round. The 'A' pillars are thick but the angle makes them seem smaller. Over bonnet visibility is better than many large 4WD's.
Apart from the minor issue with me being too tall and not being able to get enough adjustment for the RHS external mirror, everything else is spot on.
The P400 MHEV is a smooth and powerful engine and works especially well with the 8 speed transmission.
The New Land Rover Defender is based on the new D7x monocoque architecture. An extreme version of the platform used on Range Rover, Range Rover Sport and Discovery.

On road this big beast rides better than most prestige AWD SUV's and will surprise many. The extra development LR has done on the architecture is noticeable, even against the Discovery.
I'm not often stunned by a car. Yet I was by how quiet, responsive and how well the Defender rode and handled. There was virtually no road or tyre noise from the all terrains and the ride was super smooth. I would put it just under the Range Rover Sport and above the Land Rover Discovery.
It was also good timing as I just jumped out of a LandCruiser Sahara the morning before the Defender drive so an instant comparison in my mind was available.
Now regular readers will know of my love of the big 200 series. Even though it rides like a big beast I love it.
The Defender is in a class of its own amongst the true 4WD wagons for on road dynamics.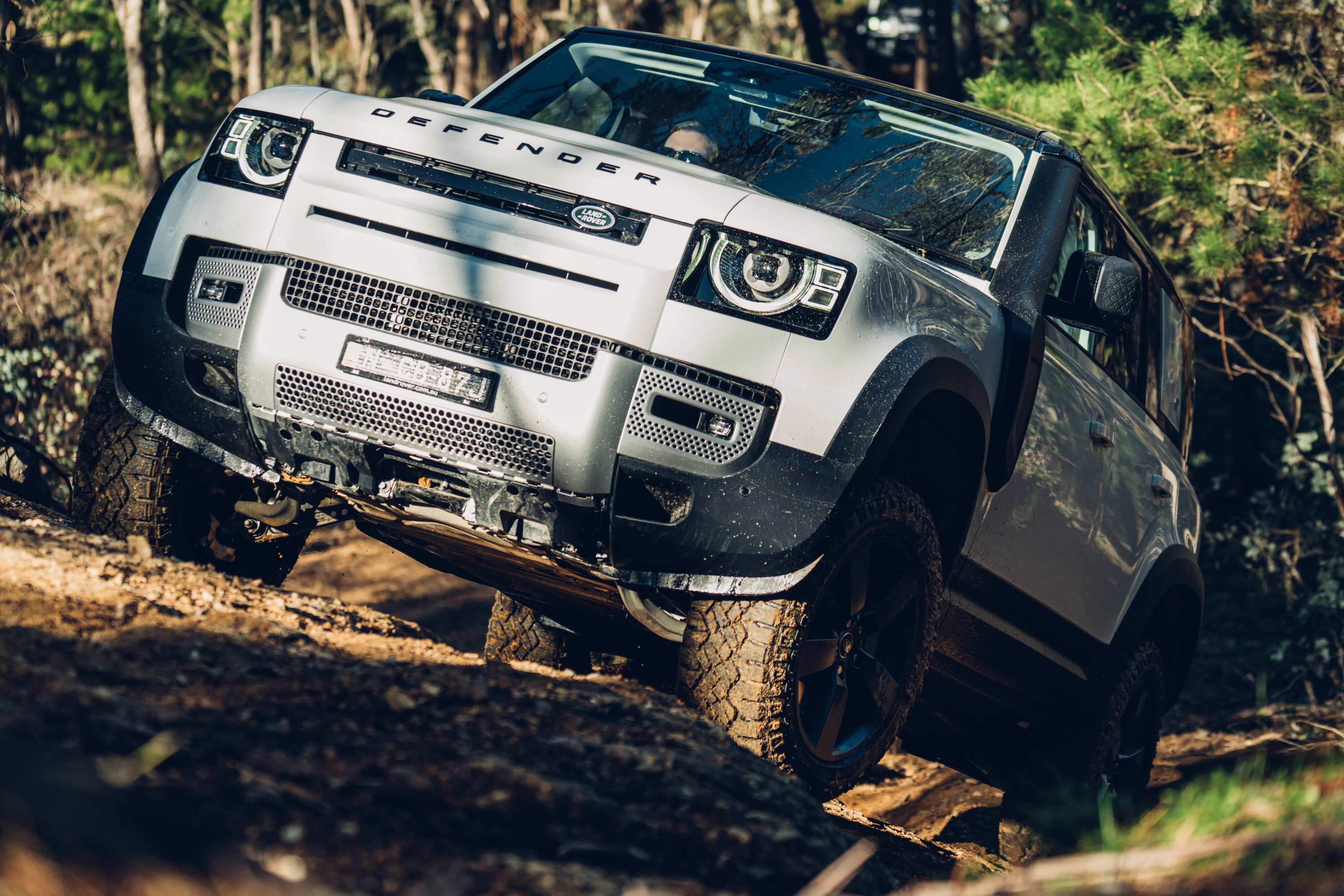 Off road the Defender is simply stunning
We drove a section of the state forests behind Lithgow and the track included some wet deep boggy rutted sections and climbs, rocky and loose dirt climbs, steep declines, heaps of forest trails and  a number of interesting side bits.
Now I've driven many of those tracks, not all, in other 4WD's. So they are achievable in lesser vehicles.
The difference between the Defender and other vehicles I've taken across the tracks is the sheer ease with which the Defender accomplished the tasks set for it.
I had to remind myself that these tracks are interesting and in parts will get the blood flowing, the Defender made them seem easy. There was a disconnect in my mind about the nature of the tracks.
The other thing I had to remind myself of was that this was a bog standard 4WD and not heavily modified.
It almost seemed like I could put the jug on, make a cuppa, send some emails all while driving up a deeply rutted loose dirt incline.
I know in other 4WDs they would be bouncing, jarring, jolting, burping, farting, making weird and worrying noises and possibly causing some disruption to the tracks before they ascended. There would also have been more momentum needed, which again places more stress on the vehicle, driver and track.
Not so the Defender. I simply chose the appropriate range and selected the terrain response I wanted, pointed the nose in the right direction and maintained good throttle control and away we went.
There was one moment when there was a little throttle lag when we were taking off in a boggy patch, but otherwise the ability to keep momentum directly car on the right foot was excellent.
Add to the equation the 360 degree visibility form the cameras and wheel placement becomes a breeze.
It really was all too simple.

Defender Safety Features
Defender doesn't have an ANCAP safety rating yet, its coming, but its packed with all the goodies you would expect.
Driver Assist Pack includes:
Adaptive Cruise Control (selectable thankfully) and
Rear Pre-Collision Monitor, which alerts following drivers who are failing to slow down by automatically flashing the hazard lights, as well as
Blind Spot Assist,
Rear Traffic Monitor and
Clear Exit Monitor.
Emergency Braking,
Lane Keep Assist,
Traffic Sign Recognition,
Cruise Control and Speed Limiter functions,
Driver Condition Monitor and
front and rear Parking Aids.

To maintain rearward visibility, all new Defenders fitted with the front jump seat also feature ClearSight Rear View technology.
This clever technology means that at the touch of a button, the frameless interior mirror switches from a conventional mirror to a digital screen showing a feed provided by a high-definition rear-facing camera mounted high at the back of the vehicle.
This effectively makes the rear pillars and spare wheel invisible, while also providing a 50-degree wider field of vision to eliminate rear blindspots. The 1.7-megapixel camera also provides superior clarity in low light conditions and has a hydrophobic coating to maintain performance in wet and muddy conditions.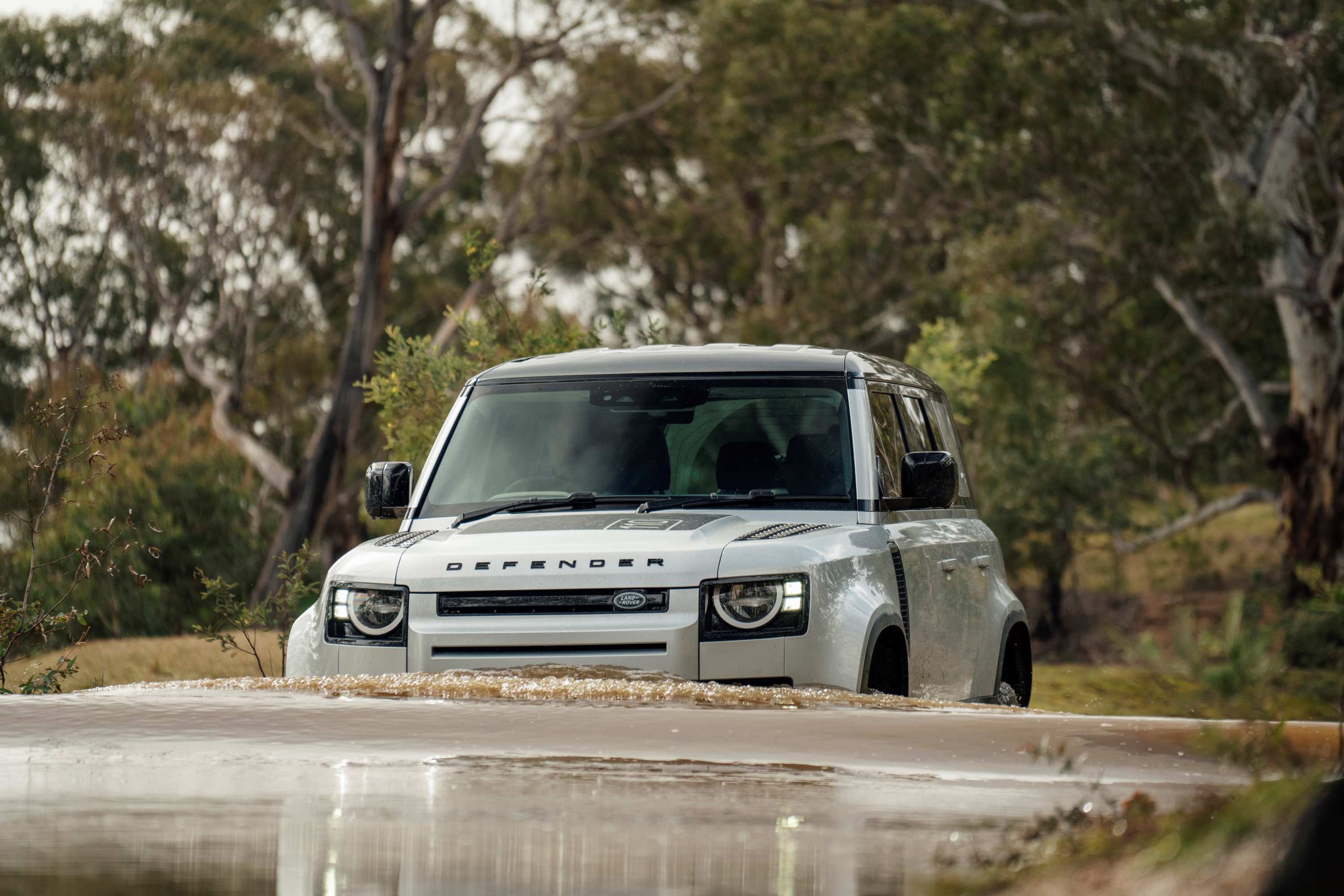 Defender dimensions
The Defender has an
Overall length of 5018mm, (4758 excl rear wheel)
Wheelbase of 3022mm,
Width of 2008mm and
Height of 1967mm.
Unladen ground clearance is 291mm
Approach 38, Rampover 28, Departure 40 degrees,
Fuel tank is 90L
Wading depth 900mm
Kerb weight of TBC kg, GVM TBC kg, GCM TBC kg and Payload of 900kg, (P400)
Towing capacity is 3500kg and tow ball rating is up to 350kg.
Turning circle is 12.84 mtrs kerb to kerb

So what is my overall impression?
This is a quick overview and initial thoughts. In the weeks ahead there will be further reviews. However my initial thoughts are that the all new Defender is stunning in how good it is, both on and off road.
It will pinch sales from the Discovery, no doubt. Its better both on and off road.
However the likes of Toyota LandCruiser, Nissan Patrol and even Prado will be in the firing line as well.
It will also pinch sales from other prestige SUV brands.
As with all cars the longer you spend in them the better you get a feel for them,  Unlike a lot of cars I am genuinely excited to do the test drives in the Defender.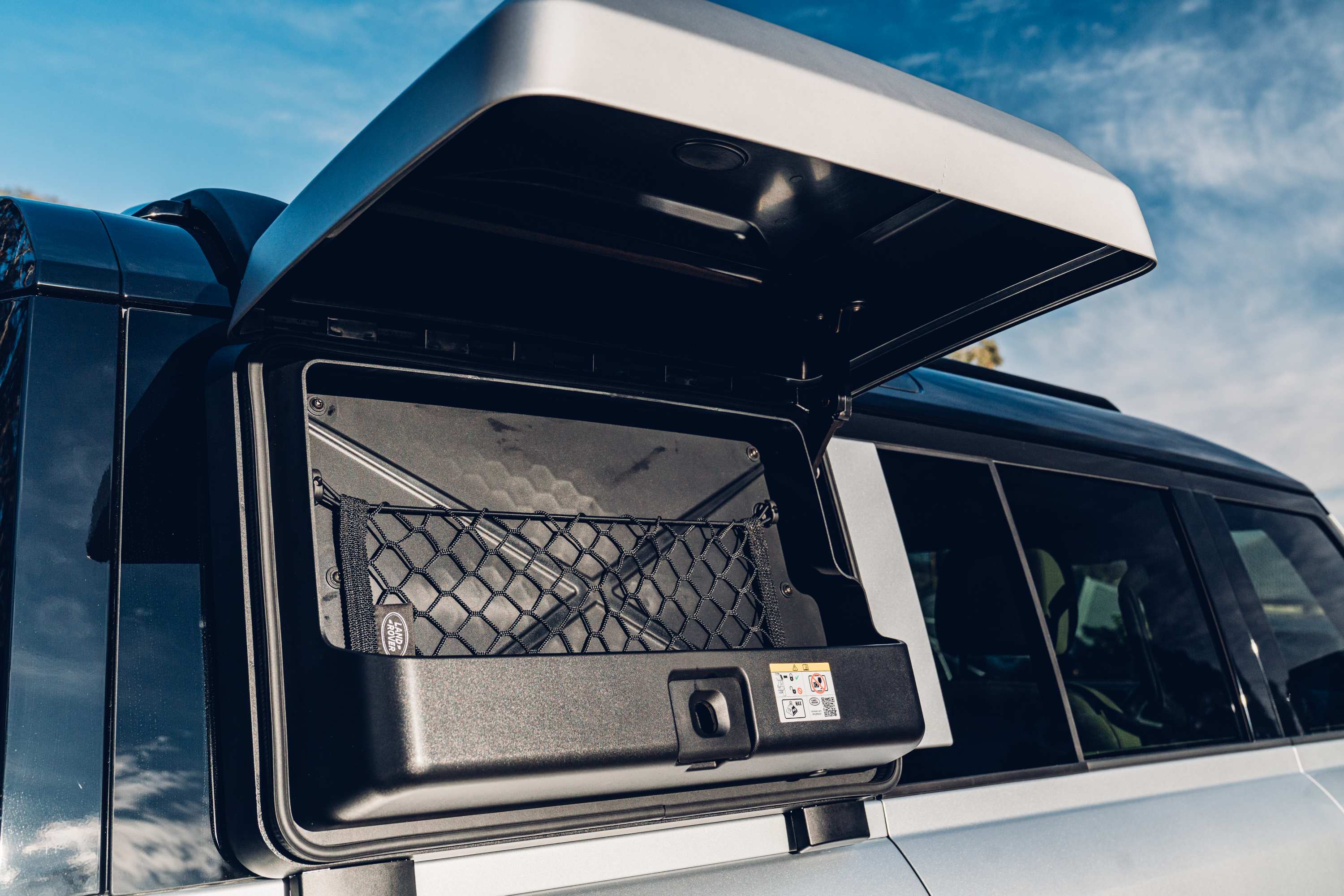 What is good!
Stunning off road capability
On road dynamics will put many prestige AWD SUVs to shame
Interior ambience (never thought I would say that about a LR Defender)
What is not good!
Some restrictions for taller drivers
Would like a big powerful diesel
170 individual options and accessories does my head in

Also look at

Model: Land Rover Defender P400 SE
Model Price: $102,736 MLP*
Engine: 3.0L Inline six cylinder MHEV
Drivetrain: 4WD Terrain Response2 8 speed auto
Power: 294 Kw @ 5,500 rpm
Torque: 550 Nm @ 2,000 – 5,000 rpm
ANCAP Safety: TBA
CO2 Emissions: 220 g/km
Economy: (NDEC comb) 9.6 L/100km
Tow Capacity Max: 3500 kg
Tow Ball Rating: 350 kg
Servicing: Capped Price
Warranty 3yr/100,000 km with full roadside assist
*MLP – Manufacturers List Price includes GST and LCT but excluding statutory charges, dealer costs and dealer delivery. See your dealer for RDAP. Does not include price of any options.
Overall Rating      93/100
Behind the Wheel 9
Comfort 10
Equipment 9
Performance 9
Ride & Handling 9
Practicality 9
Fit for Purpose 10
Towing Ability 10
Off Road Ability 10
Value for Money 8
Land Rover 2020 Defender Launch Review
Summary
This is a quick overview and initial thoughts. In the weeks ahead there will be further reviews. However my initial thoughts are that the all new Defender is stunning in how good it is, both on and off road.
It will pinch sales from the Discovery, no doubt. Its better both on and off road.
However the likes of Toyota LandCruiser, Nissan Patrol and even Prado will be in the firing line as well.
It will also pinch sales from other prestige SUV brands.
As with all cars the longer you spend in them the better you get a feel for them,  Unlike a lot of cars I am genuinely excited to do the test drives in the Defender.