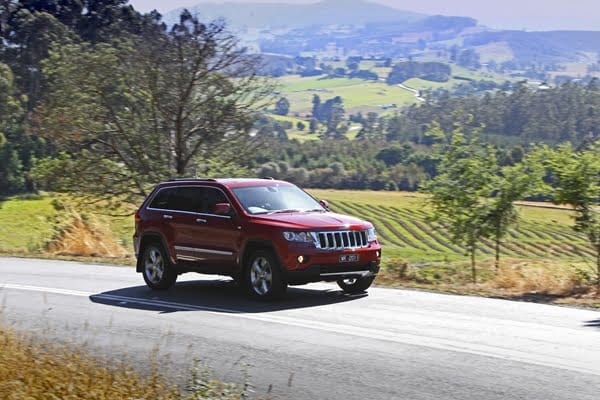 The multi-award winning 2011 Jeep® Grand Cherokee is now available in Australia with a new 3.0-litre turbo diesel engine. The new engine is more powerful, more fuel efficient and produces lower emissions than its predecessor, while being able to tow up to 3,500kg.
"The arrival of the new turbo diesel is icing on the cake of the all-new Grand Cherokee range" said Dean Bonthorne, Chrysler Australia's Senior Manager, Marketing & Corporate Communications.
"It's no secret that Australians love a torquey, fuel-efficient diesel in this category, and just like so many other aspects of the Grand Cherokee, this highly anticipated new powerplant has exceeded all expectations."
Built by VM Motori and developed together with Fiat Powertrain, a company of Fiat S.p.a., the new 3.0-litre turbo diesel engine produces 177 kW at 4,000 rpm with 550 Nm of torque at 1,800-2,800 rpm. This translates to 10 percent more power and eight percent more torque than the engine it replaces.
Even with its improved performance, fuel economy for the new 3.0-litre turbo diesel engine is 8.3 L/100km on the combined cycle, an improvement of 19 percent over the prior diesel engine. CO2 emissions (combined cycle) are also reduced by 20 percent, now at 218 g/km.
The V6 turbo diesel engine is fitted with new-generation, 1,800-bar injectors with new MultiJet II technology. This was developed and patented by Fiat Powertrain and which made its debut in 2009 on the 1.3-litre diesel engine equipped on the Punto Evo.
Engine Block Structure
The new 3.0-litre turbo diesel engine features a compressed graphite iron, 60-degree block with aluminium cylinder heads and a two-piece structural aluminium oil pan. Bore is 83 mm (3.27 in) and stroke is 92 mm (3.62 in) for a total displacement of 2987 cm3 (182 in3). Bore spacing is 96 mm (3.78 in).
The engine block features a crankcase architecture with stiffened construction, including a bedplate that provides a rigid and stiff carrier for the crankshaft. This in turn helps reduce overall noise from the lower reciprocating assembly and contributes to significant improvements in overall noise, vibration and harshness.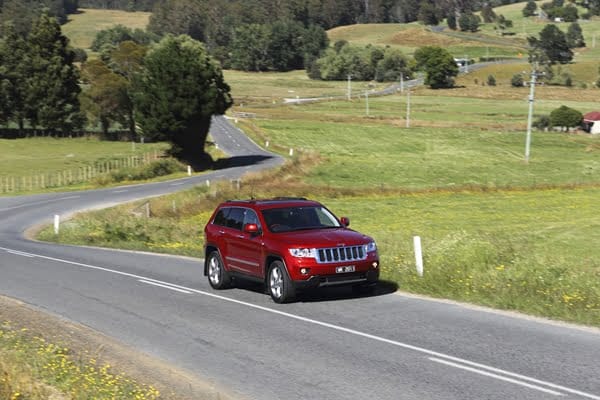 Engine Performance Features
The induction system includes swirl control to optimise combustion. Fitted between the intake system and the combustion chamber, the swirl control effectively provides an ideal air/fuel mixture at all levels of engine speed.
Precise fuel delivery is through a 1,800-bar common-rail fuel-injection system. Thanks to the new MultiJet II technology, which makes use of a special balanced solenoid valve, the new injector is capable of making up to eight injections per cycle with the possibility of managing the two main injections in a single modular profile (IRS – Injection Rate Shaping). This guarantees a reduction in consumption and polluting emissions of approximately two percent compared to a traditional injector and ensures a drastic reduction in noise levels.
Fuel Economy and Emissions
Fuel economy for the Jeep Grand Cherokee with the 3.0-litre turbo diesel engine is rated at 10.3 L/100 km on the urban cycle and 7.2 L/100 km on the extra-urban cycle. For the combined cycle, the fuel economy is rated at 8.3 L/100 km.
For this engine, cast-iron exhaust manifolds are utilised. Additional emissions controls include a close-coupled diesel oxidation catalyst and standard diesel particulate filter. Euro 5 emissions are met through an exhaust-gas recirculation (EGR) system that includes an EGR valve with DC motor and a high-performance EGR cooler with bypass valve.
CO2 emissions are reduced to 270 g/km for the urban cycle and 188 g/km for the extra-urban cycle. Combined-cycle CO2 emissions are now 218 g/km.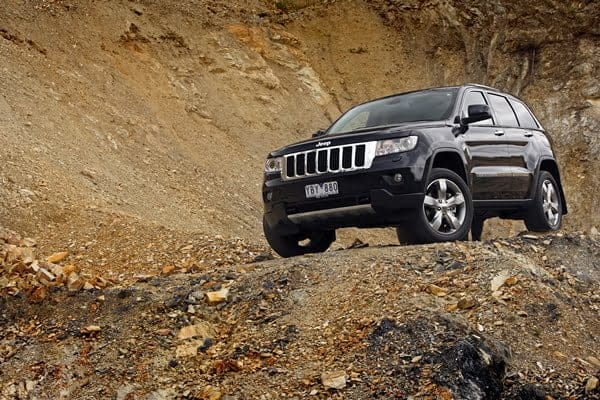 Lineup
Jeep Grand Cherokee is now offered in Australia in all trim lines, including Laredo, Limited and Overland. All models will offer this new 3.0-litre turbo diesel, while the Laredo and Limited come standard with the new 3.6-litre V6 Pentastar engine. The legendary 5.7-litre HEMI V8 is optional on Limited and standard on Overland.
The new diesel engine is now available in Jeep showrooms, joining two petrol engines to round out the powertrain lineup.
The all-new Jeep Grand Cherokee features the first application of the all-new 3.6-litre Pentastar V6 petrol engine. This V6 engine with variable valve timing (VVT) delivers 210 kW of power and 347 Nm of torque.
The Grand Cherokee is also available with the renowned 5.7-litre HEMI V8 petrol engine. Also with VVT, this inspiring engine delivers 259 kW of power and 520 Nm of torque. The engine's Multi-Displacement System (MDS) helps manage fuel efficiency and can cut fuel delivery to four cylinders under certain driving conditions.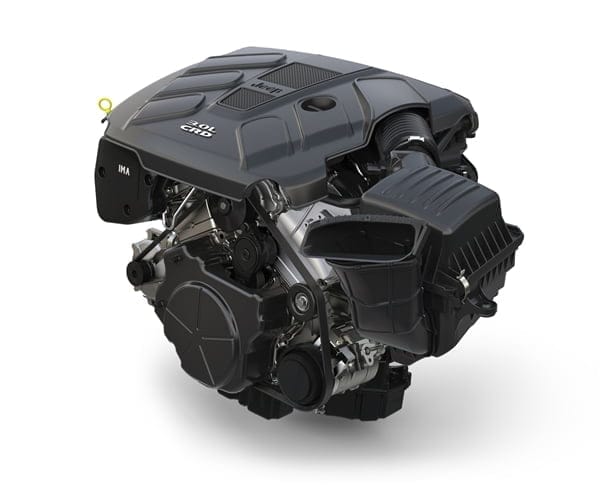 Specifications
3.0L DOHC 24-valve V6 Direct Injection Turbo Diesel (Outgoing 2010 model)
— Power (kW @ rpm) 177 @ 4,000 (MY10: 160@4,000)
— Torque (N.m @ rpm) 550 @ 1,800-2,800 (MY10: 510@1,600-2,400)
— Capacity (cm3) 2,987 (MY10: 2,987cc)
— Automatic transmission 5-speed (W5A580) with manual shift mode
Fuel consumption (L/100km)
— Urban cycle 10.3 (MY10: 13.1)
— Extra-urban cycle 7.2 (MY10: 8.6)
— Combined cycle 8.3 (MY10: 10.2)
Pricing (Base Vehicle Price excl government changes & dealer delivery)
3.6L V6 Petrol 5.7L V8 Petrol 3.0L V6 Turbo Diesel
Laredo $45,000 NA $50,000
Limited $55,000 $60,000 $60,000
Limited 70th $58,500 $63,500 $63,500
Overland NA $69,500 $69,500
The all-new Quadra-Lift™ air suspension system is a first for Jeep, providing a total of 105 mm of lift span. Quadra-Lift features five height settings and operates automatically or may be controlled manually via console controls. In addition, the all-new Selec-Terrain™ traction control system allows the driver to choose from five driving conditions in order to achieve the best driving experience on all terrains. New front and rear independent suspension systems deliver premium on-road handling and comfort.