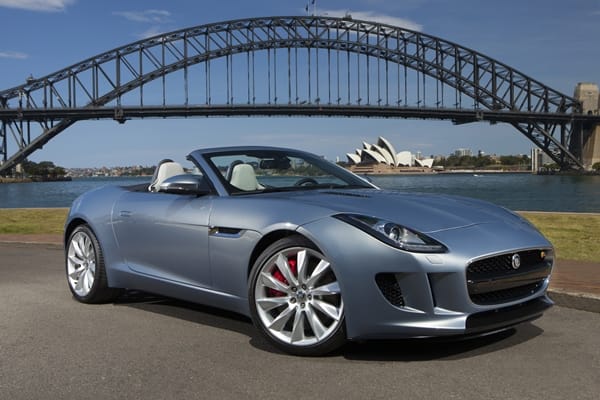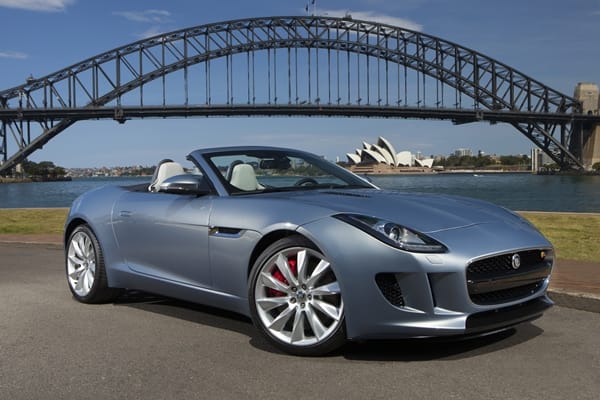 Jaguar's new F-TYPE; the first full-blooded Jaguar sports car to be launched for more than 50 years, made its Australian debut in Sydney this week.
"Contemporary, evocative and progressive, the F-TYPE has been engineered to deliver pure dynamic driving reward and stunning performance," said Mark Eedle, Jaguar Australia's Brand Manager.
"Jaguar is a founder member of the sports car segment with a rich sporting bloodline stretching over 75 years, and in the F-TYPE we've reignited that flame. The F-TYPE isn't designed to be like anyone else's sports car. It's a Jaguar sports car – ultra-precise, powerful, sensual and, most of all, it feels alive," said Adrian Hallmark, Global Brand Director.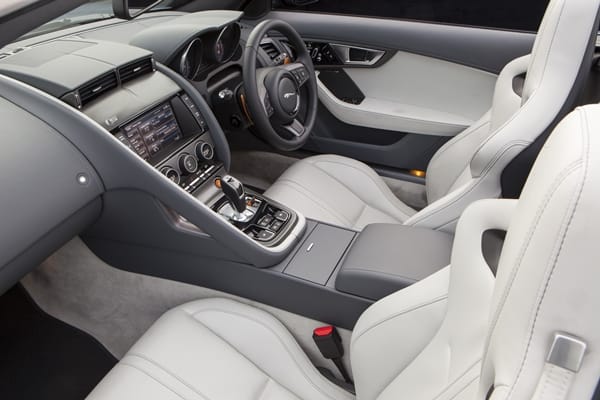 Three variants of the F-TYPE are available in Australia- F-TYPE, F-TYPE S and F-TYPE V8 S. Each is distinguished by the power output of its supercharged petrol engine with all engines featuring stop/start technology to maximise efficiency.
Recommended Retail Prices (excluding all on road costs) – prices revised in accordance with the new Luxury Car Tax Threshold effective 1 July 2013.
F-TYPE $138,645
F-TYPE S $171,045
F-TYPE V8 S $201,945
The F-TYPE's RRP includes Free Scheduled Servicing for 3 years or 100,000 km (whichever comes first), as per Jaguar's Free Scheduled Servicing Policy.
Jaguar dealers across Australia will take delivery of their first Jaguar F-TYPE sports cars from the second week of August.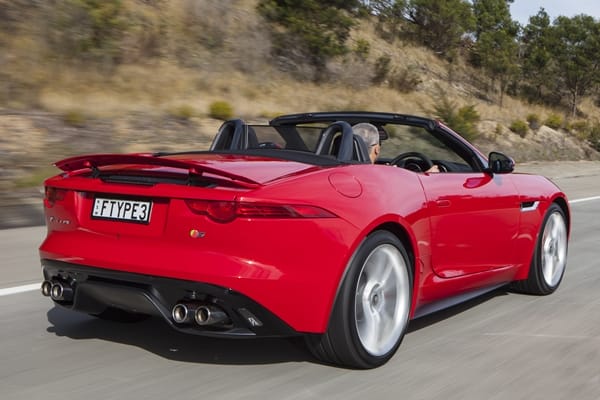 F-TYPE
Engine: 3.0 Litre V6 250kW Supercharged Petrol
Acceleration: 0 – 100 km/h 5.3 seconds
Top Speed: 260 km/h
Emission: CO2 209 g/km
Standard Equipment Includes
Jaguar Performance Braking System with Silver calipers
Sports Suspension
Sports Exhaust
Centre mounted twin exhaust pipes
18 inch Vela alloy wheels
Sports seats with leather and Suedecloth facings
3-spoke leather steering wheel with Black gear shift paddles
Light Hex Aluminium console finisher
F-TYPE S
Engine: 3.0 Litre V6 280kW Supercharged Petrol
Acceleration: 0 – 100 km/h 4.9 seconds
Top Speed: 275 km/h
Emission: CO2 213 g/km
Standard Equipment Includes
Jaguar High Performance Braking System with Red calipers
Sports Suspension and Adaptive Dynamics
Active Sports Exhaust
Centre mounted twin exhaust pipes
19 inch Propeller Silver alloy wheels
Limited Slip Differential
Sports seats with leather facings
3-spoke leather steering wheel with Ignis gear shift paddles
Dark Hex Aluminium console finisher with 'S' graphic
Configurable Ambient Interior Lighting with selectable palette
F-TYPE V8 S
Engine: 5.0 Litre V8 364kW Supercharged Petrol
Acceleration: 0 – 100 km/h 4.3 seconds
Top Speed: 300 km/h
Emission: CO2 259 g/km
Standard Equipment Includes
Jaguar Super Performance Braking System with Red calipers
Sports Suspension and Adaptive Dynamics
Active Sports Exhaust
Quad exhaust pipes
20 inch Turbine Silver alloy wheels
Electronic Active Differential
Sports seats with leather facings
3-spoke leather steering wheel with Ignis gear shift paddles
Dark Hex Aluminium console finisher with 'S' graphic
Configurable Ambient Interior Lighting with selectable palette
ALL YOU NEED TO KNOW
The F-TYPE is an all-new, two-seater, Jaguar sports car
Front-engined and rear-wheel drive, the F-TYPE is engineered to deliver pure dynamic driving reward and stunning performance
Visually, the F-TYPE's exterior demonstrates a new sports car design language for Jaguar, with cleaner lines delivered through the discreet use of technology such as deployable spoiler and door handles
The F-TYPE's interior features a driver-focused philosophy, with engaging controls encased in dramatic architecture. Unique technical grains tailor the trim materials, further differentiating the dual-cockpit cabin
The F-TYPE is constructed around the fourth generation of Jaguar's acclaimed lightweight aluminium architecture using industry-first technology
Torsional and lateral stiffness have been prioritised to maximise handling agility. Around that rigid aluminium structure, every system – steering, brakes, powertrain – has been optimised for immediacy of response to driver inputs
All-aluminium double wishbone front and rear suspension systems provide precise body control, with adaptive damping adding a further layer of dynamic capability